The following Q. & A. with 11-Time Baja 1000 Champion, Johnny Campbell took place upon his completion of the Nevada Backcountry Discovery Route on a Honda CRF 1000L  Africa Twin last fall. It appears in the March/April issue of ADVmoto Magazine. We appreciate their permission to post it!
ADV Moto: Was this your fist time camping off a motorcycle?
Johnny Campbell:  This was my first trip camping off the bike. It was a blast… well for the most part. When it got really cold it made you dig deep and that just builds character!
ADV Moto: What were the riding conditions like on this trip?
JC: Conditions were typical of high-desert riding. It was over 100 degrees in the lower elevations and below freezing in the upper elevations. We even rode 10 miles through snow! The Nevada desert is beautiful, but at the same time very challenging. We saw a just about everything: high winds, extreme temperatures, soft sand, mud holes, winding two track, rock steps and deep ruts. My favorite sections involved the two tracks in the northern part of the state with firm gravel soil, and tight corners that had us ducking under cedar trees. We also saw antelope, wild mustangs, and even had a lynx jump out in front of us.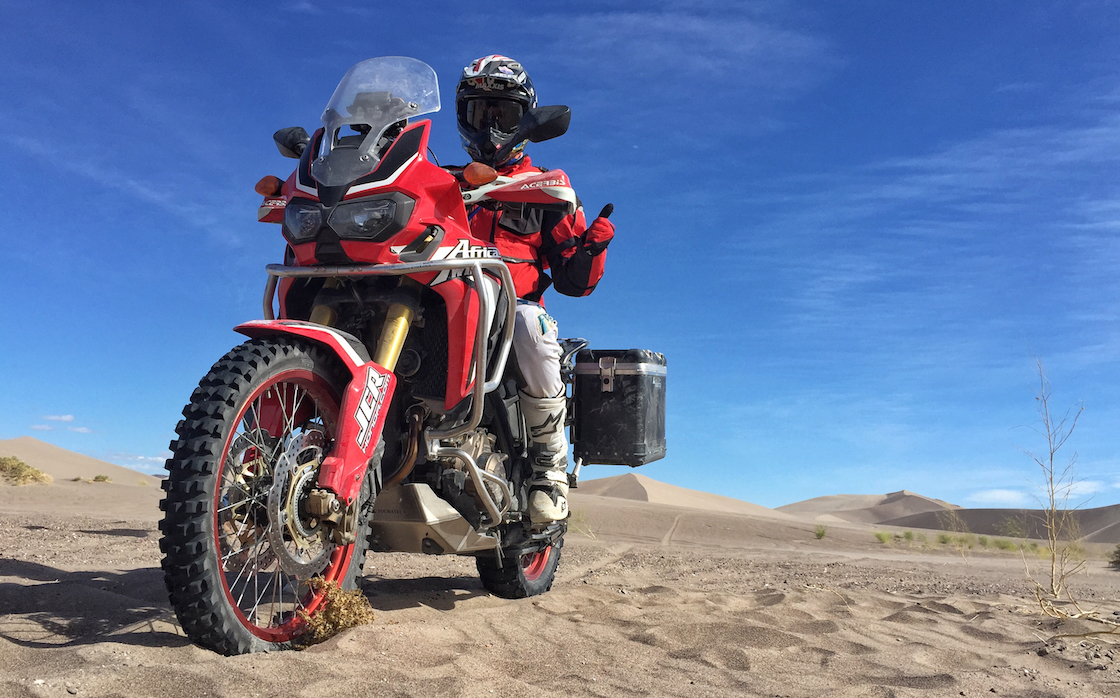 ADV Moto: Are there any characteristics that have carried over from Honda's off-road racing experience to the Africa Twin?
JC: The Africa Twin does have some attributes from off-road racing development. The 21″ front and 18" rear spoke wheels offer superior performance and allow a broad selection of off-road tires. The engineers really concentrated effort on the center of gravity—much like the CRF450 Rally bike—positioning weight near the central mass. This along with the rigidity and balance of the semi-double cradle frame design and the atypical-oval tubular shape of the frame members is a direct result of off-road racing development. This explains why the AT works so well in an off-road environment.
ADV Moto: After spending a week riding off-road in Nevada, what do you want people to know about the Africa Twin?
JC: I believe the AT has a lot to offer folks who are considering an ADV bike. There are many of us that are older racers looking for our next riding chapter – our next adventure. The AT fits a lot more than just my peer group of course – Haha! It is super stable on pavement and off-road. I don't think there is a bike out there that's balanced as well as the AT. Whether you have cargo, a passenger, or it's just you and the bike, the AT is always comfortable and doesn't zap energy to ride. The power is so much fun and it can be lugged in technical terrain. When you decide to get into the throttle- hold on and enjoy! I love the throaty exhaust note at mid to upper RPMs, it sounds just like a Trophy Truck! Braaapp!