Tom Myers is the owner of Touratech-USA. He's been a rider his entire life and is a wizard on two-wheels. This summer, Tom's 16 year old daughter, Chloe got her motorcycle endorsement and they embarked upon what will (hopefully) be the first of many father/daughter rides. On a new Touratech equipped, Honda Africa Twin and a vintage 1983 Honda XL200R they set out to ride the WABDR together.
This is the first in a three part series about their trip, written in their own words. We asked the Myers not to share notes with each other and blindly submit their stories… The results are below.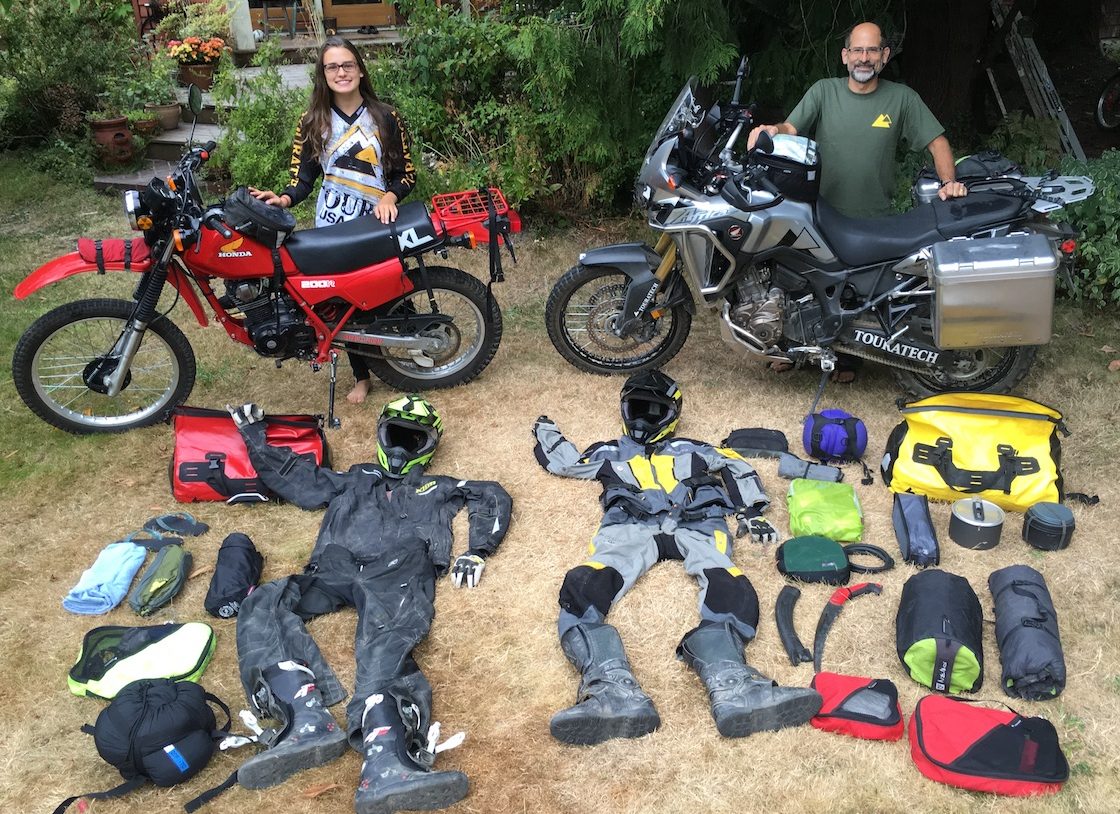 Intro:
Tom: My daughter Chloe was born in 2000, the year that we became the Touratech-USA distributor. It's been a long sixteen years, waiting to do an adventure ride with my girl. She received her motorcycle license only 7 weeks before our departure date, and wasn't yet comfortable using the clutch in traffic. The WABDR would be ideal, since there's very little traffic and the WABDR plan would entail focus and immersion, the quickest way to learn for someone who has the desire.
Chloe: I don't feel there was much communication when it comes to how long this trip was going to be. Originally it was my understanding that we would ride one section of the WABDR and just go from there. But of course that escalated to "half the WABDR" (from Stevenson to our cabin just north of cashmere). Then this idea I had of a short father daughter ride had casually expanded to "lunch in Canada".
Tom: I was anxious to take the new Africa Twin on a real ride. It occurred to me that we should both ride Hondas for this trip. I thought about the newer Hondas, but procrastination, and too many projects used up the time until locating an absolutely perfect, vintage 1983 Honda XL200R. It didn't have electric start, but weighed the same as the new CRF230 (245 lbs). I weaseled it out of the guy's garage and then all systems were GO!
Chloe: I had always known a trip like this was coming. My dad had suggested something like it years before but it always seemed so far fetched and I was too young. My dad's buddy had a Honda that was perfect, a 1983 Honda XL200R. But it wasn't for sale… my dad negotiated with him for a while and he finally agreed to sell it to us.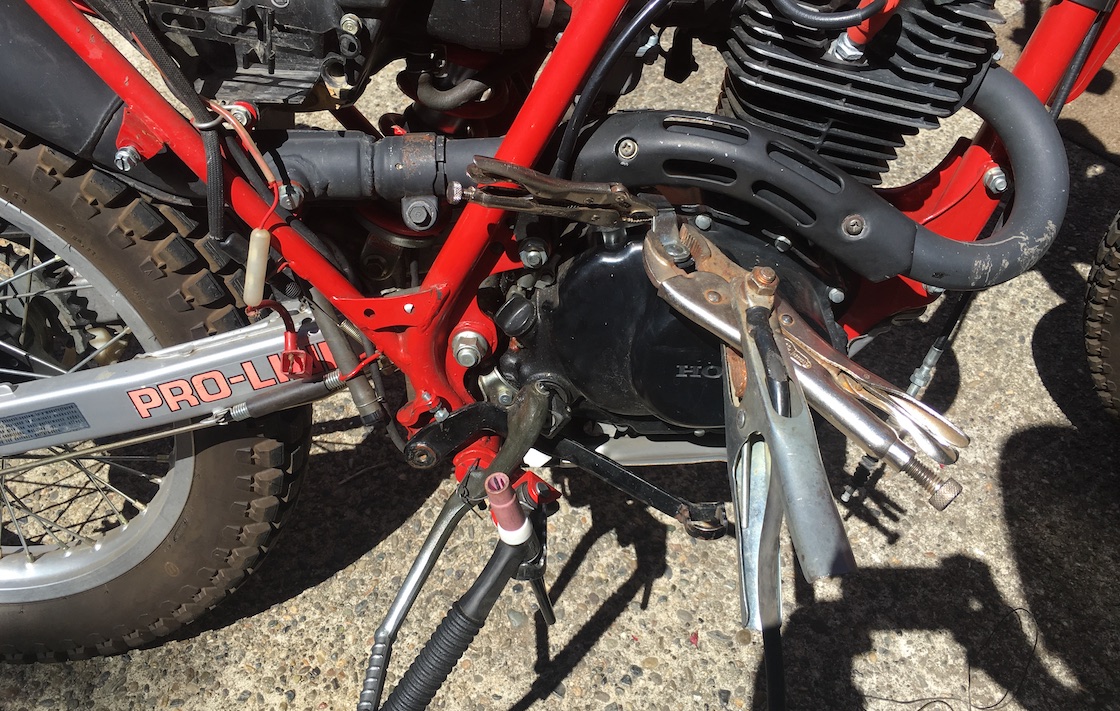 Tom: The XL200R needed a new battery so I put a new Shorai Lithium battery in it. The 200's clutch pull was quite a bit harder than the Africa Twin, so some mechanical wizardry was applied to soften it. We added the Touratech Universal Enduro Expanding Tank Bag, and a Touratech Waterproof dry bag for the rear. I plumbed a wire into the tank bag with a USB outlet to charge her phone. That's it for the 200. I was able to carry all the camping gear and food on the Africa Twin; all Chloe had to carry was her sleeping bag and personal effects.
Chloe: My dad modified the XL200R a little bit, put a phone charger on it and fixed part of the steering but after that we were ready to go!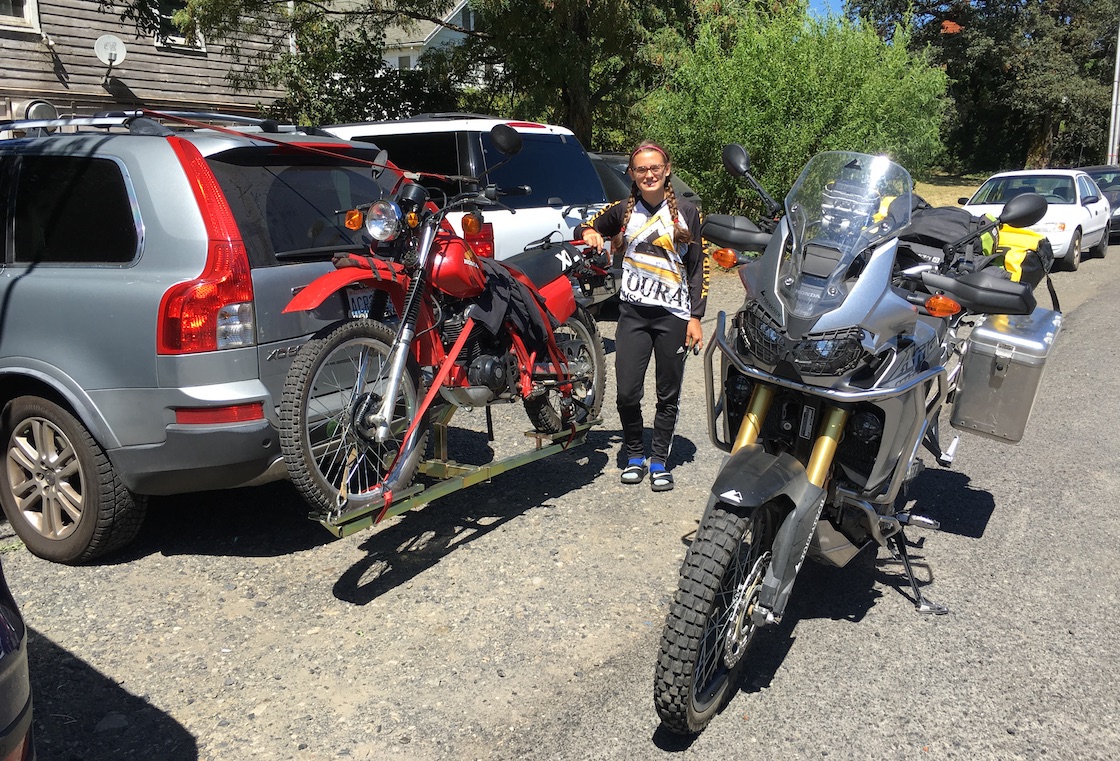 DAY 1 – Stevenson to Killen Creek – 92 miles
Chloe: On Saturday, August 6th my Dad woke me up at 7:00 am. I wasn't particularly happy about this but he said we were on a tight schedule and had to get off to Stevenson, the start of the WABDR route, as soon as we could. My Mom and I drove down with my bike on the back of her car and my Dad rode down on the Africa Twin.
Tom: We intended to camp at Takhlakh lake but the campground was so crowded we just kept going even though it was dusk. We did pass a wrecked KLR650 (see below) on the roadside. There was nobody around.
Chloe: The first few miles were a shock to my system. I had never really ridden on pavement and wasn't used to leaning into turns. Also, I was just realizing that I was going to have to spend four or five days on this bike… But after a couple miles, we got off the pavement and I was having a great time. There were a lot of patches of deep gravel that I accidentally skidded in. Also, a bug flew into my helmet and I almost drove off the road.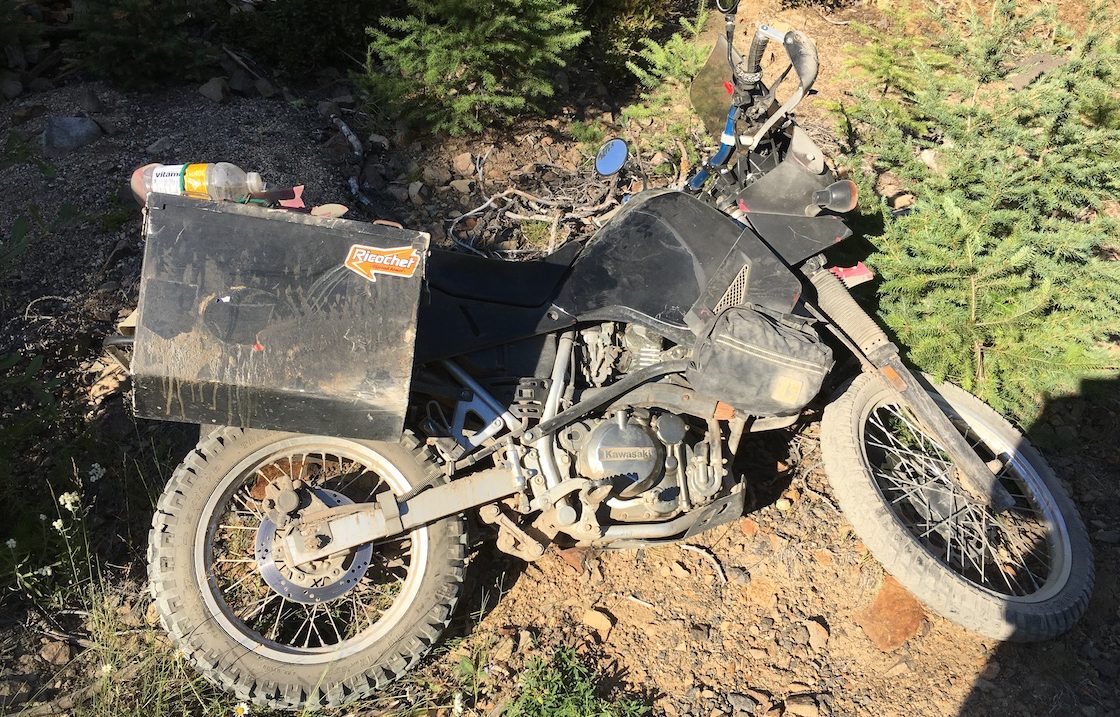 Chloe: My Dad left me in the dust most of the time in the beginning but once in a while I would catch a glimpse of a tail light, which was his way of making sure I didn't turn off the route
Tom: We were watching for Killen Campground, and when we arrived there a couple burst out of the woods and said "hey, adventure bikes, there's a nice site here next to the creek". It was Martin and Patty Wolf of Lost Dog Products (a mfr of KTM 690 center stands). It was our first night out and dinner was a quick can of chili with Fritos for scoops.
Chloe: I enjoyed the first day more than expected, even though my butt felt like a pancake and I must've eaten a gallon of dust. While we ate, the other adventure riders came over to talk to us and offered to make a fire for us. They were very social and we swapped stories. They thought it was pretty cool that a 16 year old and her Dad were riding the WABDR!
Tom: We were kinda tired, and did not enjoy the whole fire. Elevation at Killen Creek is 4500ft and the temperature was pleasant.