Written by Paul Guillien             Photos by: Bill Wiegand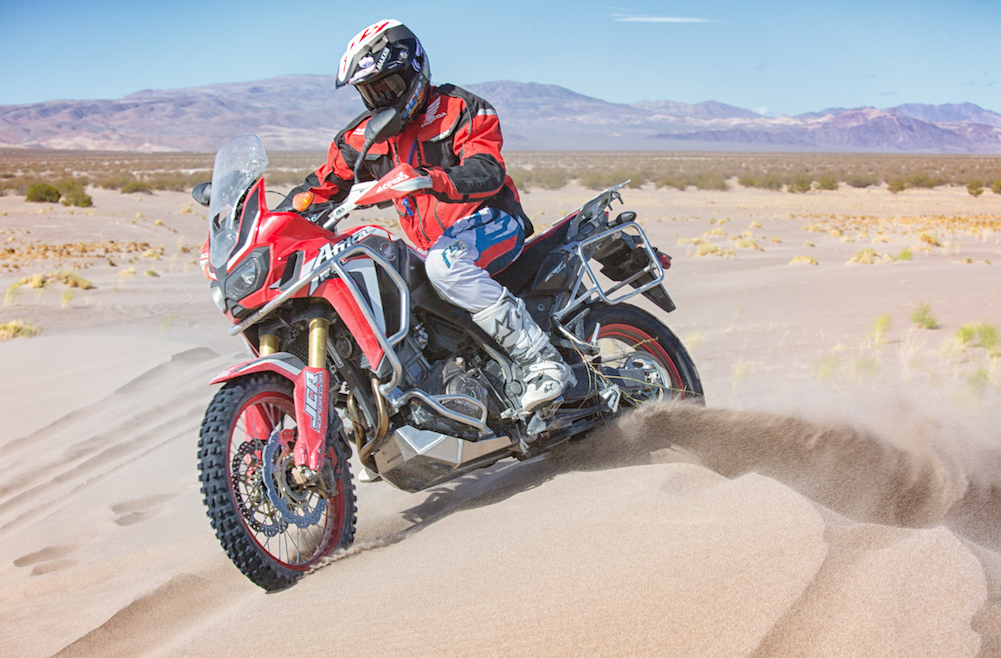 ADV Moto Magazine published the following story in the March/April 2017 issue! Touratech would like to thank them for allowing us to post it on our blog!
Johnny Campbell's 'thing for Honda' started at age 9 when his dad brought home an XR 75. For me, it was riding my neighbor's XR100 at age 11 that triggered my obsession to have a Honda in my own garage. Now that we have a legitimate ADV option from Honda, it's making us some of us grown-ups feel like kids again.
There is no better way to test a new ADV motorcycle than to load up camping gear and challenge it with 1,200 miles of rugged Nevada landscape. Outfitted with Pirelli Scorpion Rally tires along with luggage and protection items from Touratech, we set out off-road from Oatman, AZ to Jarbidge, NV. We planned to spend about eight days riding a pair of CRF1000L Africa Twins the length of the state.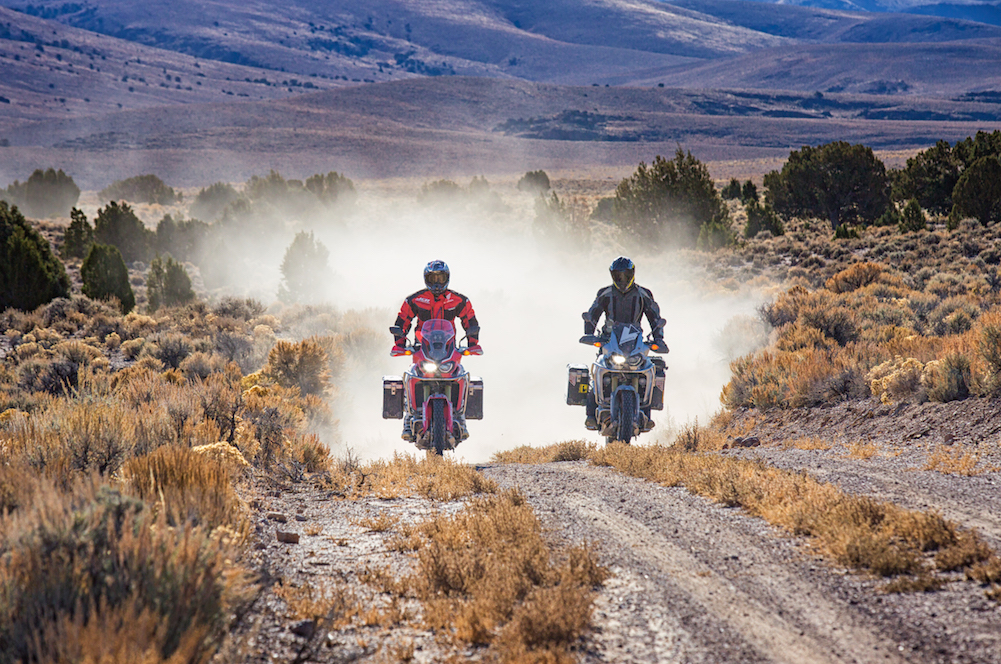 Taming the desert
Honda has a long history of taming desert terrain. No other manufacturer comes close to matching its 25 wins over four decades in the Baja 1000. Eleven of those wins came at the steady hands of Johnny Campbell, who happens to be riding his Africa Twin with me on this adventure. Although it's mid October, the temperatures are in the triple digits as we cross the border from Arizona into Nevada. The terrain is loose with gravel and deep sand and I feel the benefits of the rally tires over the dual-sport knobby tires I would normally run. The wide selection of tires afforded by the 21/18 wheels on the AT is something I have come to appreciate early in this trip.
Unable to resist the allure of dunes, Johnny points to Nevada's 'Big Dunes' and I follow him into this moto-playground. Although these bikes are roughly double the weight of a modern 450cc dirt bike, the 94 hp thundering out of these parallel twin engines allow us to ride up and down the dunes to our hearts content. As the bikes and riders began to exceed recommended operating temperatures, we return to the two-track road with shit-eating grins.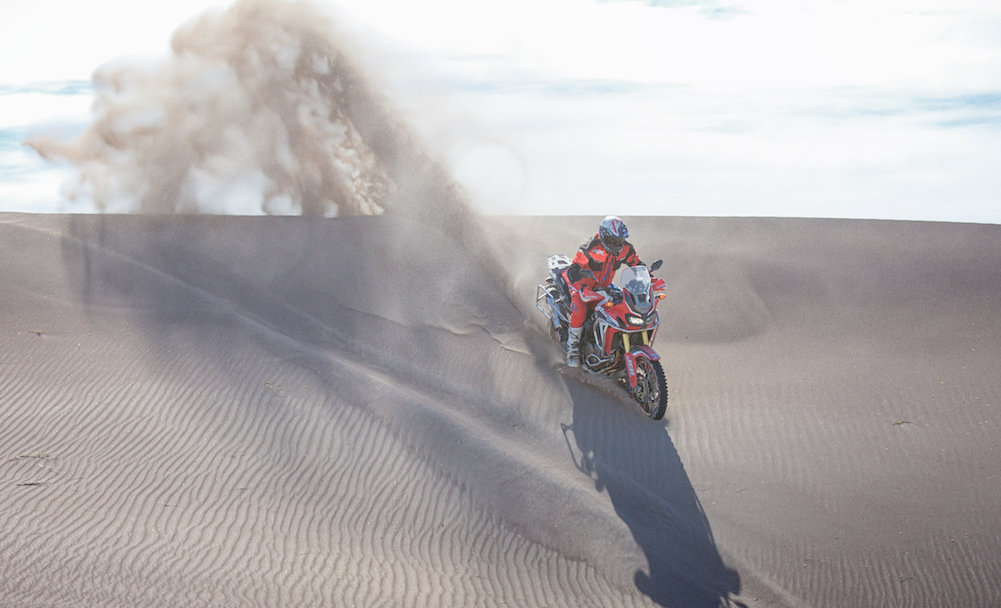 Never trust desert mud
As we reach the high elevations north of Elko, NV it becomes obvious we are late in the season as the two track turns to mud. I low-side and hit the ground unexpectedly. I pick up the bike and then immediately low-side again before realizing my front wheel is not turning. Johnny and I use tire levers to clear the mud packed between the fender and tire. Lesson learned. From that point on, we skirt the dark spots favoring the sage brush. This caliche mud found in desert climates of the Southwest is the stuff of nightmares. I'll take Pacific NW mud any day over this sticky grease. When you see mud in the desert, avoid it like a door-to-door salesman.
We see more jackrabbits than people for several days and explore dirt roads that never seem to end. Our senses are dosed with powerful hits of sage as our panniers gently rub the desert flora along the two track paths. By camping off the bikes, we are able to reach remote places most people never see. The bikes are fully loaded but I keep forgetting about the weight I have strapped aboard because it feels so planted and stable underfoot. A good chassis doesn't get much discussion because it's hard to put your finger on. I can't explain how or why, but this bike just feels right. It's stable and predictable even on the rough stuff.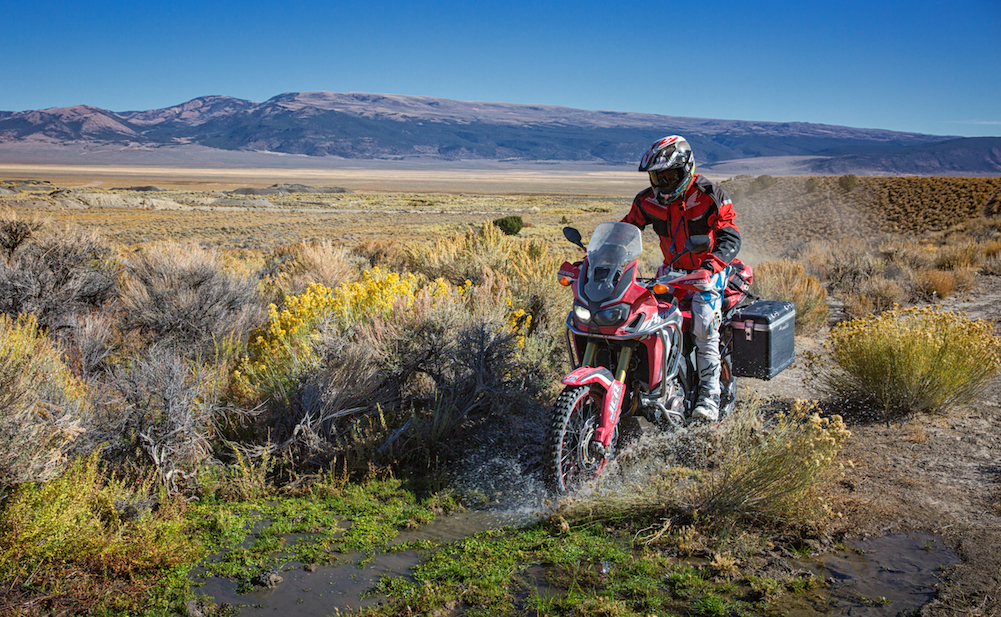 Theory of relativity
One night around the campfire, Johnny explains the theory of relativity to me. He says "the speed you ride must be relative to your level of talent." Implying that when the former exceeds the later, bad things can happen. Following Johnny Campbell though the desert for a week was pretty darn exciting. On a few occasions, my exuberance exceeded my talent and for a split second, I feared an eminent crash. Each time, the bike just settled and came back to me. I can't explain how Honda achieved this, but I can tell you this bike is forgiving and confidence inspiring. I realize the more confident and predictable a bike is, the more fun I have. Perhaps the fun-factor potential of a bike is relative to the confidence a rider feels while riding it. That's my theory of relativity.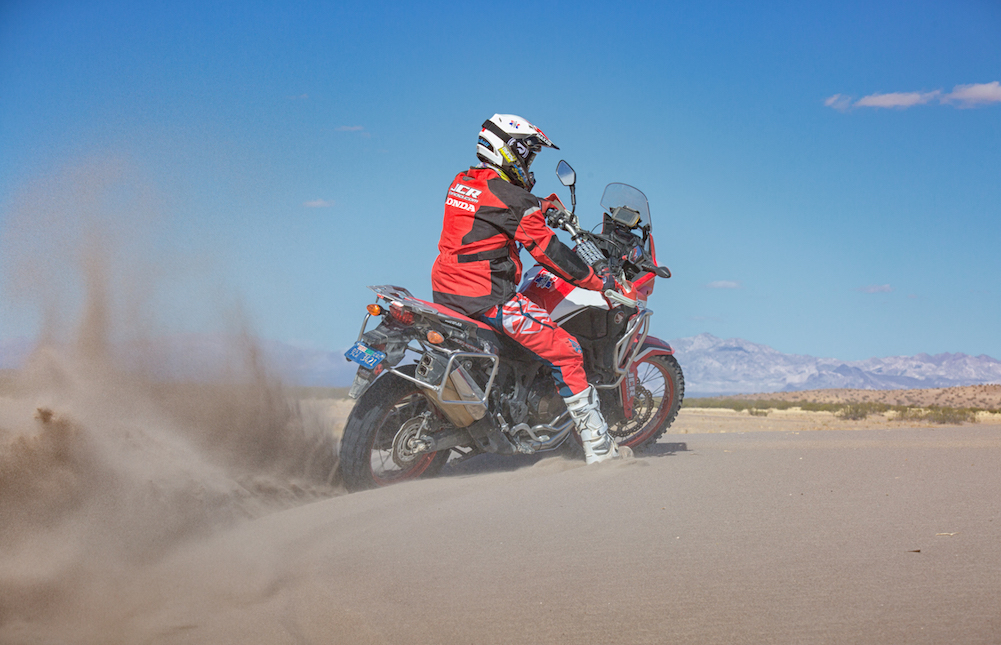 Suspension
In recent years, I have become a suspension snob. I have no doubt Johnny is, as well, since he spends time testing Honda's new factory rally bikes, the off-road equivalent of Moto GP. Despite our suspension snobbery, both of us are quite pleased with the stock Showa inverted fork with 45mm tubes. Our only modification was adding a heavier-rate spring set. In the rear, Johnny was running the stock set-up, which he found to be good with the right clicker settings. I needed some advantage to help keep up with him so I installed the Touratech Suspension Extreme Shock which is great for off-road riding with gear. With 50% more preload adjustment, top-shelf valving, and hydraulic bottoming prevention, this shock helps the bike settle quickly after big dips — keeping you in control even with full luggage.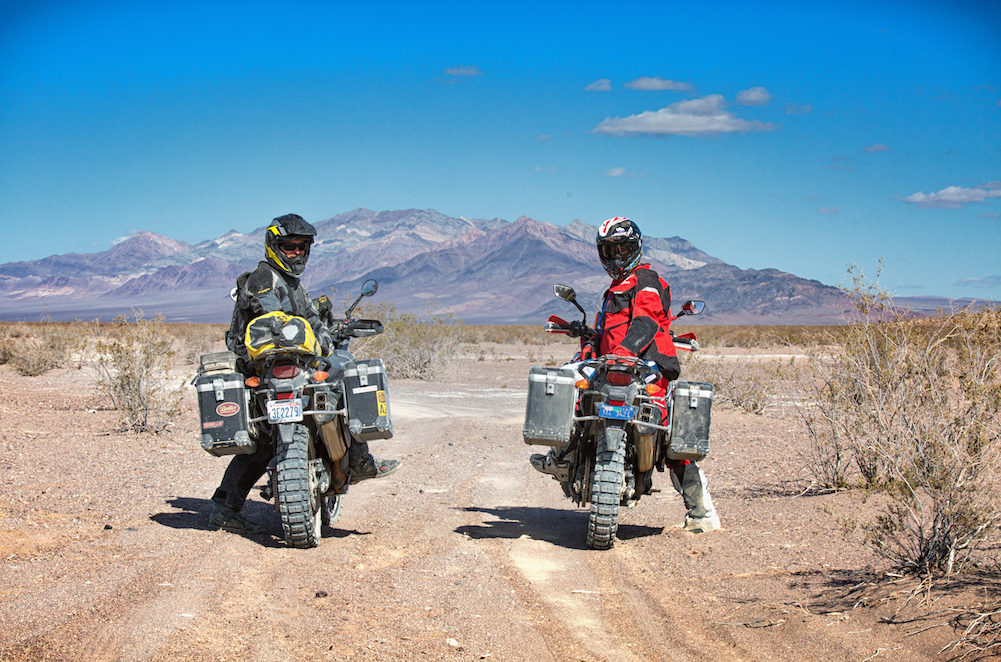 Seeking perfection
When off-pavement, I prefer to switch off the traction control on this CRF1000L. Same goes for the ABS which disables the rear wheel but retains some ABS intervention on the front. The front ABS engaged more than I expected a few times, but then again it may have saved my ass… I'll never know. The main discovery I made is that you have to shut off the ABS and TSC every time you use the kill switch or cycle the key. While there are dedicated buttons for each and it's quick to do, many other bikes retain their settings when you use the kill switch. Repeatedly turning these off was annoying to me, so I just killed the motor by dumping the clutch or deploying the side stand to keep my desired settings. I found this to be a reasonable work-around.
I have grown soft over the years with the heated grips and cruise control on the BMW's I ride. In the cold weather of Nevada the heated grips were missed and on the lonely highways heading back to Seattle, I longed for the cruise control. I'll be happy enough adding a throttle lock and accessory heated grips to my Africa Twin. With these additions, the CRF1000L will leave me with little left to be desired, other than having more time to ride it. If I get a chance to ride across Nevada again, I'm taking the Africa Twin.
End.