The Honda CRF1000L Africa Twin is the buzz bike of 2016. The re-issue of the stalwart adventure motorcycling legend has set the industry on it's ear and if you're one of the lucky few to have gotten your hands on one then you know what the buzz is about. It's clean lines and aggressive styling are coupled with a smooth running power plant that literally screams to see the world from two-wheels.
Whether you're riding the state-of-the art DCT system or manual (like we are at Touratech) you know that Honda is truly back on the adventure scene.
Touratech began working with Honda in 2015 to develop a full line of upgrades for the bike and when we finally took ownership of the Africa Twin the first thing we did was get out the tools and bolt on the Touratech Accessories. Every day we strive to make good bikes great and now our Africa Twin is ready for any adventure, anywhere!
Touratech Suspension is a great place to start when you're upgrading your ride. The Extreme Rear Shock is a world-proof replacement that's fully serviceable and it's advanced technology makes bottoming out a thing of the past. It has a secondary compression damper that goes into action when your shock approaches the end of its stroke. The Touratech Extreme Shock lives up to its name. It is Extreme! $1795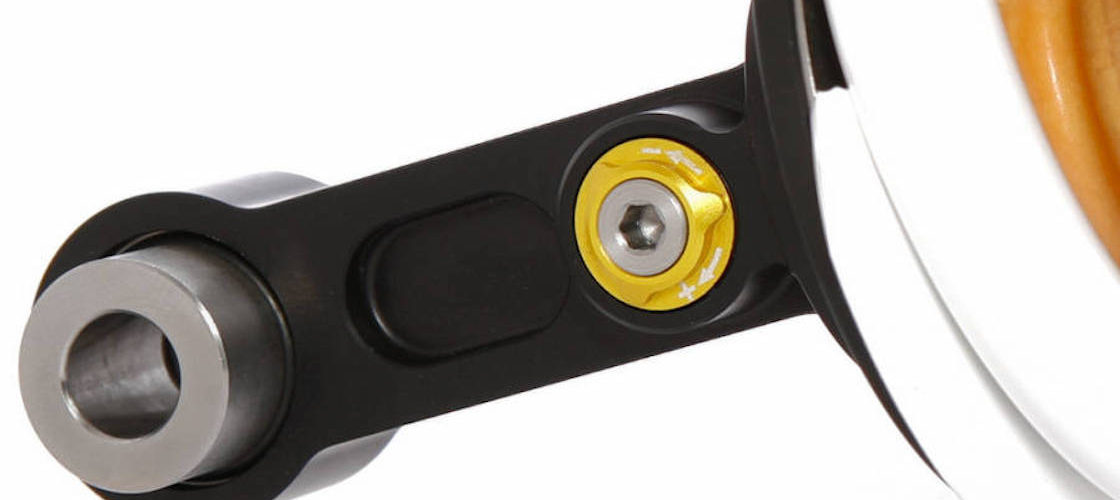 The Africa Twin has gotten rave reviews in almost every category, but the nearly universal criticism of the new dual-sport dream machine is the footpegs. They don't have much surface and if you're doing the kind of riding that takes you through tough terrain, you want to have a solid base under foot.
We knew right away we wanted something better on our shop bike. The Touratech Works Footpeg is the stability you're looking for. They're just the right balance of size, grip and have the ability to clear mud from your boots. The Africa Twin has dirt bike DNA and so do Touratech Works Footpegs.  $169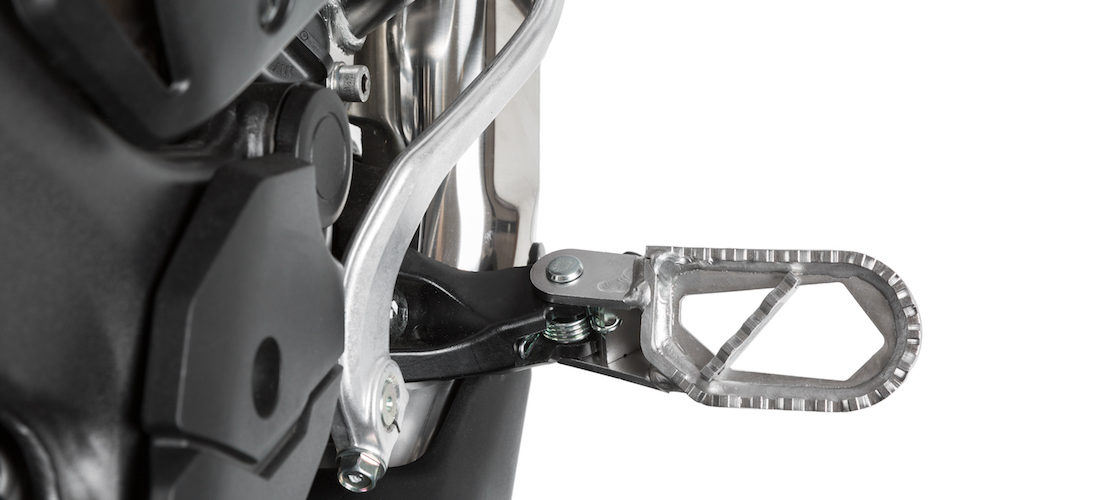 The Africa Twin's engine is quite wide on the bottom and is vulnerable to objects on the ground, like rocks or stumps protruding from the side of a mountainous single-track or even a high curb if you're in an urban area.
Touratech Engine Crash Bars are designed to hug the contours of the motor and give your bike the protection it needs. They're engineered from electro-polished 25mm and 18mm stainless steel tubing and you can get them for the Africa Twin with and without DCT.  Stainless: $159/ Black: $179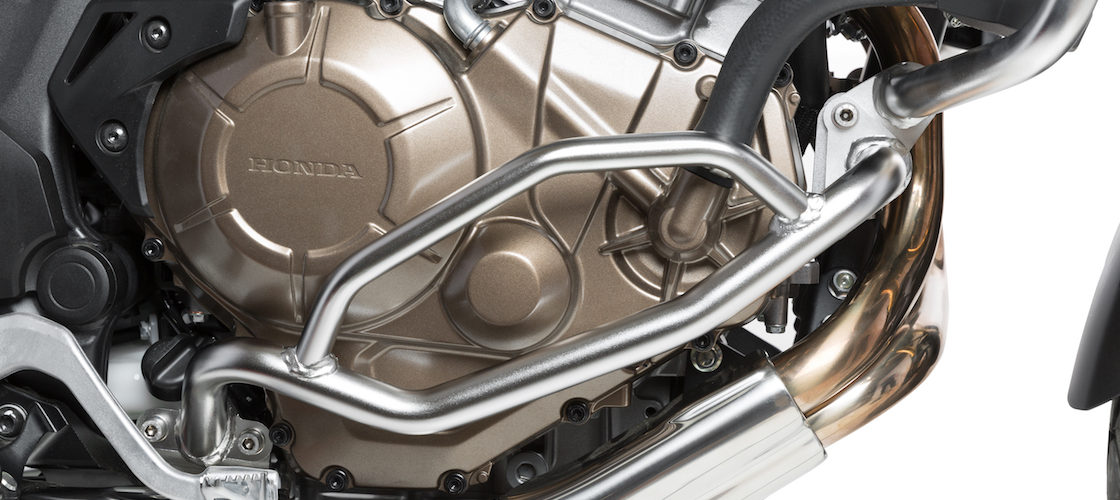 Challenging the limits of your Africa Twin isn't the only time the bike's undercarriage is exposed. If you ride anywhere off-road, there is a chance you'll encounter a trail hazard. Make sure you're protected. The stock skid-plate gives just a nominal amount of coverage to the bike. The Touratech Expedition Skid Plate offers three levels of protection: A stainless steel baseplate, a robust, 4mm aluminum shell and reinforced nylon sliders. Together, these components create a skid plate that is lightweight and can take on practically anything.  $299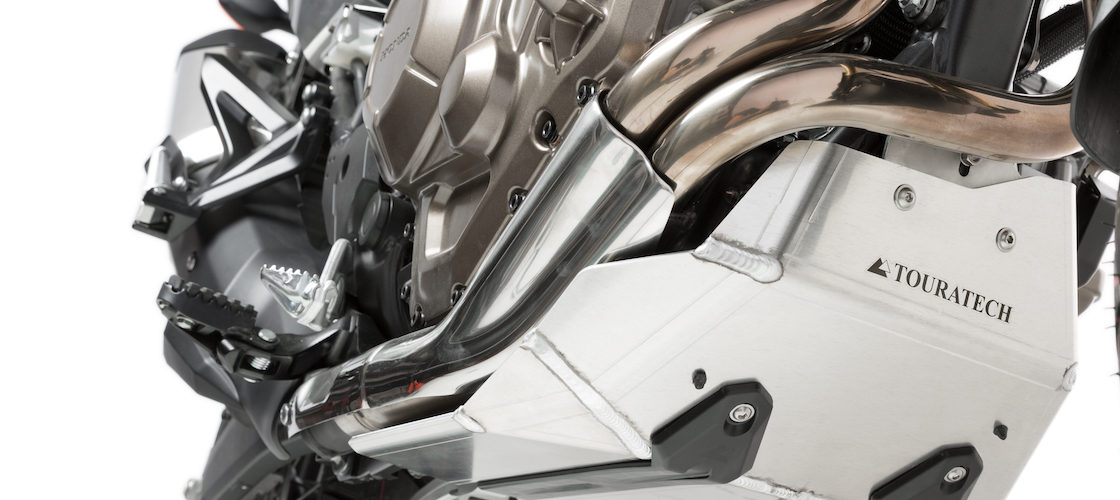 On grass, dirt, sand or hot asphalt the side stand on your Africa Twin is under a lot of pressure. The bike weighs over 500 pounds without even being fully loaded with gear. A soft surface can challenge the stand to keep the bike upright and there is no worse feeling than returning from a hike or other excursion to find your motorcycle on it's side. The solution is the Touratech Large Sidestand Foot. It's laser cut from stainless steel and anodized aluminum and drastically increases the surface area of your side stand giving you much more stability on every surface.  $39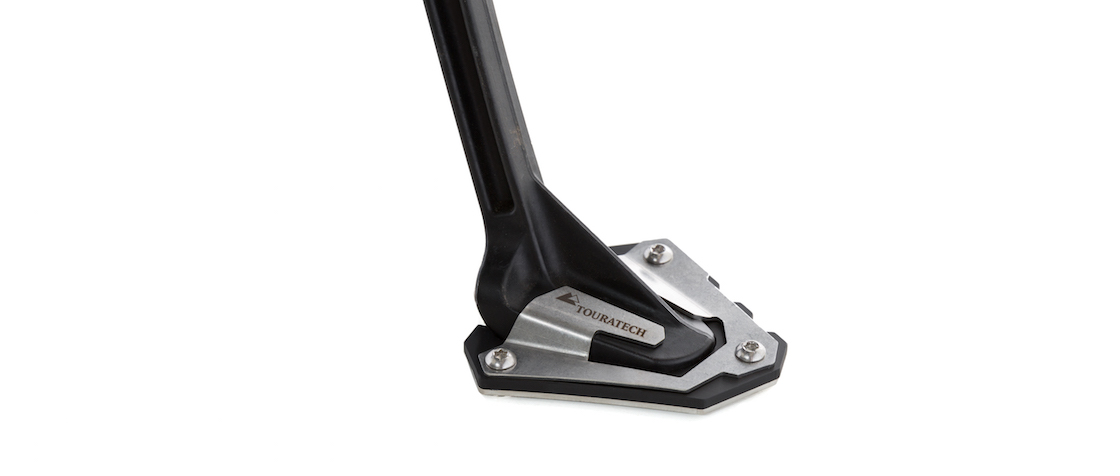 The Africa Twin is a beautiful bike and keeping your plastic pretty and your radiator right can be tough when you do the kind of riding we do at Touratech. Superior protection is needed to take on the world and, like a roll cage for the front of your bike, the Touratech Upper Fairing Crash Bars shield your motorcycle from the bangs and bumps along the trail. They're engineered from electropolished 25mm stainless steel tubing. Stainless: $279/Black: $299