Tom Myers is the owner of Touratech-USA. He's been a rider his entire life and is a wizard on two-wheels. This summer, Tom's 16 year old daughter, Chloe got her motorcycle endorsement and they embarked upon what will (hopefully) be the first of many father/daughter rides. On a new Touratech equipped, Honda Africa Twin and a vintage 1983 Honda XL200R they set out to ride the WABDR together. 
This is the third in a three part series about their trip, written in their own words. We asked the Myers not to share notes with each other and blindly submit their stories… The results are below.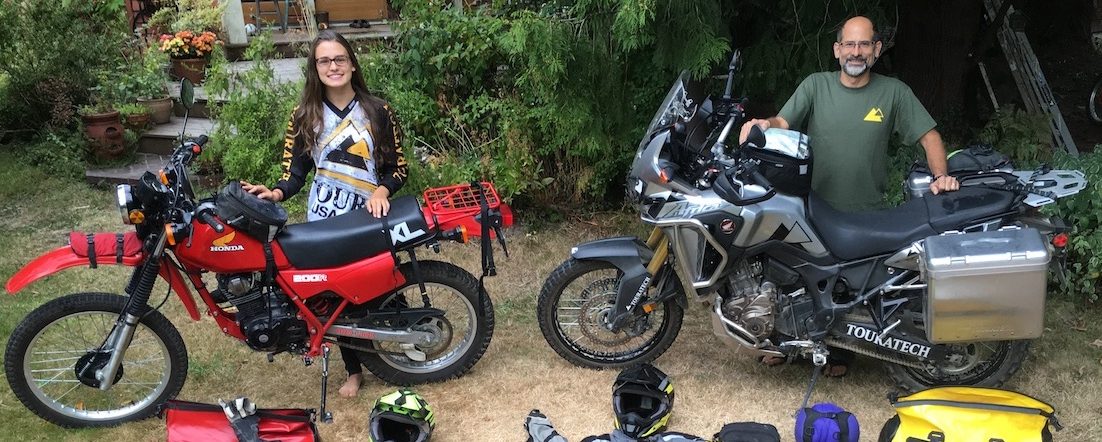 DAY 4 – Cabin to Benson Creek – 154 miles
Chloe: Woke up to bright sunshine and blue skies. And NO DUST!
Tom: We jumped on the bikes and rode over the hill to Ardenvoir on the Roaring ridge road (also called Dinkelman Canyon) with views of the valley from high above the Entiat river. It's always a treat to descend this twisty and steep road into the valley. We stopped at Coopers store for gas and a few essentials.
Chloe: After getting off the pavement we ran into some difficult riding. My Dad stopped to warn me about the ruts and how to avoid them but I was feeling pretty confident about my riding skills by then. I didn't have to listen to my Dad. What did he know?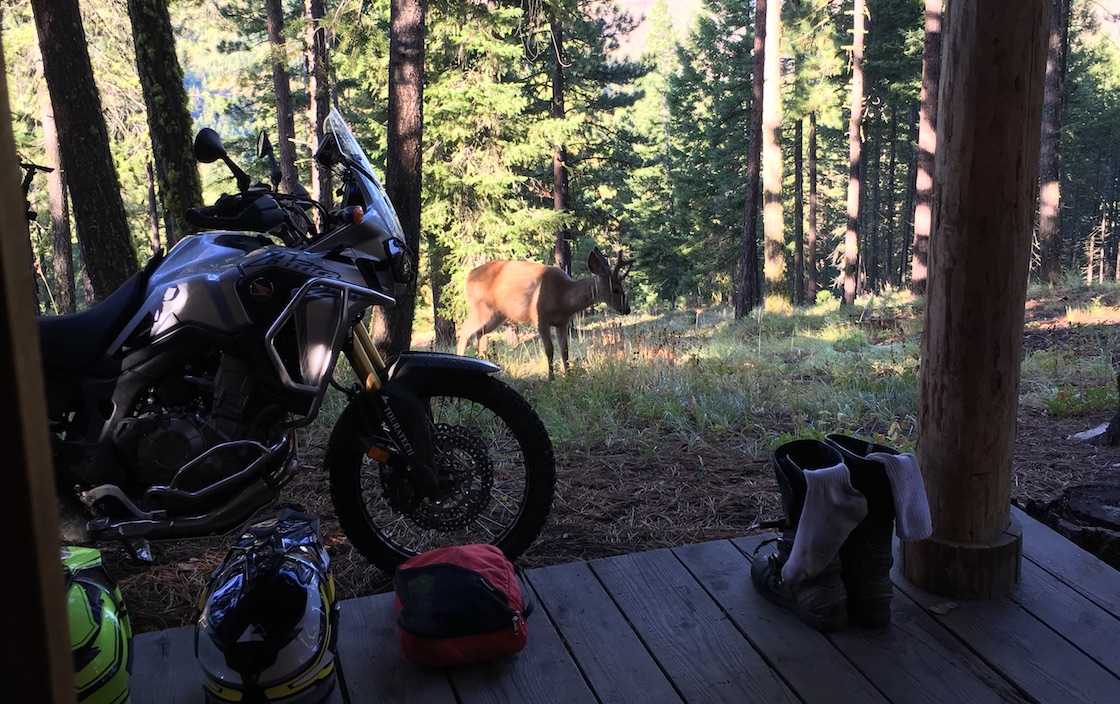 Tom: This is where Chloe learned how to choose which ruts to pay attention to, which ones you can drop into and perhaps not be able to get out of.
Chloe: I had gotten through this whole trip without crashing and intended to keep it that way……Until I got a little too cocky… I had just turned a corner when a rut popped out of nowhere and soon enough I was on the ground. My overconfident mindset was quickly diminished and my first thought was that is was the end of the world.
Tom: She crashed and broke the clutch lever
Chloe: I wasn't skilled enough to ride without a clutch! The trip was over! All possible scenarios went through my head. We would probably have to ditch my bike. I would have to ride with my Dad, but where would we put my stuff? I was so worried about what would happen, that I wasn't addressing the problem at hand.
I needed to get a hold of my Dad because I sure as hell wasn't going to get left out here alone. He probably hadn't noticed I was gone, …typical, which meant I had to find some cell service and call him. I started waking around holding my phone up like a crazy person and eventually got a couple bars and was able to call. Sure enough, after what seemed like forever, I heard the distant low rumble of the Africa Twin coming back to save me.
Tom: Luckily she wasn't hurt, and we were able to wire it back together. While we were stopped we set last night's burritos on the motors, and lashed them down with sticks and some rusty wire we found along the way.
Chloe: We eventually got everything in order and set off on our way again, but not before my Dad made a video documenting my crash and posted it to Facebook.
Tom: Arriving in the town of Chelan, we stopped at Safeway to get food for dinner. Which was somewhat distressing because I had told the guy at the Ardenvoir store (Coopers) that we didn't shop at the big supermarkets, we bought our supplies at the little stores. Then here I am, shopping at Safeway, SIMPLY because I did not know if the Carlton store would be open.
Chloe: Once we arrived in at the Carlton store, a couple hours later, the storeowner was delighted to have us. He knew all about the WABDR and talked with my Dad for a long time.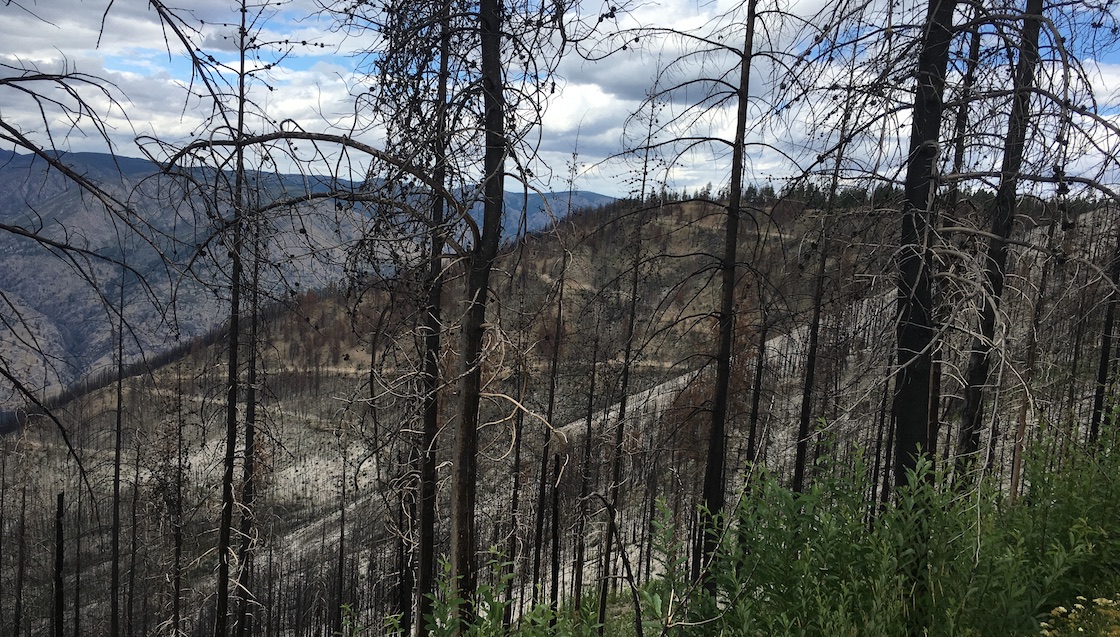 Tom: We stopped, of course, at the Carlton store, which was fully stocked, and very enthusiastic about BDR riders. They even had BDR maps for sale and non-ethanol gas. I felt guilty.
Chloe: The day was coming to a close and after finally asking the best places to camp in the area, we got back on the road. It was late when we found a campsite along Benson Creek and after a dinner of chili and cornbread, I was ready to go to sleep.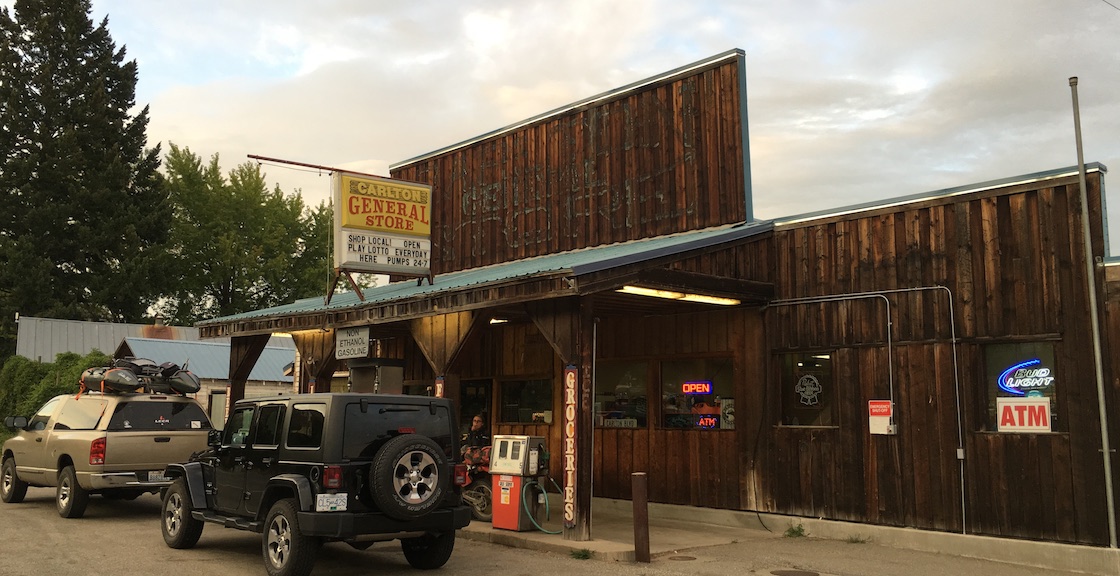 DAY 5 – Benson Creek to Canada
Tom: The day started with blueberry pancakes. It was a GREAT woods breakfast.   We mixed the batter in a ziploc bag (careful NOT to over-mix!) and cut one corner off to squirt onto the griddle. Tossed berries on and flip!
Chloe: Of course, knowing my Dad, we basically had to have a photo shoot of the whole process. I didn't get to eat until he had documented it all to Facebook!
Tom: Back on the bikes we rode the narrow pavement past Thrapp Mtn. We came across some locals cutting firewood with the road completely blocked. One of them hefted a huge chainsaw and cut a round off the end, giving us space to pass. Now that's local hospitality. The route passes thru mossy forests (and some new clearcuts) to cross Hwy 20. We turned north on Loup Loup canyon road. We rode past the burned out USFS cabin at Rock Creek campground.
Chloe: when my Dad tried to take his phone out to take a picture, he couldn't find it! After a couple minutes of panic and back tracking he found it in his coat pocket. (And I thought I was the irresponsible one).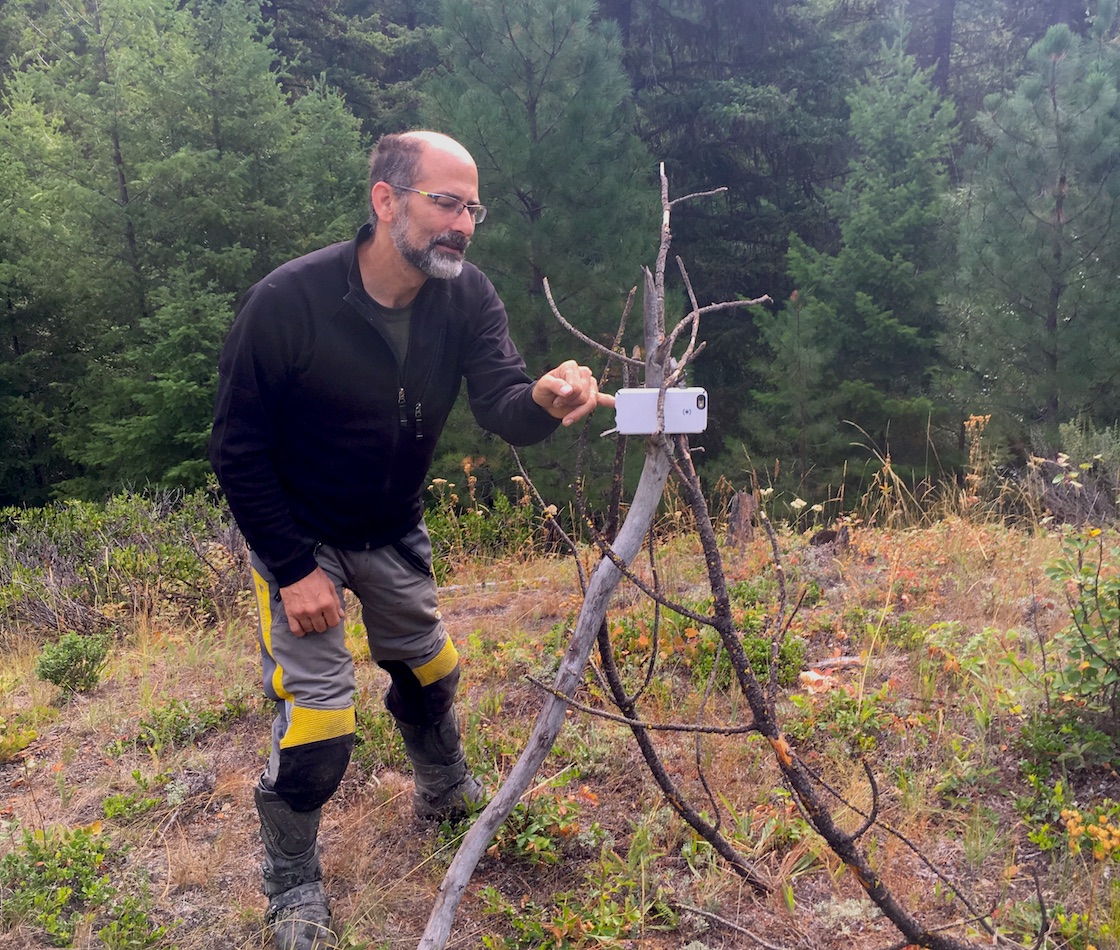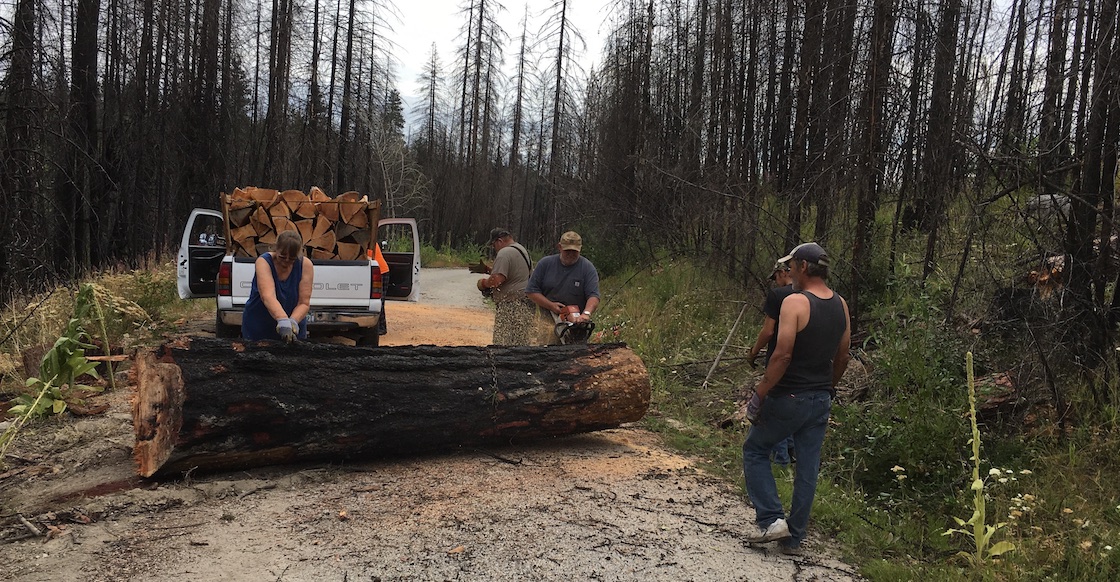 Tom: Just past the "snow-crushed Aluminum Quonset hut far out in the woods", we turned off a little road to look at the "China Wall", a stone foundation built in 1889 for a Silver concentrating mill. The mill was never built.
Chloe: We rode down the Ruby grade, a challenging steep rocky decent into the old town of Ruby that actually isn't a town anymore, just a historical sign with some pictures.
Tom: From Ruby we continued to the resort town of Conconully. Conconully is another one-store town where you can buy gas and supplies.
Chloe: After riding through Lone Frank Pass we stopped for a snack. A few miles down the road we ran into some logging trucks that stirred up more dust than you can imagine. I couldn't see a thing and some patches on the ground were like riding in deep sand.

Tom: We had to stop for a few minutes to let a log truck's plume die down. Luckily the road was washed out ahead and the log trucks had to go a different route. Now we were in heaven, because the road was closed and there would be on other traffic on the road, except BDR riders. We rode past the washout down the Toats Coulee drainage to FR 39.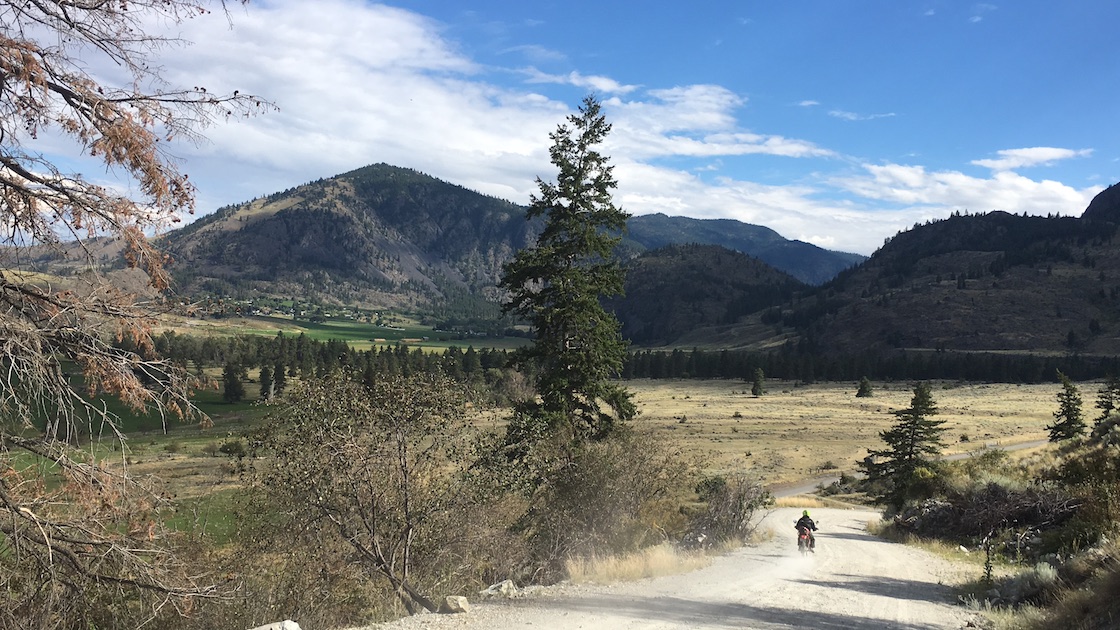 Tom: Then it was up nine mile creek and around Quartz mountain to Chopaka lake. The trip was almost done, and by the next campsite, the trip would be over. It was exciting and disappointing at the same time as at this point I felt like we could ride forever.
Chloe: The ride was beautiful and it seemed to me that we were riding slower that usual, as if to savor the last moments of our trip. I kept imagining Canada to pop out unexpectedly around the next bend and once we finally got to Nighthawk border crossing, I was feeling a mixture of great sadness and accomplishment.
Tom: At Nighthawk the crossing guard asked us all the border type questions in monotone. Where do you live, where are you going, how many days will you be in Canada? And in the end said, in same monotone. "So you and your daughter rode from Oregon to Canada on gravel roads? That's pretty cool".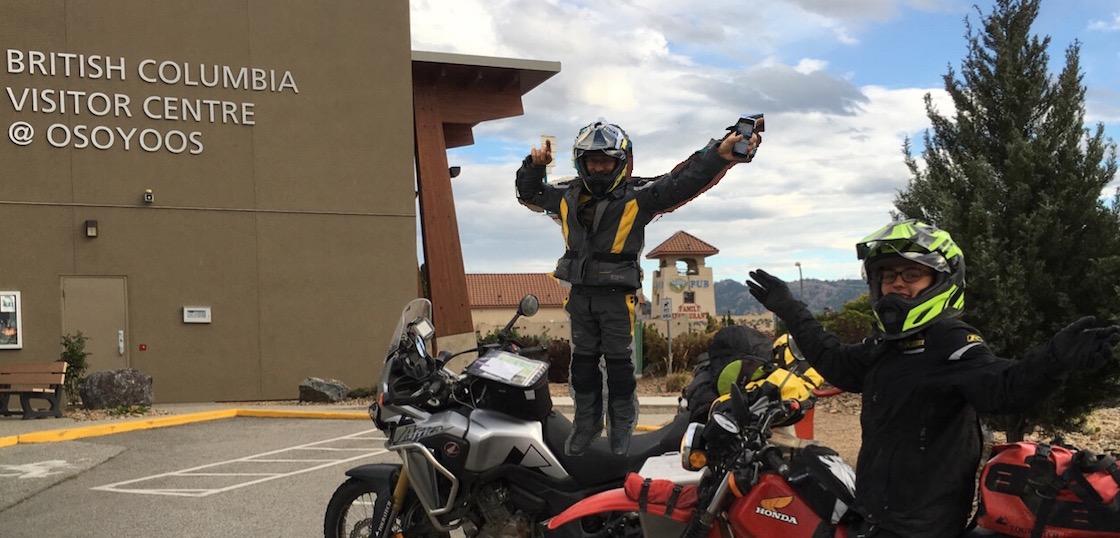 Chloe: We rode into Canada and had dinner in the town of Osoyoos. We spent a few hours in Canada and then had to cross back into the U.S. by then I was so tired and we camped at a little lake near Tonasket.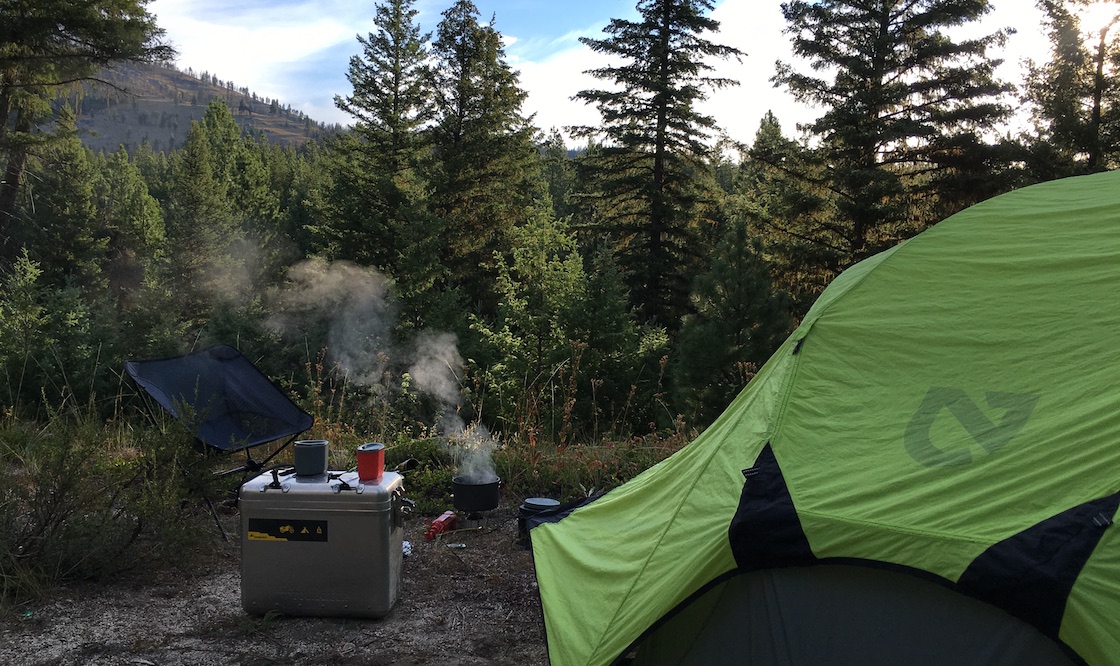 Day 6 – Home
Tom: We woke up and rode from Tonasket to Leavenworth, where we took showers, naps, and walked around a little. Then got out some foam mattresses and drove to the top of Sugarloaf Mountain to sleep out under the stars and watch the Perseid meteor shower. But it clouded over at 11PM so we just went to sleep.
Chloe: This trip was a true eye opener for me. It was tiring, my dad was annoying, my butt always hurt… I could go on. But I think the most important things such as getting to spend time with my dad and exploring Washington outshine the bad parts by far. I know will use the skills that I learned from riding the WABDR for the rest of my life. Not only has it made me more confident in my riding, but is has also opened up my eyes to the possibilities of traveling on a motorcycle. I feel like I could go anywhere. IDBDR here we come!
Tom: We put the XL200 in the barn and rode double on the Africa Twin to Cle Elum where Chloe met up with soccer mates for a game in Yakima and back to that non-motorcycle part of her life that's in the way almost every weekend. And her dad rode off towards Seattle wondering if the next opportunity for six glorious days alone with his daughter will have to wait until after college.