Tom Myers is the owner of Touratech-USA. He's been a rider his entire life and is a wizard on two-wheels. This summer, Tom's 16 year old daughter, Chloe got her motorcycle endorsement and they embarked upon what will (hopefully) be the first of many father/daughter rides. On a new Touratech equipped, Honda Africa Twin and a vintage 1983 Honda XL200R they set out to ride the WABDR together. 
This is the second in a three part series about their trip, written in their own words. We asked the Myers not to share notes with each other and blindly submit their stories… The results are below.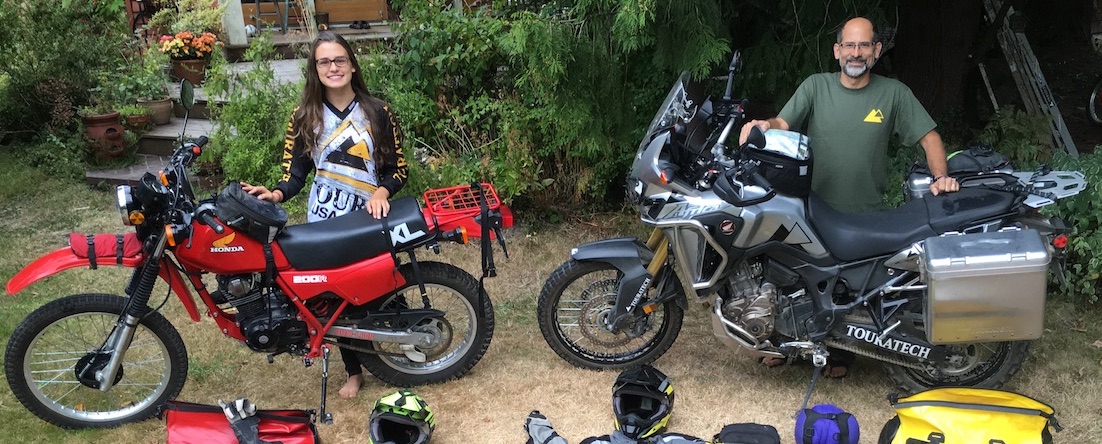 DAY 2 – Killen Creek to Lion Rock – 175 miles
Chloe: The next morning I woke up to the sound of my Dad unscrewing the valve to my mattress… Dads: they always find a way to pointlessly annoy you! For breakfast we had oatmeal with dried cherries and nuts. We got going pretty late because my Dad went over to talk to our neighbors. At 10:00am we set off with a plan to ride 75 miles before lunch and 75 miles after.
Tom: The ride from Killen was uneventful to Packwood. We passed several great views of Mt Adams. Sadly the mountain was almost always obscured by trees so we took no pics, but as always I have in my mind the pics that I would've taken. We spent a long time at the Packwood IGA store planning a REAL dinner.
Chloe: Right out of the campsite the road was pretty washed out and earlier we had seen a jeep get stuck in it. I was a little worried but after watching my Dad ride through it without difficulty, I had no problem. The ride down into Packwood was somewhat of a reality check. Coming back into civilization reminded me that I most likely needed gas even though there was no way of knowing for sure since we didn't know the mileage on my bike yet.
Tom: The IGA also has free customer wifi, so we took more time checking emails and sending pics home.
Chloe: After what seemed like forever my Dad finally got off Facebook (I swear he's more into social media than I am).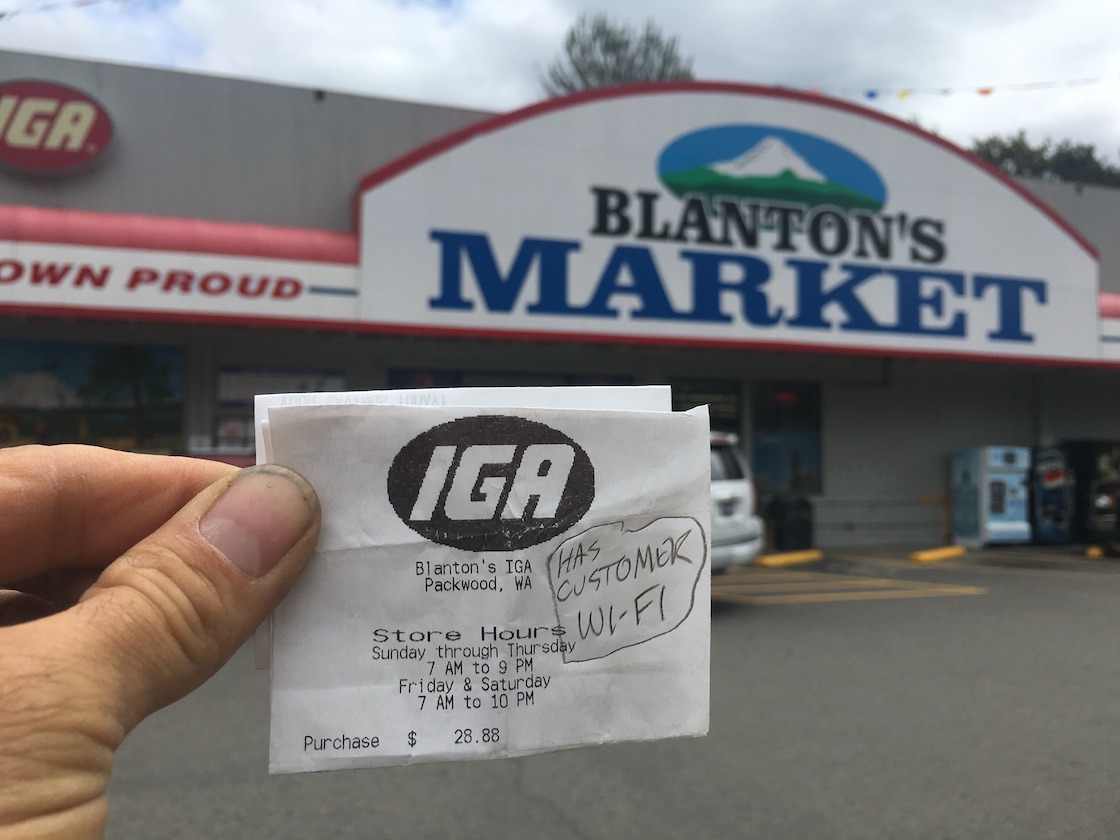 first experience riding on a highway. Luckily the little XL200 could get to 60mph at times.
Tom: From Packwood we had to ride on Hwy12 for a few miles, which was Chloe's first experience riding on a highway. Luckily the little XL200 could get to 60mph at times.
Chloe: That's the fastest I've ever gotten it to go even if it was on a slight downhill… we finally, turned off the highway and started to climb up to Bethel Ridge.
Tom: Getting off Hwy12 was a relief and we climbed up to Bethel Ridge. We passed an Elk skeleton on the roadside (pic). The views from Bethel ridge are among the best on the trip. Some of the ridge is rocky, and other places are rutted dirt. When we arrived at the Bethel ridge cutoff (the easy route) I just couldn't do it. I had to do Bethel Ridge, or at least try.
Chloe: Bethel Ridge was definitely the most challenging part of the WABDR for me. However, looking back on the experience, even though it may have not seemed like it at the time, it was the most enjoyable. The climb up was very rocky with lots of loose gravel, but the views were breathtaking.
Tom: Coming into the beautiful Nile valley we saw an ice-cream stand on the roadside tended by a pack of young girls, so we pretty much had to stop. It was hard to imagine there being enough business on this lonely country road. They had a freezer on a long extension cord. The ice cream was so hard we couldn't eat it all, so wrapped it up and left. About 20 minutes later up on Cleman mountain we unwrapped the ice cream and it was at proper eating temperature.
Chloe: After that, we rode through Cleman Mountain and down into Ellensburg. It was extremely windy in Ellensburg and I felt like I was going to get blown off my bike. After what seemed like forever, I could finally stop riding without leaning into the wind and we started to ride up to Lion rock.
Tom: At Lion rock we got all camped and then started on an elaborate Quesadilla dinner after dark. It was perhaps the best quesadillas that have ever been eaten; cooked on an MSR Dragonfly stove in an MSR Quik2 pot set. We went to bed fat, dumb and happy.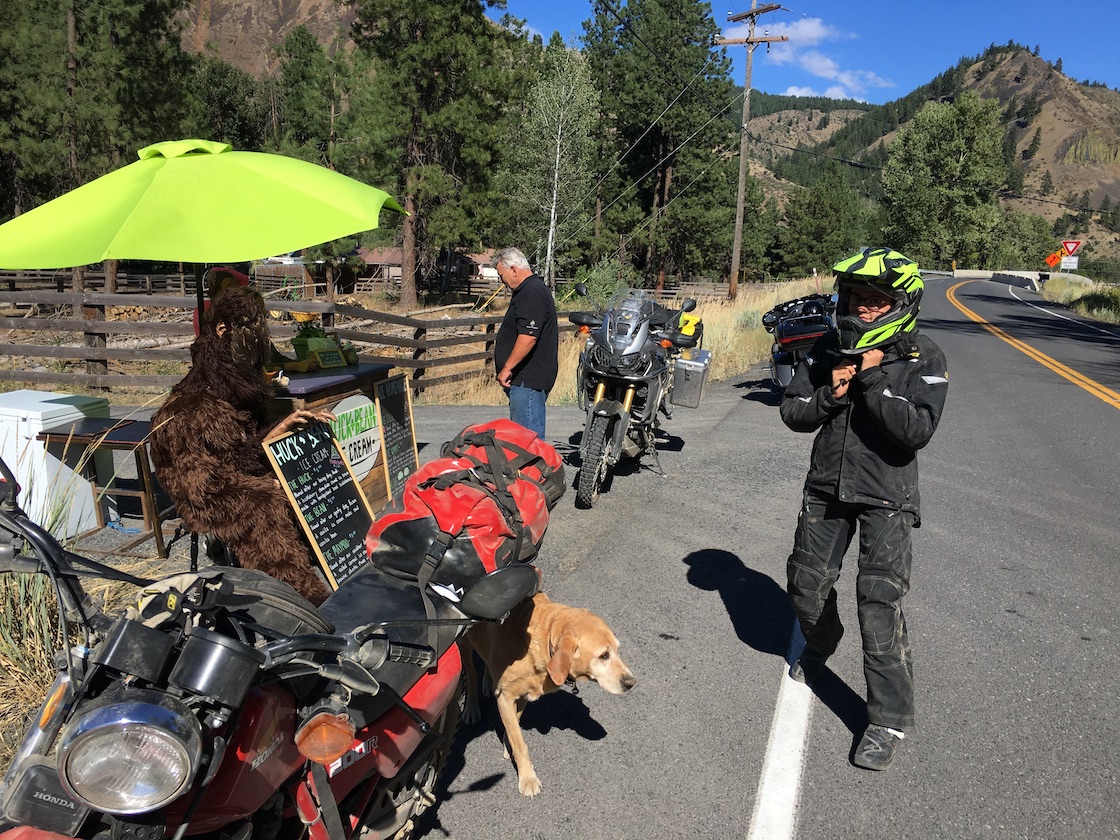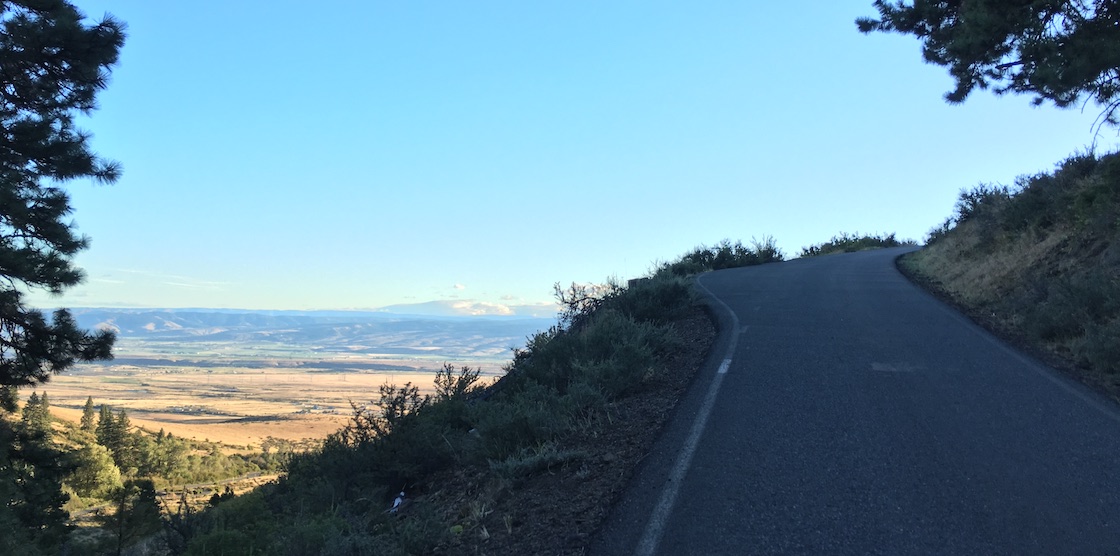 DAY 3 – Lion Rock to Cabin – 106 miles
Chloe: The next day, we woke up to a cold and crisp morning but soon enough the fog started to roll in as we were on our way. Our goal that day was to make it to our cabin, just north of Cashmere, before the rain was scheduled to start at 2pm.
Tom: We headed north on the route over FR 35, but pretty soon we were out of the fog. We rode onward towards Haney Meadows, but I stopped to check the weather as there were black clouds to the north.
Chloe: We decided to take a short cut to Cashmere because the rain seemed like it was catching up to us. Crossing highway 97, at Blewett Pass, was pretty nerve racking but we made it across alive and rode into Leavenworth.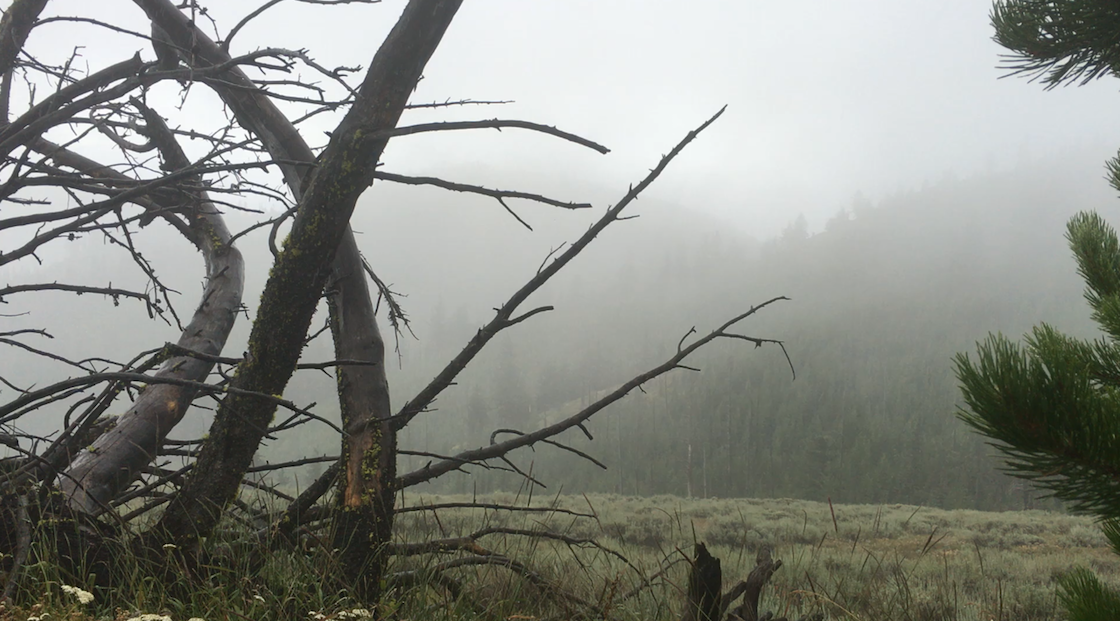 Tom: We spent a long hour at Dan's Market in Leavenworth then went to Cashmere to get back on the BDR route. We reached to top of Nahahum canyon and it was still clear, and beautiful, but getting ominous. There is a lot of rutty dirt between Burch Mtn and Chumstick, which luckily, was not wet. Once we got onto the gravel again fog and clouds came in and it started to pour, there was water running down the road, we kept catching up and running over little flashflood wavefronts on the 2-track. It was cold and wet, but luckily there was a warm dry cabin awaiting us about 10 miles ahead.
Chloe: The mud made riding up Chumstick Mountain pretty challenging and I was grateful for my little Honda. My Dad actually had more trouble than I did! The rain was coming down hard and I noticed in some places the water was rushing down the road at the same pace that we were. At this point all I could think about was a hot shower, a fire, and a hot cup of tea. The cold seemed unbearable and I could hardly feel my fingers to pull the clutch. I was thankful we didn't have to camp in a tent that night.
Tom: Due to a spicing error, were forced to double the amount of burrito filling, thus ended up with way too much food.
Chloe: We decided on bean and chicken burritos (notice a theme here?) except my Dad "accidentally" dumped too much chili powder on the chicken and we had to dilute it with more chicken. That's when my Dad came up with the idea of making extra burritos, wrapping them in tinfoil for the next day, and riding with them on the engines of our bikes to warm them up.