By Ron Lieback
You may think your phone is all you need to get directions, but once you're off-road, all bets are off. This is why you need a motorcycle-specific GPS.
By now you know how powerful a tool your phone is for practically everything we do in our everyday lives. One of its most convenient features is the built-in GPS. With it, getting lost has become a thing of the past.
But your phone has limitations, especially when your ride takes you off-road. That's why a motorcycle navigation GPS  can be especially useful. In this piece, we'll fill you in on all the benefits of motorcycle-specific GPS units, like the Garmin ZUMO XT, and how they are superior to phones when it comes to navigation – not just off-road but also on-road.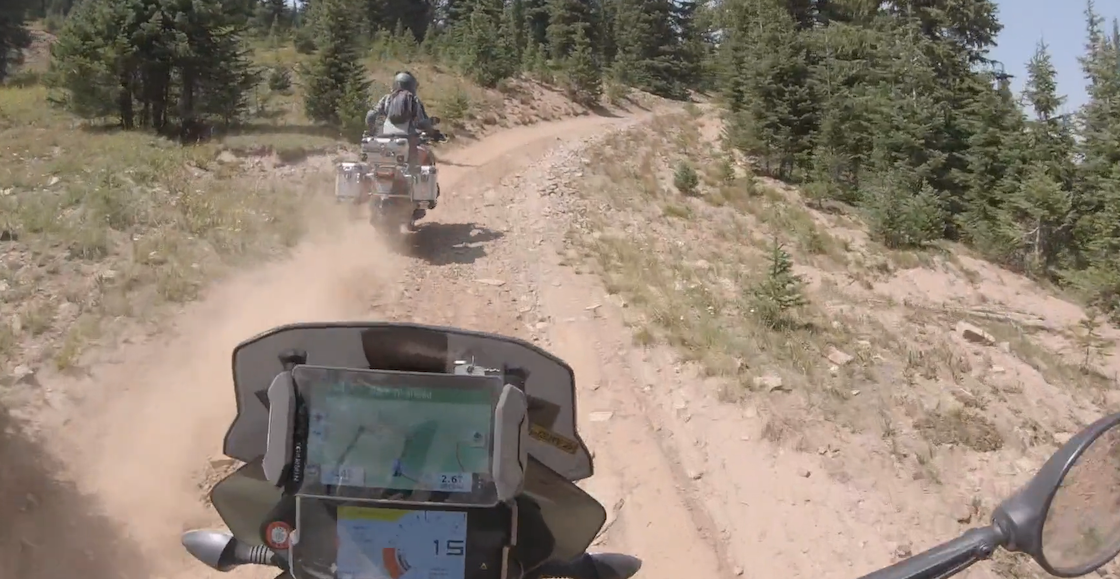 Motorcycle Navigation GPS: Why Do You Need It?
While it's understandable not wanting to buy another device when the phone in your pocket already has GPS built-in, the Garmin ZUMO XT, TomTom Rider 550, and others like it have capabilities far beyond what a phone can do.
A look around the internet, or even within the Touratech website, will fill you in on the technical details of what you get with motorcycle navigation GPS.
So, we're leaving the technical bits out of this piece (for the most part). Instead, we're going to focus on the practical reasons your phone's not going to cut it, and a motorcycle GPS will.
Ready? Let's begin with the whys: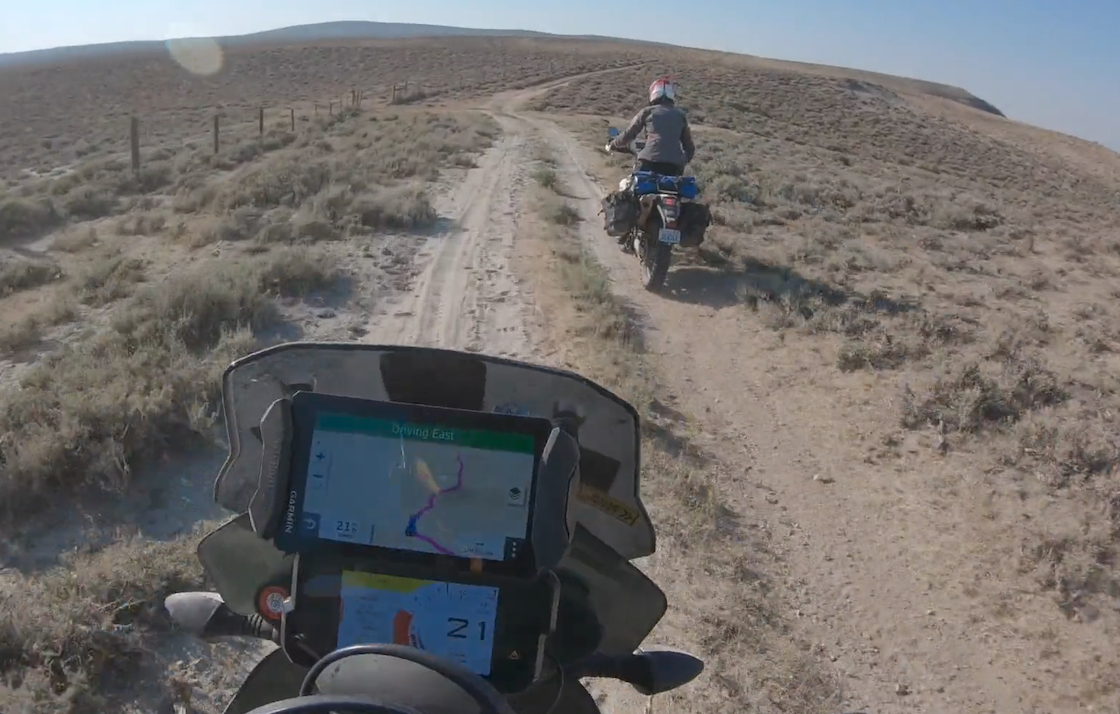 Ready? Let's begin with the whys:
No cell reception: When your phone's out of cell reception, you're hosed. Since it doesn't rely on cell towers, this alone is an excellent reason for ADV riders in the backcountry to use a motorcycle navigation GPS instead of a phone. I didn't start riding religiously with a dedicated GPS unit until 2014. Before then it was all cell phones and maps. I got lost numerous times where cell reception wasn't available, and nearly ran out of fuel a few times. The stories are good, but as I get older, I don't want to deal with being lost or running out of fuel.
Typical Digital suck: Sure, Google Maps is a great way to get turn-by-turn directions from your house to grandma's, but you'll find Google's limits pretty quickly once you go off-road and to the middle of nowhere. Paper maps? Super cool for the Backcountry Discovery Routes, and other off-road issued ones, but I'll pass. I do study those types of maps at home, and always keep one in the bags just in case my GPS explodes or something, but that's about it. Gone are the folded maps in tank bags.
Pre-loaded map files: This is a major advantage GPS devices have over phones. Many premium navigation units allow you to pre-load GPX map files that you can find online, pin waypoints and specific stops, and upload them directly to your GPS unit. Basically, you can have your entire trip planned out, stops and all, on-road and off-road, ready to go on your GPS unit, without having to worry about cell reception. A phone can't do that. Also, many of the top units have curvy on-road presets. Plug in a destination, and you'll discover roads you have never known before. This became one of my favorite features for on the road.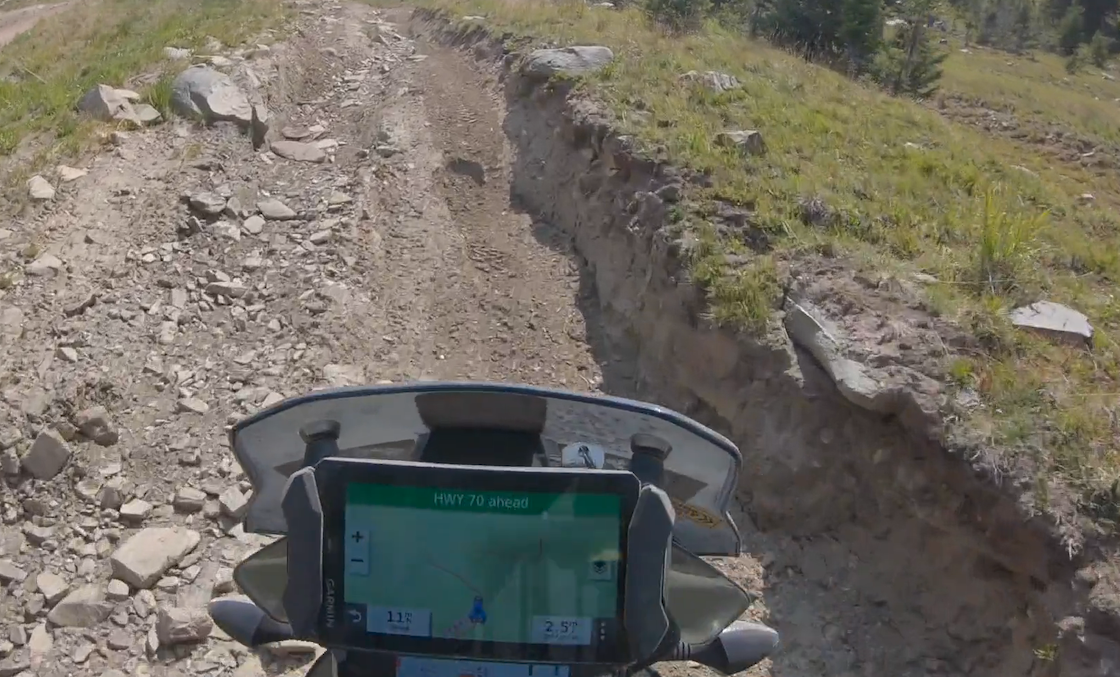 Waterproof: Yes, many phones today claim to be waterproof, but the reality is they are mainly water-resistant. There's a big difference. Phone makers aren't anticipating that the people buying them plan to go adventure riding. Besides, do you really want to be exposing your phone to the elements like that? Torrential rains and big water crossings (and the potential of dropping your bike in said water crossing) all pose a serious threat to your phone. Remember, you're putting your phone against your face to talk. A GPS device like the Garmin is built specifically for this purpose and is actually waterproof. Not water-resistant.
Bigger screen: Any motorcycle-specific GPS worth looking at will have a big screen—bigger than a phone's screen—so you can… look at it. Whether you're traveling down the highway or navigating a trail, a screen that's easier to see is just better.
Less sun glare: Here's one you may not have considered. Have you ever been outside and looked at your phone at the wrong angle and had the sun's glare smack you right in the retinas? It's blinding. A motorcycle-specific GPS was designed with one intention. A phone was designed to do many things. The ZUMO or TomTom have glare-resistant screens, so no matter which way the sun is pointed when you're riding, you'll be able to see the screen without blinding yourself.
Glove-friendly: Don't you hate it when you have to take your glove off to press a button on your phone? With a dedicated motorcycle GPS like the ZUMO XT, you don't have to. Not only is the screen big, but it's also glove-friendly, meaning you can still use the touchscreen display while keeping your gloves on.
Stronger when you crash: If you've noticed a theme about motorcycle-specific GPS devices, it's that they are designed for the task of being used in rugged conditions. Like riding an adventure bike. Not that we need to remind you, but adventure riding brings with it a decent chance of the bike falling down. Motorcycle GPS units are built with tougher cases and frames, to handle the impact of a fall better. Your phone? That thing breaks when it falls off the coffee table. Odds are you won't want to risk breaking your phone off-road.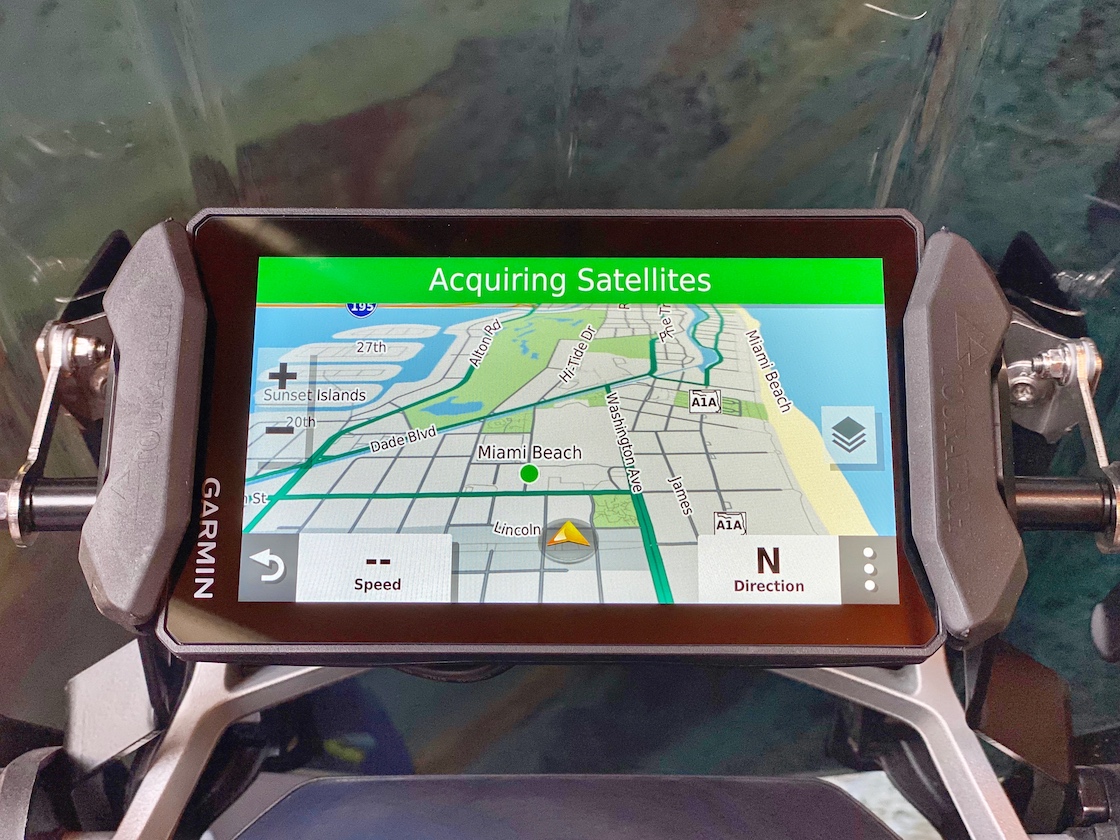 Why is GPS especially good for new riders?
The obvious reason is, so you don't get lost. A motorcycle GPS, especially one built for going off-road, will also display popular trails or routes in the dirt that a phone won't.
But even on-road a moto-GPS has benefits; it may do a better job highlighting major and/or sharp curves in the road and display a warning about slowing your speed, some can give you weather updates, allowing you to decide whether to continue or find a detour, and others give you live traffic updates so you can avoid those areas, if possible.
In regards to knowing what's ahead, when I'm training or riding with buddies, I let them know that awareness about future corners can save lives.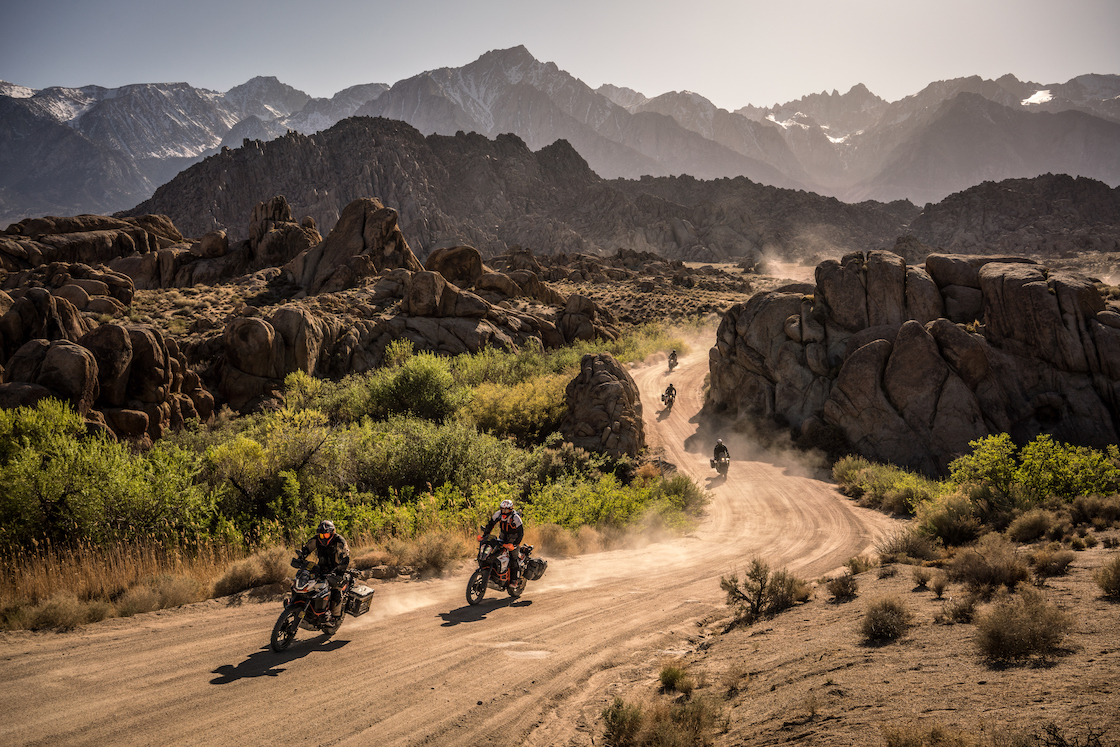 What are the benefits of motorcycle GPS for group rides?
The benefits are huge! If everyone in the group has a motorcycle GPS (preferably the same one), they can all load the same map and be on the same page about where the group is going—especially off-road.
This is especially helpful for newer riders in the group, so they can go at their own pace and not feel the need to ride over their head and follow the more experienced riders. At the same time, the veteran riders at the front can also ride their ride without worrying (or worrying less) about the guys in the back getting lost (although this inevitably happens anyway).
Ninety percent of the rides I lead always ending up with less than five riders up front. It's nice not to psychologically worry about the others getting lost—something that can keep you focused on the ride. And of course increased focus equals increased safety.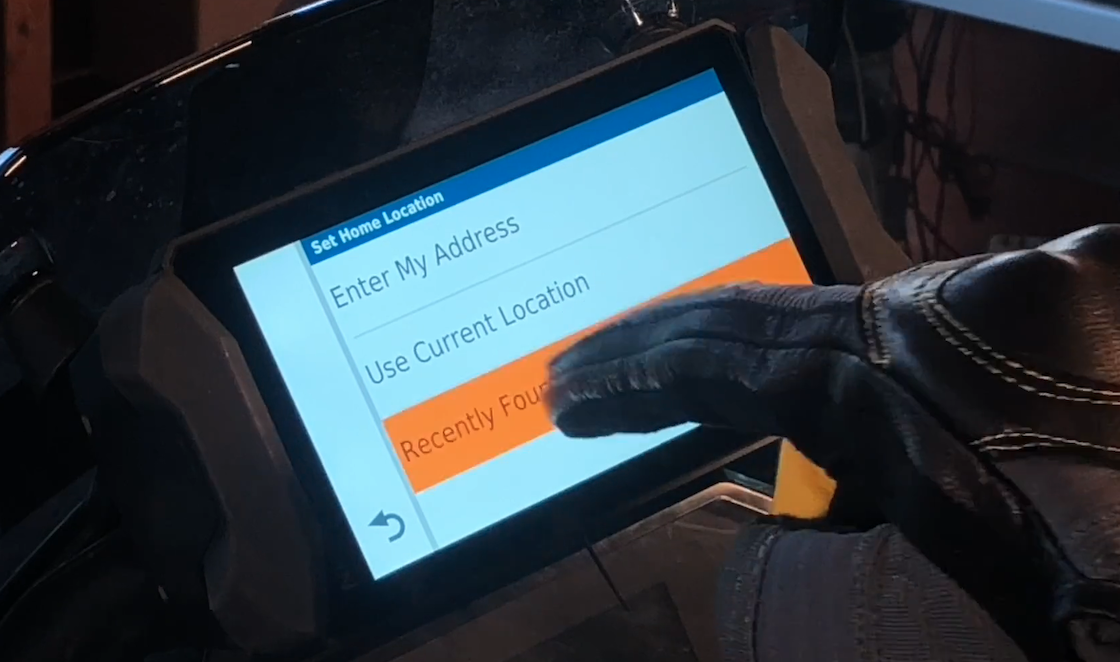 Should you fear learning the technical features of motorcycle GPS?
Of course not! The beauty of living in the digital age is that learning new technology is actually really easy. You can read the owner's manual if you wish, but we've found it's even easier to hop on YouTube and watch a tutorial.
There are zillions of videos on YouTube—at least one of them will certainly be about the GPS unit you have. There you can get a step-by-step walkthrough of the exact device you have, and even if you've figured out the basics of how your GPS works, odds are you can even learn something new.
I drive loads of traffic to these videos because there's always something new to learn. And they continually get better every year.
As you can hopefully see by now, a motorcycle navigation GPS is a powerful tool that goes beyond what a phone can do—especially since we're also talking about riding off-road.
Yes, they can offer basic turn-by-turn navigation like a phone, but they take it to the next level. High-end devices feature long-life batteries, barometric altimeters, and topographical maps to get as clear a picture about your route, its elevation, and even the weather, as possible. Some of these devices can also track your route and save it if you want to revisit it in the future or send it to your friends for them to try. Can your phone do that?
Convinced yet? We thought you would be. To learn more about all that motorcycle GPS devices have to offer, visit Touratech's GPS page to see everything we offer and find one that suits your needs.