The road ahead is unknown—each passing mile is a completely new experience, and every trail presents a different condition. Then, it bites you. Quickly and unexpected, the route becomes too difficult, the roadblock stops you, or traffic comes to a dead halt.
Whatever it may be, you're stuck. You picked your destination on a map and a route to get there, but now you're in trouble. You could take your best bet and find another route, but it might end just as bad. This could be an ugly ride.
Let's face it, riding by a map is a thing of the past, though we still recommend them incase you lose, smash or break your GPS miles away from home.
Nowadays, GPS is the thing to have. Using one to plan and execute your ride can mean the difference between the trip of a lifetime or a day full of headaches. Unfortunately, they can be a pain to pick the right the one out, set up, and use. Fortunately, we've picked up on a few tricks over the years and are happy to share them with our Touratech blog readers.
Below are 10 tips to getting the most out of your motorcycle GPS unit.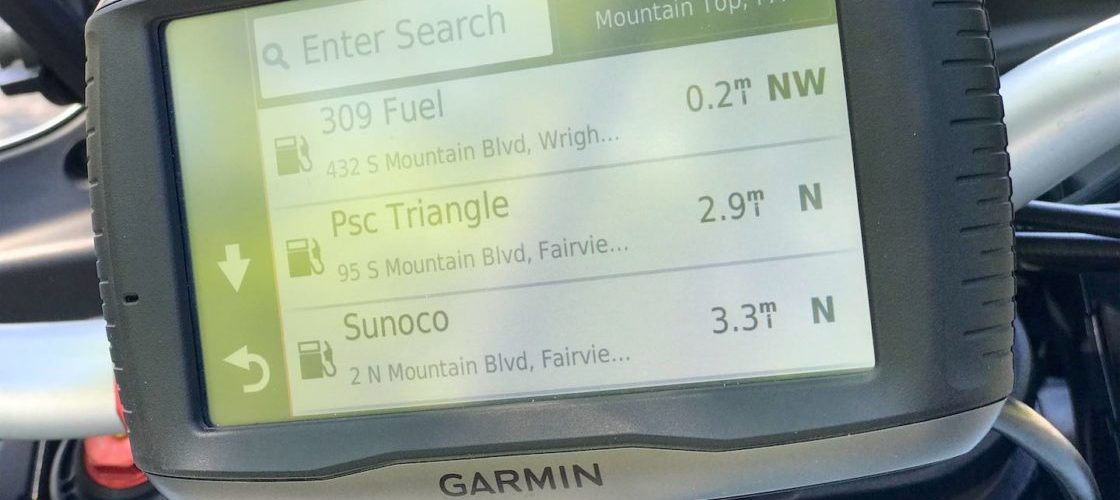 1) Choose GPS That Fits Your Needs
Know what you need out of your GPS unit. If the majority of your riding consists of a quick ride to and from work and mostly in fair conditions, chances are that your smartphone will do the job. It will have the basic necessities to get you from point A to Point B with no issue, but doesn't come packed with all the features that a dedicated GPS unit does.
Is backroad adventuring through the harshest conditions your thing? It's probably best that you buy a dedicated GPS unit for the added features, durability, and motorcycle-specific features that will make your ride enjoyable. Some of our go-to units that we use at Touratech Rallies are the Garmin units, specifically the Zumo 595LM and Montana 680T and 610 units.
That said, check out the market. Decide what you'll be looking to get out of a GPS system and how often you'll be using it. Some motorcycle-specific GPS units can get quite pricey, though there are entry-level pieces that are considerably cheaper.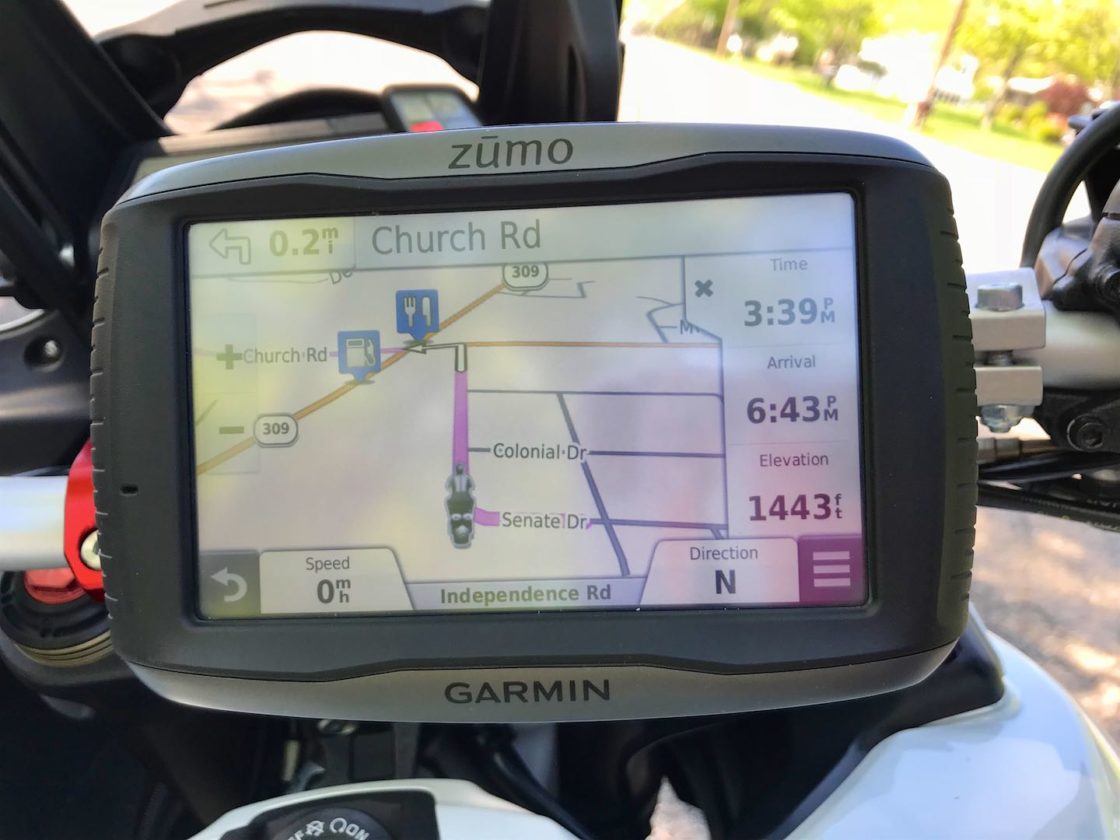 2) If You're a Serious ADV Rider, Buy a Motorcycle-specific GPS Unit with Off-Road Maps
 Sure, the smartphone might work for some, but if you ride an ADV through the terrain and conditions it's designed for, a motorcycle-specific GPS unit is a must.
Benefits of a Motorcycle-specific GPS
Off-Road Maps: Should we say more? The option to plan off-road treks is a must for the Adventure Touring spirit.
Ruggedized construction: GPS units that are designed for use on motorcycles are built to be tough, plain and simple. The vibrations produced by your ADV bike will wear a normal GPS device or smartphone down overtime, especially if you spend a lot of time off road. Have a crash? No chance that a flimsy phone will escape an impact unharmed.
Waterproof design: Water crossings are the death of most smart phones and unexpected downpours can cause just as much issue. Fortunately, most motorcycle GPS units are designed to be completely waterproof for when the going gets wet. Some two-wheeled navigation systems, like those built by Garmin or TomTom, are even tested to fit strict waterproofing standards.
Glove-friendly display: How many times have you whipped out your smartphone to check your messages only to have to pull your gloves off to even unlock it? We know, it's a pain. Companies have created screen displays that are totally glove friendly. Pull to the side of the road and play with your GPS with no extra hassle.
Proper mounting hardware: Attempting to retrofit an automobile GPS unit to your bike will only cause issues. Motorcycle-specific systems come with at least the necessities to get it up and running on your ADV bike (more on mounts below).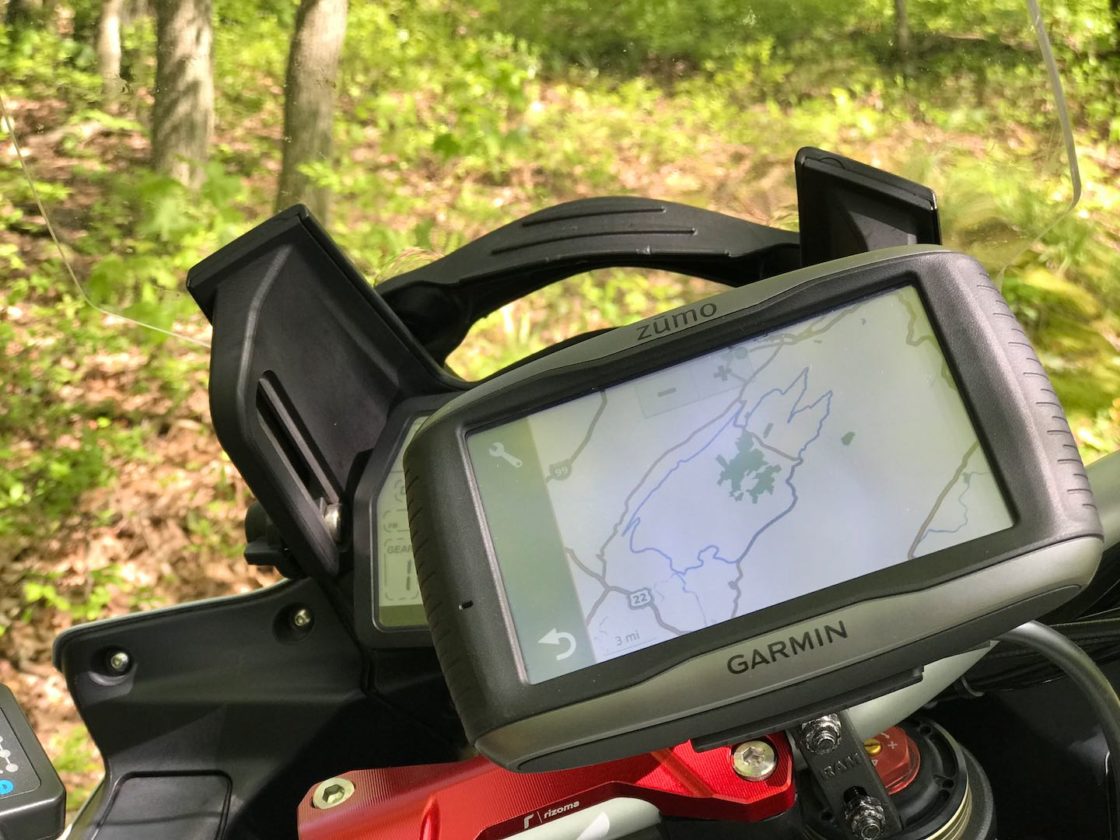 3) Pass on Using the iPhone as Your GPS System
 Sure, your iPhone might work just fine for your daily commute, but anything more and it's going to show its weaknesses. Trust us, we've tried using it for years.
The largest issue that we've run into is overheating. In direct sunlight, the iPhone will reach a temperature where it will automatically shut down. There's nothing better than being stuck on the side of the road needing to make a call and having a phone turn itself off. The screen can also be difficult to read in varying sunlight and the various charging and headphone ports and susceptible to damage through dust and water.
4) Pick a Route Before You Ride 
Every time that we plan our ADV rides, we spend a few minutes planning the route to our destination. Sure, you could plug in an address and your GPS will get you there, but choosing custom routes through winding roads, off-road trails or that stop at your favorite local diner can make your ride that much better. Most GPS systems provide detailed maps in which you can look over thoroughly before setting out. Choose the long way there, it's always more fun.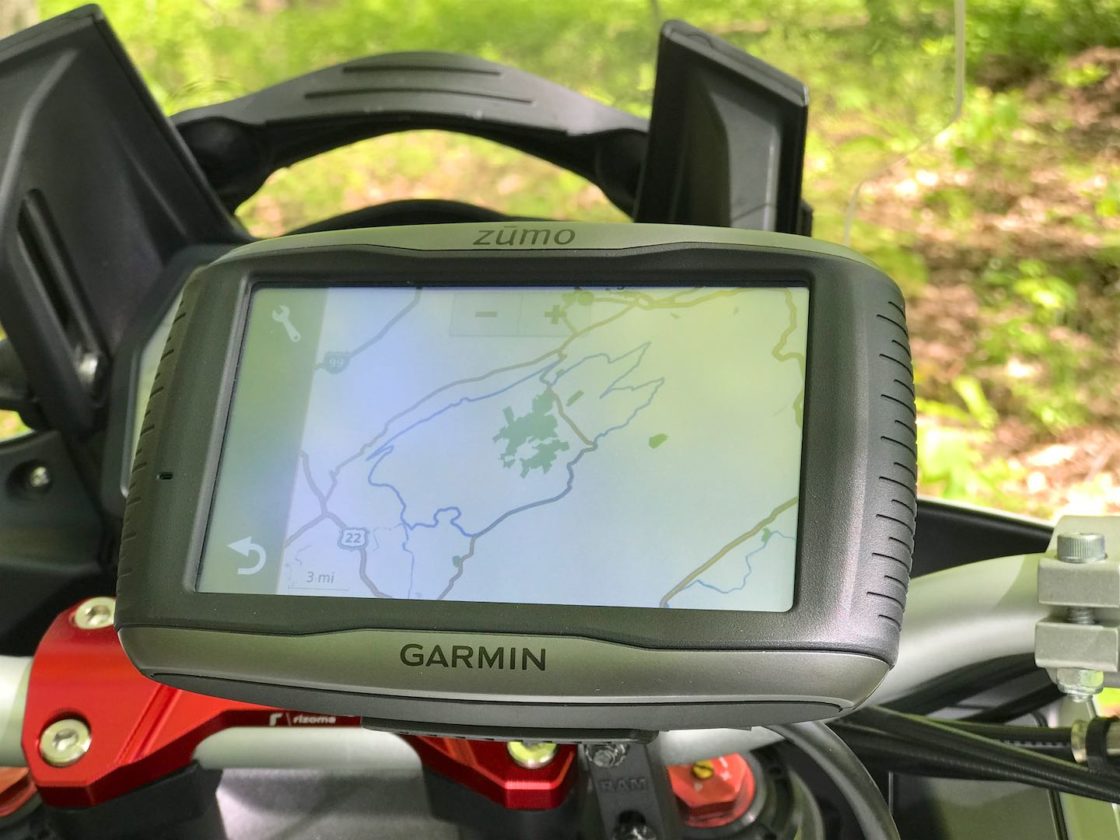 5) Add-on Software is Well Worth the Cost
 Manufacturers like Garmin offer additional software that can be loaded into your GPS unit to make for an even more enjoyable experience. The offered software often provides added features like detailed topography maps—which can give you an idea of how steep the trails or roads are that you'll be up against—as well as extra points of interest. Some packages are created to help your travels through foreign countries with easily-understandable directions and detailed maps.
6) Choose a Point of Interest… Or a Few… To Ride to!
You're out on an adventure; don't pass up the chance to hit neat spots along the way. Most GPS systems will show where points of interests like restaurants, parks, entertainment venues, lodging areas or shopping places are located. It doesn't have to be rough roads the whole time on your trips, take some time to enjoy what the world has to offer.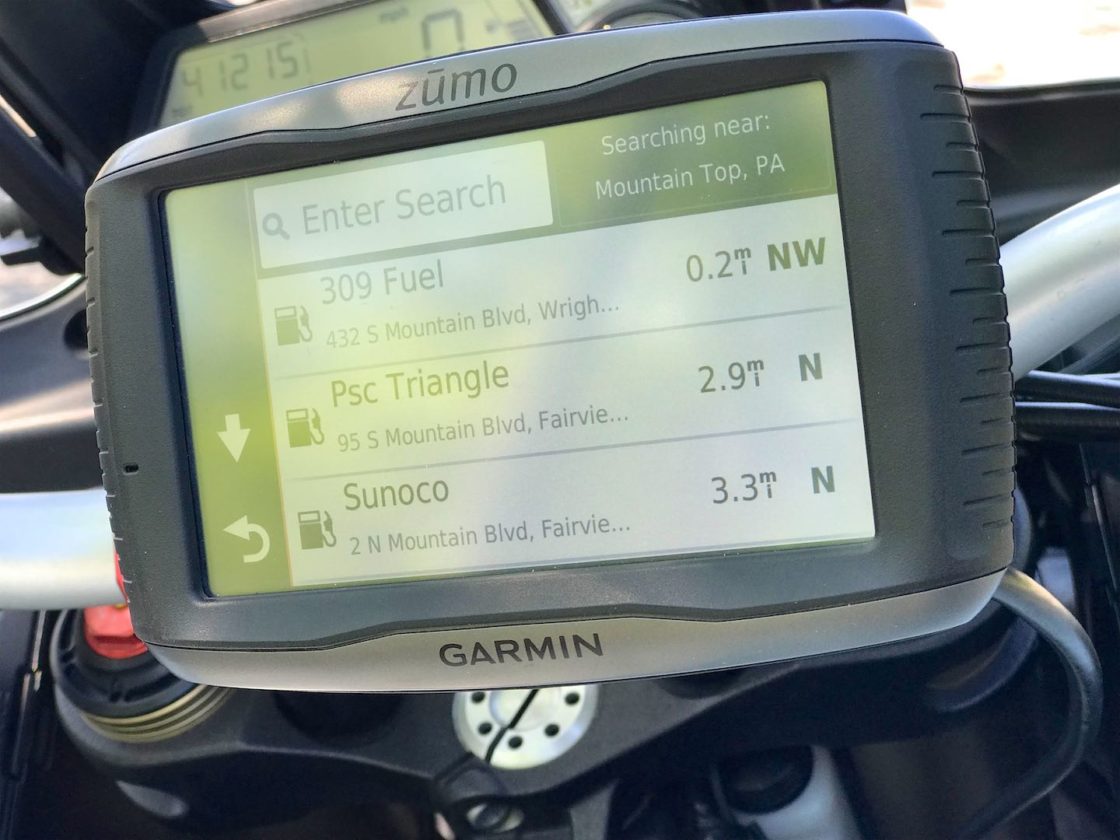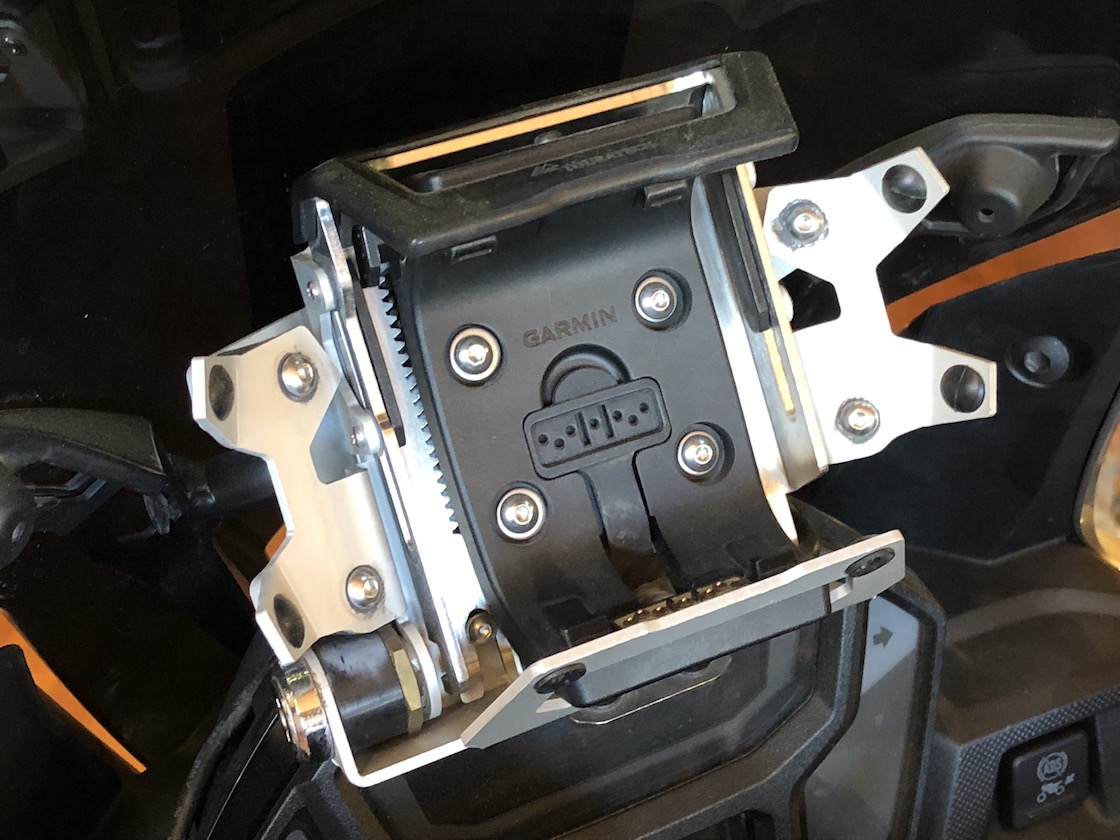 7) Using Bluetooth is Key
 Aside from just pointing you in the right direction, most GPS units have the capability of hooking up to your other devices via Bluetooth. This means that you have the ability to receive calls, play music, and listen to turn-by-turn direction through your in-helmet headphones. Awesome? Totally. Just be sure to stay aware of how loud the volume is inside your helmet. Too noisy and it can take your focus away from what's going on in front of you.
8) Invest in a Quality Mounting System
Chances are you spent a significant dollar on the biggest and baddest GPS system available. Why risk losing it with a subpar mounting method?
There are several companies out there offering all sorts of different mounting options for your GPS system. From iPhone to full-blown Garmin, dedicated motorcycle GPS mounts will ensure that your GPS is safe and sound during any of your road trips or backcountry adventures. Most kits will perch the system alongside the dashboard, but others will put it in the direct field of vision where you'll never have to take your eyes off the road. Knowing your preferences here is key.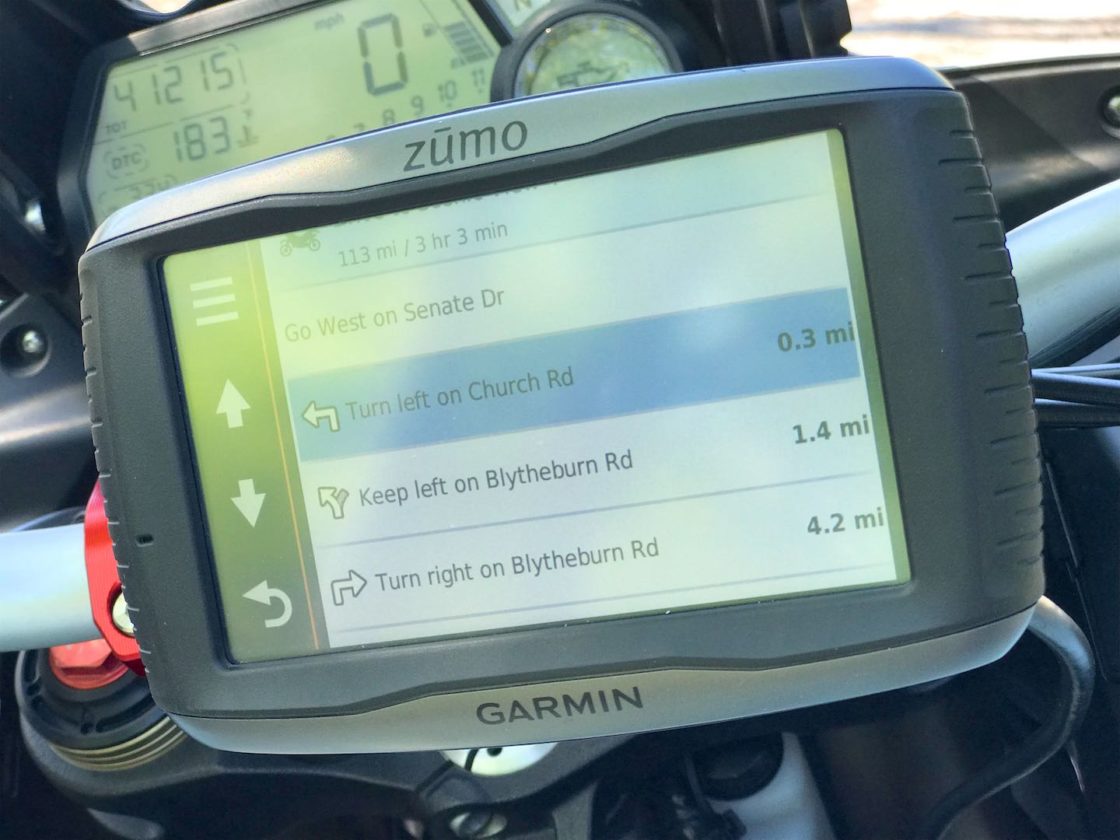 9) Keep Your GPS Unit Hands Free
 By setting up your GPS to work with your smartphone via Bluetooth, you'll be doing a good job of keeping it hands free anyways. However, having it within reach can be tempting to fiddle with. If you need to make a change to your route or something about your GPS is just really bugging you, pull over to the side of the road and play with it. There's no need to be headed down the highway with your eyes and hands not focused on controlling the motorcycle.
10) Enable the Lane Assist Feature!
 No, no… GPS systems with lane assist features don't keep you from veering into another lane like the latest Tesla technology. Instead, a feature like this will give you tips as to what lane to be in throughout different sections of road, which is especially helpful on freeway interchanges. For example, if you are heading down the Highway 5 and are looking to get onto the 405 Freeway South, your GPS can point out which lane will get you there a few miles ahead of time. Thus, it'll reduce the risk of having to make lane sweeps at the last minute. Win!