Below is a letter from Touratech customer Bob Lewalski.
I had a 2015 R1200GS that was fully outfitted (with minor exceptions) with Touratech Gear. Crash Bars, Headlamp protection and Zega Pro panniers. I was beginning a 3 day trip in Texas and just hours into the ride, found myself on a country road turning a bend and was stopped by a semi truck just standing parked on my side of a two lane blacktop.
I paused about 50 feet behind the truck and waited for him to move on. After about a minute or two as I glanced up I saw him drift back as if to put the truck in gear and move ahead. I was very wrong on that assumption. I watched and to my surprise he gave the rig gas and in reverse was quickly moving my way.
For a second I was like a deer in the headlights. After putting my GS into gear, I attempted to go around him, beeping my horn but missed the escape by inches. His Mansfield bar smashed my front wheel and down I went underneath the trailer. He still kept coming! Then miraculously the truck stopped, me underneath as both the bike and me had been pushed back about 15 feet after the collision.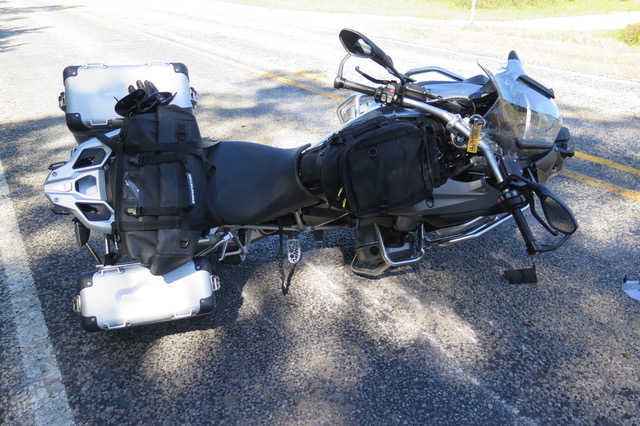 I pulled myself (totally uninjured) away from the downed GS and spoke to the driver of the rig, both of us very rattled by the accident.
He didn't see me behind him, he said.
He also commented to me that the reason he stopped is at the time the truck pushed the GS far enough that he did see the Touratech Zega Pro pannier shining in the sunlight.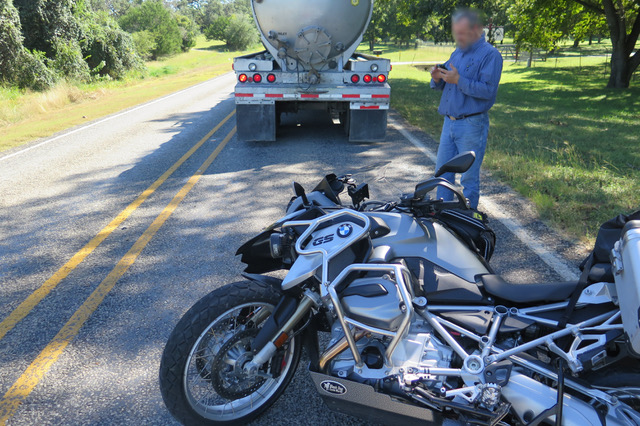 Here are couple of overall things to comment on. The Zega was my saving grace. But the Touratech crash bars definitely kept the bike up and off of me as both the bike and me were pushed back those 15 – 20 feet or so on the road surface.
Another thing I learned is to keep in sight of the driver's mirror at all times, even if it's on a sleepy country road. Also to never anticipate that the decisions of a vehicle operator either in front or behind you have 'your' best interest and safety as a priority. I was very lucky and even though I can't prove that Touratech saved my life, I can say that when I was under that truck I had no idea how close to my helmet and my head that was in it, that rear truck tire was.
In the end all was ok. The bike was totaled because of major fork and substantial frame damage but I was able to walk away with not even a scratch. The panniers and crash bars remained sturdy and attached.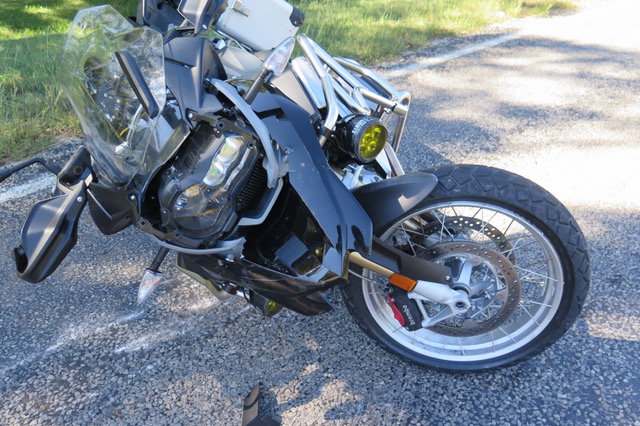 The trucking company insurance paid for the totaled GS. I replaced it with a BMW S1000XR and now I just bought a 2020 F850GS, which I am planning to equip with Touratech products again! I'll need to replace the 38L box which was heavily damaged (the 31L box was a bit scuffed but ok overall) and also will buy the appropriate rack for the F850GS.
Wear the gear and make sure it's on your motorcycle as well and there will be a good chance you will walk away from a bad situation as I did.