By Ron Lieback
Hey adventure riders, looking for a list of resolutions that are specifically designed for you? Check out these seven and ride happier this year.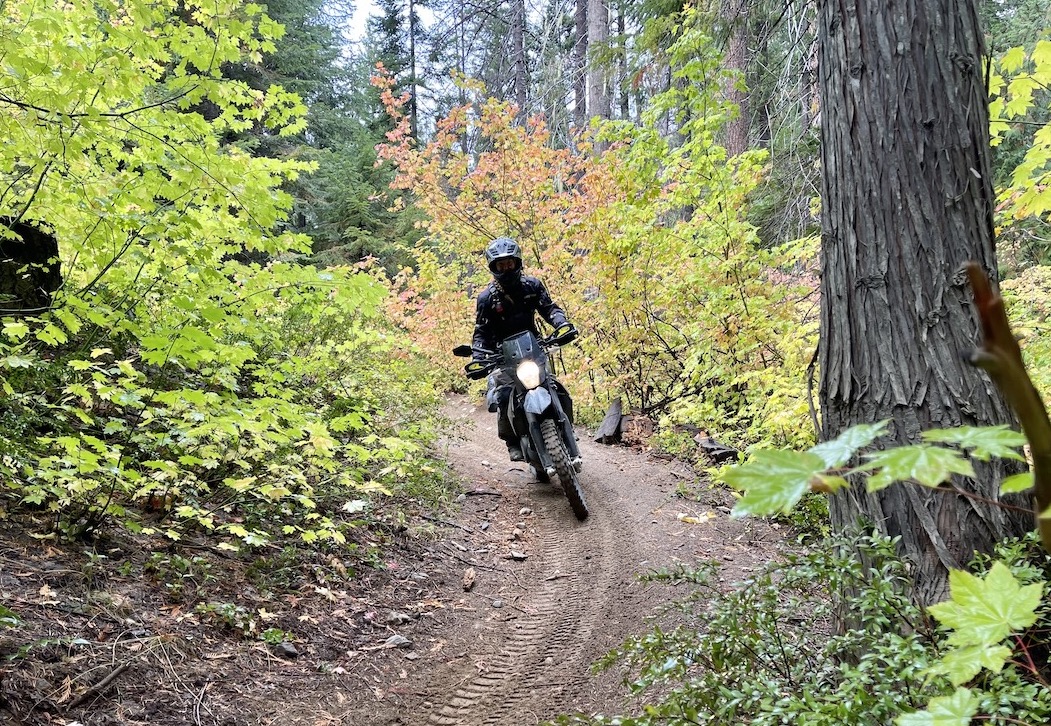 New year, new you.
Those words splatter about every communication channel possible throughout January, touting a refocus on health and fitness.
Adventure motorcyclists deserve not so commonplace ideas—ideas that energize the mind, body, and motorcycle for another prosperous year of riding.
Below are seven resolutions designed for one specific person: the ADV rider:
1. Aim for Equal Riding Ability On and Off-Road
Many adventure riders either favor the road or the dirt.
There's nothing wrong with having more passion for one riding style over the other. But to truly get the most value out of your ADV, make a resolution this year to ride equally "efficient" in both areas. Then, build on those skills yearly, and you'll go from efficient to expert.
You don't have to master each style of riding, although those that do enjoy the ride more. Efficiency is key.
The major key here? Using proper tires and overcoming the fear of riding off-road on adventure tourers—especially the larger ones like the BMW R 1250 GS, KTM 1290 Super Adventure, Triumph Tiger Explorer 1200, and Honda Africa Twin CRF1100L.
Tires improve yearly, and today's ADV tires are more than capable for any riding situation.
Be honest with yourself. If you spend limited time off-road, go with an 80/20 (80 percent on-road/20 percent off-road) tire, or a 90/10.
Ride mostly off-road, even if only fire roads? Go for a 60/40. Tires dedicated to adventure bikes such as the Bridgestone AX41, Pirelli Scorpion Rally STR, and Dunlop Trailmax Mission offer endless amounts of confidence off and on-road. This type of performance was unfathomable a few years ago.
Pro Tip: Spending serious time off-road, say riding a Backcountry Discovery Route? Drop some pressure (experiment with 5 PSI drops from OEM – more in point five).
Inflate the tires to OEM recommendations for highway speeds (read, not "max PSI" printed on the tire, something many riders, unfortunately, do. Find the OEM recommendations, typically written on a frame sticker, manual or quick online search).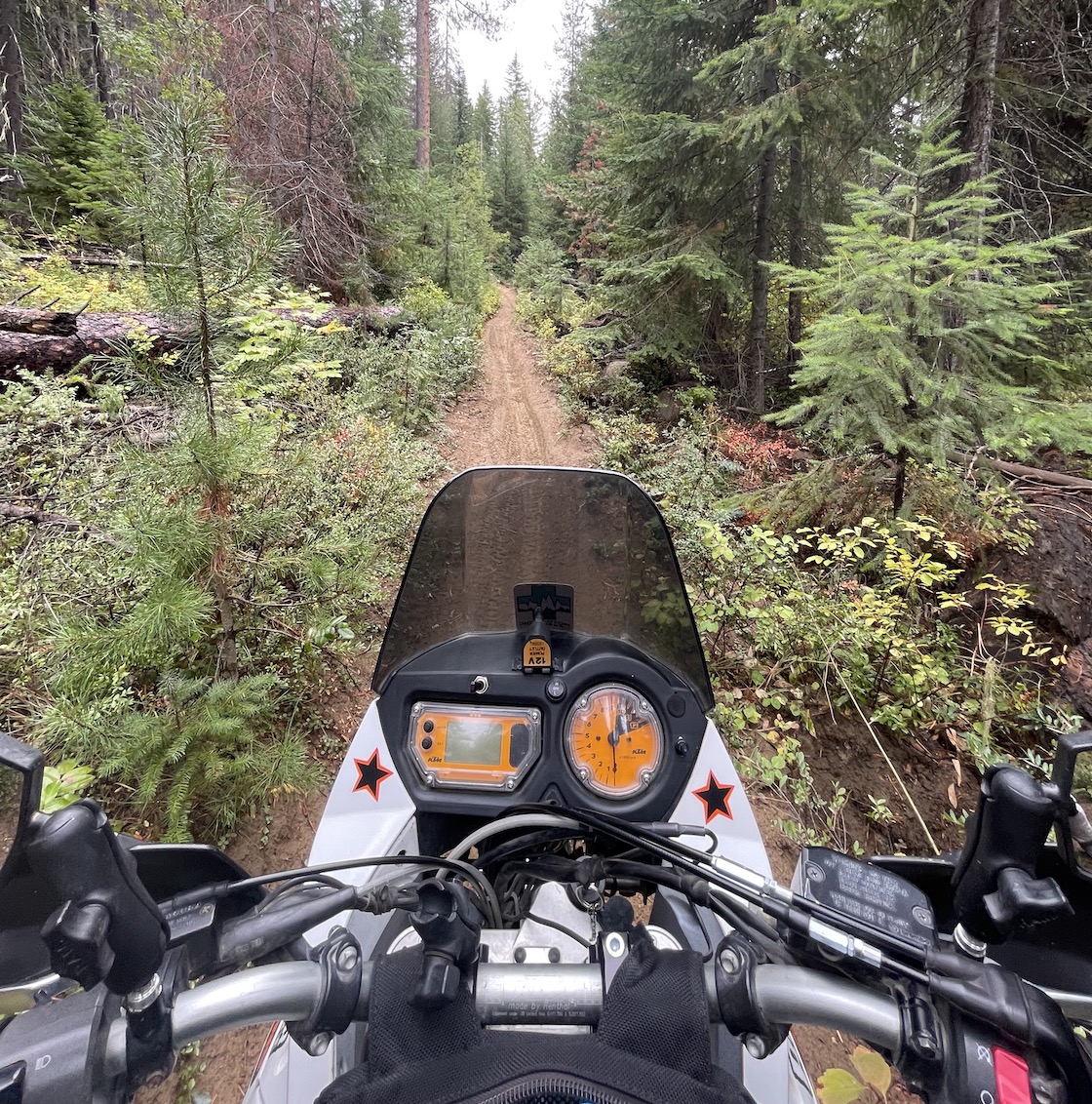 2.  Master Finesse of Controls
Resolution number two is all about your fingers, hands, and feet. The goal is to master the use of all four in unison—with finesse.
That means no harsh throttle, brake, or clutch inputs. Of course, slamming open the throttle is a heavenly feel, but that's reserved for limited times like passing automobiles or tractor-trailers on highways (get on the gas to pass!) or sliding the back tire through some off-road corners.
All else is finesse (even wheelies).
Every bike will react differently from variations of input. For example, an R 1250 GS will react much differently from a Ténéré 700, as an 890 Adventure R will react much differently from a KLR650. Similarly, a loaded bike responds much differently than an unloaded bike.
The goal is to master your feel on input, not so much the bike's output of braking, throttle, or clutch, knowing different bikes and situations like riding with a passenger will cause inputs to vary drastically.
Spend time at slow speeds controlling throttle and clutch inputs, practicing only front to rear braking while standing and sitting, and then combining both brakes.
Learn to lightly use the rear brake to scrub speeds and tighten your lines on street corners, and learn to compress the front suspension by throttle and brake inputs to wheelie over obstacles off-road, such as logs or rocks.
Pro Tip: Take your bike for a walk weekly, varying the grades of hills (up and down), speeds, and left to rights. This is the first practice of mine when riding a new adventure bike. You'll immediately understand throttle, clutch, and front brakes. Then ride only using the rear brake to slow for a few minutes. Your finesse will build quickly, and you'll ride more confidently and safer.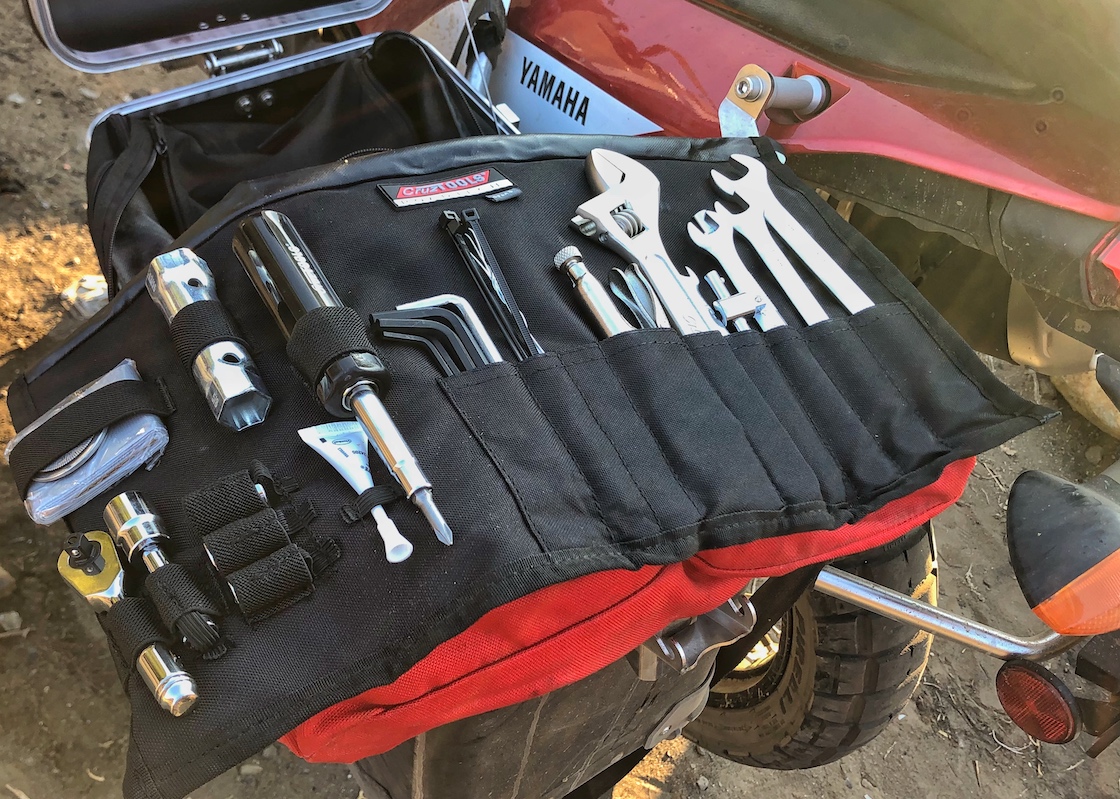 3. Learn Basic Mechanical Skills
Do you know how to change your oil, clutch/brake fluids, air filter, or a flat tire on the trail?
This year, make it a resolution to learn the absolute basics of mechanics for your adventure bike and build upon those skills yearly. Not only will these skills help you if you're stranded somewhere far from society, but they'll also relieve some subconscious stress of thinking things like, "what happens if I get a flat 50 miles from the nearest paved road?". Most know the latter extremely well.
Pro Tip: Plan a garage night with your moto friends. Most know a wrencher, so hang with him or here, talk moto, and get some bike tuning down. Not only will your bike perform stronger and longer, but your happiness will grow because you'll be around your community of adventure motorcyclists.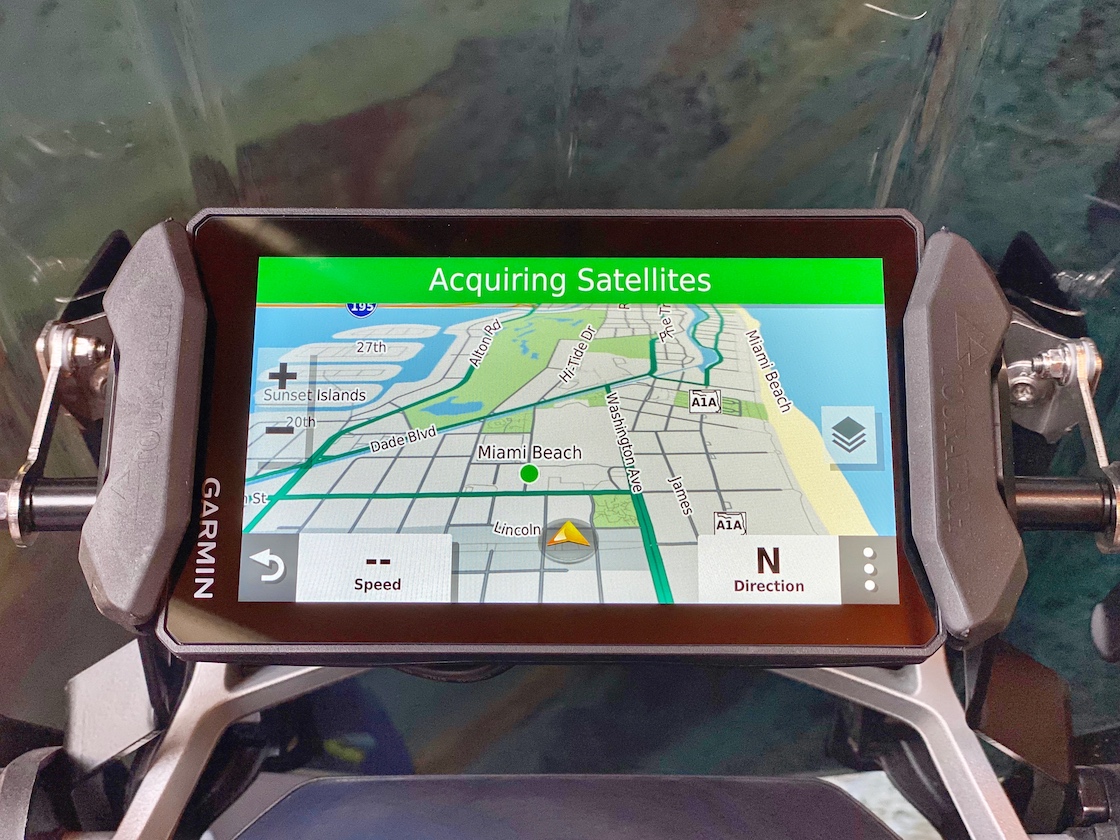 4. Master GPS
You all know a GPS genie—you may be one!
Whether provided by the bike manufacturers, apps like REVER, or units like GARMIN, these GPS systems are capable of more than most know.
Make a resolution to learn the system you have and master it.
Learn how to plan a route in minutes while on a trip. This offers endless benefits when storms are brewing, or that planned hotel is booked, or the campsite is flooded.
The major benefit of knowing GPS is that it helps alleviate the stress of "how are we getting there" so you can focus more on the ride. This focus also helps increase safety.
Pro Tip: For added safety on unknown roads and trails, zoom in slightly to recognize uncertain sharp corners, railroad tracks, or water crossings. This will keep the surprise factor down, keeping you from smashing into a tree or oncoming car.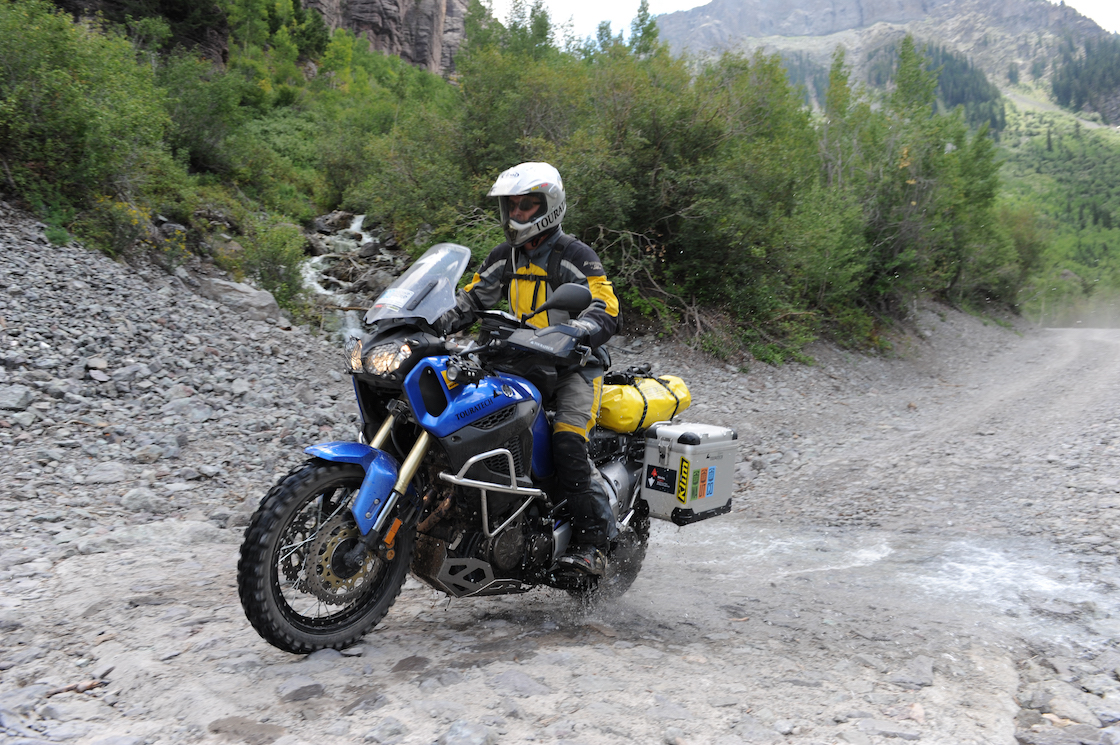 5. Check Tire PSI Daily
On the topic of safety, make it a lifelong resolution to check your PSI before every ride.
Check them cold before every day's trek, and if mainly on highways, stick to OEM recommendations.
Twisting throttles a bit more on the asphalt, and want some added cornering traction? Experiment deflating tires 3 to 5 PSI to find optimal traction (in the dry, that is—if wet, stick to OEM recommendations).
And if riding off-road, find the lowest pressure possible that won't bend rims or rupture tires (or pinch tubes if you still use them). Whereas you can comfortably ride a lighter dirt bike or dual sport as low as 15-20 PSI, heavier adventure bikes need more. I experiment with drops of 5 PSI increments and never go lower than 25 PSI.
The feel will be much different with situations like a loaded bike or looser gravel, so the 5 PSI increments will help you find what works for your riding situation that day.
Pro Tip: Carry a reputable mini air compressor for regulating your tire's air pressure on the road. Don't have the space? Use a hand-held air pump—the ones that typically mount to a bicycle frame.
The last thing you need is to find a gas-station style inflator in town or struggle with the fittings on them—how many times did you have to route the nozzle and hose through your wheels to find the perfect location and inflate?
And always carry your own quality PSI gauge. I don't trust the readings on mini compressors or tire inflator machines (I tested multiples, and a few were off by as much as 2 PSI). A quality gauge is vital, as is staying away from ones with batteries because batteries tend to die at the wrong times.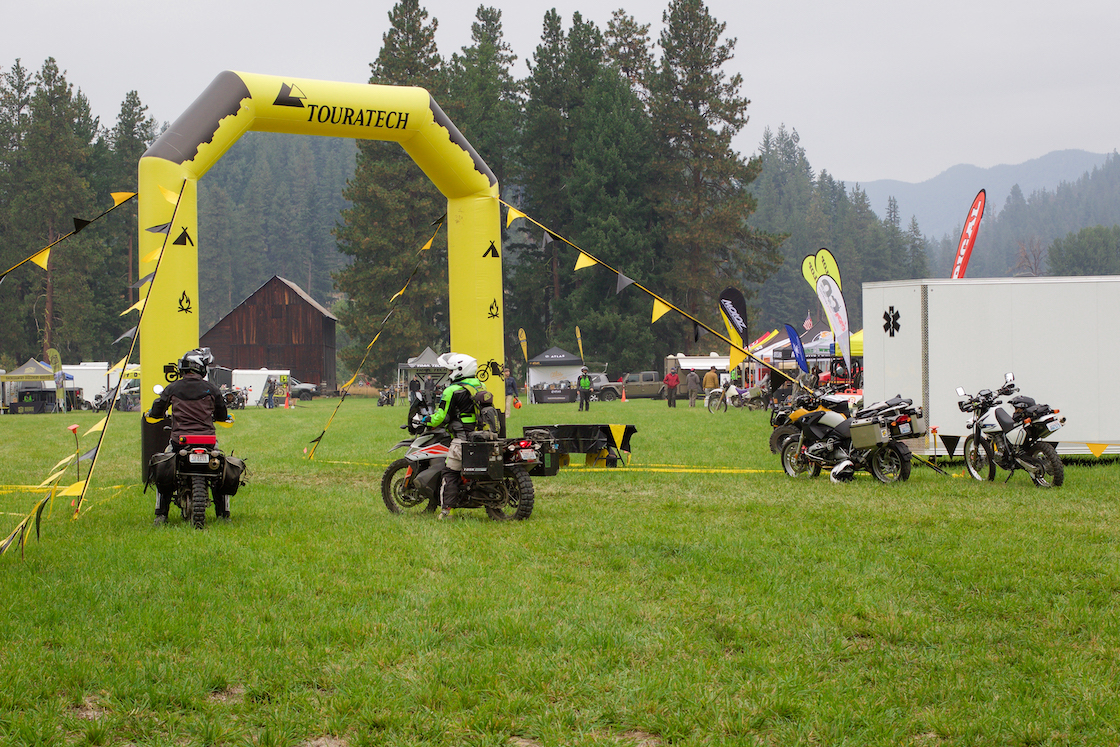 6. Ride with New Riders
Focus on riding with more unknown adventure riders this year and also make that a lifetime resolution.
The easiest way is through rallies like the Touratech Rally West and local ride groups such as the hundreds on Facebook.
There will always be mismatched riders, but expect 90 percent of the unknown riders to offer much value.
I've met many new friends, and some of my closest friends, through riding with new groups.
Talk to other riders, and offer any value possible without sounding pompous. And witness a riding technique or bike accessories you like? Don't be shy—simply ask You'll be a much happier rider and may meet your next close friend.
Pro Tip: Start your own Facebook riders group, building it based on the exact style of riding you enjoy most (fast, leisurely, whatever). Not too much of a ride leader or planner? Ask another member of the group to take the lead. Like-minded riders attract and always have more fun riding together; social media simplifies the discovery of these types.
7. Get Fit and Ride More
Yeah, it may be impossible to discuss resolutions without mentioning fitness.
But it's essential. For most riders, being fit doesn't mean rock-hard abs and the ability to finish the New York City Marathon in record time.
For your ADV fit resolution, focus on:
Endurance through cardio and muscle strength
Flexibility
Balance
Healthy eating/drinking habits
Some of my simple favorites that have worked for over a decade are a stationary bike and trampoline (easy on the knees) for cardio, and a kettlebell for muscle training, along with various stretching and balance-building exercises.
I implement these into my daily lifestyle, such as trampolining for five minutes every two hours or using a modified stationary bike under my stand-up desk to get the heart pumping while working.
Pro Tip: When people think riding fitness, the balance may be the last on the list, if on the list at all.
Build your balance while doing everyday things, such as brushing your teeth or showering.
Stand on your leg while practicing the above daily hygiene regimes, alternating legs every 30 seconds or so. I do the same for stretching, such as putting my foot on the sink and stretching while drying. These little things become habits, and you won't be bogged down by spending added chunks of time weekly performing these tasks.
The ultimate goal of this resolution is to ride more. And when you're physically fit and ride more, your mental health will improve, helping you progress in other areas of life, from personal family happiness to building on your professional endeavors.
Adventure riding offers more than a getaway on a motorcycle.
These getaways positively affect the body and mind, like compounding interest in investments.
The problem with most resolutions is that they're designed for ordinary people—aka, not motorcyclists like yourself.
These common resolutions end quickly for most. Ever compare the parking lot of your local fitness place the first week of January versus the first week of February?
Don't be commonplace. Find resolutions that you can stick to for life, such as the simple ones above that focus on adventure motorcycle riders.
This riding niche got the "adventure" name for a good reason. Stick to these resolutions, and you'll be a more capable and safer rider. Those traits will spill over into everyday life during those moments when you're off the bike. Onwards to a healthy year of riding more.