By Ron Lieback
Harley stunned the world when it announced plans to enter the ADV market with its Pan America. Is this bike truly ADV worthy? Yes, it is. And here's why.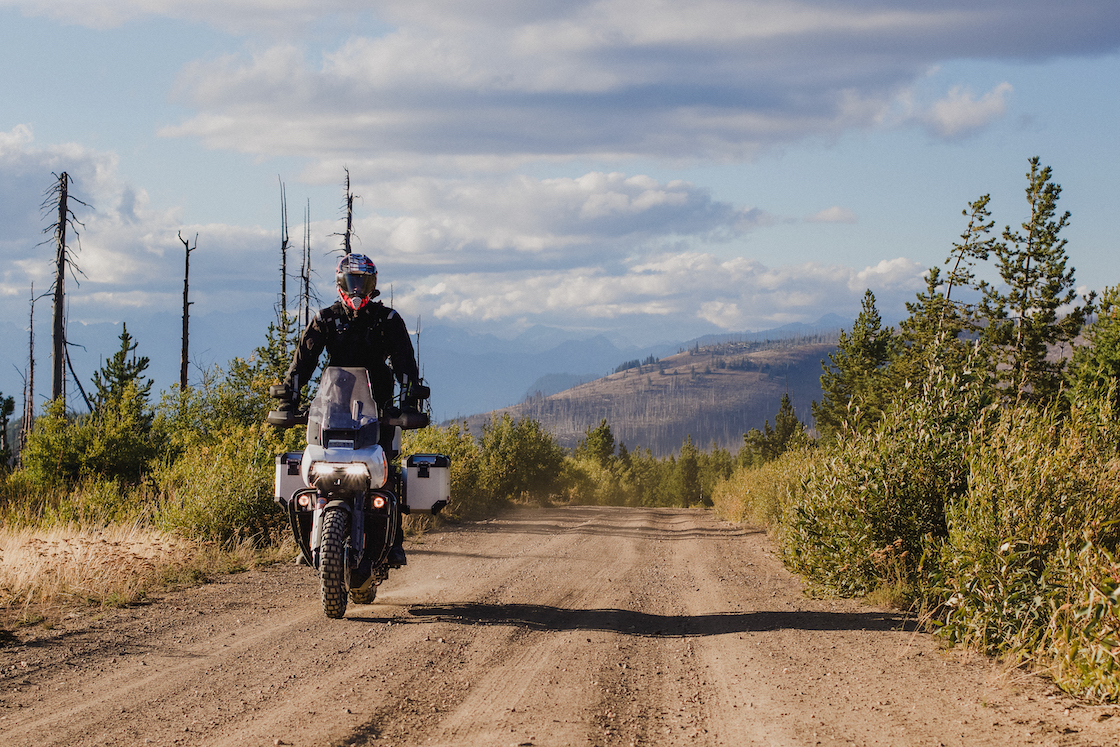 Think Harley-Davidson, and what's the first image that comes to mind?
For most, the answer is not a super capable adventure touring bike that can compete with the masters of the ADV domain, such as the BMW R 1250 GS, KTM 1290 Super Adventure, Yamaha Super Ténéré, and the Triumph Tiger Explorer, to name a few.
But the Pan America changed this notion and, for the ADV crowd, the entire image of "The Motor Company" brand.
Harley published some feelers of the former statement when it released its PR on the bike: "The commanding riding position allows the rider to see the world from another point of view. Travel coast-to-coast. On road or off. All while experiencing your own adventures."
And after many of the world's top motorcycle journalists rode the Pan America, the bike surely allows you to experience your own adventures. And with ease.
Harley announced the Pan America in 2018, remaining extremely hush on the details. The bike was officially unveiled at the 2019 EICMA Motorcycle Show in Milan, Italy, a show typically highlighted by European and Japan's next-year unveilings.
Harley said the bike was part of its "More Roads To Harley-Davidson" initiative, a marketing campaign that focused on a different non-cruiser/bagger demographic to get new riders of all styles riding Milwaukee's machines.
The buzz circled heavily after EICMA, and the bike was slated to launch in 2020. But the pandemic screwed that up. Rather, the bike launched in 2021, receiving much praise from journalists worldwide. And for 2022 it's available in two flavors: standard and the Special model that caters to the most passionate of ADV riders.
Let's take a deeper look into the adventure touring attributes of the newest contender in the world of big bike ADV.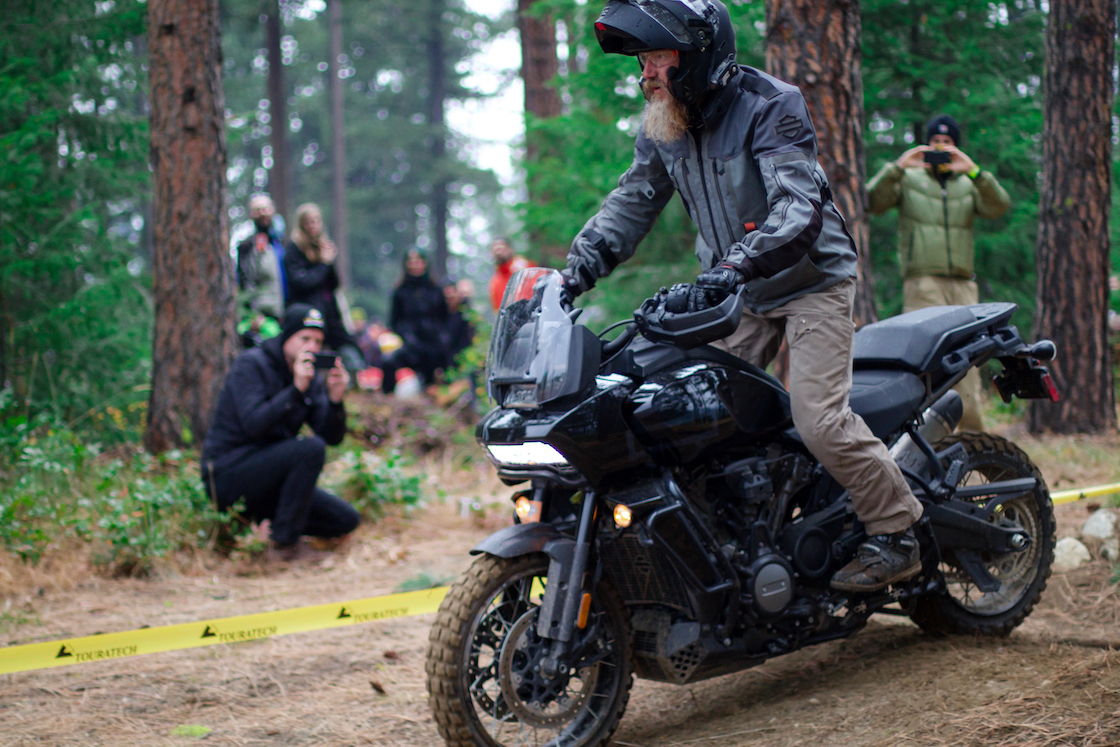 Pan America Engine: Tuned for True ADV Riding
This power plant has the same 60-degree angle as the Revolution power plant in the now extinct V-Rod (2001-2017). Did you know that Porsche assisted with the design of that original Revolution?
Regardless of its past, H-D engineers designed this 60-degree V-twin specifically for adventure riders. The 1250cc 60-degree Revolution Max V-twin arrives with a 13.0:1 compression ratio, 150 horsepower at 9,000 rpm, and 94 ft/lbs of torque at 6750 rpm.
With a 9500 rpm deadline for some fun over-revving, Harley has tuned the engine for a linear power delivery across the rpm range, something most large ADV touring bike riders are already used to. That's more than enough to haul a load of camping equipment for extended tours with ease.
The linear power band is due to the variable timing, which can retard the camshaft timing up to 40 degrees of crankshaft rotation.
Unlike a few European models with shorter service intervals, the Pan America needs zero valve adjustments because of its hydraulic valve lash adjusters.
And one of the questions asked often is about the final drive. No belt will be found on the Pan America; Harley wisely used a chain drive.
The bike uses a six-speed transmission with a shift drum supported by roller bearings and a cable-actuated slipper clutch. Sorry—for those of us spoiled with clutchless shifting, you won't find clutchless up/downshift assist (not yet, anyway).
The other electronics are plentiful due to the use of a Bosch six-axis IMU. The rider-assist technology includes lean angle ABS, cornering enhanced link braking (C-ELB), cornering enhanced traction control (C-TCS), Drag-Torque Slid Control System (DSCS), and Tire Pressure Monitoring System (TPMS).
Five modes cover a wide spectrum of riding; Rain, Road, Sport, Off-Road, Off-Road Plus (rear ABS deactivated).
These modes also carry into the suspension, which we'll discuss next.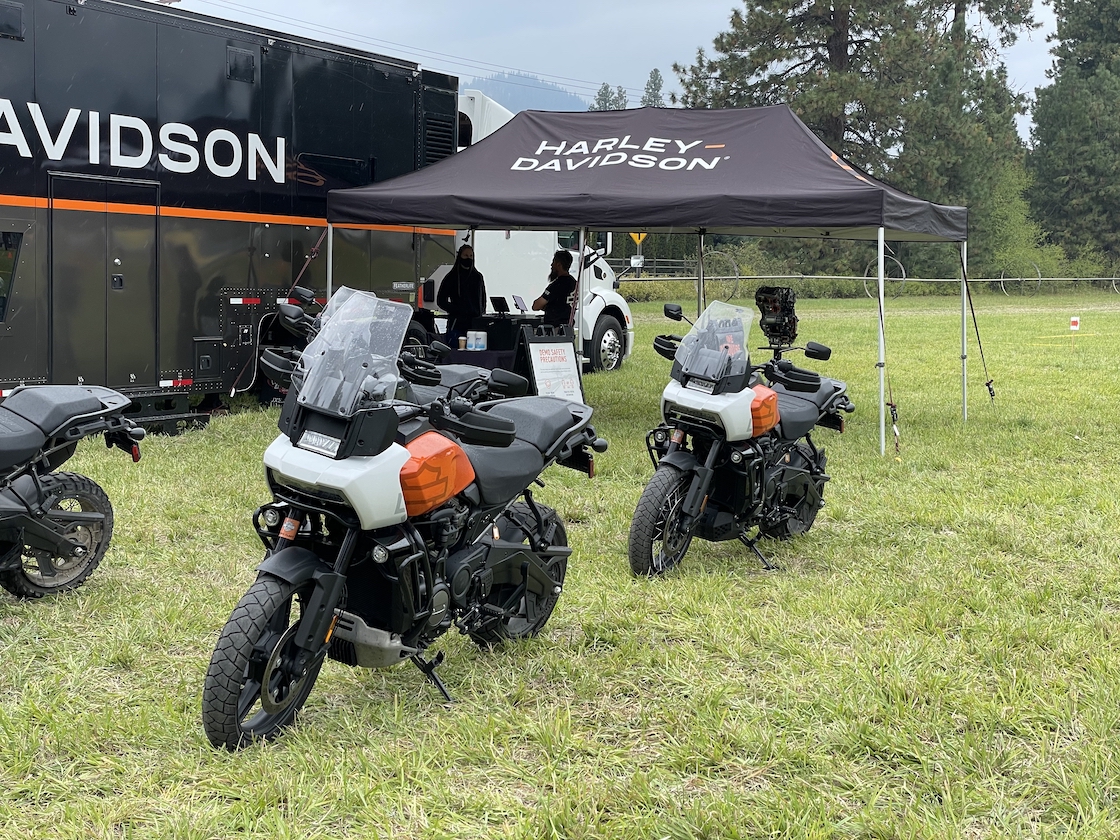 Pan American Suspension Ready for Dirt and Extended Touring
Harley didn't skimp on suspension. The Pan America 1250 arrives with semi-active suspension that features five modes: Comfort, Balanced, Sport, Off-Road Soft, and Off-Road Firm. These modes actuate changes in the Showa Piggyback rear shock and the Showa 47mm inverted dual-cartridge fork.
The suspension travel is 7.5 inches front and rear, the same as the BMW R 1250 GS, and a respectable 8.3 inches of ground clearance.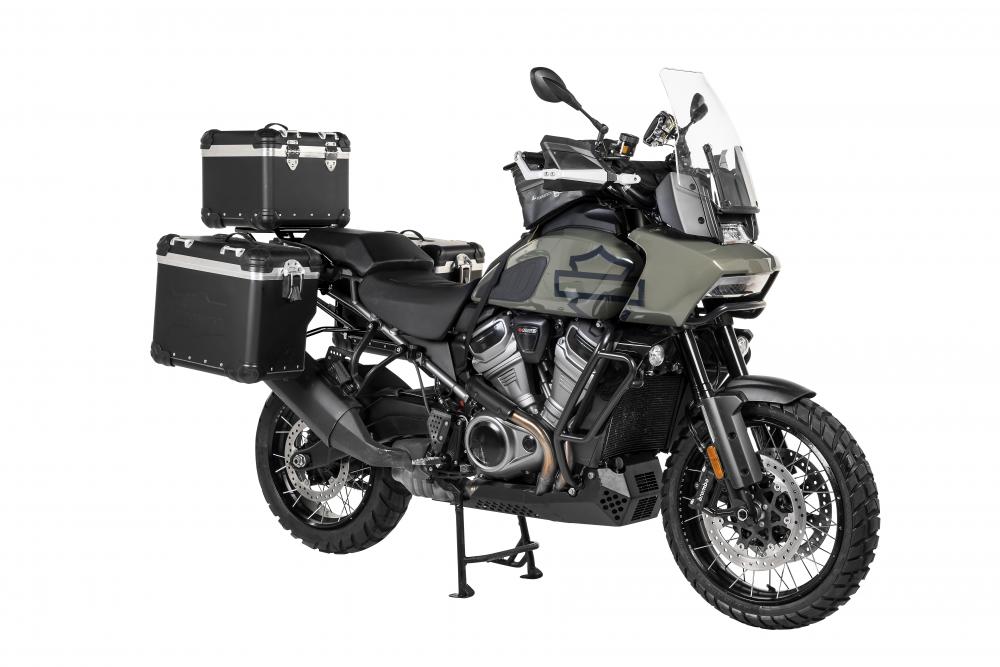 Other ADV-Focused Pan America Bits
Hoping to throttle into the adventure touring market as intensely as possible, H-D focused on lighter weight. The standard weighs 534 pounds with a full tank of gas, and the Special 559 pounds (well worth it due to the extras that are discussed below).
To help keep weight down, Harley uses a cast-aluminum swingarm, and an aluminum 5.6-gallon elongated fuel tank that sits lower within the frame to keep the center of gravity lower—something off-road riders crave while piloting a bigger ADV bike.
What adventure bike would be worthy without larger wheels?
The base model rolls on 19-inch front/17-inch rear cast wheels, with the option to upgrade to the stainless steel cross-laced spoked wheels ($500 premium). The wheels are wrapped in 90/10, street-biased Michelin Scorcher Adventure tires.
These wheels slow and stop by the best braking name on the motorcycle market: Brembo. Two 320mm discs up front are squeezed by a 4-piston caliper, and a single 280mm disc by a floating single-piston caliper out back, providing more than enough braking power for a sub-600 pound motorcycle.
Other tasty bits for the bike that seems to mate a small and fixed Road Glide fairing with a Fat Bob headlight include a 6.8-inch color TFT touchscreen dashboard and a 33.5 to 34.5-inch adjustable seat.
Pan America 1250 Special owners also get the option for Adaptive Ride Height (ARH), which lowers the bike 1 to 2 inches while stopped. No worries about remaining flat foot when stopped, something that many shorter riders complain about when riding some of the most popular big adventure bikes.
Pricing starts at $17,319 for the standard, and $19,999 for the special, placing the Pan America in the pricing range of most top-selling ADV bikes.
Adventure riders will also want to splurge for the Special, considering it arrives stock not only with ARH, but also the stainless steel cross-laced spoked wheels, a more robust skid plate, crash bars, heated grips, an Öhlins steering damper, and a center stand.
Stay tuned for more on the Pan America, including a lineup of Touratech products for America's newest adventure bike. Also check our blog for a Pan America review further confirming that Harley has delivered a serious American competitor into a world controlled by Bravarians and Austrians.