The Aventuro Carbon set new standards for light-weight comfort, cooling airflow and a fighter-jet shaped peak that cleanly cuts through the wind.  Touratech updated this adventure motorcycle helmet and taken it to new levels with the Aventuro Carbon 2 and this spring we're introducing fresh new color schemes!
The Aventuro Carbon 2's peak has a more streamlined shape with ports that manage the airflow reducing turbulence. Over-sized cutouts allow wind to travel underneath the peak and then exit cleanly to the rear, minimizing drag.
We've increased airflow by 40% over the prior model with larger vents and a new one right under the peak that features a cowling to scoop air in just like a muscle car from the 1970s.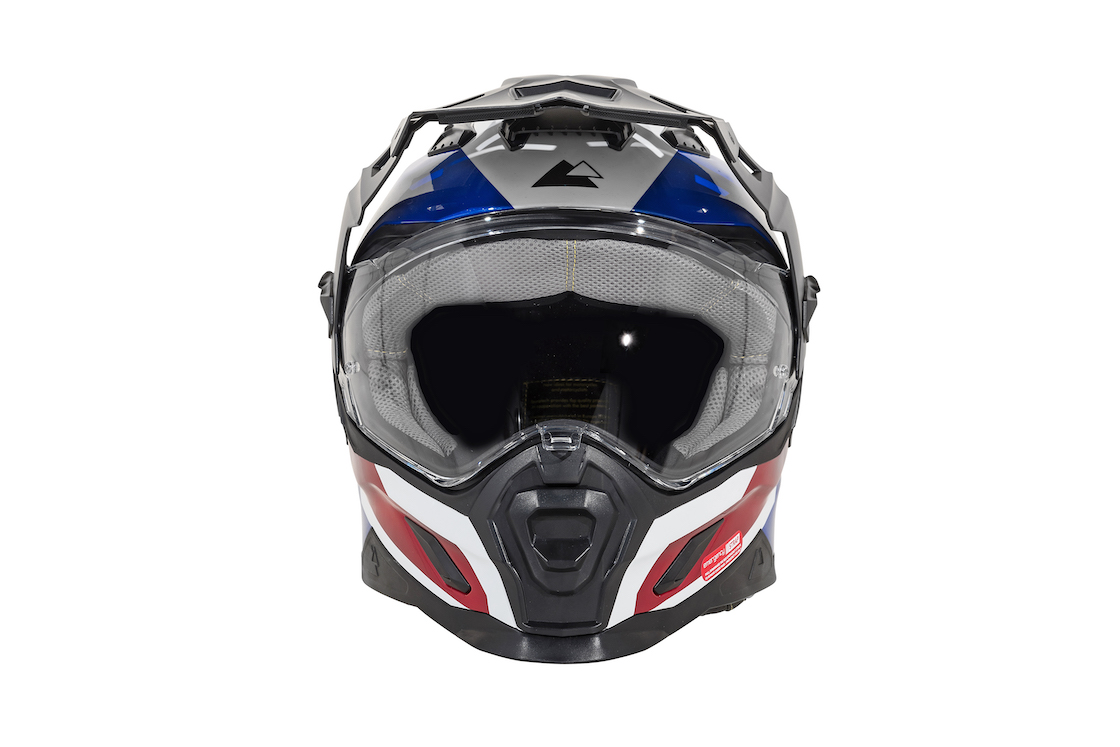 The peak is removable without tools so you can use this helmet in street mode. The shield is also removable if you want to run goggles for full dirt-mode. The back of the helmet even has a clip to keep the goggle strap located where you want it.New high-durability synthetic leather material used at bottom of neck roll and on chin skirt for longer life. Center panel perforation designed to maximize liner breathability and featuring reflective panels for visibility in low light conditions.
Included in the package is a Pin-Lock visor complete with the breathable insert to keep your vision clear on cold and wet days on the road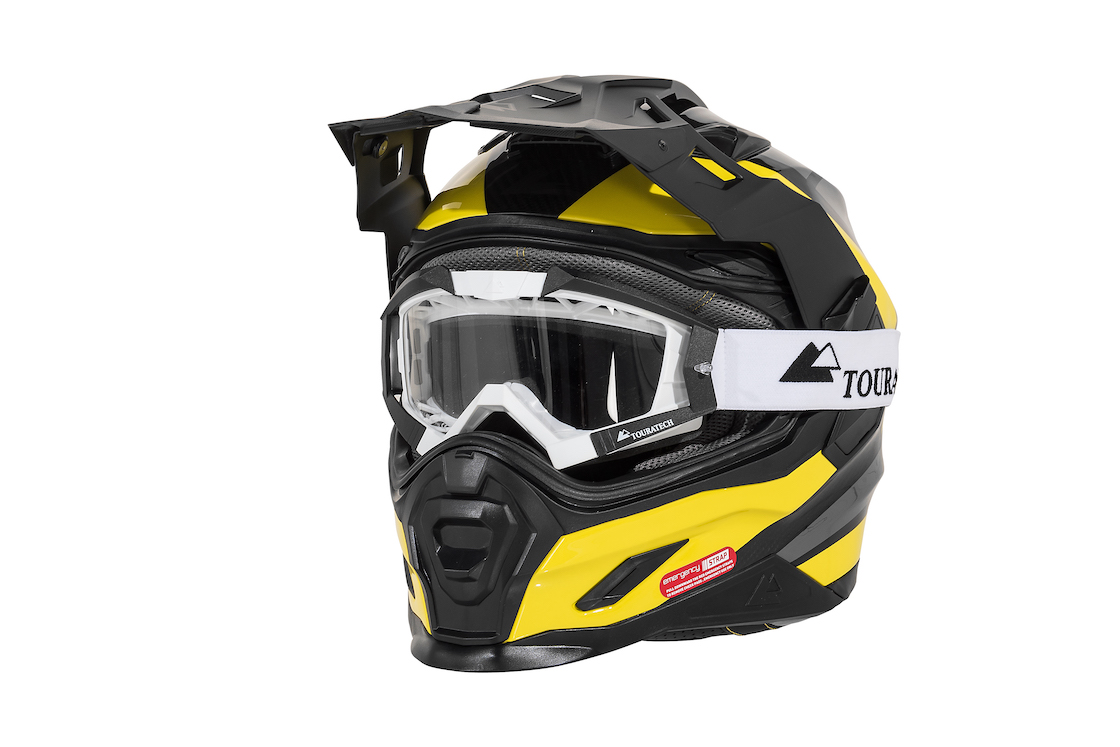 The result is increased comfort and reduced neck fatigue on even the longest adventures. Many riders report the reduced air-grab effect makes it easier to turn their heads while enjoying the sights.
We've redesigned the chin vent to have more airflow and to be operated easily while wearing gloves. It also has an updated aesthetic design.The peak is now angle-adjustable for just the right position to block the sun while maintaining visibility and providing protection from brushy trails or mother nature. The integrated camera mount also changes angle with the adjustable peak.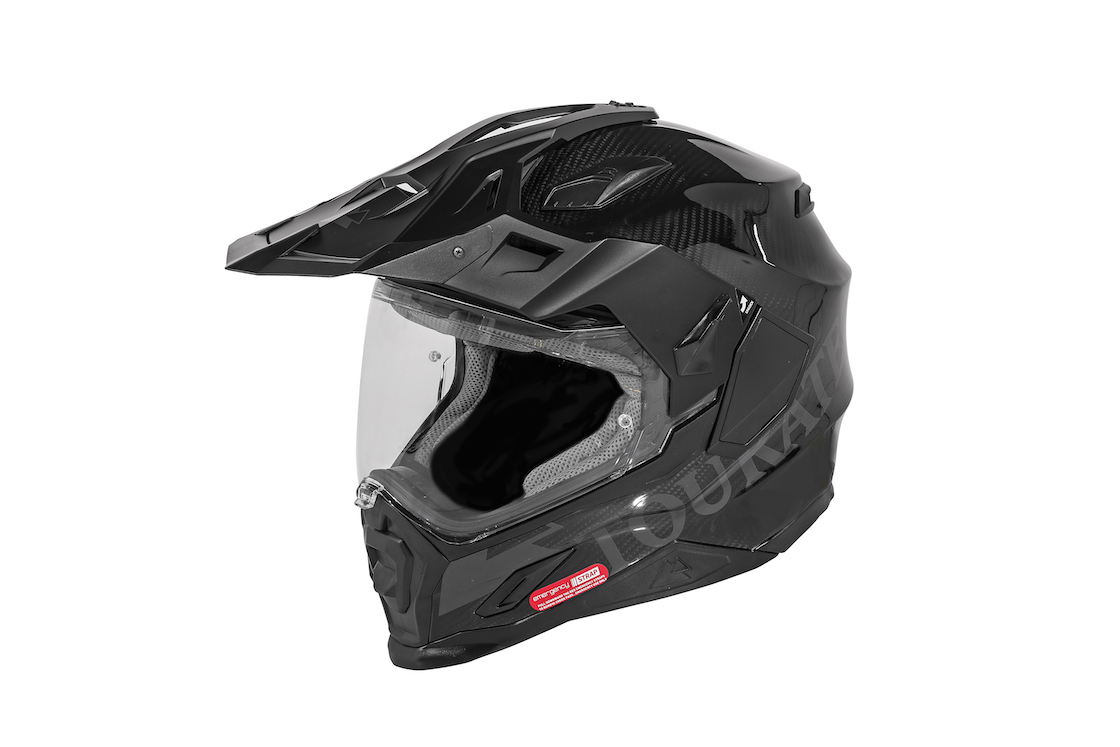 We've added a shell size, so the helmet now features a more precise fit and is available in 7 sizes XS – XXXL.
New Features:
40% more airflow through chin and top vents
Vents re-designed for easy operation even with gloves
Adjustable peak angle for better sun blockage
Improved peak aerodynamics reducing turbulence and drag
New Synthetic Leather material at neck roll for increased durability
Thicker chin strap for better comfort
New 3X size
Weight Information (Approximate):
Small Shell (XS-SM): 1280g (2lb, 13oz) Street & Off-Road, 1380g (3lb, 1 oz) Travel Mode
Medium Shell (MD-LG): 1330g (2lb, 15oz) Street & Off-Road, 1430g (3lb, 2oz) Travel Mode
Large Shell (XL-3X): 1380g (3lb, 1oz) Street & Off-Road, 1480g  (3lb, 4oz)Travel Mode
Street Mode = Peak removed, visor installed for use as street helmet.  Off-Road Mode = Visor Removed for use with off-road goggles.  Travel Mode = All parts installed (Peak & Visor)
Click HERE to see the sizing chart.