Following your dreams is not always easy, but it's really worth it! Ukrainian Anna Grechishkina is a living proof of that. She's been on the road for almost five years (four years, nine months and 18 days), exploring the world on her motorcycle! And how happy we were to see that she is in Dubrovnik, and even more happier when she shared her experience with The Dubrovnik Times. You can follow her journey at her website. But first – meet her!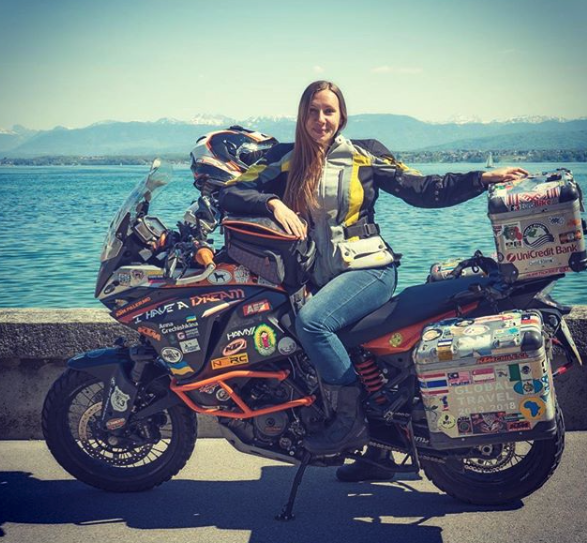 When and why did you decide to travel around the world on your motorcycle?
I started to ride motorcycles in general in 2005 and the best part about it was that it gave me the possibility to travel. Almost immediately after I learned to ride I noticed the passion for traveling inside of me. I liked to travel even before but motorcycle opened the new freedom in front of me. At first I was riding in the neighboring countries like Russia, Bulgaria, Turkey, then a bit further – Middle East countries, Syria, Jordan, Lebanon, etc. One day when I was thinking where to go next, this crazy idea about traveling around the world came into my mind. The first time I started to think about it was in 2012 and in 2013, July 27, I started my trip which I called – I Have A Dream.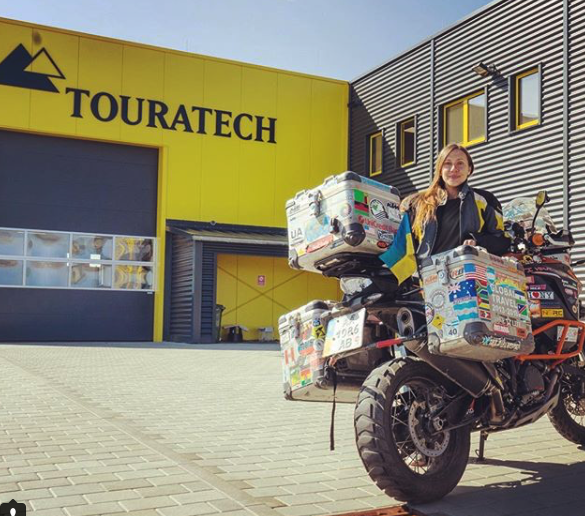 Is it hard to solo travel, especially on the motorcycle? What are the challenges?
I have to admit that it is not easy. While it has its advantages there are certain challenges as well. When you are alone, you cannot delegate some responsibilities to another person. You are just on your own and you have to take care of everything – planning, searching for accommodation, financial difficulties, etc. Another very important aspect is emotional. Sometimes you are tired to be strong and independent, you want to lean on somebody's shoulder, sometimes to cry or to laugh together. And though I meet many people on my way, it is not the same as I always have to say good-bye to them and I never know if I will ever see them again.
Do you meet a lot of people on your journey? How do they react?
Yes, of course. Even though I travel alone but I meet many people and actually very often I stay in local people's houses. That's how I make connections, make many friends and just good acquaintances. Traveling on a motorcycle is a great ice-breaker and door-opener. People get very curious when they see me and especially when I take off my helmet and they realize that I am a woman traveling alone on this big motorcycle. They approach and ask questions, tell me their stories, ask to take photos. I enjoy these moments, sometimes they lead to further friendship. This is my goal – to motivate people to follow their own dreams.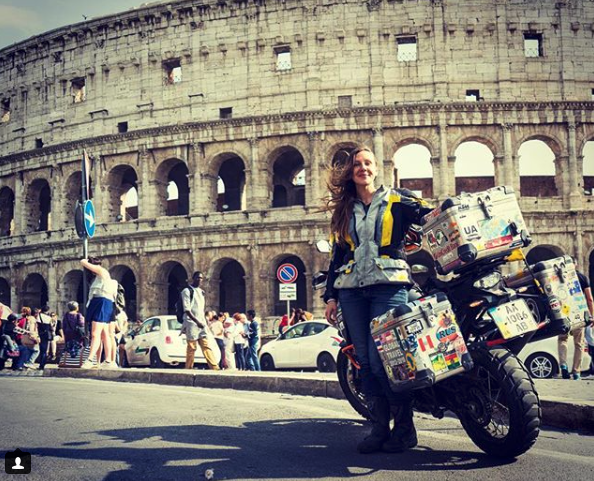 What is the most beautiful part of your travels?
I would say that the most beautiful part of my life so far is this trip. Even though sometimes it is very challenging and I don't know what to do next, but I would never change this trip for anything. And I would say that the most beautiful part in this trip is meeting different people and understanding them. I learned many lessons on the road and one of the most important ones is that most people on earth are nice and helpful. I am confident that I am still on the road after five years thanks to support of people I was meeting on the way. They helped me in any possible way, I learned a lot from them and I try to give back whatever I can.
How many countries have you visited so far?
So far it is 51 countries.
You recently came to Dubrovnik, how was your experience?
It was really wonderful. My only regret is that I could not stay longer and I had only one full day for exploring the city. I really enjoyed the weather, wonderful views of the city, people from all parts of the world walking around, very peaceful and joyful atmosphere. I heard a lot about Dubrovnik before from my friends and followers and my expectations were fully justified and even exceeded.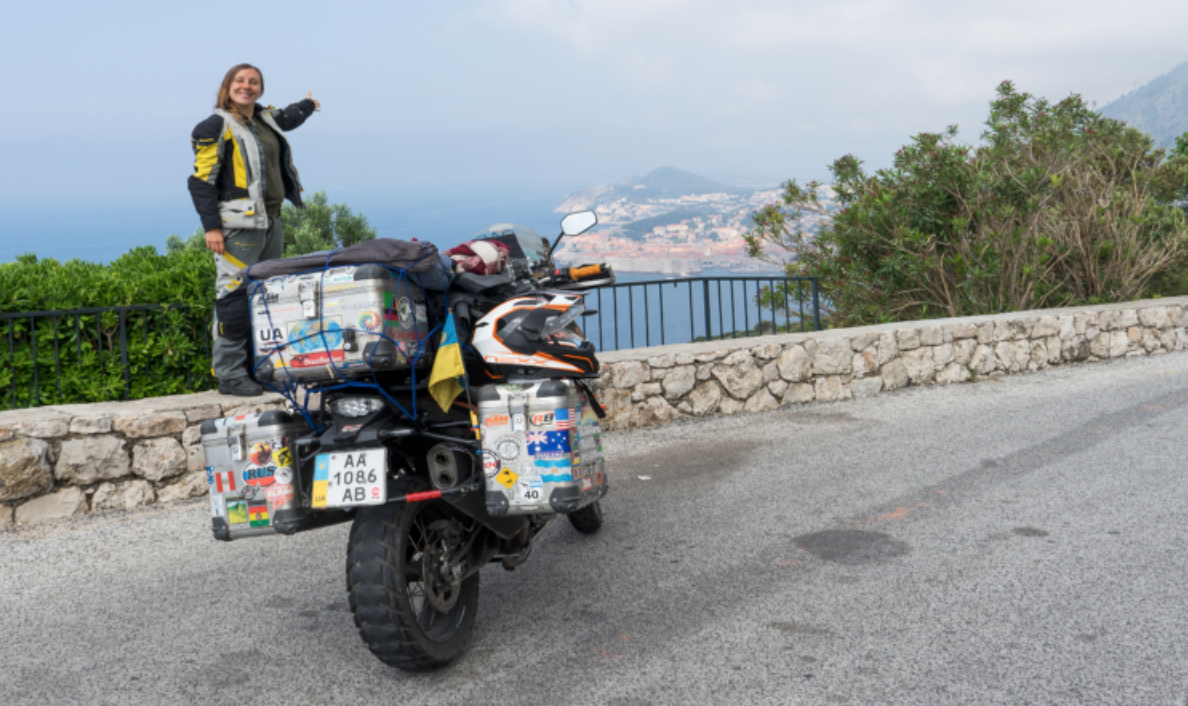 What was your favorite part of the city?
Of course, Old Town. Actually this is the part I concentrated on as I didn't have much time. It felt very cosy to be inside of massive city walls and to enjoy the sea surrounding the city. Also I really enjoyed walking through narrow streets, there was more privacy there and I felt the whisper of history.
Would you like to come back?
Oh definitely! I put in on my list of places where I want to come back. But I think that next time I will come not alone but with friends or dear person. I think Dubrovnik is one of those places and experiences which you want to share with somebody else.
What do you think about Croatia in general?
I think it is a piece of paradise on earth. I knew that it is a beautiful country but I could not even expect to what extent. I love its lakes and waterfalls, mountains, coast, history, people. I love the fact that Croatia is so friendly to motorcyclists, and every time I smile when I see signs on restaurants and hotels that bikers are welcome and they will have some discount. I did not have much time to visit all the important places in Croatia but I promise to come back again.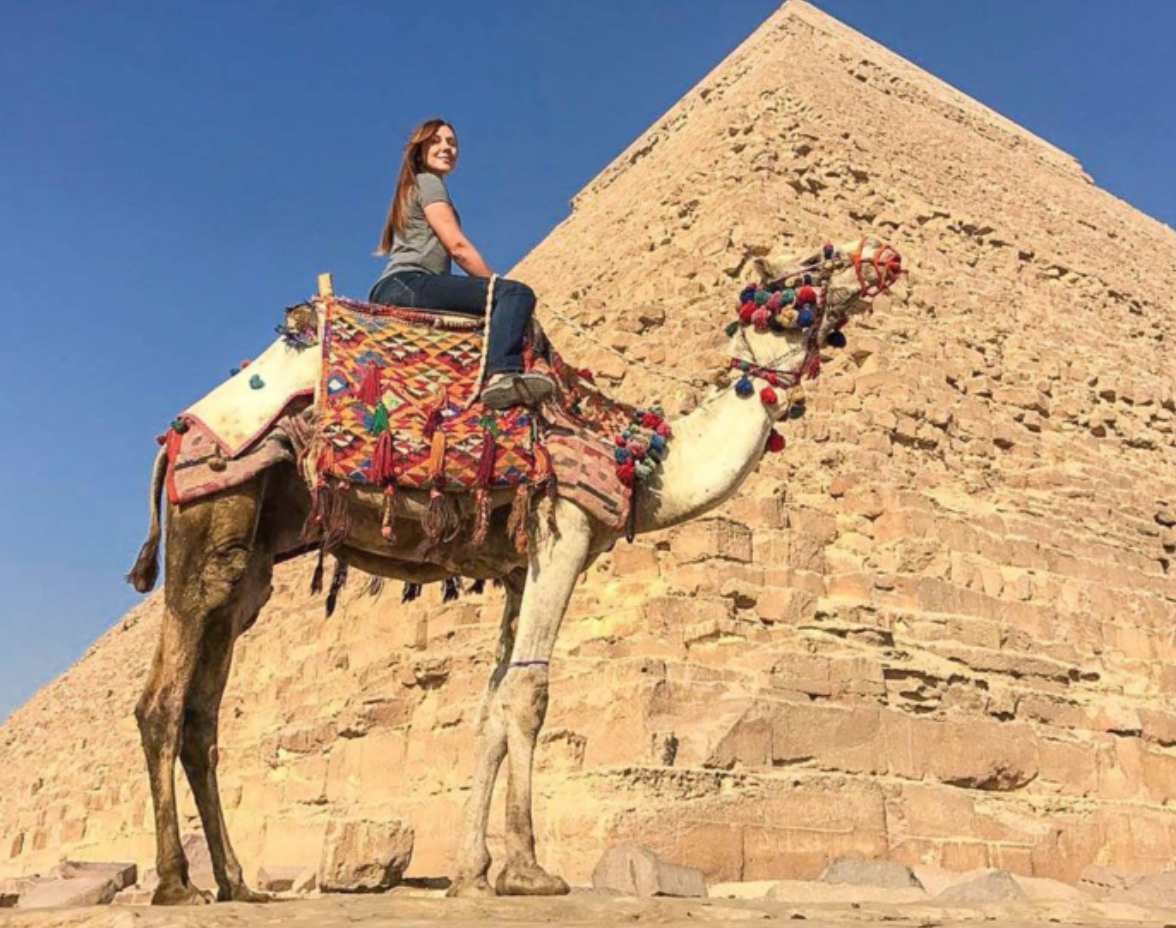 You've been on the road for almost 5 years, are you planning to stop any time soon? Is it even possible to have a static life after this experience?
I am not sure that I will stop soon. I still have some plans to visit more places in Europe and outside of it. But because of the challenges I mentioned above, it is difficult to say for sure how much longer I will be in the road. I mean in this continuous trip. As to my life after this trip, I think that I will never heal from this traveling bug, actually the more I travel and see places the more hungry I get and want to see and experience even more. Already now I'm thinking about my next possible projects and travels, not necessarily on the motorcycle. As long as you move and explore, it does not matter how and on what vehicle. I am sure that all my life will be somehow connected with traveling.
Can you tell me some anecdotes from your journey? Something funny, touching, that you will remember forever?
One of the recent stories, which now I can consider as funny but at that moment it was actually quite scary, happened to me in Croatia when I was riding from Zadar to Plitvice Lakes on the highway. After around 50 km suddenly very strong wind started to blow, very unexpectedly. I actually didn't know that there can be strong winds in Croatia, it was a big surprise for me. That day several times I was nearly pushed from the road by wind and I could hardly keep the bike on the road. I realized that I had to stop, otherwise it was getting dangerous, especially with all the traffic. I saw a parking lot in front of me with a restaurant and hotel and I told to myself that if the situation didn't improve I might stay overnight in that hotel. When I got there it turned out that the restaurant and the hotel were closed. In the meantime the wind got even stronger and I could not even think to continue my ride. I decided to wait a little bit, according to my previous experience in other windy places like Patagonia, wind might subside in the evening. But it did not.. I ended up staying overnight at that parking lot and sleeping on the bench. During the night wind turned into something similar to storm, it even flipped my bike from the side stand. Next morning the wind was almost the same like yesterday but I could not stay here any longer without food and water so I decided to move on. The good thing was that at least there was not much traffic in the morning. After just several kilometers the wind was much less but I stopped at the nearest hostel and slept all day. Only later I was told that winds can be really strong in this part of the country and one motorcyclist even dropped his bike a few times because of the wind. So I was actually lucky and I thanked God that I listened to my inner voice telling me to stop my ride that day.
What are your future plans? Where are you going next?
My nearest plans till the end of this year are exploring Europe as much as possible, and then… I will see. The world is still so big and so interesting!