Would you leave home without wearing underwear? Exactly – we didn't think so.
Over the decade, this concept has evolved into not leaving for a ride without wearing motorcycle underwear, better known as base layers.
Except for maybe a ride to the wine store or a quick jaunt to get out of the office, why ever go without them? Base layers are designed for absolute comfort in a wide range of temperatures, from below freezing to a 100-degree day.
Some are designed to cool you while riding through the desert, and others to keep you warm while winter motorcycling in Northeast Pennsylvania.
In the simplest explanation, what base layers do is regulate body temperature by moving perspiration away from your skin. Remember, even if it's 30 degrees your body still sweats. To remain comfortable in any temperature, you want perspiration-free skin.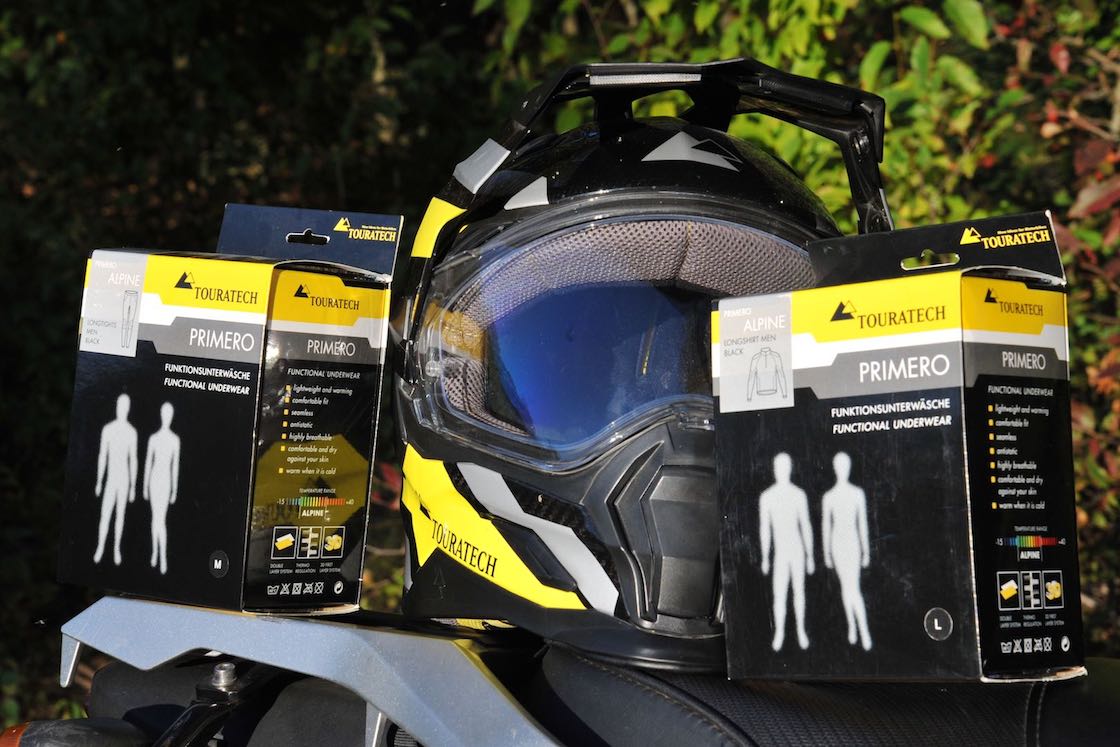 Types of Motorcycle Base Layers: What's Best for Motorcyclists?
Base layers are created from many different materials, including synthetic, cotton, silk and wool. But for the active motorcyclists, synthetic materials provide the ultimate comfort.
Under Armour created a craze with synthetic base layers, and the motorcycle industry soon designed their own based on motorcyclist's needs. The biggest advantages of synthetic base layers are anti-odor and anti-microbial technology, along with moisture wicking material.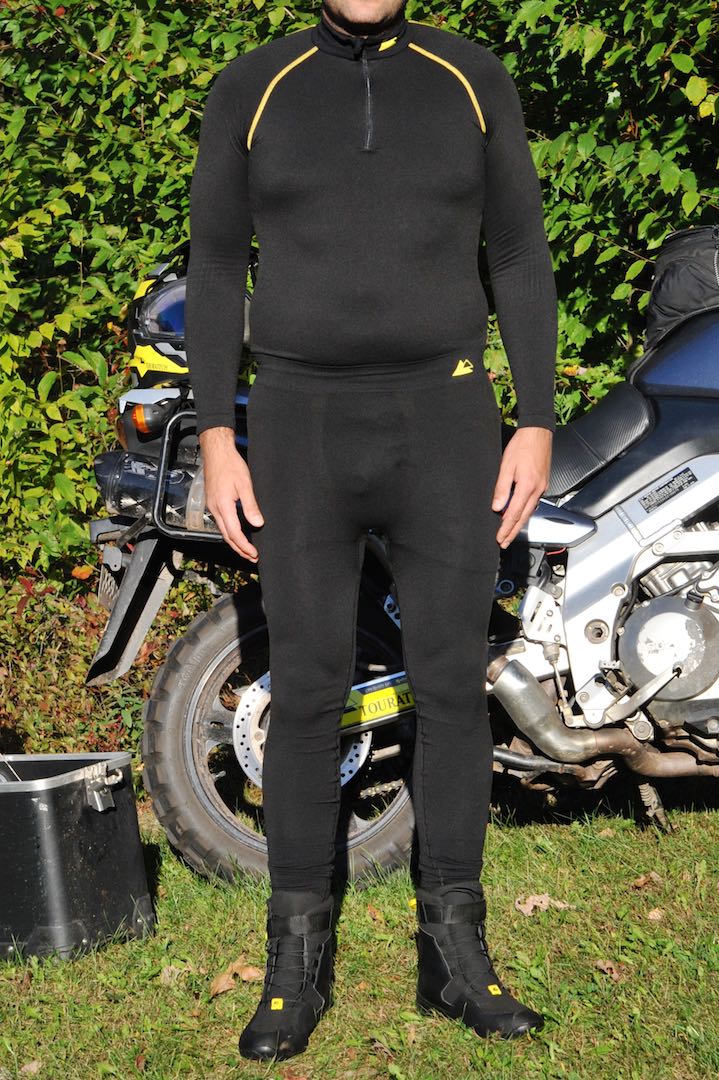 The latest motorcycle-specific base layers arrive from Touratech. These "technical underwear" are available in two styles: the Primero Alpine and the Primero AllRoad. The Alpine caters to cold-temperature riding, and the AllRoad for riding in warmer temps. Having tested both pair, I'd recommend the Alpine for temps under 65 degrees (F), and the AllRoad for anything above.
These types of base layers help provide all-day comfort due to low-profile seams, and lack of seams in the seat area. They also feature flex zones specific to ADV motorcycle riding styles, and are hand washable for those endless tours that lack hotels.
Note: when purchasing long underwear like this, remember to check manufacturer's size charts. You want these snug, but not strangling. Since many quality base layers are manufactured in Europe, remember that sizing will likely be one size smaller.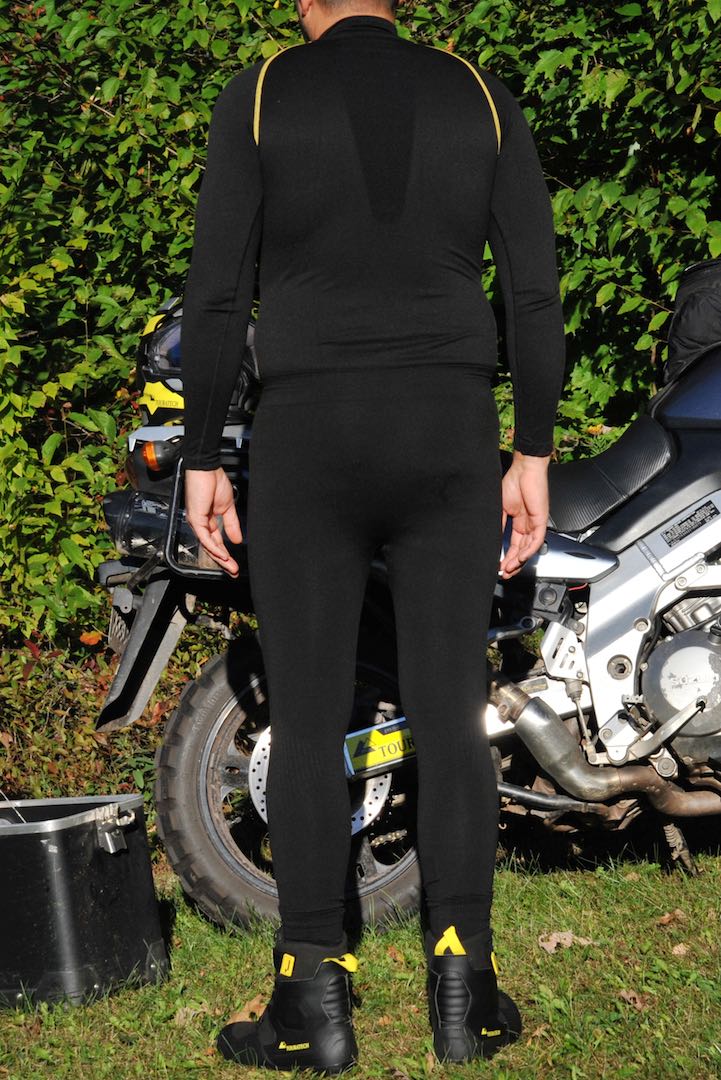 Cold-Weather Motorcycle Base Layers
Since the fall weather riding is at full throttle in many areas, let's begin with some info on the concept of cold-weather motorcycle base layers (synthetic ones like the Touratech Primero discussed above).
Again, the main purpose of these layers is to regulate body temperature. When you're warmly snugged into your motorcycle gear, all is typically well while inactive. But when you start working the trails, your temperature rises, and you naturally began to sweat.
Not such a bad thing when active, but things can get frigid quickly during a relaxing street portion of a ride. This is when that sweat can remain on the skin and get cold.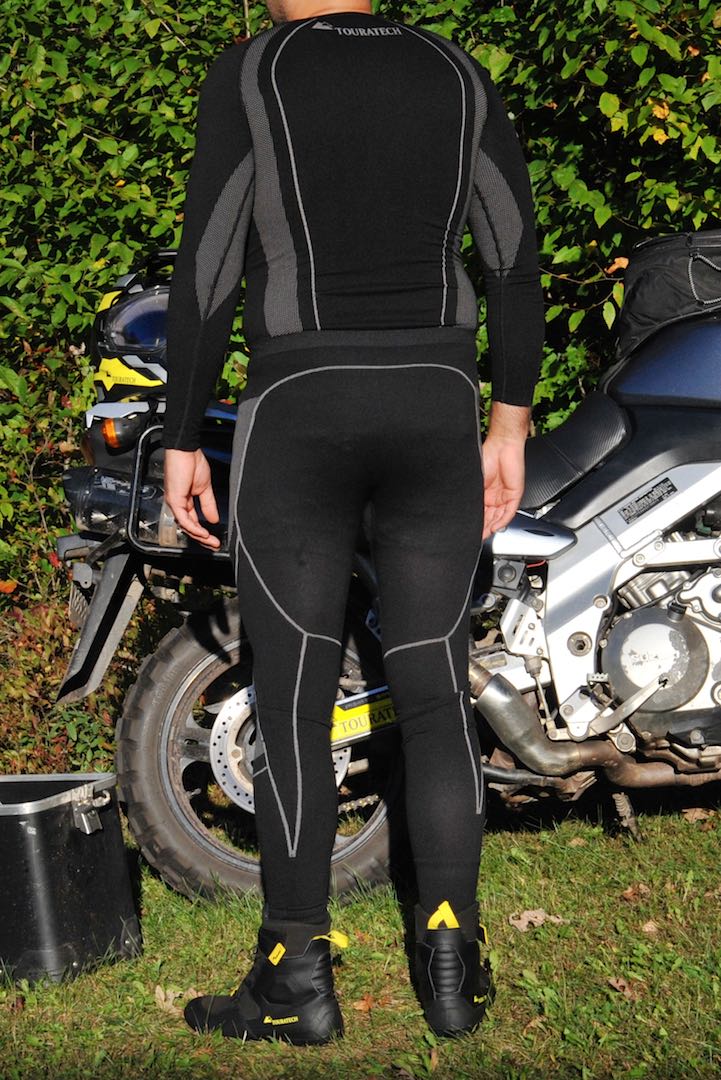 The genius of the base layer in fall/winter riding situations is its ability to wick away the moisture from your skin, leaving your skin dry. As for the moisture from this perspiration, it's pulled through the base layer and spread across a larger area where it dries much easier than on your skin.
During the bitter winter months, it's also best to utilize a mid-layer between your jacket and base layers for added warmth and wind protection. I typically don a zip up fleece that adds an extra layer of insulation for the colder temps – say 40 and below. These also pack away easy in your panniers when the temps warm up.
Hot-Weather Motorcycle Base Layers
Summer underlayers may seem illogical at first, but they are far from it. When temps ascend above 75 degrees (F) or so, things can quickly get sticky underneath typical ADV motorcycle gear—especially jackets and pants.
This base layer keeps pockets of air flowing underneath your jacket or pants instead of having the jacket or pants stick to your skin and not create any airflow. The base layer creates a microclimate under your ADV riding gear, keeping you cool regardless of how hot it is. I've ridden in 100+ temps for extended periods of time with and without base layers.
Plus, a thin layer of fabric between your skin and motorcycle apparel simply feels good.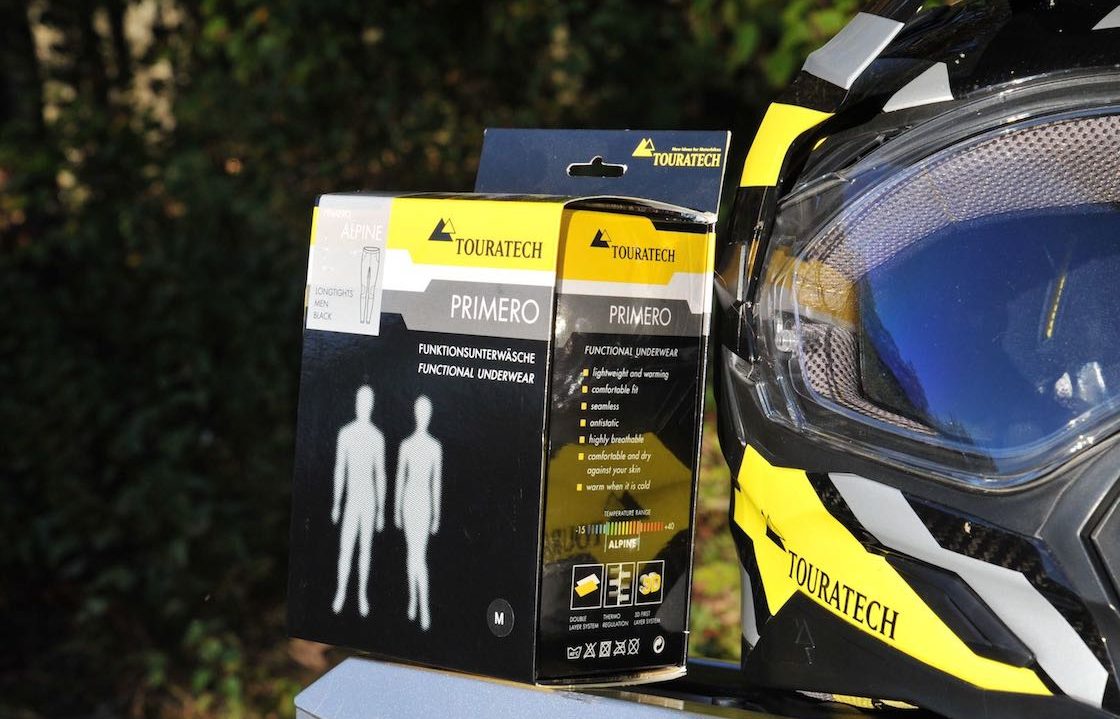 We've all been there without base layers—those moments when you start sweating while out on the trail, and your arms and legs feel like they are covered in hot glue and sticking to the inside of your jacket or pants. This is not only uncomfortable, but unsafe; once any attention is directed off the riding task at hand, stupid things happen.
I know; I smacked a tree a few years ago due to trying to get pants from sticking to my sweaty thighs while standing through a technical single-track section. While adjusting my pants, I offloaded the suspension at just the wrong moment, and the bike at the time – a Kawasaki KLR650 – met a pine tree. This likely wouldn't have happened if I had worn base layers.
Concluding Thoughts
Base layers create a microclimate under your ADV riding gear, keeping you comfortable regardless of how cold or hot the riding situation. I've ridden in 100+ temps for extended periods of time with and without base layers. The same can be said of riding in harsh, single-digit temps – those moments when people look at you like your absolutely crazy.
For me, the difference between using a base layer and not using one is the difference between riding or not riding. It's also one of the secrets of riding 12 months out of the year in the Northeast where colder temps are the norm sometimes eight months out of the year.
Men's Motorcycling Base Layers:
Alpine Shirt, Men's
Alpine Pant, Men's
All road Shirt, Men's
Alroad Pant, Men's
Women's Motorcycling Base Layers:
Alpine Shirt, Women's
Alpine Pant, Women's
Allroad Shirt, Women's
Alroad Pant, Women's