Fall Camping Tips
Most motorcyclists agree that fall is the most beautiful time for riding—especially those in areas that are thick with forests. But when it comes to fall camping, this same sentiment is cut in half or more. The reason is simple—weather is a bit more unpredictable, and the temps, especially at night, are lower.
 For those who would rather be snug in a warm bed, well, we feel sorry for you. One of the most romantic feelings is awaking at some desolate campsite during the fall while leaves are blown in every direction, and the sun beats down as the surrounding fog begins to lift. The smells are also as equally satisfying as the sights.
 But there are some things to consider before venturing out for a fall motorcycle camping trip. We're here to help with just that by offering top 15 fall camping tips for motorcyclists. Enjoy!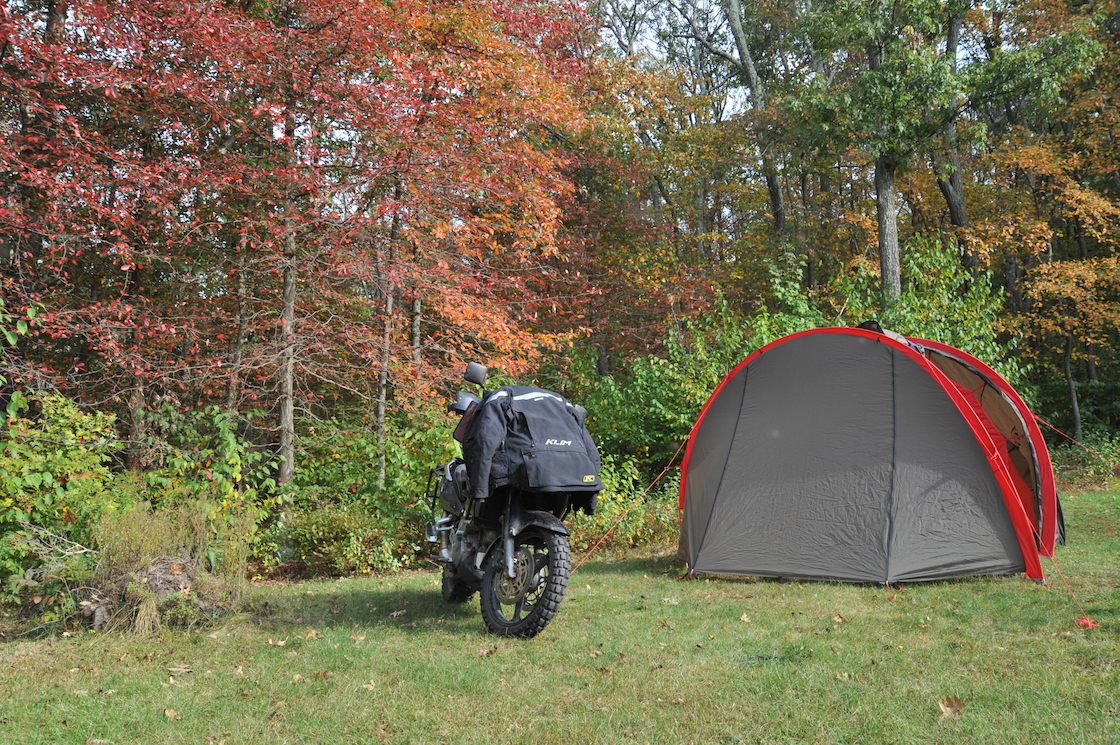 1. Plan for Peak Fall Colors
Of course we need to begin with this one. Fall is all about the colors, so do some research and find when the colors will peak for your area. Two resources we relied on for the past few years is The Weather Channel's Fall Foliage Maps and the Farmer's Almanac's Peak Fall Foliage Dates page.
2. Monitor Weather More than Usual
Weather is less predictable during fall. Sometimes the days can be hot, but the nights cold. The best preparation for this is to monitor your weather more often than usual, paying attention to the highs and the lows. In the summer you can usually plan a week's trip by looking at the weather only a few times; but not during fall. Check your favorite weather app daily.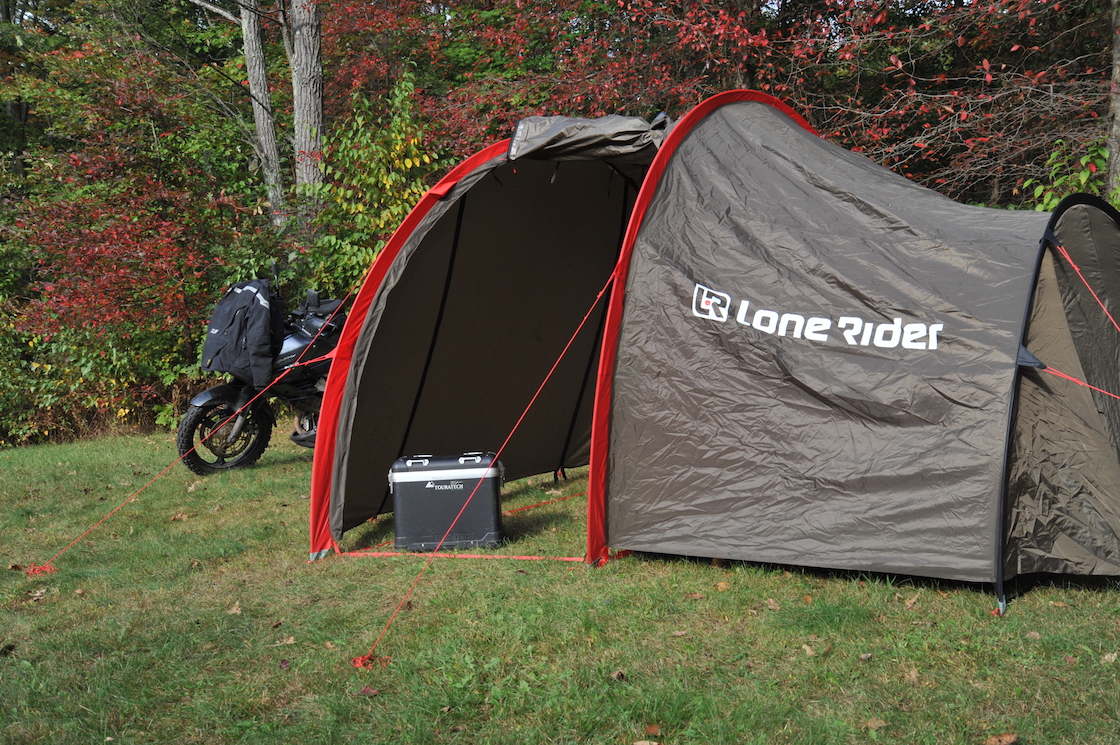 3. Layer Your Clothing
Layering it the ultimate way to stay cool or warm. When you layer, your help produce a microclimate under your motorcycle gear. Always begin with a base layer, something designed from synthetic materials such as base-layer with moisture-wicking material. Use a fleece as a mid-layer to help keep you insulated when it's cooler, and always have a waterproof and wind resistant jacket on.
On the subject of clothing, always bring a winter hat with you; 30% of our heat escapes through our heads, so this will keep you warm. Also throw in a pair of gloves in case the nights get cooler.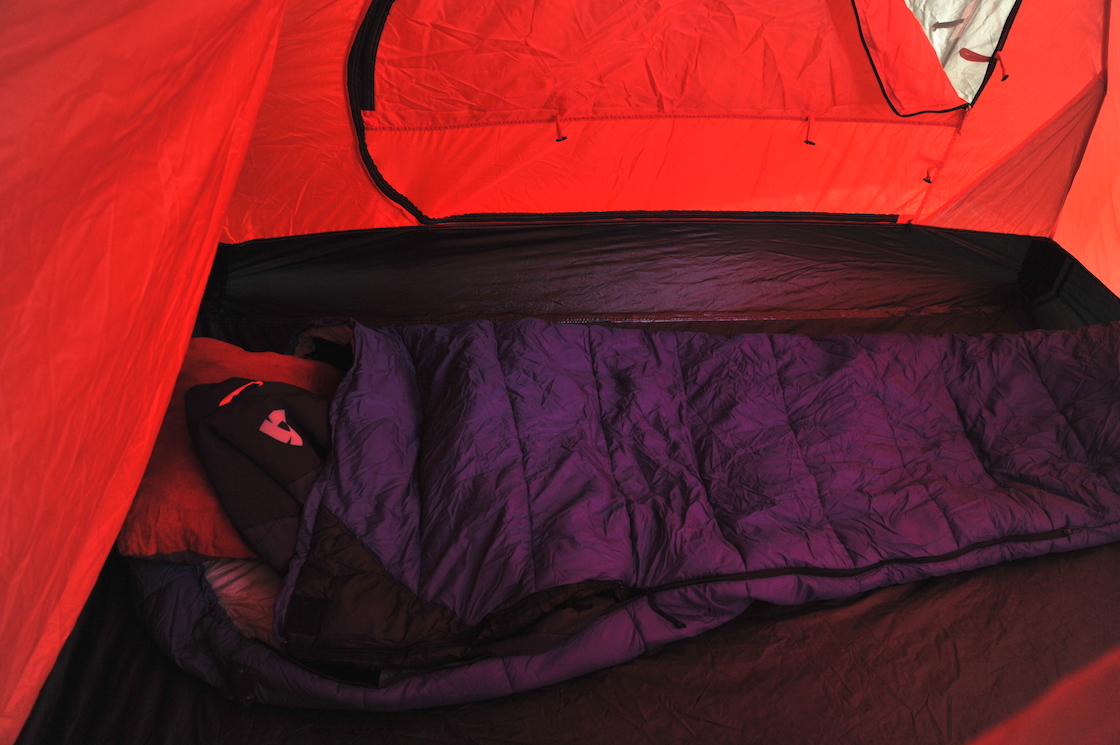 4. Cold-Weather Sleeping
To save all the packing space possible when ADV touring in the summer, most of us use the most compactable sleeping bag possible. These are usually good for 25-40 degree (F) weather. The problem is these numbers usually don't live up to expectations, especially when temps can plummet quickly during a fall night of camping.
The solution is to also bring along a silk liner for insulation, which packs down easily, and a goose down blanket. In regards to the goose down blanket, shoot for "800fp", which means 800 fill power. The fill power is a measurement of the amount of space one ounce of down will take up in cubic inches; therefore an ounce of 800FP will fluff out to 800 cubic inches. These typically pack away nicely, and can provide all the heat needed for extremely cold nights.
5. Warm Up Your Body Before Sleep
Before heading to sleep, do some light exercise such as jumping jacks. This will warm your body up – don't sweat, though; just a few to warm you up before getting in your sleeping bag. This helps add some heat.
6. Warm Up Your Body After Sleep
Spend time stretching when waking up; this warms your body up and can help prevent injury before breaking down the campsite and riding.
7. Warm Up Your Inner Riding Clothes
Nothing is worse than putting on cold clothes on a cold morning. This is easy to combat, through; put the day's riding clothes (read: not motorcycle jacket or pants!) in your sleep bag with you and give them a few minutes to warm up.
8. Choose Campsite Wisely
The reason? Warmth. Plan for a spot in the morning sun if possible, and though rivers and streams are inviting, they provide colder temperatures for camping.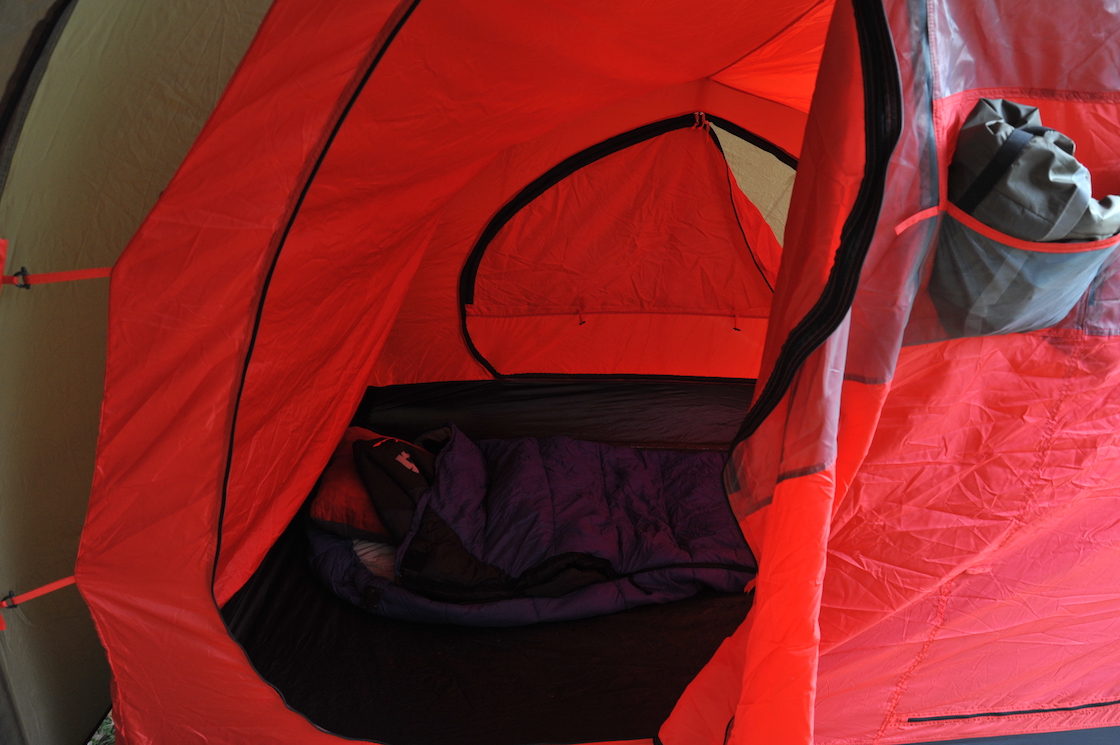 9. Firewood Gathering
Add extra time for this; it's not always as easy to find dry firewood in the autumn months.
10. Respect Wildlife
Bears are fattening up now for hibernation, so keep your food safe. Also, bees are more aggressive in fall so be careful of them. Many wildlife are engaged in fall mating; give them respect.
11. Forget about Diet for a Bit
Don't worry about eating extra carbs and fats; you'll burn them off when setting up/breaking down camp, and working the trails.
12. Stay Well Hydrated
Drink plenty of water: it may be cooler, and you may not be sweating as much, but you still need to be drinking plenty of water to stay hydrated.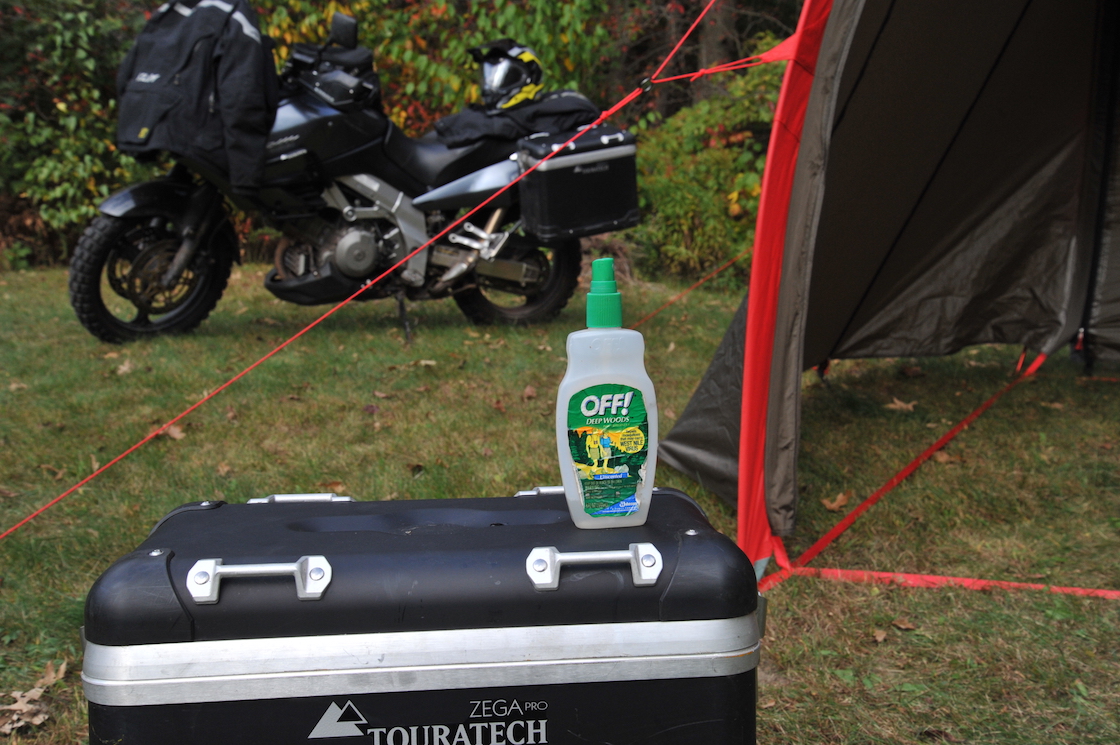 13. Hard Panniers Help
Hard panniers like Zega Pro and Zega EVO are perfect for motorcycle camping. They offer critter proof storage for food and snacks while you are fast asleep. They also make a table and chair for cooking in camp if you don't have a picnic table. When the day is done, Zega panniers make a great seat as you reflect on your ride while enjoying the crackling glow of a campfire.
14. Have a Tarp Handy
Bring a tarp in case of rain and to use as a windscreen. They pack down flatly at the base of your panniers, and can be used for not only a shelter for rain and wind, but also as a doormat when taking dirty gear off before getting into the tent.
15. Don't Forget about the Bugs
Don't forget Bugspray: it may be fall, and less bugs are out there. But many bugs still are – especially ticks.
16. Also…Don't Forget to Overlook your Bike 
We found that many people only do overnighters during the fall camping seasons. Due to this, many sometimes forget to do the basic overlooking of their motorcycles before heading on such a trip. At the very minimum check tires, all fluids, and make sure all suspension components are in good working order.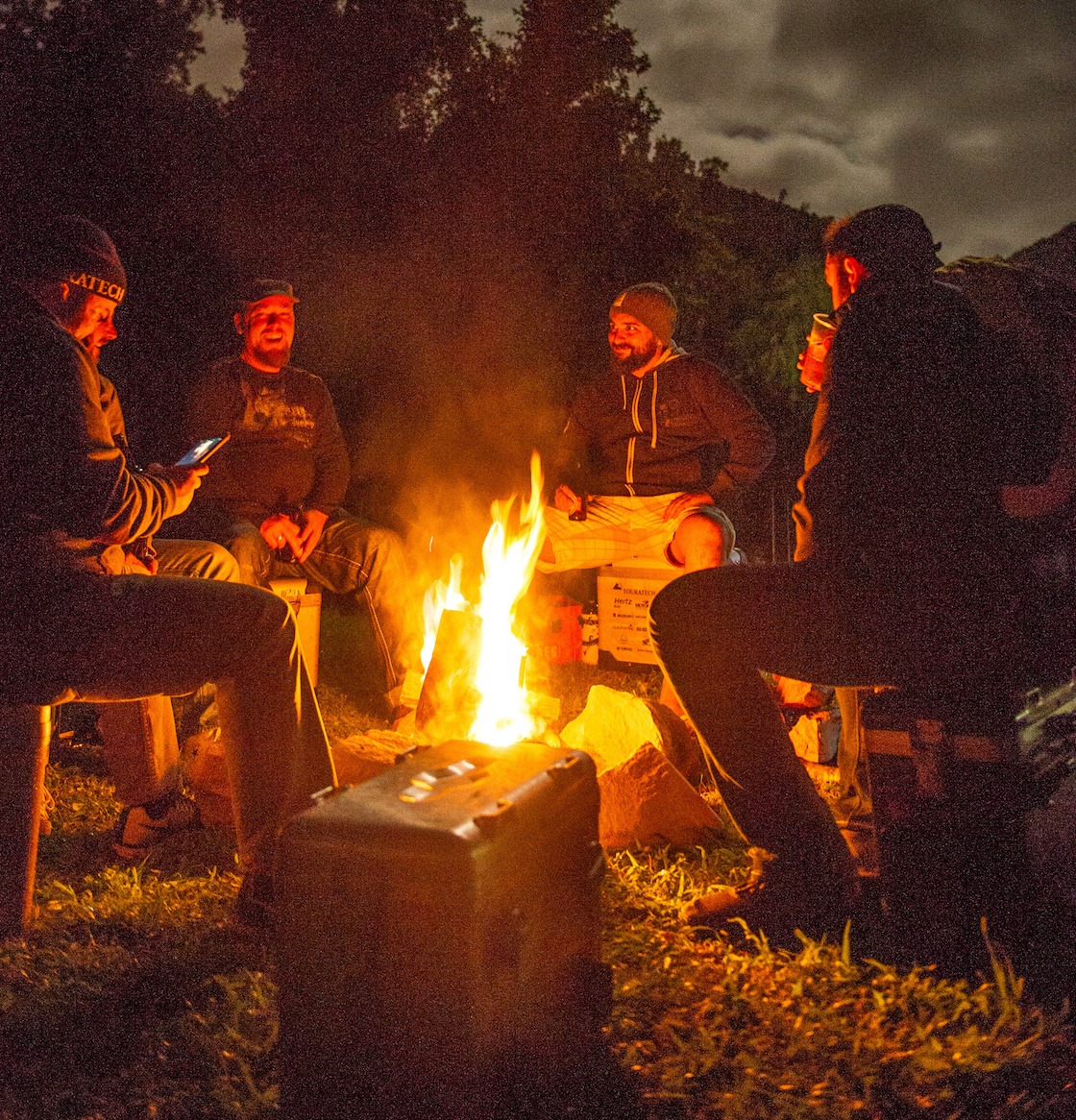 Concluding Thoughts
For many, fall is the best time for riding, but adding the camping element brings the romance for moto life to an all-new level. Fall motorcycle camping has continually created lifelong memories for us. We know it can do the same for you. To make those memories all positive, remember these tips before loading up that bike.