Touratech Aventuro Carbon Helmet Review
Adventure-touring motorcycle helmets must satisfy three demands: lightweight, comfort, and versatility for both on- and off-road. Lightweight is a stand-alone feature, but as for comfort and versatility, many factors are needed.
Enter the Touratech Aventuro Carbon Helmet, which excels at these three essential needs. A carbon-fiber construction brings weight to just over three pounds in a size medium, checking off the lightweight.
Comfort is addressed through a shape that combats wind buffeting due to its "No-Drag Visor", optimal ventilation and comfortable padding. As for versatility, this is where the Touratech Aventuro Carbon Helmet plants its unique position in the market.
Without the need for tools, the Aventuro dual-sport motorcycle lid can transform into three different types of helmets: Street with no visor and faceshield installed; dual-sport action with sun visor and faceshield installed; or pure off-road with visor installed, but faceshield removed and replaced with motocross goggles.
I spent the last two years donning the Touratech Aventuro Carbon in the traditional Campanero colors, and only had a few complaints. The helmet was tested in temps ranging from triple digits to below freezing, and never let me down.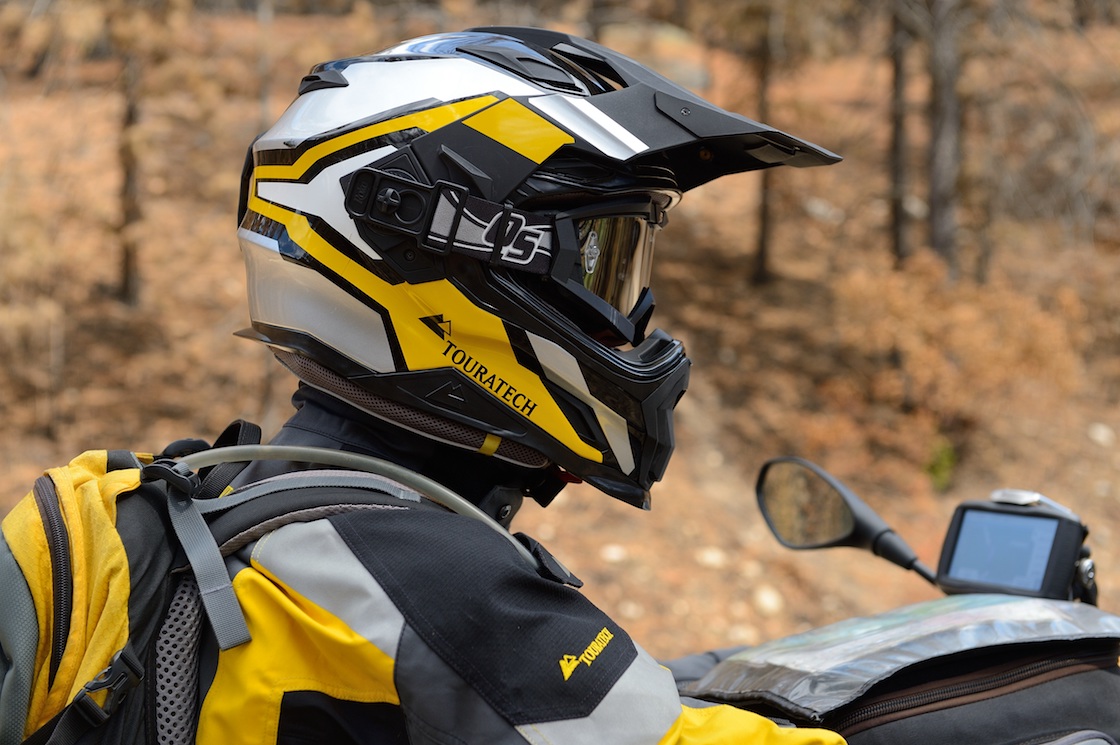 Tool-less Design to Transform Helmet Quickly
As ADV touring motorcyclists, we carry around enough tools already. Thankfully, the Aventuro can transform between its three personalities with no tools needed. The simple pods on each side of the helmet that hold the faceshield and sun visor are easily removed without tools. The mechanism stays firmly locked in place, and even after washing out in a sandbox around 50 mph and gently slapping the ground, nothing came loose. The other tool-less fastener is the one on the upper portion of the lid that holds the visor in place.
 The Aventuro Carbon also arrives with an assortment of camera-holding pods that easily attach to these three tool-less fasteners.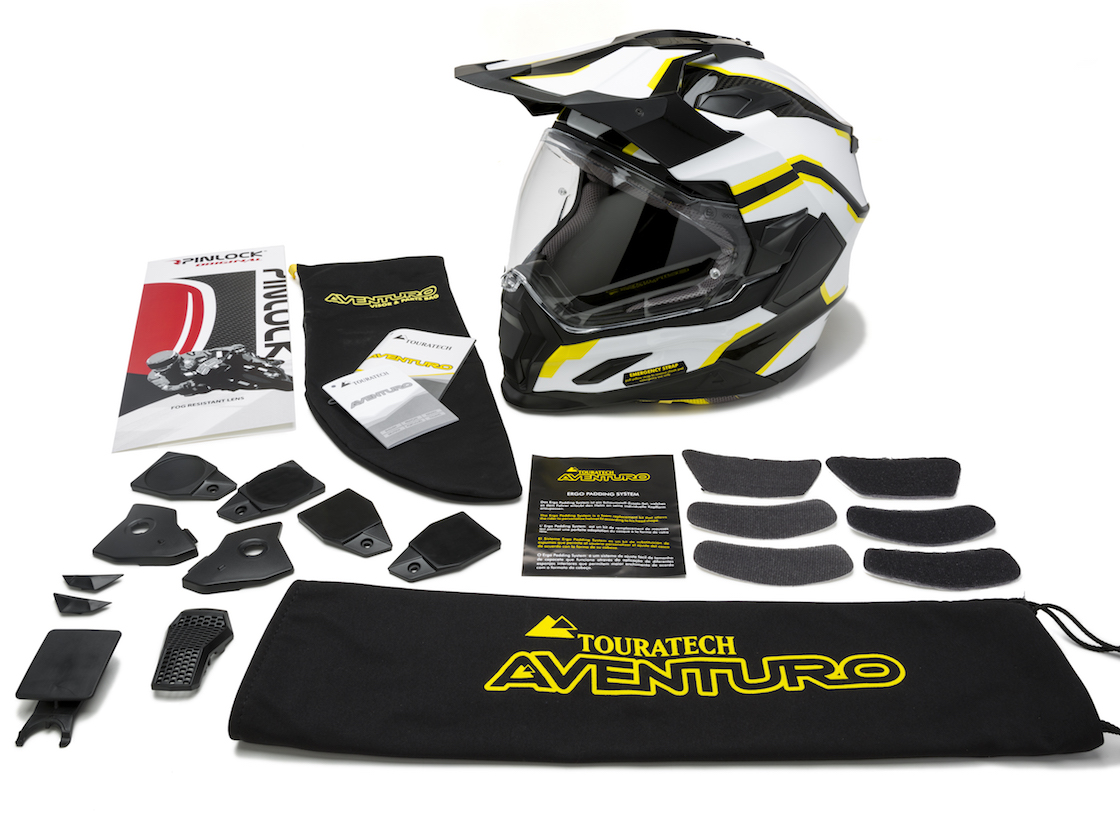 No Drag Sun Visor
Any motocross-style helmet with a sun visor is culprit to nasty head buffeting. Touratech addressed this with the "NO Drag" sun visor, which features strategically placed openings for wind to rush through it. At normal trail or fire-road speeds, and most posted speed-limit speeds on main roads, this ADV helmet produces barely any head buffeting – especially when the correct windscreen is utilized.
 At higher on-road or highway speeds, as expected some buffeting will occur. The solution is simple—take the visor off.
 The sun visor also features a handy extension in front that, with a simple tug or push, extends the visor about a half inch. This tiny extension helps much when the sun is blaring in your field of vision.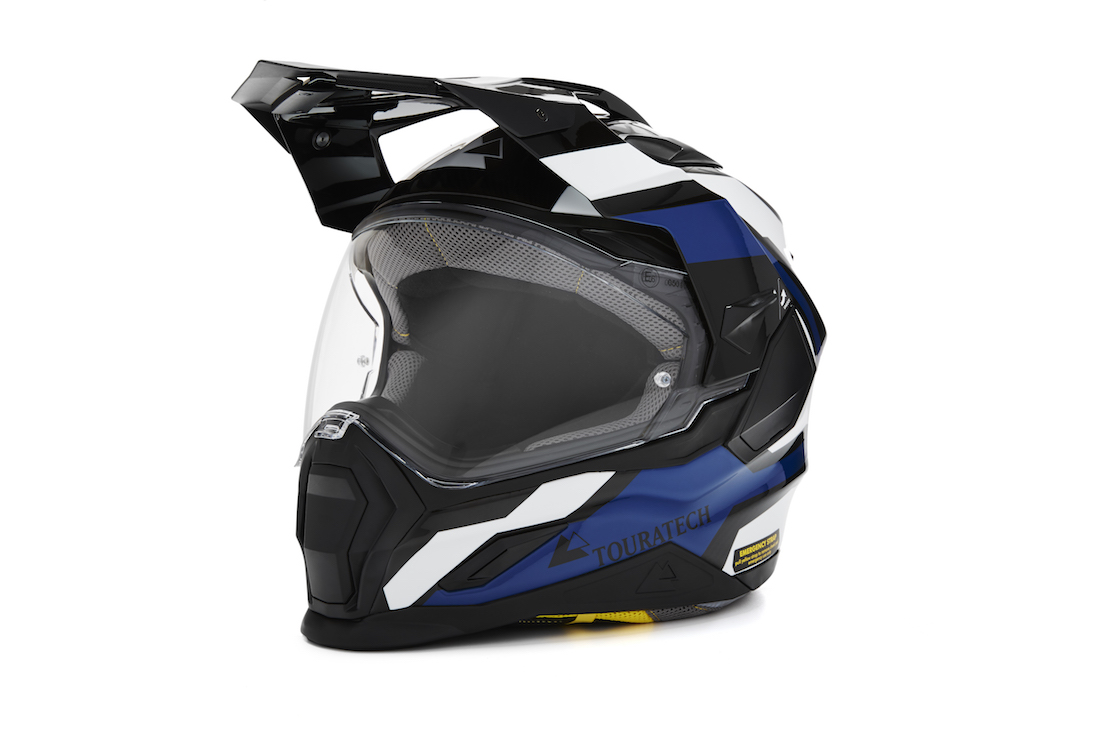 Optimal Ventilation
By default, dual-sport helmets provide great ventilation due to the open-bottom chin bar design. This is not good for cold weather, but the Aventuro Carbon combats this with a removable chin curtain.
 Additional ventilation is welcomed from the chin vent, which is removable to clean the bug-trapping screen behind it, two closable upper vents (top of head), two closable brow vents (for forehead) and two always-open exhaust vents. The brow vents can sometimes be hard to close due to their flush design, but with practice things get easier.
Also, when it's raining these vents didn't link a drop, and neither did the faceshield.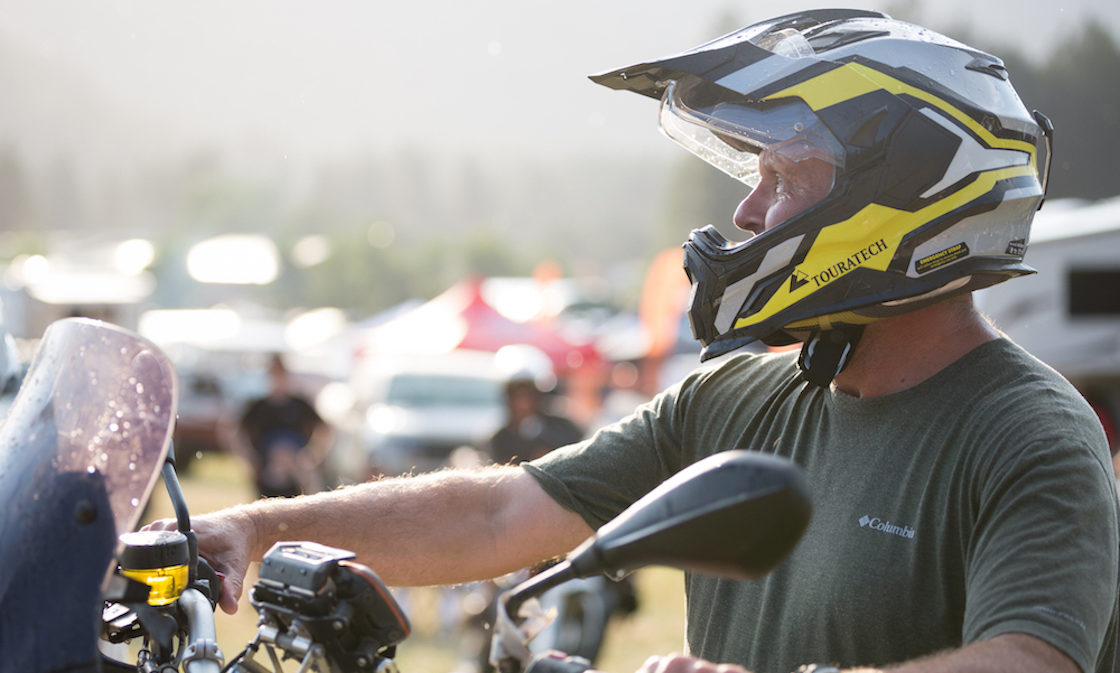 Pinlock Faceshield and Viewport
One of my major complaints with any type of motorcycle helmet, especially a dual-sport lid, is the lack of peripheral vision due to a narrow horizontal view. This helmet is not only wide horizontally, it's also wide vertically, providing optimal vision for riders in many different situations.
 The Touratech Aventuro Carbon also arrives with a Pin-Lock ready and scratch-resistant faceshield, and every helmet includes a clear Pin-Lock. This is the only true way to battle fog; just watch you don't scratch your Pin-Lock as I have zillions of times due to dumb mistakes like wiping a piece of dust off it with a glove on.
Comfort Issues: None
The inside material of the Aventuro, which is removable for washing days of sweat and dust away, is plush and comfortable on the scalp and skin. One word of caution: never pull the emergency yellow straps built into the cheekpads for emergency removal. This may distort the helmet; instead, learn how to remove them through Touratech's video.
As for shape, it reminds me of Arai's "intermediate oval," which is what most riders have. I never felt any hot spots or discomfort issues due to tightness or looseness—of course that's in my normal size of medium. Things felt a bit snug when I first put the helmet it on, but this is normal; it takes time for everything to break in. As for the Aventuro, it broke in after about two day-long rides.
Lightweight for added Comfort!
Just as the Aventuro Carbon states, the lid's shell is built with Carbon Fiber. This construction aids in drastically less weight and more strength over typical helmet shells. The medium—with sun visor and faceshield attached— weighs just over three pounds.
The shell, which fits to size (Medium: 57-58 cm), is DOT and EC 22-05 certified.
 Concluding Thoughts
Designed from Germany's maddest ADV riders, I didn't expect anything less from the Aventuro Carbon helmet. Due to its features that were designed by real-world riders, the Aventuro has proven itself over and over the past two years, always excelling in the three criteria of ADV helmet superiority: lightweight, comfort and versatility.
To bad these lids only are recommended to wear for five years. But that's also a good thing, and gives me an excuse to try the all-new version that's also modular.