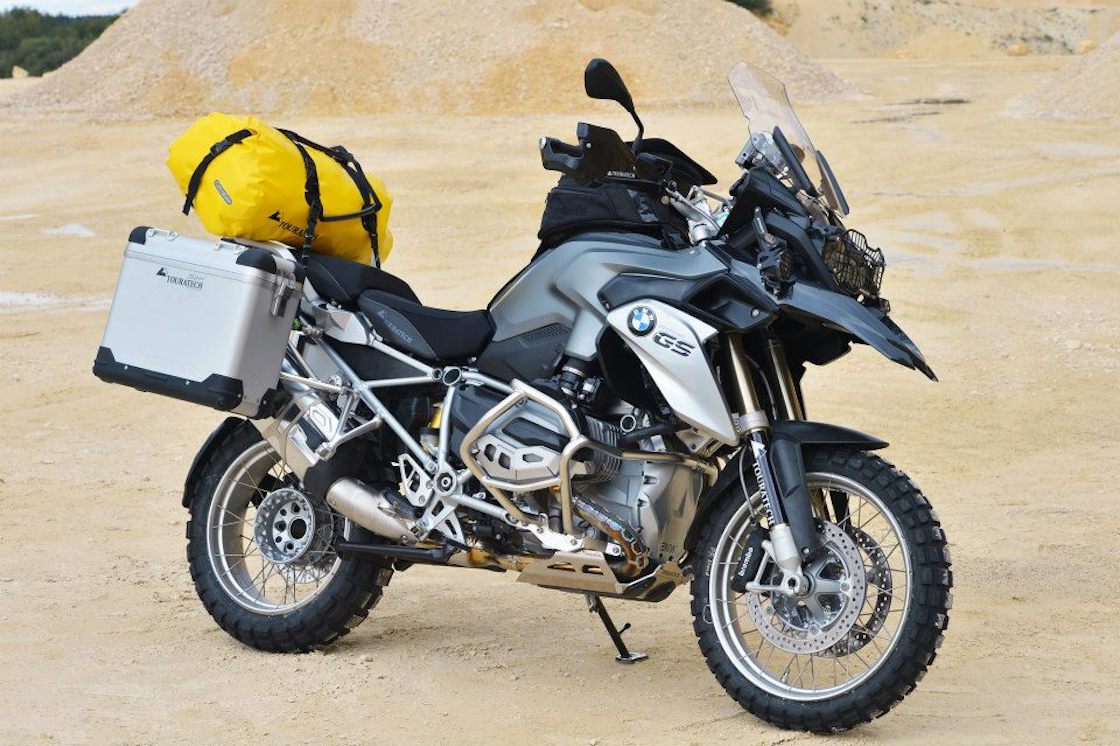 Buying a new motorcycle is just the first step in making a motorcycle your own.  You have a blank canvas, a base to work off of.  I enjoy the process of dialing in a motorcycle.  This can also be an intimidating task to tackle because the possibilities are almost endless.
The Touratech-USA show motorcycles have every part we can fit on them, generally adding another $8,000-$12,000 to the price tag.  These are displays that show all of the possibilities and are not a representation of what most riders do. Most riders don't need or want every possible part available.  I like to start with the basics: luggage, protection, and ergonomics.
Below is what I consider a good first round of parts and areas to address after buying a new adventure motorcycle.  Once you have ridden the motorcycle for a while parts will be added to further fine tune the motorcycle to you and the life it will lead.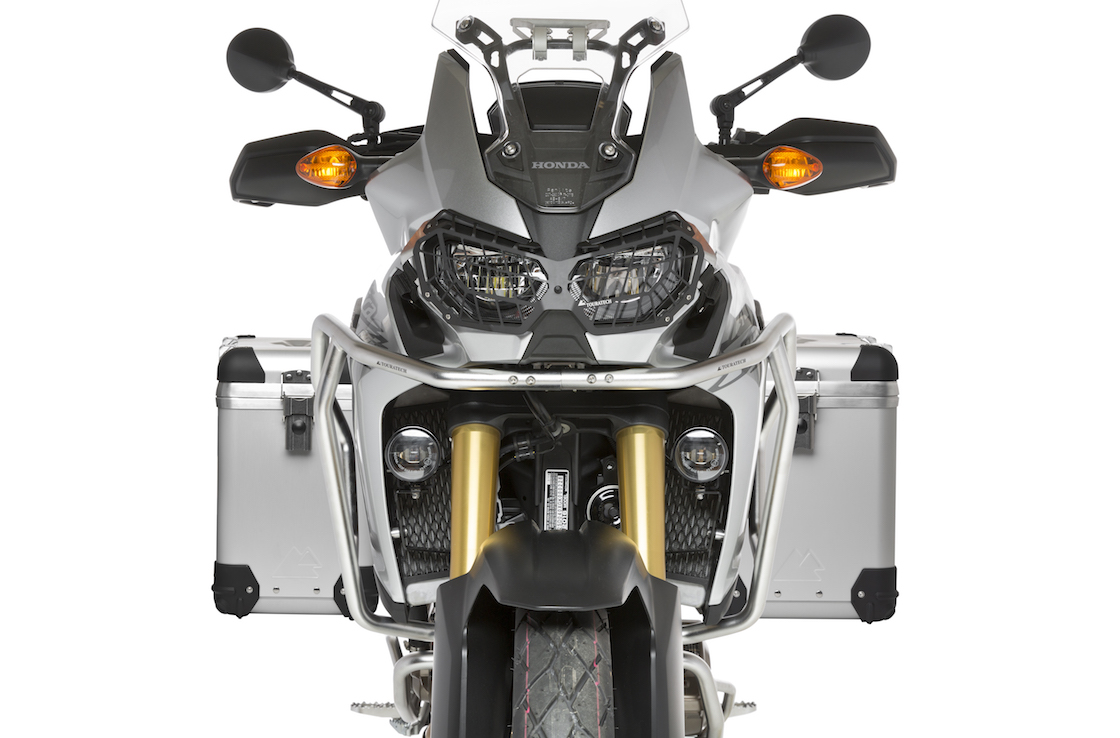 Luggage
Luggage breaks down into a few categories.  Panniers (hard or soft), top case (this is not applicable to many riders), tank bag, and dry bags.
Panniers are one of things that really adds to the usefulness of an adventure motorcycle.  This doesn't just add the ability to take trips, but makes daily use much more practical.  Hard pannier or soft bags? There seems to be a big divide.  I use the Touratech Zega Pro panniers in anodized black on my KTM 950 Adventure.  These are not the only options, but the fact they are rugged, easy to open, totally waterproof, easy to remove, and lockable are all reasons I chose them.
There are a pile of soft-sided pannier options on the market these days.  Touratech offer a few, but they're not secure, or as easy to get in and out of.  Cost and weight have traditionally been the draw to soft-sided panniers.  Find the option that fits you best, generally it's easy to switch between the two.
The inclination for a top case seems to lie with riders coming from a sport-touring background that want more lockable storage, and those in California where lane splitting is legal.  The ability to easily, and securely store a helmet, while manning a minimal width are key function of a top case.  Off-road, they put weight high up and can get in the way when throwing a leg over the machine.
None of us here at Touratech-USA use a top case on a regular basis.  That said, I can see the appeal, it is nice to keep a slim motorcycle and still have lockable storage. A top case is also a convenient backrest for a passenger when riding two-up. Touratech actually has a cool adhesive backrest available.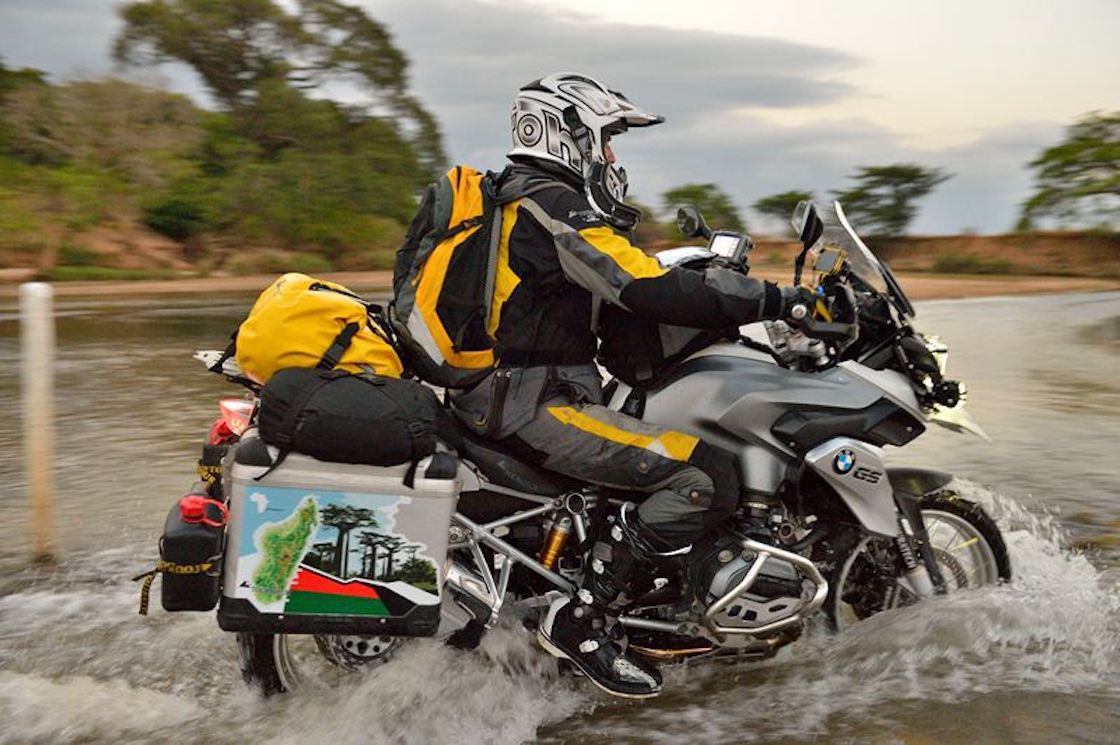 Even with tons of storage behind the rider, there are things that you want at hand.  Personally I like small tank-bags if I am using panniers.  They are a great place to keep sunglasses, snacks, maps, and other stuff than you do not want to have too far out of hand.
When I'm riding Backcountry Discovery Routes or camping off of the motorcycle I will generally use a dry-bag to store my camp in.  My tent, sleeping bag, and mattress all get stored in one, and lashed to my motorcycle.  Touratech Adventure Dry-bags make a great option to store the bulky light stuff on the back of your motorcycle with a pair of RokStraps.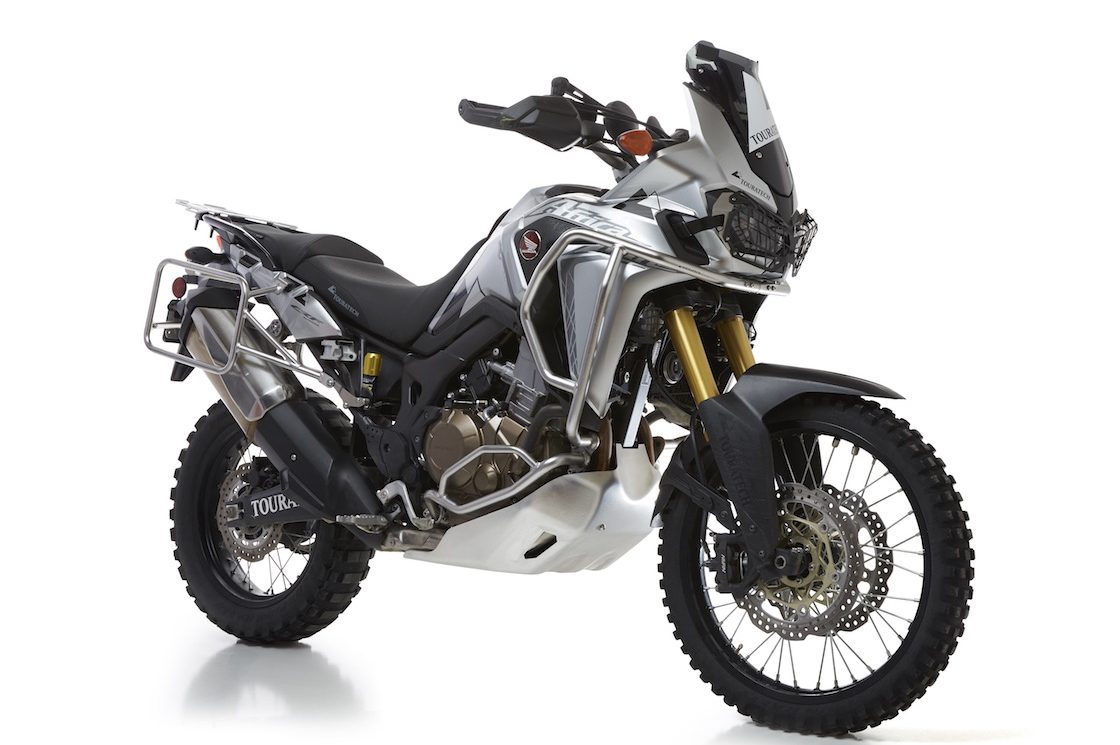 Protection
This is an area with so many options it can get confusing as to what you really need.  My rule of thumb is to protect things that are either very expensive to replace or will leave you stranded in this first round of protection items.
If you are planning on any sort of off-road riding, even just some gravel forest roads, you'll want to make sure you have underside of your engine protected.  I don't think I need to go into too much detail on the repair costs caused by a cracked engine case or ripped out oil drain plug.  I can't think of any motorcycle that leaves the factory with a robust skidplate.  At best there is some sort of token piece of metal bolted under the engine, but more often it is flimsy plastic, or in some cases nothing at all.
Like with the above, this is all about protecting the engine, the heart of the motorcycle.  On BMWs with a boxer engine these will protect the cylinders.  The usefulness of engine crashbars isn't limited to off-road use, even a parking lot tip-over will prove their worth.
Damage to the headlight can limit you to daylight hours only.  Beyond that fact, many of the motorcycle manufacturers have stopped offering replacement headlight lenses.  This means if you crack the lens you get to spent hundreds of dollars to replace the complete assembly.  In the case of the liquid-cooled BMW R1200GS, the LED headlight assembly retails is the ballpark of $1,200.
Choosing between a clear plastic or metal mesh style normally boils down to rider preference.  A clear plastic headlight guard will provide complete coverage, but as it gets dirty the headlight's effectiveness will decrease.  On some applications a dirty, clear headlight guard will also deflect light back at the rider causing glare.  With the metal style you'll notice some shadows from the guards at the far edges of the headlight beam.  Personally, I use the metal style, but chose for yourself, they both have advantages.
Ergonomics
With ergonomics the ideal set-up gets much more personal.  Before diving into this take the time to adjust your controls (handle bar, brake lever, clutch lever, shifter, rear brake).  A while back we wrote a blog covering this.  
Most manufactures realize that cannot make a seat to suit every ride, so they don't even try.  In many cases you end up with a "showroom seat."  By that I mean a soft, cushy seat that packs up in an hour and leaves you sitting on the hard plastic seat pan.  While comfy for five short minutes in the showroom it is not comfortable for the long haul.  Taller or shorter options are available. Get your butt comfy, and your feet to the ground measurement correct.
I'm going to start this section with noting that every generation the motorcycle manufactures have gotten closer to ideal setting for off-road use.  If you needed to raise your bars 2" on your old BMW R1150GS, I can assure you that you don't need to go that far with any current generation machine if you are under 6'4" tall.  I find an inch or so above stock will get the right balance between standing up and sitting down.  Coming from dirt bikes I like a slightly aggressive dirt-bike-style-lean to my standing position.  As a bonus, if you go up around an inch there is generally enough slack in the control cables to allow this without cable replacement.
Riding off-road demands standing up on the footpegs for proper motorcycle control.  Yet we still see many adventure motorcycles that leave the factory with tiny, rubber covered footpegs.  They are both unsuited and uncomfortable for off-road use.  Touratech offers a number of options that provide both a larger and more aggressive place to put your foot for any situation.
Windscreens like seats are a very personal thing.  I normally recommend putting some miles on the stock unit before trying to make a change.  As counter intuitive as it may sound, sometimes going smaller is the answer.  Put your hand on top of the shield as an  extension and see if it makes a positive change.  Try ducking down a little, does that work?  Use that information to decide what will be best for you.  Taping 3" of cardboard to the stock windshield is likely more useful information than reading 100's of forum posts.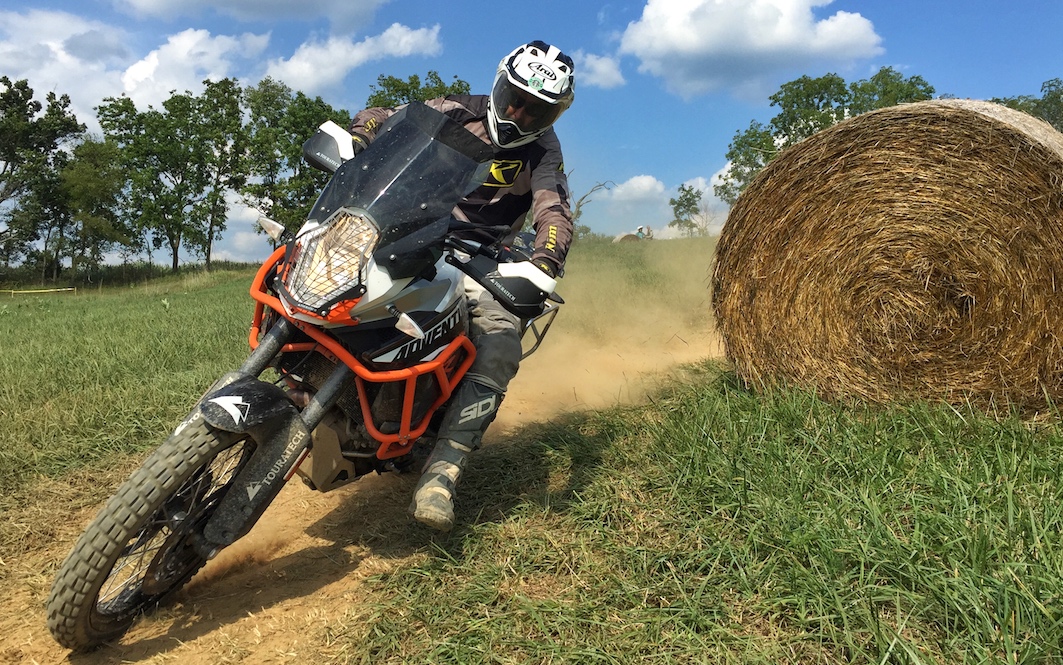 Closing
This is not a comprehensive list of parts that you need.  Every motorcycle is different, every rider is different, and every intended use is different.  There is no golden master list of parts to buy to make the perfect adventure motorcycle.  This is just a solid first round of parts applicable to any adventure motorcycle.  Once the bases covered here are taken care of, look at other weak spots on your machine.  Look for exposed sensors, look for things that are hanging out waiting to get hit by a rock.  If you are riding off-road a lot you will be likely adding quite a bit more protection to your machine.  Talk with your buddies with the same bike, armor up the weak points they have found.  Once your bank account recovers from this first round of upgrades, start looking at suspension.  Properly set-up suspension is a game changer, your motorcycle will be even better than new, on-road and off-road.
Good luck setting up your new machine, have fun, and Godspeed.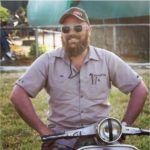 About the author: Eric is an incurable motorcycle nut. He's owned and wrenched on everything from vintage scooters and vintage motocross bikes to modern adventure bikes. He now spends much of his time riding and talking about adventure motorcycles. If you have been to the Touratech store in Seattle or called the offices, chances are you've talked to Eric. Eric came in second place in the adventure class at the Stumpjumper Desert 100 Race in 2014, and has raced a number of years in the same class with top ten fishes. He is a key part of the Touratech-USA Race Team. When he's not racing a local off-road race, or blasting around on his vintage souped-up Vespa, he can be found roaming the Cascade mountains or the Allegheny's in Central PA on his KTM 950 Adventure looking for new routes for the annual Touratech Rallies.