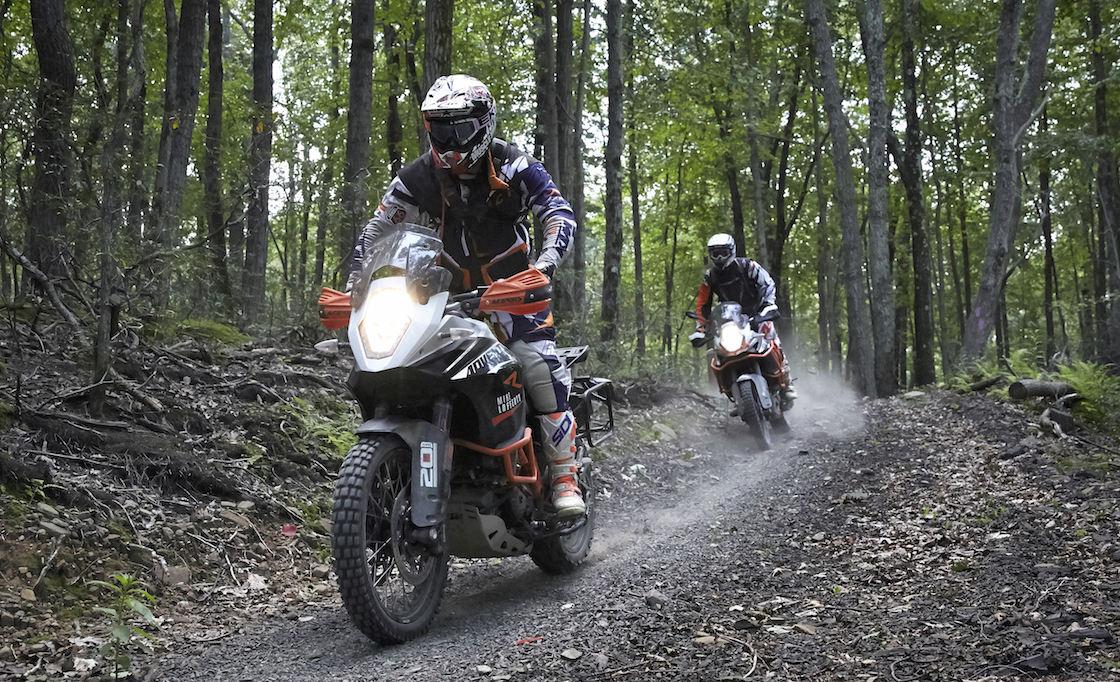 By Ron Lieback
East Coast ADV motorcycling has its four-season challenges–especially if you don't like the cold.
 But for the more passionate adventure riders based in the east, a few weeks of riding in frigid temperatures is better than lounging on a warm couch watching yet another replay of Backcountry Discovery Route DVDs.
 The beauty of East Coast riding is like no other–especially in the Northeast, where oak- and pine-filled woods are joined by endless creeks, rivers and lakes, and the smells that change within these woods each season.
 This is especially true for the Tri State area of New York, New Jersey, and my home state of Pennsylvania.
All three states meet at the confluence of the Delaware and Neversink rivers; an old and forgotten monument marks the spot in Port Jervis, N.Y. Start there and point your bike in any direction, and you're bound to find some memorable adventure touring rides.
For those wanting to explore true ADV beauty of the Tri-State area, here are my top-three picks for rides in Pennsylvania and New Jersey. These three rides offer something for every skill set, from sandy fire roads in NJ to single tracks that descend steeply with sharp rocks in Central Pennsylvania.
 Stay clicked to Touratech-USA's blog page for a few must-do ADV rides in New York.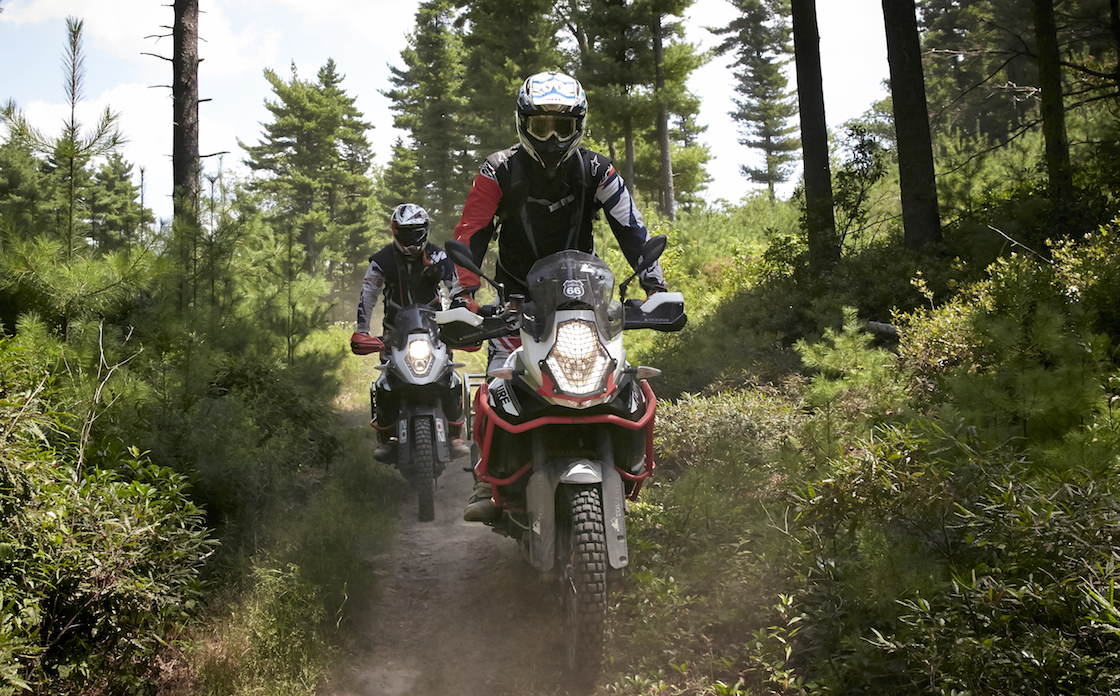 Michaux Forest
Located west of Gettysburg, home of the bloodiest battle fought on U.S. soil (July 1-3, 1863), Michaux State Forest (pronounced Mee-shoh) consists of more than 85,500 acres throughout Adam, Cumberland and Franklin counties.
I discovered this area back in 2011 when Klim launched its then-new Explorer adventure jacket and pants, Adventure motorcycle apparel I still use to this day that has well over 100K miles on it.
Some of the gravel fire roads, such as Rattlesnake Road, which is nearest the Maryland border, climbs to 4500 feet above sea level, providing gorgeous overlooks of the counties below. You can easily piece together 100 miles of riding for a day. And for the more adventurous rider, 35 miles of ATV trails run throughout the forests that will more than challenge skillset–especially on a larger adventure tourer such as the iconic R 1200 GS.
Named after the 18th Century French botanist Andre Michaux, and home to the first forestry school Mont Alto, Michaux Forest has campsites throughout, which are a first-come, first-serve basis. The deeper, and steeper, you get, the more secluded the riding becomes. There was never an issue with finding camp sites throughout Michaux State Forest, which features a mixture of various oak, maple, black birch, hickory, pine, tuliptree and blackgum trees.
Two highlights during the rides are Long Pine Reservoir and Laurel Lake. Just keep an eye out for hikers; 37 miles of the Appalachian trail snakes through Michaux State Forest. For additional information, here's a Michaux State Forest map
Bald Eagle State Forest
The ADV riding in and around Bald Eagle State Forest has been a favorite of mine for nearly a decade.
When scouting for its east coast rally location, Touratech-USA also realized the off-road riding opportunities at Bald Eagle State Forest. This area will once again be part of the Touratech Rally East, which occurs for the third-straight year this August 17-20.
Named for the famous Native American, Chief Bald Eagle, Bald Eagle State Forest is spread across nearly 194,000 acres in Snyder, Union, Centre, Mifflin and Clinton counties west of State College, home of Penn State University.
Much of the land from the Susquehanna Valley to the southeast of the Allegheny Mountains was owned by Revolutionary War soldiers who were given land grants. These grants were later purchased by the major logging and lumbering companies in the late 1880s and 1890s, which helped create the foundation of the unpaved roads throughout the area.
About 340 miles of roads exist throughout Bald Eagle State Forest, with a bulk of them unpaved and reaching as high as 2,300 feet above sea level. There are loads of dual-sport motorcycle trails, and some require expert-level ability due to sharp rocks and giant mudholes. Three that impress over and over are the trails running through the Seven Mountains Region, over Shade Mountain, and near Poe Paddy State Park.
For additional information, here's a Bald Eagle State Park map
Wharton State Forest
When people think of New Jersey, the first things that comes to mind are usually sandy beaches and Atlantic City. But the Garden State also caters to motorcyclists. For road racers, there's New Jersey Motorsports Park (NJMP), which host MotoAmerica racing. And for the adventure motorcyclists, there's Wharton State Forest, which offers over 500 miles of unpaved roads throughout 115,000 acres of state forests.
Wharton State Forest is part of NJ's infamous Pinelands, also known as the Pine Barrens. New Jersey Pinelands consists of over 1.1 million acres of oak/pine forests throughout seven NJ counties: Burlington, Ocean, Atlantic, Camden, Cape May, Cumberland and Gloucester.
The Wharton State Forest provides endless sandy roads, mapped out on NJ Park and Forests motorized access plan, which cater to beginner- to -intermediate ADV riders. Just watch; after storms these roads can have some deep mud and ruts that make the trip much more fun and challenging even for expert-level riders.
Two areas to definitely check out are the Batsto Natural Area, which borders the Batsto and Mullica rivers, and the Oswego River Natural Area, which borders the Oswego River. Also, a ride near Batsto Village feels like a ride back to the 19th Century; this was the former bog iron and glass-making industrial center of the area through the mid-1800s.
Campgrounds are also available throughout Wharton State Forest. For ADV riders who like to check out MotoAmerica at NJMP, here's a perfect excuse for a few days of camping ahead or after the races.
For additional information, here's a Wharton State Forest map.
This is the first piece in a series on Must-Do East Coast ADV Rides. Stay clicked to Touratech-USA for more.