Touratech's Showroom Manager and sometimes blogger Eric Archambault is currently on a 2-week odyssey that will take him to the KTM Adventure Rally in Colorado and the Horizon's Unlimited Meeting in Northern California. We asked him to share his experiences with a daily (or semi-daily) account of his adventures.
Day Two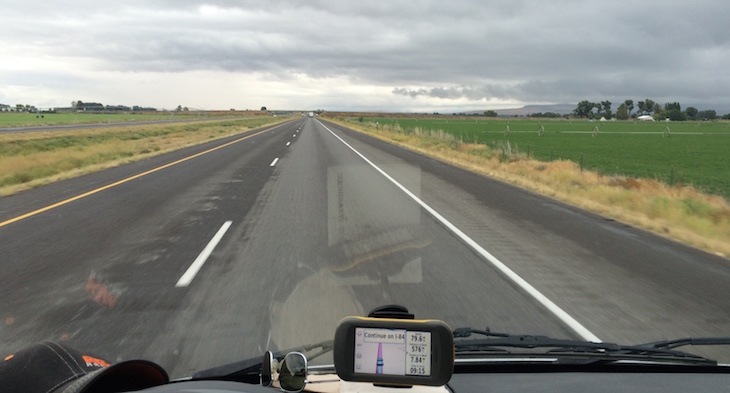 When I woke up outside of Twin Falls, ID it was in the upper 40's and still drizzling rain. I made a quick pit stop for the required morning coffee and got back on I84 heading towards Salt Lake City, UT. The next few hours were very uneventful, with an 80mph speed limit and straight roads at least the miles were ticking by.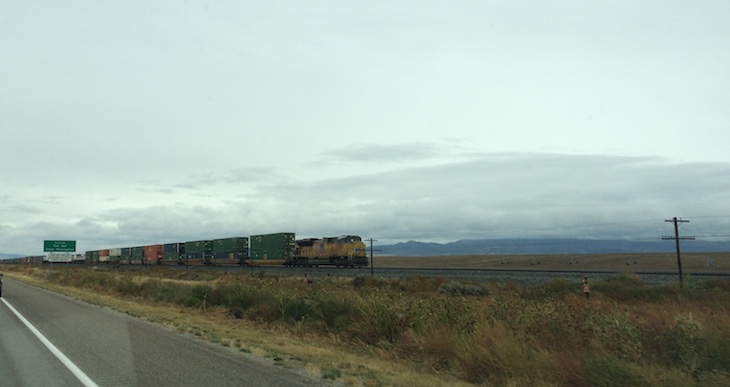 I snapped the train picture that I couldn't quite get yesterday.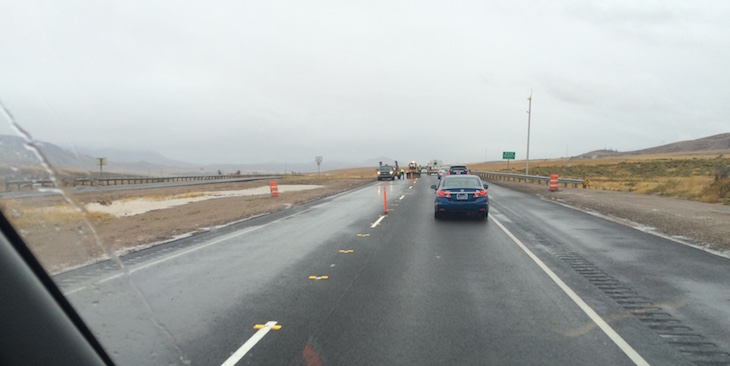 The 80mph cruising speed was interrupted by some roadwork. Luckily it was a brief slowdown, I hoped this would not become a common occurrence.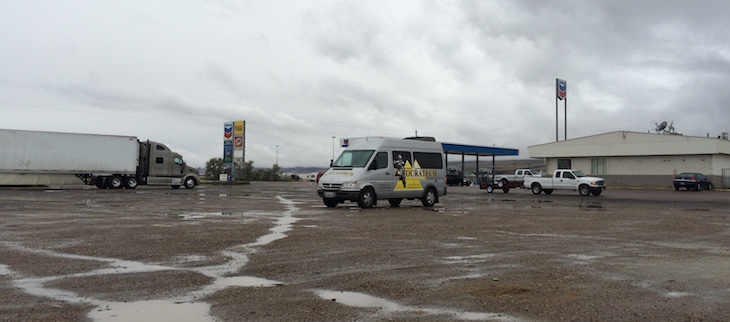 Finally it was time to stop for gas, it was still very gray out.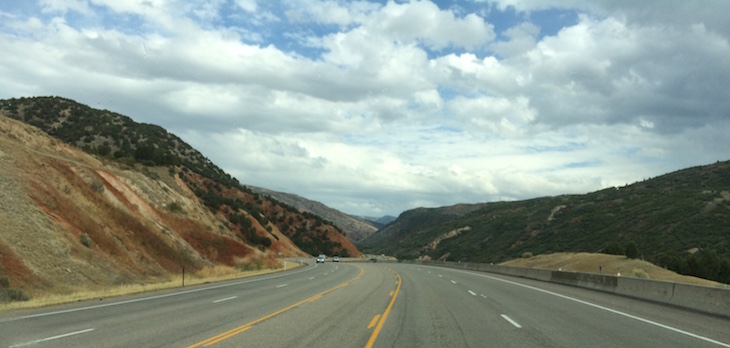 I managed to hit Salt Lake City before rush-hour traffic slowed things down too much. The sun finally seemed to burn through the storm, or I had finally out run it. I stopped in Provo, UT at the same Starbucks as I did on last year's KTM Adventure Rally trip. In 2014 it was to Taos, New Mexico.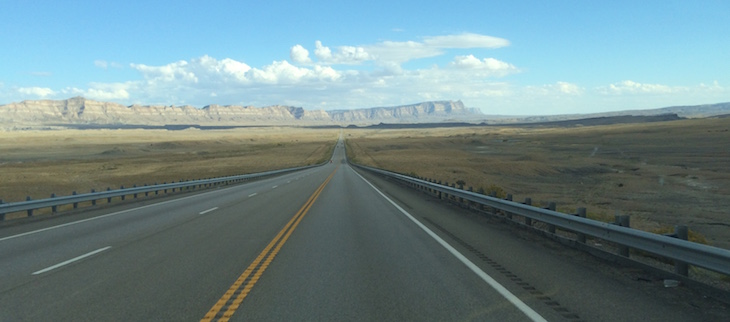 With a fresh coffee sitting in the cup-holder, the sun shining, I knew that some of my favorite scenery was coming up. Ahead, was a section of winding road that opens up to the flat land with bluffs off in the distance. This was the iconic image of the west that as a child in New Hampshire I knew only from pictures.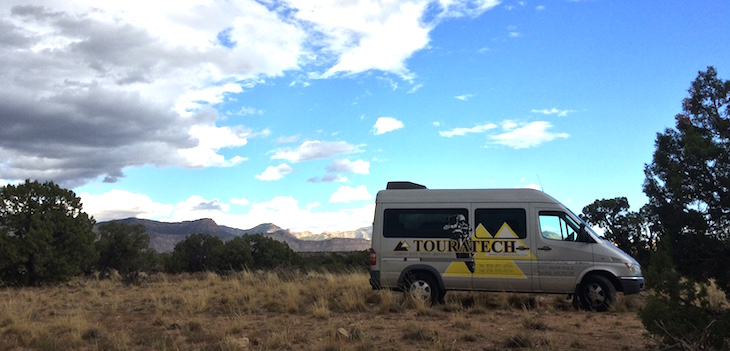 Once I made it though Spanish Fork, UT the crosswinds from across the plains were the strongest I have ever driven in. The fact the Sprinter Van isn't much more than a box on wheels probably didn't help either. When passing a semi-truck the truck would act as a windbreaker, and the Sprinter would be sucked towards it, then once passed the truck the crosswind would shove me back the other way. In places where the road was cut into the side of hills the same thing would happen in a less pronounced manner. Needless to day it made for a few hours of very attentive driving.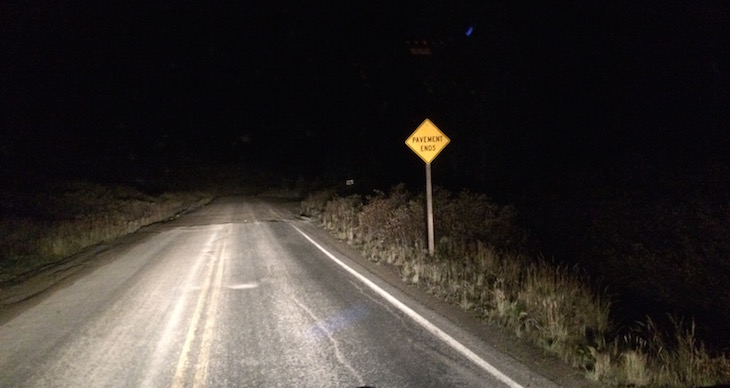 Once I crossed into Colorado I knew I was in the home stretch. Though a slight navigation error on my part, I ended up taking the very scenic route. Miles of dark, winding back roads, finally dumping into forest service roads. I could tell I was gaining serious altitude. The engine was no longer as responsive as it had been.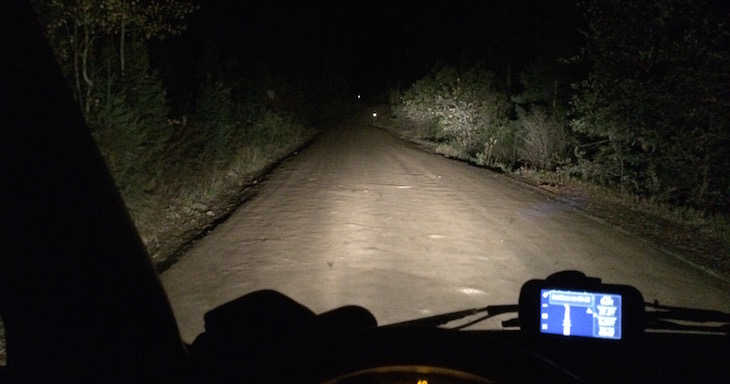 After 35 miles of what would have made a fun rally stage, honestly I still had fun driving the Sprinter down it, I made it to Crested Butte, CO. I found my hotel and checked in for the night.
Carrying my bags up to my hotel room I could feel that I was at 9,300ft of elevation. I know if I quickly feel the lack of oxygen up here my carbureted KTM will be feeling the effects too. At least with the KTM I can just adjust the carbs. I will adjust much slower. As for that navigation error I made. I wasn't paying close attention to my GPS, missed a turn, and it rerouted me. I didn't mind the added adventure. It was a fun way to wrap up a long day and the first leg of this trip.
All said and done today I drove 697 miles, and once again drank two cups of coffee, two Red Bulls, and half a gallon of water. The trip total mileage is now 1,344 miles. Tomorrow the KTM Rally starts!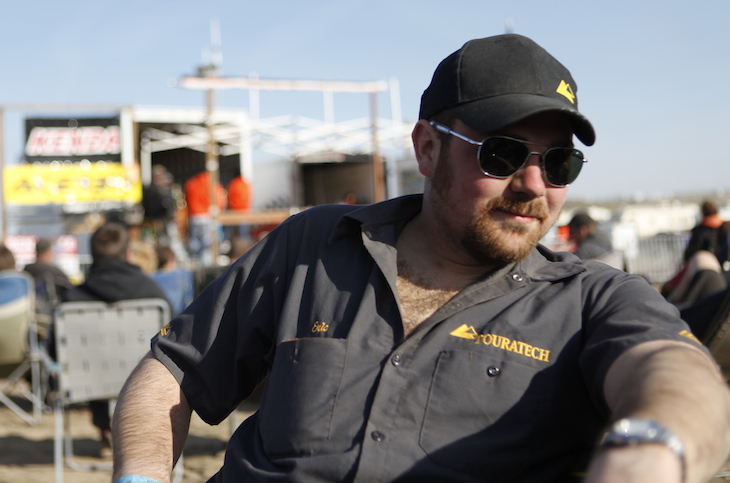 About the author: Eric is an incurable motorcycle nut. He's owned and wrenched on everything from vintage scooters and vintage motocross bikes to modern machines, and now spends much of his time riding and talking about adventure motorcycles. If you have called the Touratech store in Seattle or called the offices, chances are you've talked to Eric. Eric came in second place in the adventure class at the Stumpjumper Desert 100 Race in 2014, and recently finished the 2015 race in eighth place in the same class. He is a key part of the Touratech race team, and when he's not racing a local hare-scramble or vintage motocross race, or working on motorcycles in his garage, he can be found roaming the Cascade mountains on his KTM 950 Adventure looking for new routes for the annual Touratech Rally.
To read more of Archambault's Angle CLICK HERE.