Adventure motorcycling icon, Helge Pedersen is currently embarking on a ride through the Himalayas with a select group of his Globeriders clients. This past spring he led riders on a tour of the famed Silk Road. His bike is set up with Touratech 'Plug and Travel Dynamic' shocks so we asked him to write a few words about the Silk Road trip and answer a few of our questions about the Touratech shocks. He was stuck in customs in Bangkok when we touched base.
I am finally in Bangkok and have the time to write you a few words in regards to the Touratech shocks. Right now you have to picture me sitting with my clients on the 4th floor of a Customs building surrounded by offices where clerks are buried in stacks of paperwork working on their computers and taking long breaks. We are waiting for one particular custom officer that is gone for what appears to be an unspecified time. When we get through the labyrinth of red tape today we are told that we will get our bikes on Monday. Let's hope so.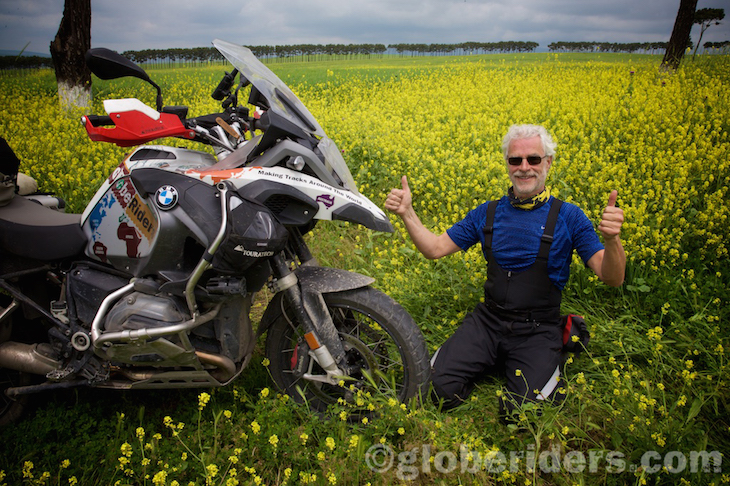 The Globeriders Silk Road Adventure 2015 started in Istanbul, Turkey and ended 56 days later in Xi'an, China. It was a 8,000 mile journey over good and bad roads with altitudes going up to 15,000 feet in Tajikistan. It's an excellent ride for a BMW R1200GS. On this particular journey, I had a brand new 2015 BMW R1200GS Adventure.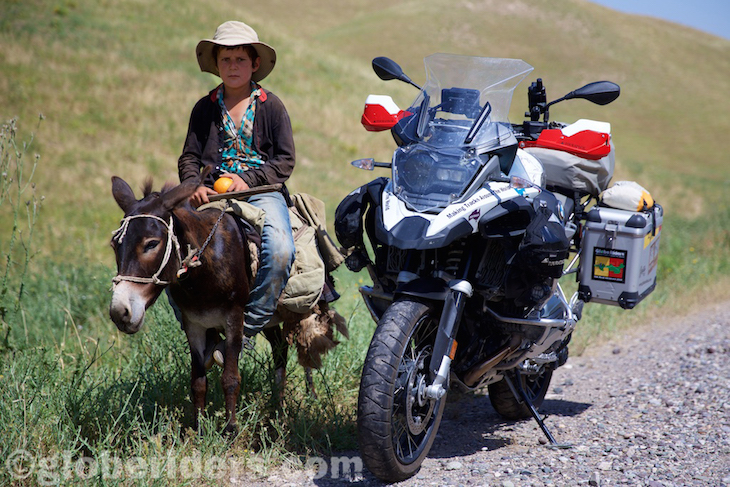 Joe is a very good rider and he rides hard because he can and he loves traveling to strange places around the world. Having both of your shocks break on such a wonderful journey is really sad. To avoid this ever will happen again Joe called Touratech and ordered a new set of shocks to replace the broken BMW shocks. Now he is ready to ride the world again with one less concern for any breakdowns, go Joe go!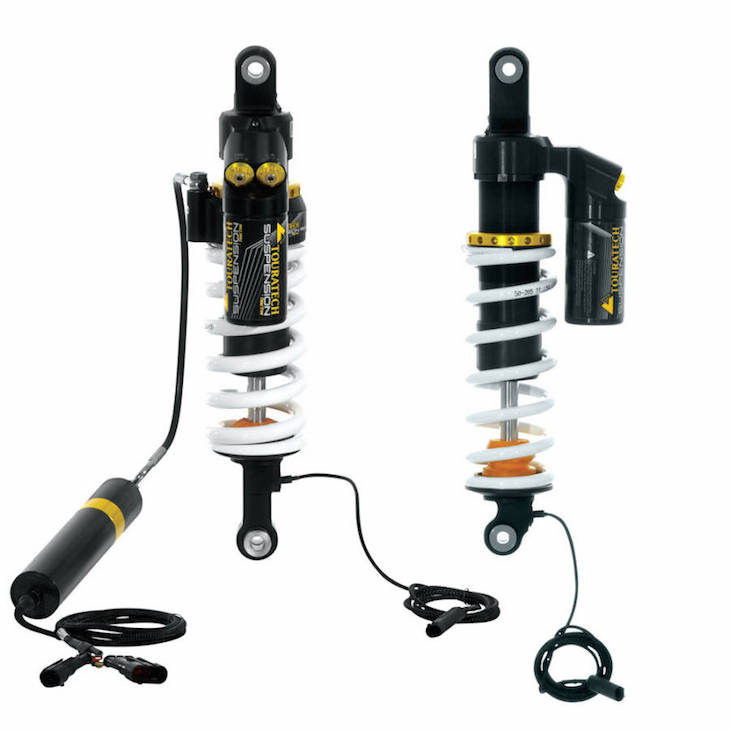 Touratech: What do you feel differentiates Touratech shocks from others that you've ridden on?
Helge: What is important to me is the knowledge of the craftsmanship behind the shock, knowing that it has been custom configured to my weight and riding style and last but not least, that the shock can be overhauled.
With all the abuse a shock goes through it needs to have the oil and seals changed at intervals that match the usage. By upgrading to the Touratech shocks I have invested in the long life of my suspension for my rides ahead.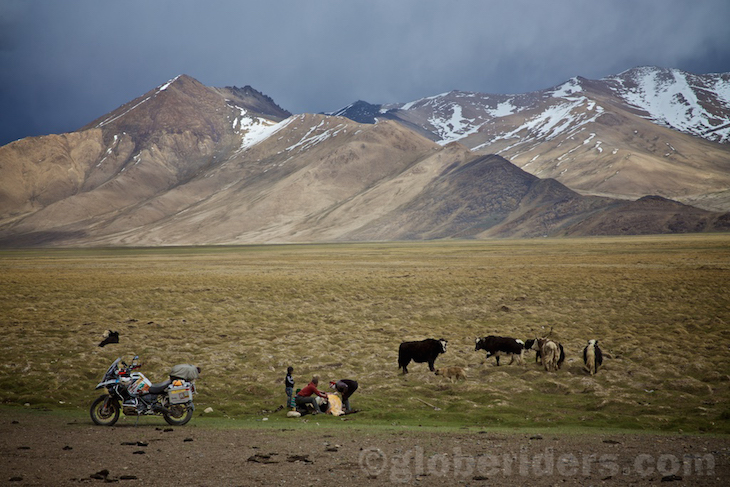 Touratech: What would you say is the best way to properly test shocks?
Helge: The best way for me to properly test shocks is to go on one of GlobeRiders rides. You will have no choice but to test the shocks. We see it over and over again. Riders break OEM shocks, and for that reason we try to carry spare shocks, but more than that we try to convince new riders to GlobeRiders Adventures that we highly recommend that they invest in a set of Touratech shocks. I have never seen any of our riders with Touratech shocks have an issue with the shocks. I cannot say that about other aftermarket shocks.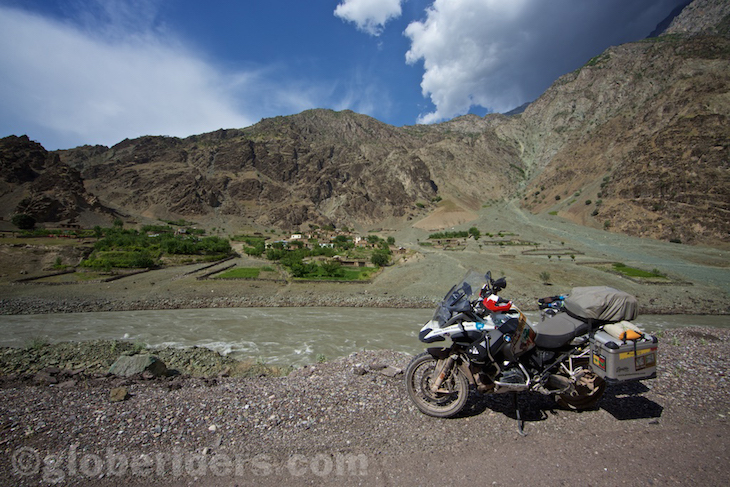 Touratech: Have you ever had a Touratech shock fail on you?
I have been riding on Touratech shocks since they were first introduced and I am very happy with the performance. I've never had any issues with the Touratech shocks. I'm a very happy user indeed.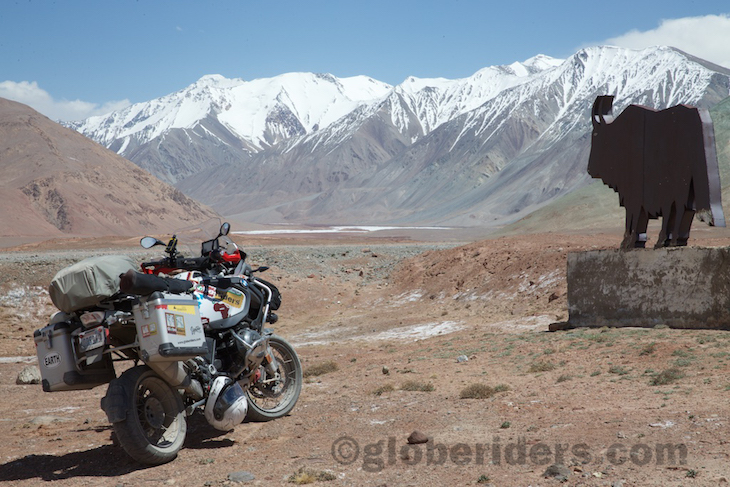 Touratech: Was there a specific incident in your riding career that made it clear to you the importance of high-performance suspension?
Helge: Having ridden more than one million miles on all kinds of roads around the world, I have had plenty of personal and second hand experiences with shocks gone bad. Trust me, most of these incidents do not happen at home with a dealer just around the corner.
My very first serious break down of a shock happened in 1982 when I was riding my brand new BMW R80G/S 1981 model to Africa. I had just started on the first leg of crossing the world's largest desert, the Sahara Desert in Algeria. Fully loaded with extra jerry cans of gasoline and water to last for a week the bike was loaded to the brim and that is when the rear shock gave in. At that point I knew I needed to come up with a better solution and the search for an alternative to the original BMW shock.
The route that Helge is currently riding through the Himalayas has never been traveled by motorcycle. We look forward to hearing how the journey goes as Helge continues to break new ground in adventure motorcycling!
To find out which Touratech Suspension product will take your bike to the next level Click Here!!