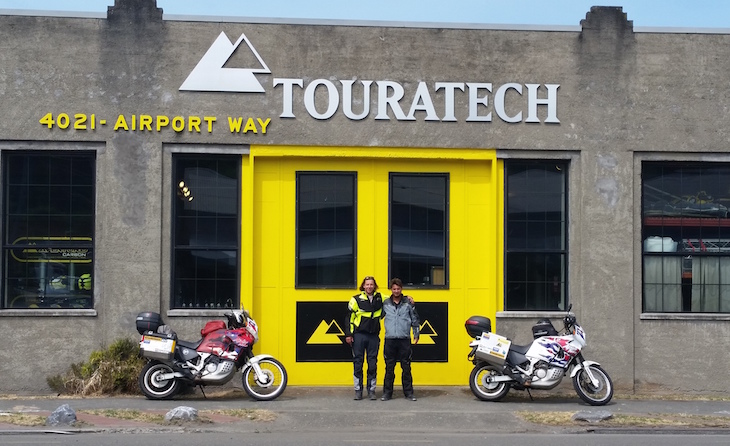 When Touratech-USA's Matt Willson was riding through South America last fall he met a lot of interesting people and personalities. He often says that the relationships he made down there were the true treasures he brought home from his trip. While in Peru, Willson and his wife, Brayde stopped at the Touratech-Peru shop to do some work on their bikes and they ran into a couple of guys from Holland, Jeri Lubbers and Dagowin Hettich. They were on a couple of ancient Africa Twins and were in the midst of a motorcycle odyssey of their own.
The two Dutch guys were in Peru for over a month while they waited for parts to arrive that would help them get back on the road. The Willson's and the Dutchmen hit it off and Matt told them that if they made it to Seattle to get ahold of him and they'd have a place to stay if they needed it. Fast-forward to June and Dagowin and Jeri arrived. They had some more work to get done on their bikes and and were hoping to make some extra money too.
The Willson's were glad to have them and Touratech-USA put them to work around the shop and over the week of our Touratech Rally. They worked tirelessly in the heat of the Rally and on a bunch of other projects. We've had a great time getting to know the Dutchmen and were sad to see them go as they rode north this week for Alaska. We wish them safe travels and hope to ride with them again soon!