April has come again. The march of time is truly relentless. The beginning of April each year also means it is time for the annual Stumpjumper Desert 100. This is a weekend I always look forward to, it is the biggest riding event I go to, and one of the few times I get to ride desert. This is my fifth year, I have ridden four different bikes at this event, and three have have been KTM (95' KTM 620 RXC, 97' KTM 200 EXC Jack Piner, and 05' KTM 950 Adventure twice), with the odd year on a 1999 Honda CR250R.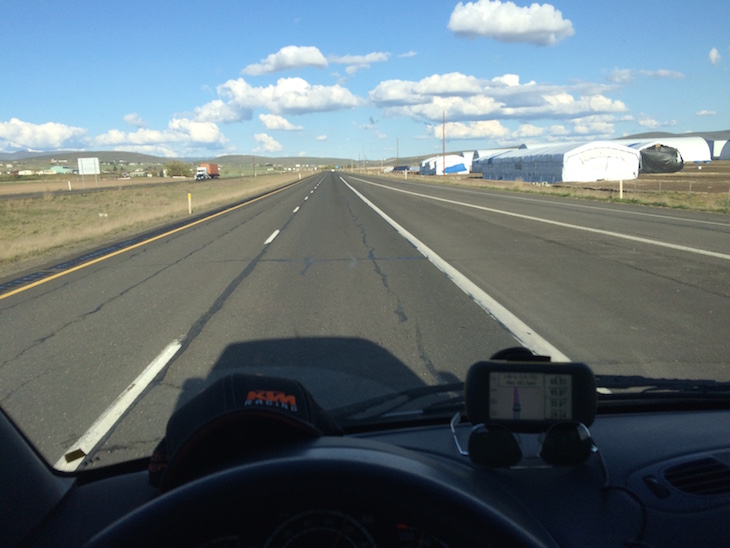 I was able to get an early start on Thursday again this year in the Touratech-USA Sprinter van with trailer in tow and full of our staff's dirt bikes. I have really enjoyed the chance to get out to the site early and watch a temporary city of four or five thousand people appear in 24 hours. There isn't much riding on Friday other than some laps around the practice track, so it's a great time to wander around and catch up with friends. The off-road crowd is a pretty friendly bunch, it can be easy to make new friends, as everyone has common ground, MOTORCYCLES!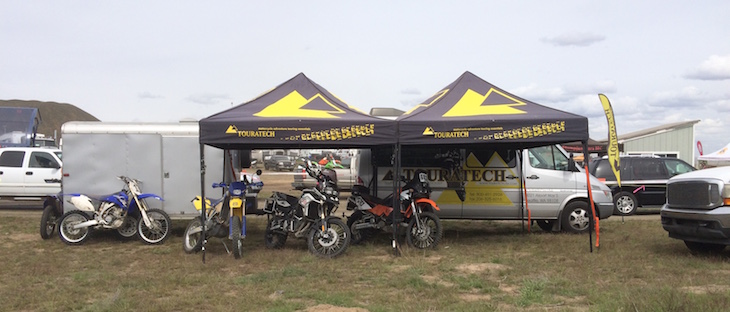 I ended up spending some time sampling a number of different moonshines with some random guys I ran into, it was a good time, one of them even owned a late 1970's Yamaha IT175 like I currently race in vintage motocross. Filled with moonshine I greeted the smaller than usual Touratech-USA crew as they arrived. They had to wait until after work on Friday to leave Seattle. There was a conflicting event this year that kept the Team Touratech-USA's number down to only five, but everyone raced, still a good turnout and great time was had by all.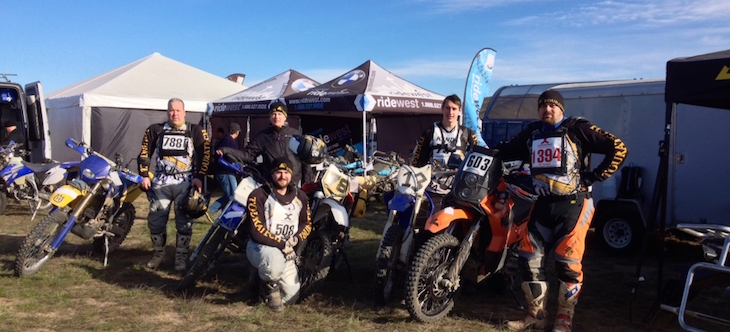 Saturday starts the actual riding events with the kids race and the poker runs. Like last year, I rode the Dual Sport "A" loop to warm up and shake out the bugs before the race on Sunday. This year I was riding with Iain Glynn (Chief Riding Officer, Touratech-USA) who was testing some suspension tweaks (Touratech Fork Cartridge Conversion S and Extreme rear shock) on Touratech-USA's 2013 BMW F800GS and our buddy Casey Hilliard on his BMW HP2.
This shakedown and warming up session was pretty important to me this year after the destroying the clutch on my KTM 950 Adventure in the dunes a few months back. I'd only had the motorcycle back on the road for a little over a week, a handful of short commutes to work was hardly enough to race prep a bike. My training also stalled a month or so back, and I hadn't ridden off-road since the dunes.
During some initial shakedown runs on Friday I had found my chain was done, it was stretching faster than I could adjust it, and the intermittent ignition failure that had been slowly becoming all the more common was corrected, for the weekend anyway, by bypassing the switch all together. All of the above considered I felt oddly ok with my situation, really it is not much off of par for me staring down a race.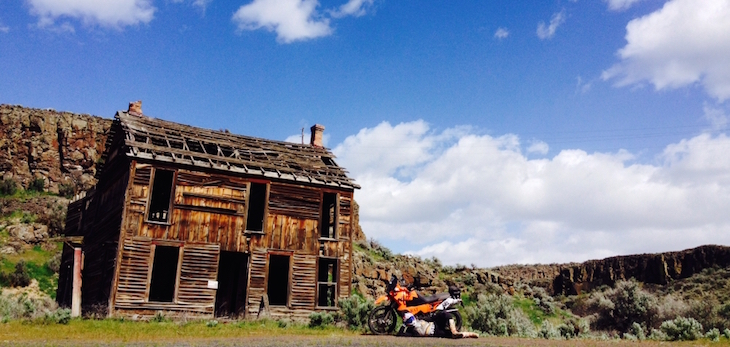 The Dual Sport "A" loop is always awesome. Rather than being on the thrashed Ironman course, that shares much of it's terrain with the race course, it is all awesome single track with some double track and road link it all together. It is recommended for smaller dual sports, but experienced riders (I really emphasize experienced riders) on adventure bikes will really enjoy it. I always have fun riding with Iain and Casey (we ride together quite often), as we ride a comparable pace, but have different riding styles. They are both have a much smoother trials influenced style when compared to my brute strength approach in the technical stuff.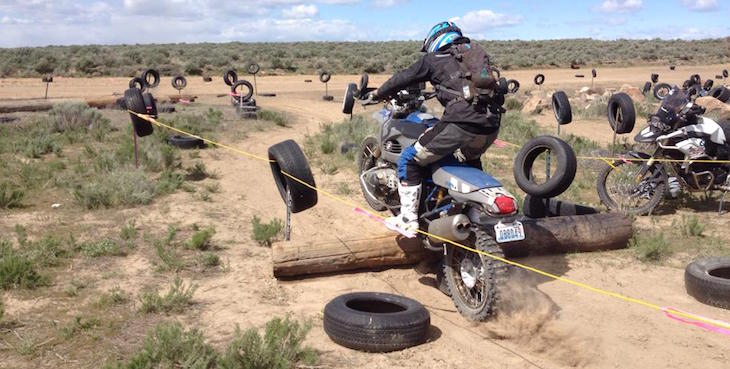 Things that stick out, a steep hill climb that I aired a few whoops on my way up with the soundtrack of howling KTM LC8 echoing though the spray of roost that was my wake. A small enduro cross track that we hit, and Casey dominated some tractor tires. This isn't a pro racer throwing a HP2 over a four foot obstacle, it is a normal (albeit very skilled) guy that digs riding big bikes hard. Lots of good, fast desert single track action. There was a backyard motocross track that was perfect to session, small enough that I didn't feel silly riding a 500lb bike around it. I was back in junior high school under the powerlines behind the Boys Club in Nashua, NH running hot laps with my friends on BMXs on a now long gone home built BMX track. Even with all of this riding we managed to do a little scientific research, well sort of. There may have been some drag races on an empty stretch of highway (the KTM 950 won all contests of acceleration).
All in all it was an awesome day riding great terrain with a couple friends, I can't ask for much more. On to race day!
To read more of Archambault's Angle CLICK HERE.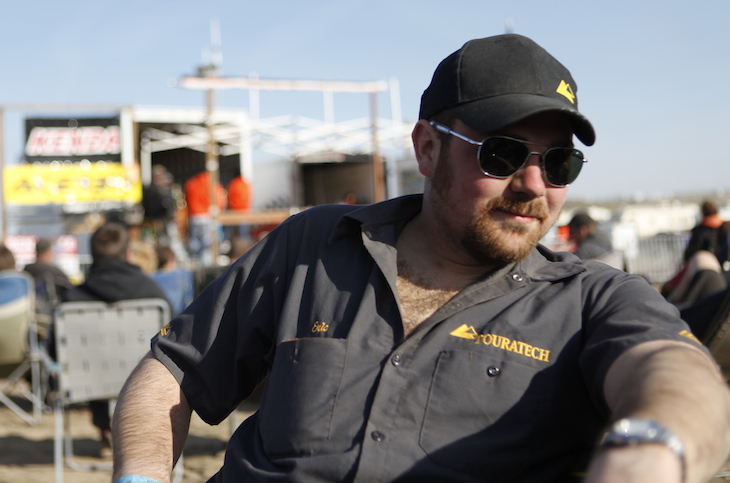 About the author: Eric is an incurable motorcycle nut. He's owned and wrenched on everything from vintage scooters and vintage motocross bikes to modern machines, and now spends much of his time riding and talking about adventure motorcycles. If you have called the Touratech store in Seattle or called the offices, chances are you've talked to Eric. Eric came in second place in the adventure class at the Stumpjumper Desert 100 Race in 2014, and recently finished the 2015 race in eighth place in the same class. He is a key part of the Touratech race team, and when he's not racing a local hare-scramble or vintage motocross race, or working on motorcycles in his garage, he can be found roaming the Cascade mountains on his KTM 950 Adventure looking for new routes for the annual Touratech Rally.