A soft tail bag can be a great companion to your existing luggage system. Giving you an easy-to-access place to stash personal items, the expanding Touratech touring tail rack bag will quickly become your favorite piece of touring luggage.
This tail bag is specifically designed to fit Touratech luggage rack extensions, as well as many stock tail racks. Our mounting system is very secure with 3 nylon straps and heavy duty buckles.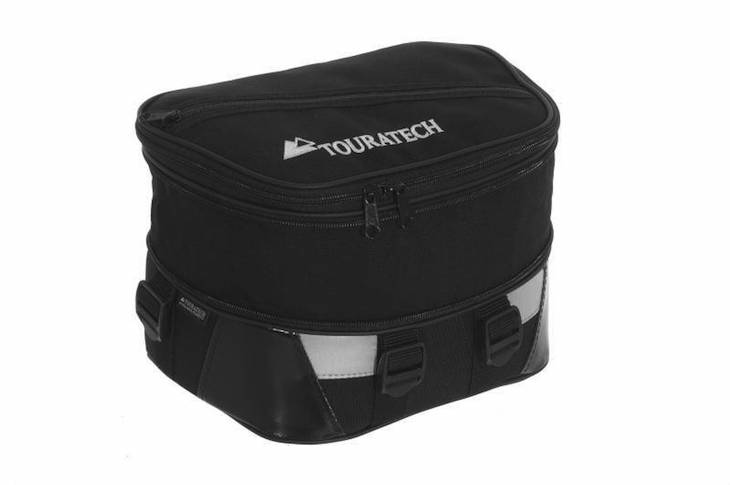 High quality Cordura material – Our touring tail bags are made only out of the highest quality materials. Unlike the other manufacturers who use standard Nylon material, Touratech uses premium Cordura. The certified Cordura fabric, made in Germany, is the same material used in high-end riding suits and is tough and highly abrasion resistant. The Cordura is also treated with a special Teflon coating to protect against dust, moisture, and fading.
Expandable capacity – Packed to capacity, but still need a little extra room to take dinner back to camp? The Touratech expandable seat bag features an expansion zipper that extends your capacity from 4 to 8 liters in seconds.
Rigid sides hold their shape – Even when the bag is empty, the plastic reinforcmenet built into the inside of the bag keep the sides supported.
Bright reflective panels –Integrated reflective panels sewn into the rear of the bag keep you visible day and night.