At Touratech, we ride. Street bikes, dirt bikes and of course, adventure bikes. If you walk into our offices any day of the week (Mon-Fri, we ride weekends) you hear the language of the motorcycle rider being spoken at every desk. Whether we're talking to each other or to customers, we're talking motorcycles. It's what we do.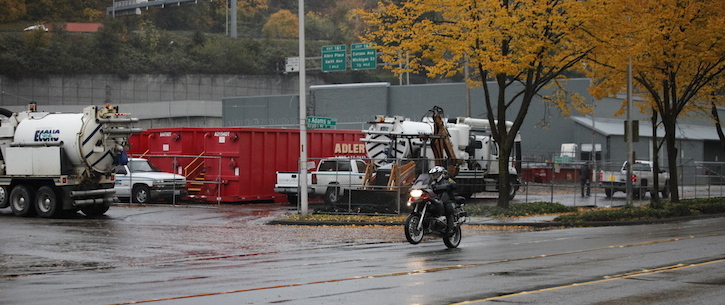 Our offices are located in Seattle, so at Touratech we ride in every weather condition you can imagine. With fall here and at least six months of gloomy, wet days ahead, we asked a panel of our employees to share some thoughts on riding in the rain. We asked about tires, gear and general philosophy when traversing the rain-soaked streets of a Northwest fall and winter.
Our panelists include: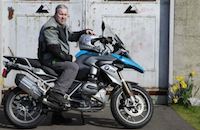 Iain Glynn, Chief Riding Officer Kimmo Lassila, Sales Manager Luann Lockwood, Order Fulfillment Andrew Sadler, Warehouse Mgr.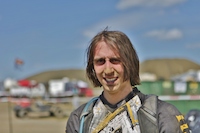 Eric Archambault, Sales John Voorhess, Order Fulfillment Manager Morgan Goldbloom, Sales Ben Carter, Sales
Do you ride on different tires in the winter?
Iain: I personally have two wheel sets for my R1200GS and I do my best to NEVER run the knobby tires when commuting in winter time. Any decent street tire is much much safer on wet roads than a knobby. I personally really like the Michelin Pilot Roads as a commuting tire, they are very aggressively siped to work well in water.
Morgan: In my experience, there's really no point to swapping tires during the winter, unless you're running full-on knobbies. Modern street tires have incredible grip levels in nearly all conditions. However, knobbies tires are a different story. When it's cold and rainy outside, I typically leave my dirty, dirt tires at home and ride on street rubber. Getting hard on the brakes in the rain, to avoid an accident on knobbies, is a great way to get into trouble.
John: I do not worry about winter vs. summer tires on a street bike, as summer tires should be fine in wet conditions.
Luann: I don't change out my tires for one simple reason: I'm too lazy. The tires I put on my bikes are usually around 50/50 road/off-road and I just keep it in the front of my mind that its a little more slippery out and stopping distances are longer.
Eric: Nope, on all of my past modern street motorcycles I have run sport-touring type tires that are inherently very capable in the wet. That being said, I normally will swap out worn tires a bit earlier in the wet season than I would in the summer.
Andrew: Klim Rally Jacket and Pants, Scheepa wind block head sock, Touratech HAD ( neck gator ), polyester long underwear, fleece mid-layer jacket under rally jacket. Sidi Discovery Rain boots. Klim vented socks. Aria VX-pro3 enduro style helmet with transitioning lens goggles. One quick note, about boots, jacket and pants: It is important to keep these items clean for them to work at full efficiently. Washing your gear a few times a year is usually enough to do the trick, and an application of Nikwax on the boot at least once a year will make a big difference in how your boot work in the wet.
Ben: My gear doesn't change too significantly. I tend to throw on an extra thermal layer (in my case this means pajama pants, and long underwear) and a neck warmer or scarf. But I do spend more time insuring my sleeves are tucked into my gloves and my pants over my boots to keep out any water and cold air.
Luann: When its raining and/or dark out, I've got a big dorky yellow safety vest that I wear over my jacket. I call it my 'Anti-Death Vest' and so far, so good. Boots are Gore-Tex and if the ride is over a couple hours, I'll pack an extra pair of wooly socks to change into. Gloves are also Gore-Tex and a spare pair is also packed.
Eric: Klim Badlands Pro suit, Sidi Discovery Rain boots, Held Steve gloves, and Arai XD3 helmet with Pinlock visor. The Pinlock works great at keeping things from getting foggy.
Iain: I wear a Klim Traverse for my winter/waterproof gear. I told my wife once when I got home after one particularly wet ride, "If people knew that you could spend $700 and never be wet on a motorcycle again, Klim would sell every piece they ever made." I have tried LOTS of other suits and the GoreTex simplicity of the KLIM is hard to beat. I also use Sidi waterproof boots and my secret weapons: handmuffs.
What are your personal Do's and Don't's when riding in the rain?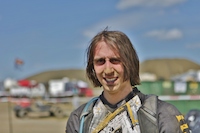 Morgan: Whenever practical, avoid EVERYTHING but clean pavement! Clean, wet pavement provides about 80% the traction level or normal dry
pavement. Painted lines, especially those at intersections feel like they're made up of a mixture of BBQ sauce and ball bearings. Science. Manhole covers and other metal surfaces are also extremely slippery when wet. If possible, let the first hard rain wash away the street grim for an hour or so before you hop on your bike.
Slow it down, brother. No really. You'll thank me when that minivan turns left in front of you.
Practice. Braking hard in the rain. Start from 10 mph, and brake firmly to a complete stop. Rinse your shorts and repeat at a slightly faster speed, eventually getting up to about 70 mph.
John: I always ride with gloves. I've crashed on the street before and slid on my hands for a distance and my leather gloves stayed intact and protected my fingers. I will always spend good money on gloves.
Ben: I always leave a extra 10 or 15 feet following distance when its wet out. Unlike a car, water makes a major difference to motorcycles in the rain. Traction under braking and accelerating is quite different, but even more important is where you put your tires. When the rain starts to fall any paint on the road, be it yellow, white, blue, or red becomes an instant danger zone. You have to take extreme care never to touch painted pavement with your tires when braking or on the gas, or when you're leaned over too far.
Andrew: Slow down and remember that it's harder for a motorist to see you when it is wet out. Try to leave yourself an out, and increase your following distance.
Kimmo: Make sure all your lights are in working order and ride more defensively because cars won't see you as well. Avoid riding in the dark.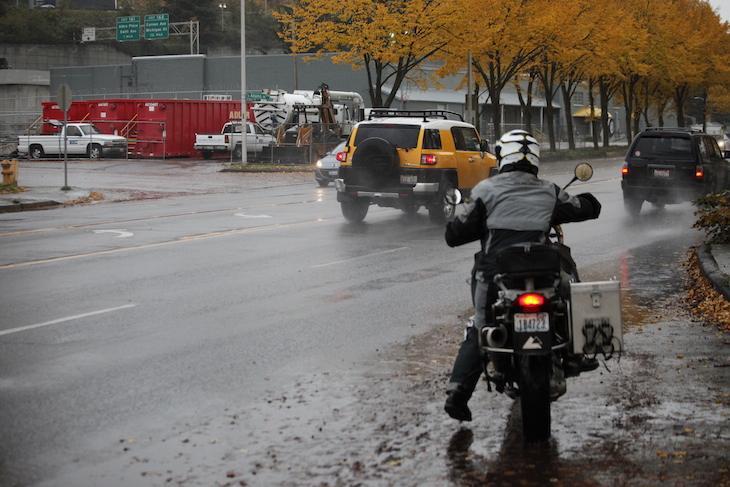 How do you get your bike/s prepped for winter?
Morgan: Winter in Seattle is just a 5 month long rainy day. No worries. To be a bit more serious, I'd recommend that you check your tire pressure religiously… but you do that anyway, right?
Eric: There isn't really any special prep, maybe a slightly preemptive tire change, but that is about it.
Iain: The biggest thing I do to prep my bike is mount up my hand-muffs. They make you look like a stooge but you are a stooge with warm and dry hands. Between the muffs and grip heaters I ride year round in vented summer gloves. Seriously, they are the best mod for winter riding. On my old Triumph Tiger I used to cover up my oil cooler with cardboard because the bike would never warm up. The BMW essentially, has a thermostat on the oil cooler system so this is unnecessary.
Honestly though, if I can find someone to carpool with in the winter, I take advantage of it. Gas costs are the same when I split the fuel bill with my carpooler and the drive time is nearly identical because we can use the carpool lanes. I miss the private time on the bike but sometimes it's nice to turn the heat up and have a conversation with someone other than the voices in my head.
Ben: Besides changing the tires and insuring the coolant in my radiator is coolant and not water, I make extra certain that my heated grips connections are all solid.
Andrew: In Seattle, it can rain anytime, so my bikes are prepped the same all year.