My toolkit is modular, with a bit of redundancy, lots of flexibility, and a few odd components. Rather than totally tailoring the toolkit exclusively to my KTM 950 Adventure I have intentionally left it rather universal, because the bulk of the kit will move between motorcycles depending on what I am riding. I also like to have the ability to help other riders if I can. The core components are the wrench assortment, screw drivers, Gerber tool, and mini-Mag Lite. They have been part of my motorcycle tool kit since I started riding, much of the rest has been fine tuned over the past decade and a half.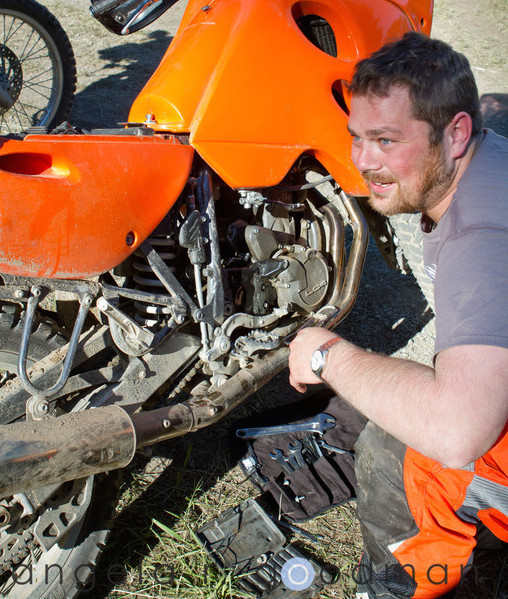 The area under the seat contains stuff that is always on the motorcycle: The factory tool kit from KTM (which is actually pretty good), the Touratech LC8 front axle removal tool and spark-plug socket, a CO2 inflation kit, spare CO2 cartridges, back-up mountain bike pump, 21" spare tube, pack of fuses, compact beanie and a bandana round out the under seat tools.
Most of this is straight forward, the beanie and bandana are something I started carrying years ago in my tool kit for those times when the weather changed or I forgot to prepare for the cold. A bandana is super versatile to have, in a pinch, it can be used as a neck gaiter, a handkerchief, a rag, or anything else you can think of.
The main toolkit is stored in the tool pouch from a Klim Nac Pak, which fits nicely into the Touratech Pannier Lid bag that I use as a tailbag, as well as in the bottom of a Zega Pro pannier if I am on another motorcycle. This is the more extensive kit that will move with me to different motorcycles or get thrown into my travel toolbox for track-type events.
The tools are all high quality garage grade tools, often duplicates of what I have in my roll-away toolbox at home. I like having the consistency of using the same tools, and the last place I want to have a fastener round out due to shoddy tools is in the middle of the woods or side of the road.
The full wrench set adds some weight and is redundant in some cases, but worth that risk to me. The valve stem tool makes tube changes much easier, and is all but required with the wide (4.5") rear rim on the KTM 950 Adv when running a 140 series rear tire. A can opener is a definitely a weird thing to pack with tools, but I always seem to forget on when packing to camp, so now I always carry one. The lighter is great for stripping insulation off of wires in a pinch, as well as it's intended purpose of making fires.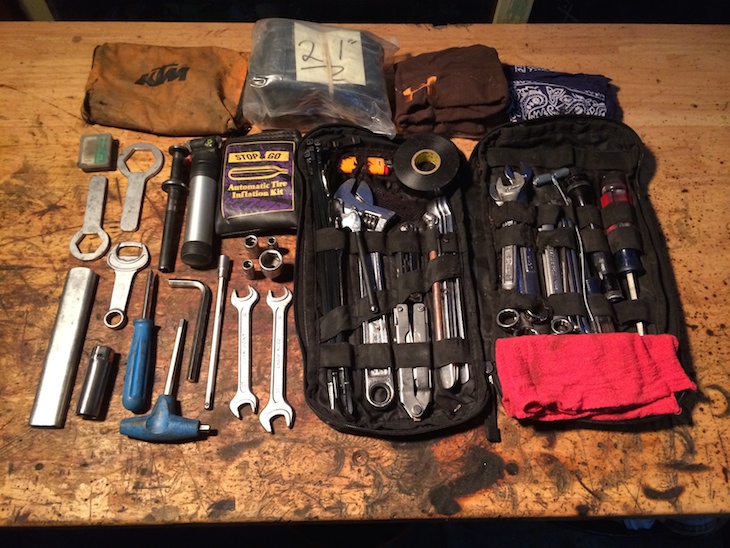 The Complete Tool Kit:
Under Seat Compartment
Spare CO2 cartridges (not shown)
Small mountain bike tire pump
21" Spare tube
Spare fuses
Low Bulk beanie and bandana
KTM tool pouch:
Combo Screw Driver
13mm/14mm Combo Wrench
14mm/15mm Combo Wrench
KTM Bottle opener / 12mm wrench
Axle nun tools w/ handle
6mm, 8mm, 10mm, 17mm sockets
6mm Allen T- handle / socket driver
6mm Allen extension
Touratech Front Axle pushing tool
Thinwall sparkplug socket
Klim Tool kit
7mm-17mm Craftsman Combo Wrenches
8" Crescent Adjustable wrench
Gerber Multi-Plier tool
Snap-on fold up Allen tool
#2 Phillips Screw Driver
¼" Flat Blade Screw Driver
Mini Mag-light
(3) Motion Pro Forged Tire Lever
Stick type tire pressure gauge
Zip-Ties
Electrical Tape
Bic Lighter
Can Opener
Shop Rag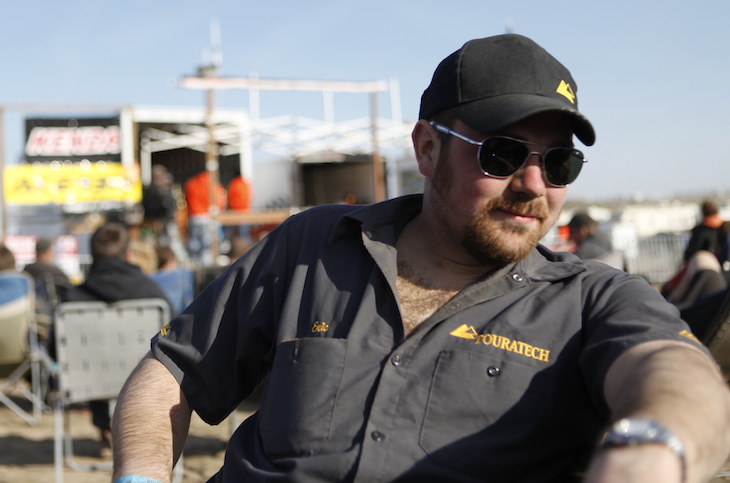 About the Author
Eric is an incurable motorcycle nut. He's owned everything from scooters to vintage motocross bikes and now spends much of his time riding and talking about adventure motorcycles. If you have been to the Touratech store in Seattle or called the offices, chances are you've talked to Eric. Eric recently came in second place in the adventure class at the Desert 100 Race. He's a key part of the Touratech race team and when he's not at the local Harescramble or Enduro event he can be found roaming the Cascade mountains on his KTM 950 looking for new routes for the Touratech Rally.
To read more of Archambault's Angle CLICK HERE.