If you own a water-cooled BMW R1200GS Adventure, Touratech Plug & Travel DDA shocks are finally available for your bike! These high-performance, semi-active shocks are fully compatible with the BMW's complex computer system. You won't have to worry about splicing wires or error codes.
With Touratech's Plug & Travel system, rider and machine glide in harmony over the rough ground. How? The semi-active suspension causes damping characteristics to change in real-time as your riding conditions and speed change to give you the most accurate damping settings for your current situation in miliseconds.
"The system was easy to install, the preload works silently, and the customer was here today and reports his total satisfaction in the shocks. It's everything he hoped for and more. Money well spent. He says it has transformed his 2014 R1200GS. "– Larry Wilson, MPH Cycles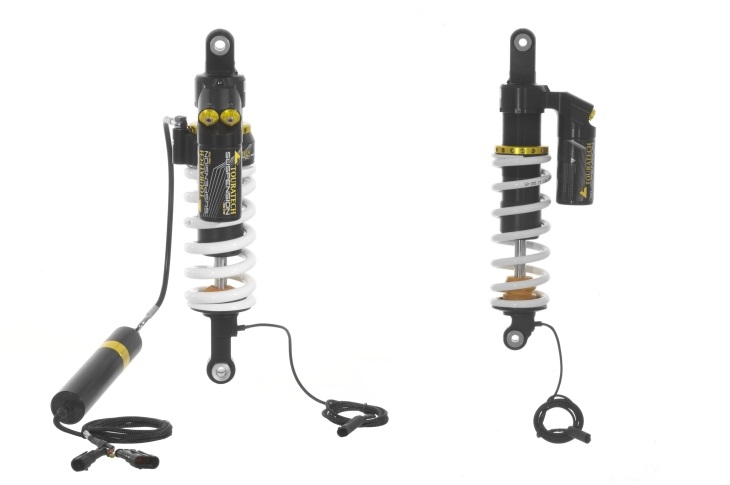 The shocks found on new motorcycles are designed to fit the needs of the average 170lb rider with 15lbs of luggage so as a result they often only meet the minimum standard for function. With heavy loads, stock suspension "bottoms out" easily and doesn't offer sufficient preload or damping adjustment range.
The world's first Plug & Travel suspension system for the water-cooled R1200GS or ADV gives you all the same controls and adjustments you've grown to love. On top of that, Touratech shocks add high and low speed compression damping adjustment along with many other features that will ensure your suspension takes you the distance no matter what the load or terrain.
Take your R1200GS Adventure to the next level with Touratech Plug & Travel Shocks!