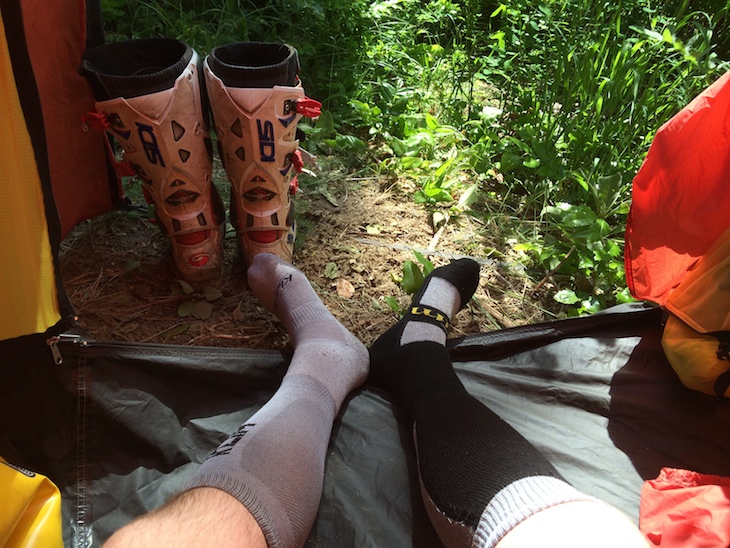 Socks are one of the least glamorous, and often overlooked pieces of riding gear. Hidden away in boots, no thought is given to socks unless they don't work. Back in the U.S. Marines, we were indoctrinated that taking care of our feet was second only to taking care of our rifles.
Cheap cotton socks fall down, bunch up and fail to breathe, leaving a painfully blistered, wet foot at the end of the day. While the adventure rider isn't walking for hours on end with a pack, they are often standing on foot pegs all day in heavy protective motorcycle boots. An otherwise great ride can lose some of its luster when constantly having to fuss with keeping socks pulled up, or dealing with a blister. The Klim Sock and Klim Vented Sock are the only socks I wear on the motorcycle and they often find their way into daily use. All of the other socks I've tried have been retired to service as shop rags.
As a general-purpose sock over a wide range of temperatures this is my favorite motorcycle sock. Klim produces all of their socks in Sweden, just removing them from the package you can feel the quality and after countless washings they still feel as robust as when new. This sock is offered in three sizes, each spanning only a few shoe sizes to ensure there is not too much or too little material.
It is an over the calf design, which is imperative when wearing tall motorcycle boots. The bottom of the foot and shin are slightly thicker than the rest of the sock, using a knit terry material to provide additional padding and insulation. This is a feature I really like when using my stiff-soled, Sidi Crossfire boots. The Klim sock gives a bit more cushion on the bottom of the foot and some additional padding behind the heavy shin armor. By limiting the heavier knit terry to just the places it is needed, the sock never becomes too bulky, hot, or bunched up when moving your foot. Lycra stretch materials are used over the arch of the foot and above the ankle to very effectively, keep the sock in place. The construction is a wool/synthetic blend. The materials allow the sock to be comfortable and effective in both hot and cold weather.
Pros:
• Insulated for use in wide temperature ranges
• Bulkier design great for snugging up slightly large boots
• More padding in critical areas
Cons:
• May be too bulky for tighter fitting boots
• Can be a bit warm when used in hot weather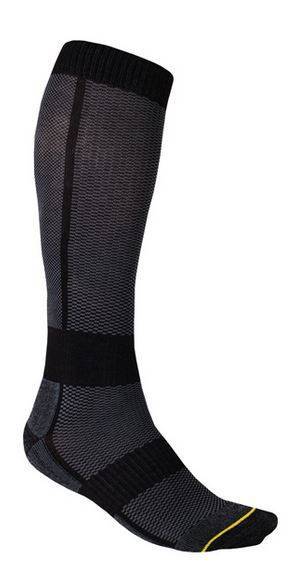 Klim Vented Sock
In hot weather or when wearing tighter fitting boots I turn to the Klim Vented Sock. The overall pattern is similar to the standard Klim Sock. This is also an over-the-calf sock with lycra over the arch of the foot and above the ankle. Unlike the the more versatile Klim Sock, it is slightly thinner and constructed solely of Coolmax (60%), Nylon (35%), and lycra (5%), with no consideration given to insulation or warmth. The top of the foot and most of the leg are a vented mesh to aid in cooling, with the foot bed constructed of a thicker, longer wearing, and more padded material. This design allows for even more aggressive evacuation of moisture. This is my summer sock and I appreciate the effectiveness of design when wearing unlined leather Redwing 899 work boots off of the motorcycle.
Pros:
• Amazing wicking and breathability in hot weather
• Thinner design works well with tighter fitting boots
Cons:
• Too thin for cold weather use
• Less padding on foot bed and shin
After spending big money on riding gear, every rider owes it to themselves to throw a few dollars at there feet.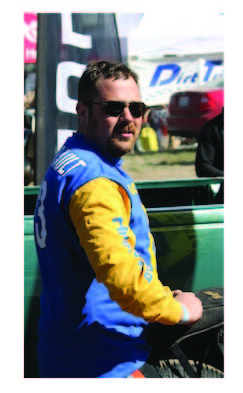 About the Author
Eric is an incurable motorcycle nut. He's owned everything from scooters to vintage motocross bikes and now spends much of his time riding and talking about adventure motorcycles. If you have been to the Touratech store in Seattle or called the offices, chances are you've talked to Eric. Eric recently came in second place in the adventure class at the Desert 100 Race. He's a key part of the Touratech race team and when he's not at the local Harescramble or Enduro event he can be found roaming the Cascade mountains on his KTM 950 looking for new routes for the Touratech Rally.