Stefan Klabunde from Motorradreise.tv recently interviewed Claudia and Mirko Nagler regarding their forthcoming journey aboard a pair of Touratech equipped Suzuki V-Strom 1000s. Their journey, which will take them more than 45,000 kilometes through North, Central and South America, will take 18 months and will raise money for numerous projects serving underprivileged children around the world.
You'll soon be embarking on a rather lengthy journey aboard a pair of new Suzuki V-Strom 1000s. Tell us a little bit more about your plans.
Mirko: "Yes, we will start our trip in two weeks. We will fly to New York and first of all explore North America with our V-Strom 1000s. There, we want to collect money for the aid projects we'd like to support – we may take up this issue later again -, then we will ride down to Central and South America and eventually along the Eastern coast up to the North again. That's our plan."
You had the opportunity to test your new motorcycles for the first time today. What is your first impression?
Claudia: "Great! I'm on cloud nine. It's a really fantastic motorcycle! The ride is smooth as butter. It is lightweight and easy to handle. It runs flawlessly. It's a great feeling, a great impression!"
Mirko: Yes, I was totally excited! I've been waiting for three months to see the bike with my own eyes and to ride it for the first time. Yes, I am really positively thrilled. I have to say, it's a fantastic bike! Its weight is very low. The motorcycle is easy to ride, just like bicycling with much more power. Yes, I am totally happy with it."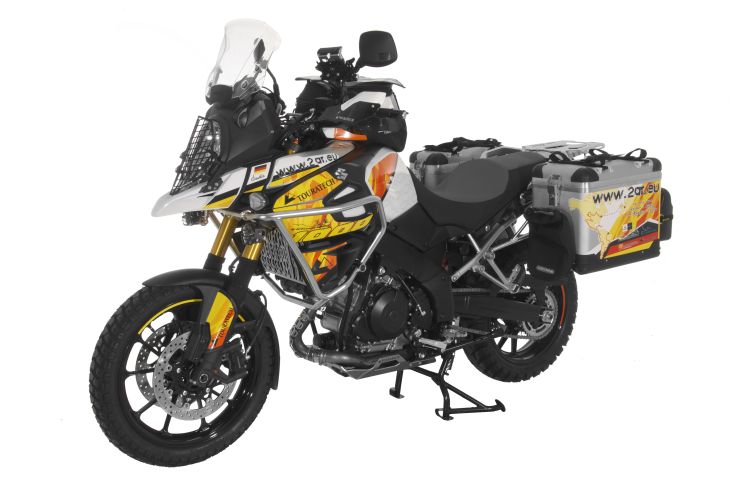 Touratech outfitted the bikes for your journey. Which were the most important accessories for you when you planned your journey?
Mirko: "Well, as Touratech are experts in this field, we basically gave them free rein. We told them what we would like to have, crash bars for instance – as I think our motorcycles might fall over every once in a while. So, these crash bars were important to us, as well as a good luggage system. Our last motorcycles were also equipped with Touratech's Zega Pro panniers. We are very happy with these, as they are very versatile; whether it serves as a seat for camping in the evening, or as a table. And there is a lot of room inside of them. They are also watertight. So, these are important items. But Touratech surpassed all our expectations when we finally saw the bikes today. They're great!"
As you just told us, you will embark in two weeks' time. How long did it actually take to prepare your journey?
Claudia: "Well, we started one and a half years ago to kick it into high gear and began to plan the journey with all it entails."
Which specific projects will you attend? And how did you actually come up with the idea to combine your motorcycle journey with these projects?
Mirko: "Well, the desire to travel the world or at least a part of it with my motorcycle – I don't know when that actually started – I think it was always with me. And eventually, I passed on the motorcycle virus to Claudia. And as soon as you got this, you're permanently infected, I think. This will never cease. When we finally decided to make a long journey, we knew from the very beginning that we do not want to focus on travelling alone. We also want to give back a little of our good life we are leading here. We thought about what we could do and eventually found an organization which supports several projects."
Claudia: "We chose particular projects we would like to support in person: There are three children's homes in South America which we are going to visit. We will see what we can do for the children there; perhaps playing with the kids, playing soccer or teaching them German, or maybe we can help by repairing buildings that are in disrepair, etc. Life in South America isn't just like in Europe. I think there will be many opportunities to help, and during our journey, we will collect donations, money which will be used particularly for these purposes."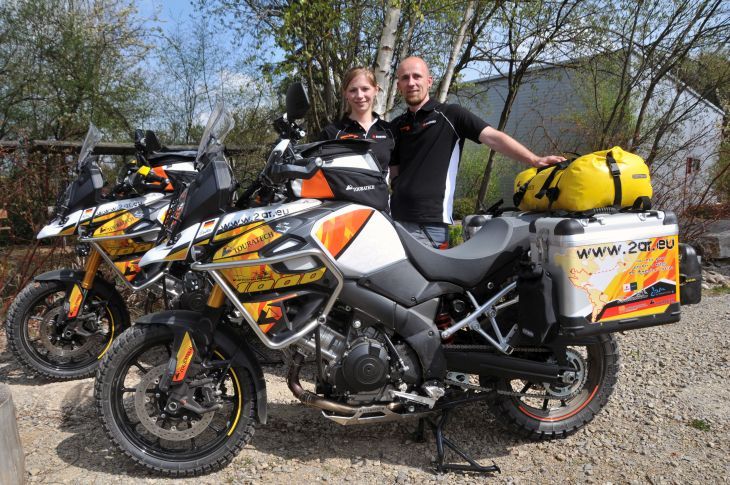 You are also doing a special photography project. What does that mean and what exactly are your plans?
Mirko: "This photography project already exists in Germany. So we are just continuing this project in an intercontinental way. We are mainly taking portraits of people we meet. These people can, of course, also get a copy of their picture. Afterwards, we will make a big collage of all these portraits we took in North America, and there will also be a photo gallery on the internet. People can donate for this work – if they like and as much as they like – and, of course, this money will not be used for our journey, we're financing this ourselves. These donations will be given directly to the aid organization and will be used for the projects we support."
How do you feel like just before setting off? You must have butterflies in your stomach, haven't you?!
Claudia: "Yes, I have! This is really exciting! In the first place, I am really nervous. I am excited, I am looking forward to it, but I am a little scared, too! Those who are socially committed may imagine that it isn't easy to let go. Leave behind what you got here and to engage in something new. It's an emotional turmoil! I am feeling so many different things at the same time. But it is great!"
Are you ready for departure? Or are there still things to be done at the last minute?
Mirko: "No, we are not ready for departure yet. We still have a lot to do. In the first place, we have to break in the engines and to get to know the motorcycle. This is important, too! Then test packing. We have to take along so many things and we still don't know where to pack which items. I'm looking forward to this, to pack all our stuff for the first time is sort of like playing Tetris. Additionally, the motorbikes have to be shipped and our apartment has to be cleared out. Some things have to be stored. Two, three formalities, so, I think the next two weeks are going to be anything but boring!"
So there are a couple of things left to do within the next two weeks, then 18 months of travelling. You didn't book a return ticket and you do not know yet from where you will be flying home. This is a real adventure waiting for you. Anyway, we wish you good luck, have fun! And we hope, of course, to get many travel reports from you during your journey. So, thanks a lot!
"Thank you!"
Click HERE to learn more about Claudia and Mirko.