At approximately twenty minutes past nine on Sunday morning, the starting cannon fired for the second time, signaling the "Le Mans" start for the second wave of racers to begin. I was among the hundreds of fully geared-up racers sprinting 25 meters to awaiting motorcycles, part of the human wave crashing upon waiting race bikes, in my case a 2005.5 KTM 950 Adventure. Seconds later the air erupted with the sound of the hundreds of motorcycles lined up bar-to-bar coming to life and the sky filled with dust as a drag-race that would cover more than a mile of rocky, hilly, sagebrush-filled desert began. Every rider charging past the pits filled with spectators to the barely visible pair of waving American flags marking a twenty foot gap where the race course properly begins. The cannon's report brought this melee to life, and in this gaggle of motorcycles, riders, dust, and tough desert is where my race began

The Touratech-USA racing team was fielding a team of riders this year and almost half of the company was racing. This was my fourth year at the Desert 100. I had ridden the Iron Man poker run that covers 60-70 miles using many parts of the race course twice, once on a 1997.5 KTM 200 EXC Jack Piner Edition and once on a 1995 KTM 620 RXC. Last year I raced on my 1999 Honda CR250R, and finished a disappointing in 573rd place out of 743 finishers. This year I was racing the former Touratech-USA show bike, a KTM 950 Adventure that I recently purchased. Even with suspension freshly tuned with no expense spared by Alex from Konflict Motorsports and new Pirelli tires on both ends, the Touratech-branded jersey and helmet weighed heavily on me. This was going to be the largest adventure bike class ever to line up, and while my KTM was ready to go, my conditioning was questionable. A podium finish seemed like a very long shot at the time.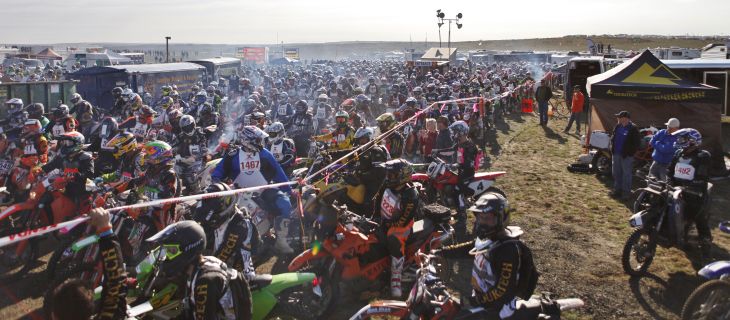 The wait for the start on the line at the Desert 100 is like no other race I've seen. Even at dead-engine start hare scrambles, there is a 30-second board to give warning. Here in the quiet desert it is just nervous looks up and down the line, quick adjustments to riding gear, and waiting for the boom from the cannon to set things in motion. I got the good start that I was hoping for, top quarter of the pack around the first turn, and started working to pick people off. The old infantry mantra of "Seek out and close with" always goes through my head when racing, this time was no different. I was feeling good and gaining ground until mile 3.2. I messed up and took a bad line on a loose rocky hill climb and after dropping my KTM a few times I doubled back to the good line. During the ten minutes I spent fighting with the hill I saw everyone I had passed go by, along with many others. Once I was covering ground again, I quickly found my rhythm and pressed my attack on course, methodically trying to make up my lost time and positions.

The next three hours and close to 50 miles of racing is a bit hazy. My single-minded focus on the task at hand, racing the big KTM, left my memory foggy with only the highlights shining through. During the first part of the race, the course was still very crowded, the pack had not spread out yet, and many slower riders had passed me during my time on the hill. I worked my way up the gears and fought the urge to camp out behind a slower rider until there was an easy place to pass. Out in the desert, unlike the woods, there are normally many lines to pick. I tried to stay up wind and out of the dust. If there was not another good line I would cut my own, dodging sagebrush. Besides avoiding getting held up, and staying out of the dust I was trying to stay out of the deep whoops when I could. The bike can handle them, but I did not want to wear myself out if I didn't need to. There would be plenty of time when I would have no other choice but to hammer through them. Even with a faster pace it is amazing how long it can take to reel someone in and make the pass, but after a bit I was largely riding by myself, bounding from one group of racers to the next.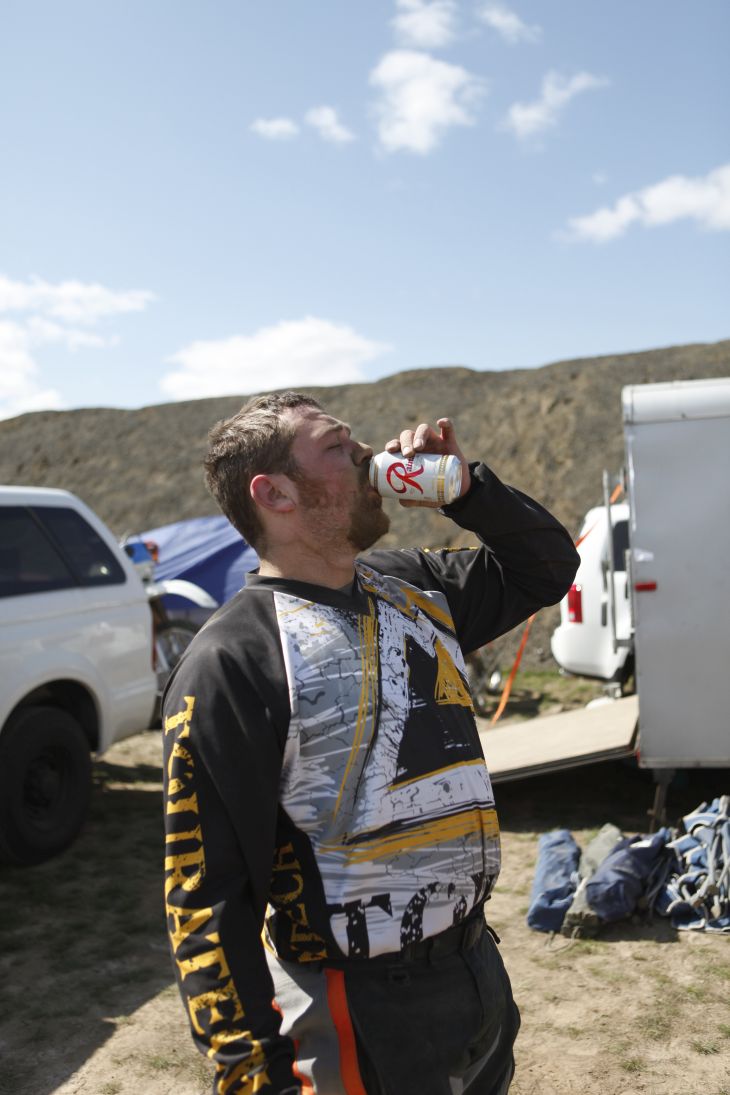 While the actual race course changes every year, much of the course is reused and run in different directions. Having raced out here before it was comforting to occasionally recognize where I was and have an idea what type of terrain was coming up. At some point during the first half of the race I got caught in deep silt when a young kid was stuck on the good line and I buried it to the skidplate. I had to lay the bike on the side and drag it out of the trench it had dug before I was free again. I cannot fully express the wear it puts on a racer to have to pick up a 500lb bike, a 225lb racebike drains you every mistake that causes you have to heave it from the deck, with a 500lb bike you can literally feel it suck the energy from your body.
At the next checkpoint, the worker told me that there were only three adventure bikes ahead of me – I was back in the podium hunt. The rest of the checkpoints would give me a boost in spirits, for the first time in my life I knew I was racing for medals, and the check workers knew it too. The blood was in the water as they say, I knew I had to keep pushing. I was close to the podium if I could keep myself and my equipment in the race. One of the biggest risks to a big bike racer is hitting a fast section and using too many of the 100-plus horsepower at your disposal and getting into the type of trouble that earns you a helicopter ride after a bone-breaking, body-destroying crash. To be honest, it was hard on some fast sections not to unleash the Dakar-winning power my KTM had in it, but then the unseen bump would come as a harsh reminder that restraint just kept me in the race.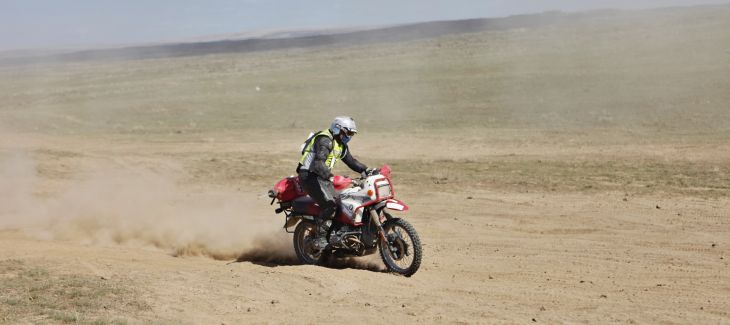 On the course there are always a few hill climbs that become choke points, racers will queue up at the bottom waiting for a good line to appear. I did not have time to wait for a good line or other people to fall trying to climb it so when there was a break I would go for it, often passing a dozen riders in a shot. I had learned earlier in the race that the mighty 950cc LC8 engine in my bike did not want to stall, if I left the clutch out and stayed on the bike it would chug it's way to the top. On one of these hill climbs I saw a BMW F800GS stuck in the mess of bikes partway up the hill. Unbeknownst to him I just placed the largest cross-hair known to man on his back. My prey was in sight only a few bikes ahead, the obstacle holding me back from a top three finish. After a few more hills the GS rider took a bad line and dropped his bike on another hill climb, I passed him and made dust.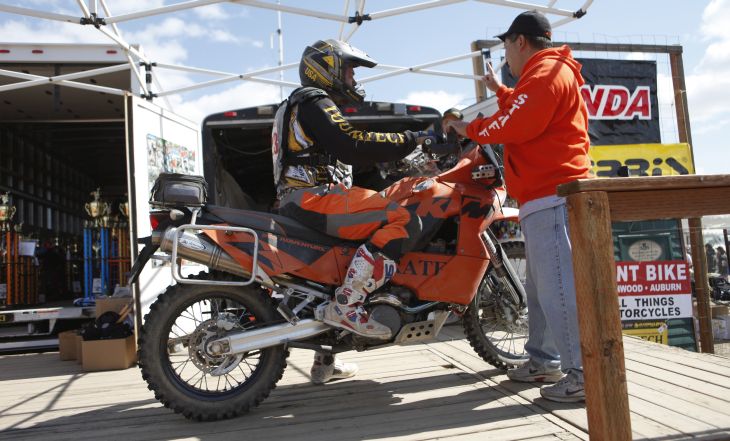 I was now firmly caught in the red mist, lost in the hunt. I knew I had to keep going through the numb hands and fatigue, past the other bikes. At the next checkpoint the worker waved me to the front and after a sloppy swipe of my card he pointed forward I shot back into the desert, a man possessed. Imagine the F-14 at the end of Top Gun launched off of the carrier deck, just without the sweet barrel roll. Soon after that I found myself in a rock garden, my suspension working better than I ever dreamed possible, passing a few stuck small bikes.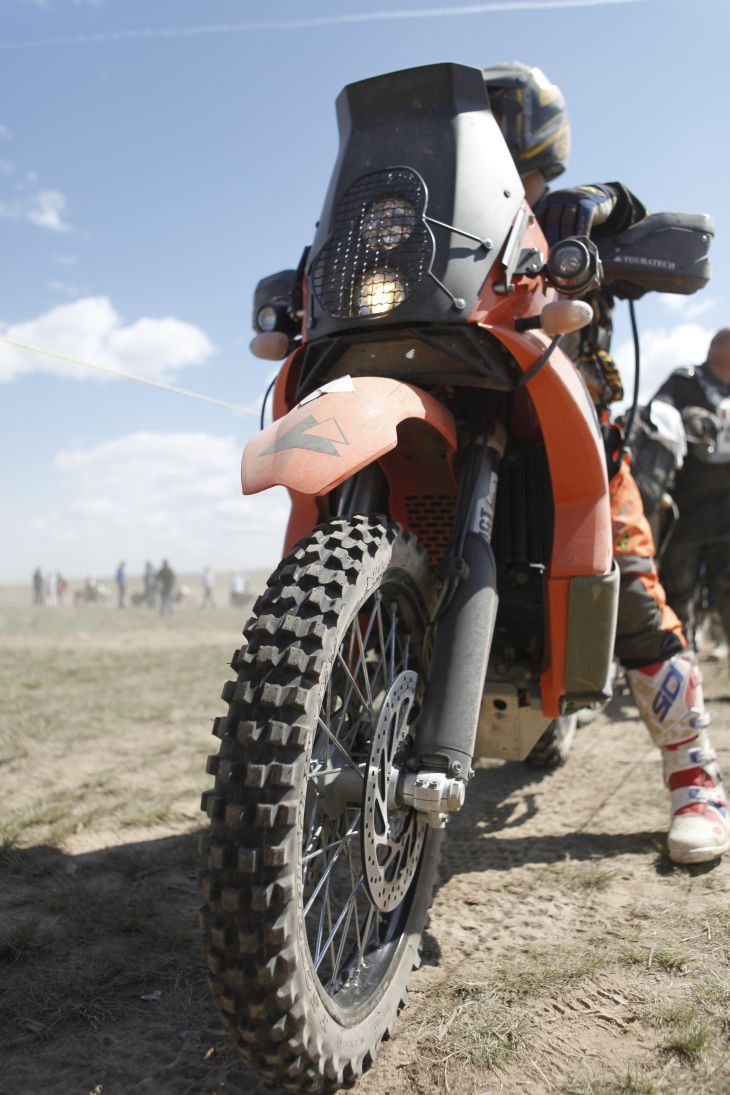 Fatigue and mechanical damage was taking a toll on the field. In the last fifteen miles, the course was littered with stopped riders, some out of gas, others with broken bikes or spirits. I crested a hill with a crowd of KTM riders cheering for me as I passed, really stoking the flames. Here are guys on 450s or smaller bikes stopped, hollering at a big orange bike as it roars past. I passed a few people that I knew, some with mechanical problems, others just worn out. I was working on cementing one of these passes when the front end pushed in some soft sand. I was thrown under the bike. Without letting it stall, I dragged myself free. I heaved it back upright and took off, slightly more cautious and aware of my own degraded physical condition.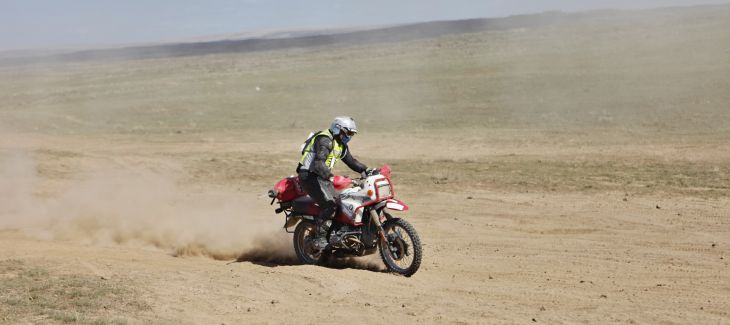 I was trying to do the math, how many bike in my class had I passed, who had broken down unseen? I asked myself, "Am I leading?" All I knew was that I could not stop. In the last five miles, the course seemed to get nastier with deep sand and loose rocks. I saw that an old BMW R100GSPD, the lone BMW boxer was dead on the rocks. I never dreamed that bike was in front of me. As it turns out, the pilot of that vintage race machine was a former Factory Yamaha racer with a few ISDE's under his belt, he ran out of gas then hiked out to get more gas and still finished. When I hit the final open section leading to the finishing checkpoint I opened it up as much as I dared, after fighting exhaustion for miles I did not want to crash with the finish in sight.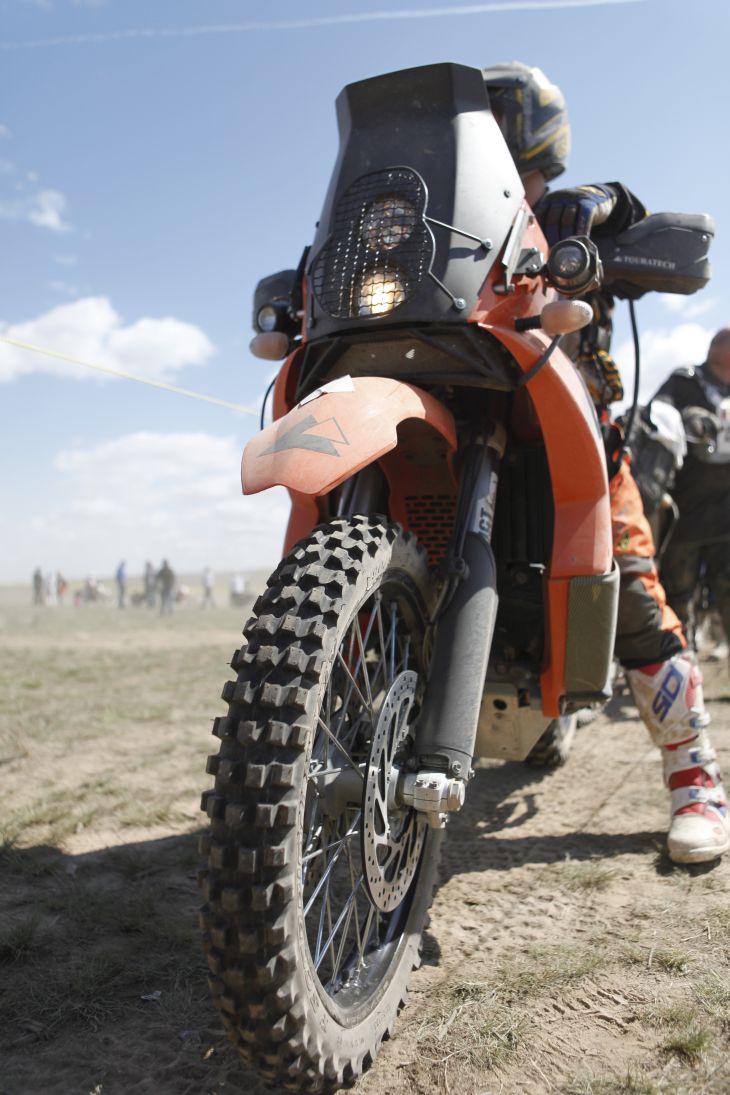 After crossing the finisher's stage I found the Touratech-USA pits and parked my KTM. I was exhausted as I finished off my water, and tried to tell my friends of my time on the race course. After washing my face with my hands and a hose I had the long awaited celebratory can of Rainier beer that I had dreamed of for weeks leading up to the race.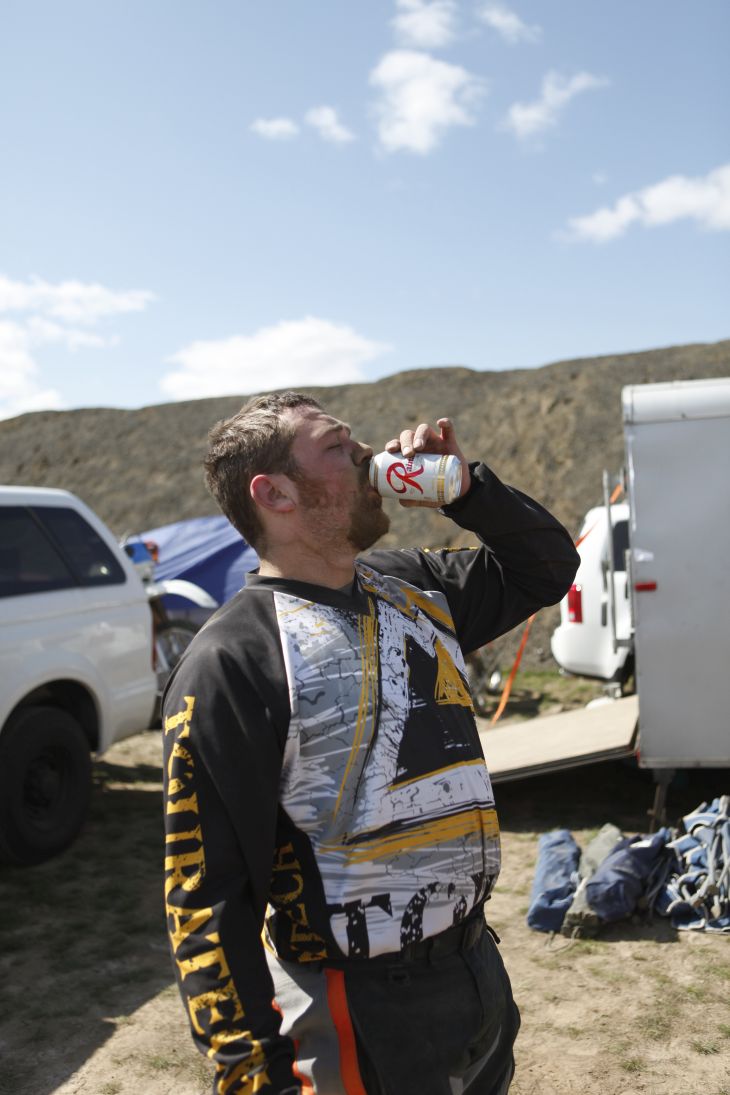 With the adrenaline from the race receding and my body starting to realize how tired it was I got changed and packed up the van. I was without doubt in podium contention, though my actual position was all hearsay based on the other adventure bikes people had seen crossing the finish until the final results showing my second place finish was posted hours later. While physically worn out from the work of hustling a big bike though the desert for hours, I felt very good about my race. The KTM 950 Adventure lived up to the factory tagline of "Ready to Race," other than a few new scratches the big KTM made it through amazingly well for the task it was handed.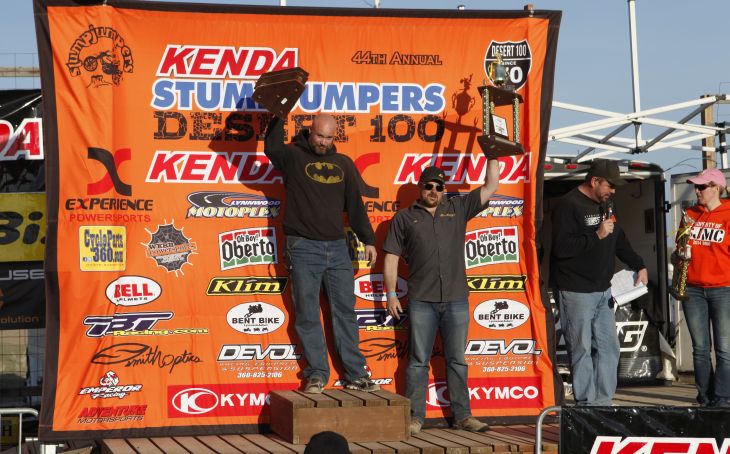 The feeling of stepping on the podium with my second place trophy in one hand (which now lives in the Touratech-USA showroom) and a microphone to thank my sponsors in my other hand was incredible. I was excited and filled with pride. The full effort (and soreness) of the race had yet to sink in. I had a great weekend and even if I hadn't finished where I did it would still have been awesome. The Desert 100 has been one of the events I look forward to every year since my first time out. I'll be back next year, maybe on the KTM 950 Adventure in the adventure class again, maybe I'll try again for the full 100 miles on my Honda CR250R, or maybe I'll just enjoy the amazing poker runs. Regardless, I will be waiting for April to come back around.
– Eric Archambault, Sales & Customer Service, Touratech-USA
Click HERE for additional images from the 2014 Desert 100.