Two motorcycles, 45,000 km, 18 countries – through North, Central and South America. Claudia and Mirko Nagler expect to take between 12 and 18 months to complete their journey. From New York, they will set off towards Canada, then ride down the west coast until they reach Tierra del Fuego, before continuing on to Brazil. Apart from seeing something of the world and experiencing different cultures, the couple – both native Dortmunders – want to make a positive difference.
Claudia and Mirko are calling their project "2AR – a challenge to support kids in South America". (2AR stands for "2 Auf Reisen", or "two people on one journey".) They want 2AR to attract attention, persuading people to get involved and do something for a good cause, while also raising awareness for important social projects.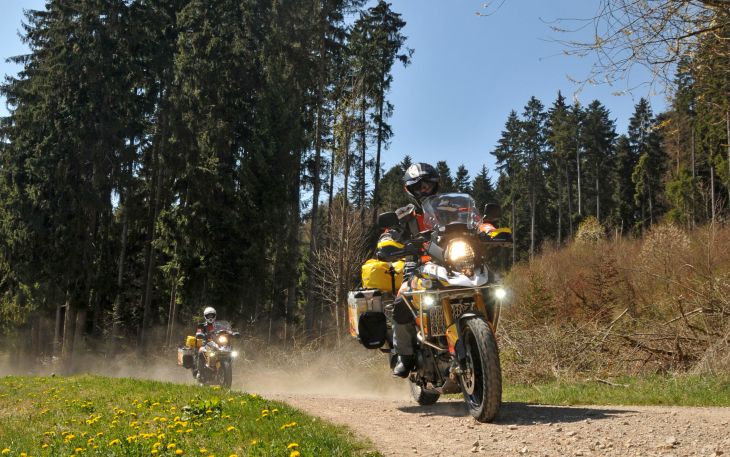 Suzuki International Europe and Touratech are supporting this motorcycle adventure to benefit children in need in Latin America. Suzuki has provided two new V-Strom 1000 bikes, and Touratech has kitted out the bikes for long-distance touring, with headlight protectors, fairing crash bars, auxiliary lights, GPS Mounts, hand guards, extra power sockets, tank bags, ZEGA Pro pannier systems, long-distance foot pegs, aluminium luggage racks, dry bags, heated grips, Heidenau K 50 tyres, Scottoiler chain lubrication system, plus specially made decals on the panniers and bodywork. Breathable seats, handlebar bags and crash bar bags will be added.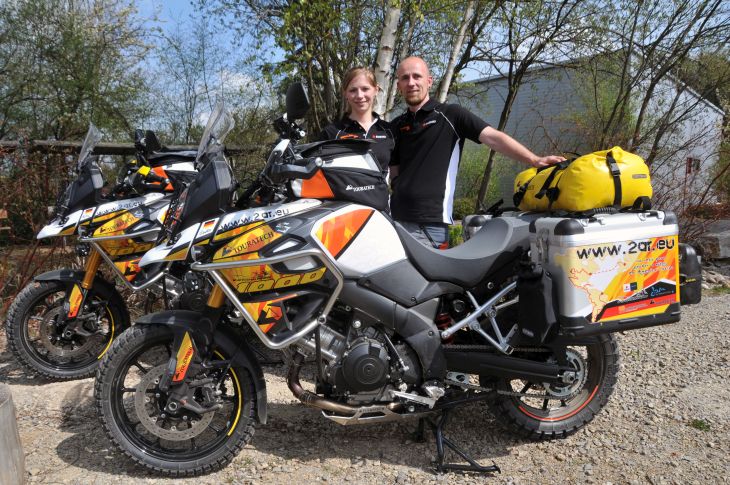 "We are delighted that we were able to work with Touratech on this project," said Jan Hendrik Breckwoldt, motorcycle and ATV sales manager at Suzuki International Europe GmbH, during the official handover. "The motorbikes look absolutely superb." Touratech sales manager Martin Wickert, who presented the accessories that were developed for the bikes, thanked Suzuki for their fantastic support. He added that Touratech had worked on these motorcycles for about three months, and was pretty pleased with the results.
"We have immense confidence in these motorbikes. They are lightweight, strong and handle really well," say a delighted Claudia and Mirko as they look forward to their journey.