When a new adventure touring motorcycle hits the market, Touratech wastes no time getting the bike out for an extended ride to learn about the personality of the bike. This first tour also provides an opportunity to evaluate any shortcomings of the new machine and allows for a test of the accessories in a real-world environment. So when BMW unveiled their new F800GS Adventure, an expedition-ready variation of their popular F800GS, we took a pair of the new machines out for a 10-day tour of Greece.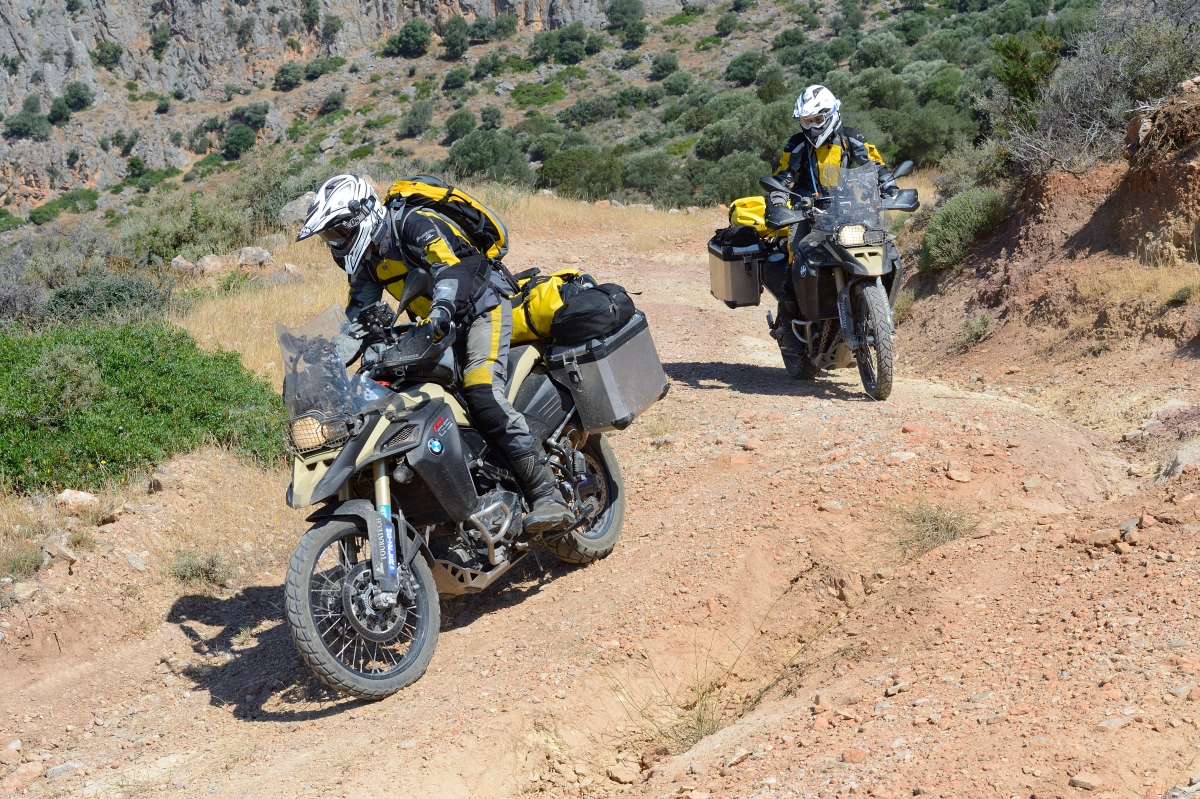 Equipped with a 6.3 gallon fuel tank, which is 2.1 gallons larger than the base model, BMW's new F800GS Adventure has a reported range of more than 300 miles. Additionally, the new F800GS Adventure comes standard with engine crash bars and pannier racks, making it better prepared for off-pavement travel and wandering far from home.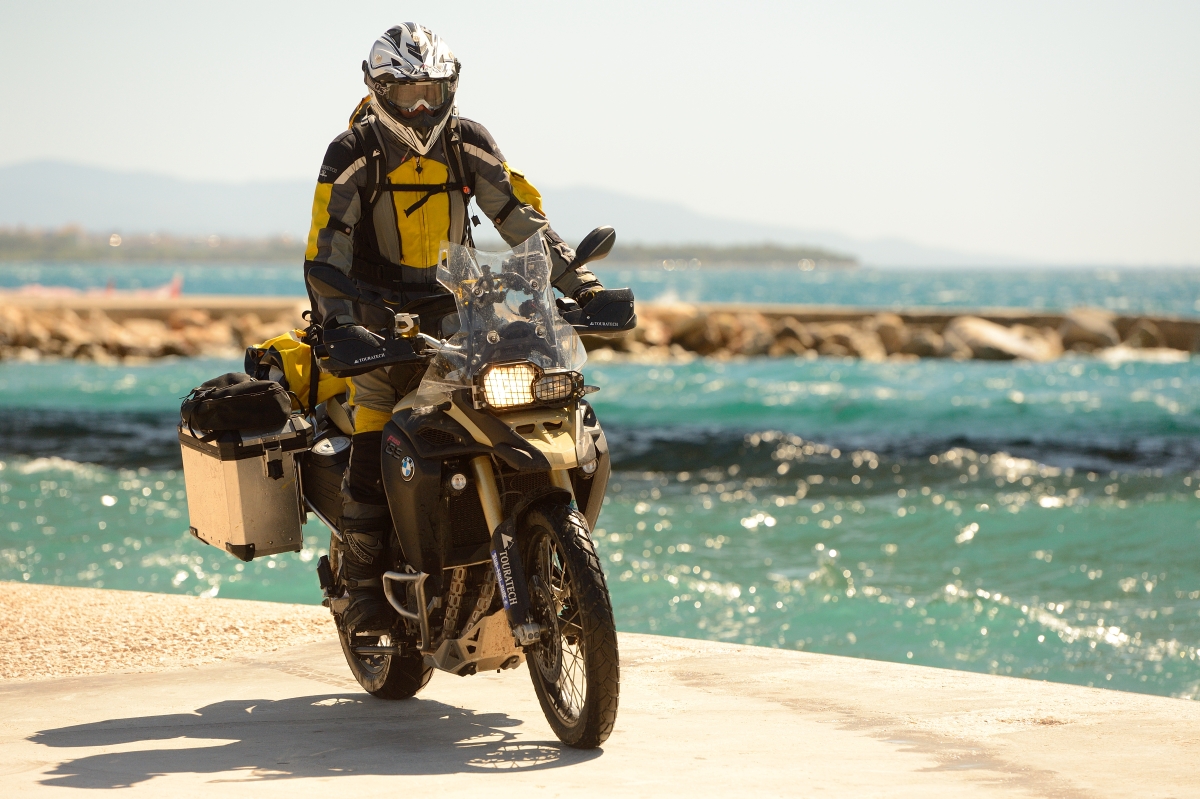 While this new Adventure version is better prepared than the standard F800GS, there are still a few bases bike owners should consider covering. For our trip, we replaced the small plastic engine guard with a Touratech Expedition Skid Plate. This is a critical piece of protection which ensures that the motor is safe from rocks, sticks or other hazards on the road.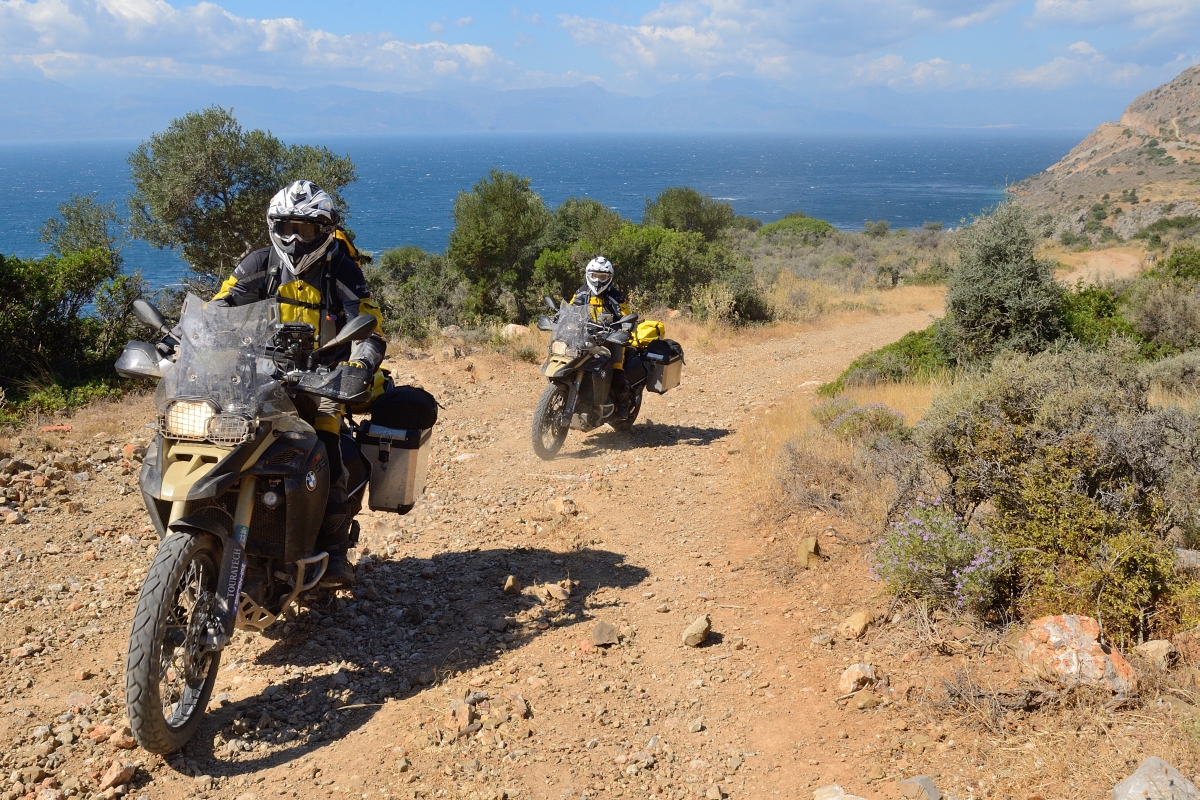 A quick-release stainless steel headlight guard was also installed to make ensure the headlight would be protected on our adventure. The narrow stock pegs were upgraded with a set of stainless steel 'Works' foot pegs, providing added grip, a wider more comfortable base and increased ground clearance. Handlebar risers were also selected to provide a more relaxed sitting posture and to make it easier to transition to a standing position. The large Touratech luggage rack provided a wide platform for securing a dry bag on the back of the bike giving us additional dry storage. A Zega Pro top case system is also a good option for storage on the rear of the machine if you want to lock-up your gear.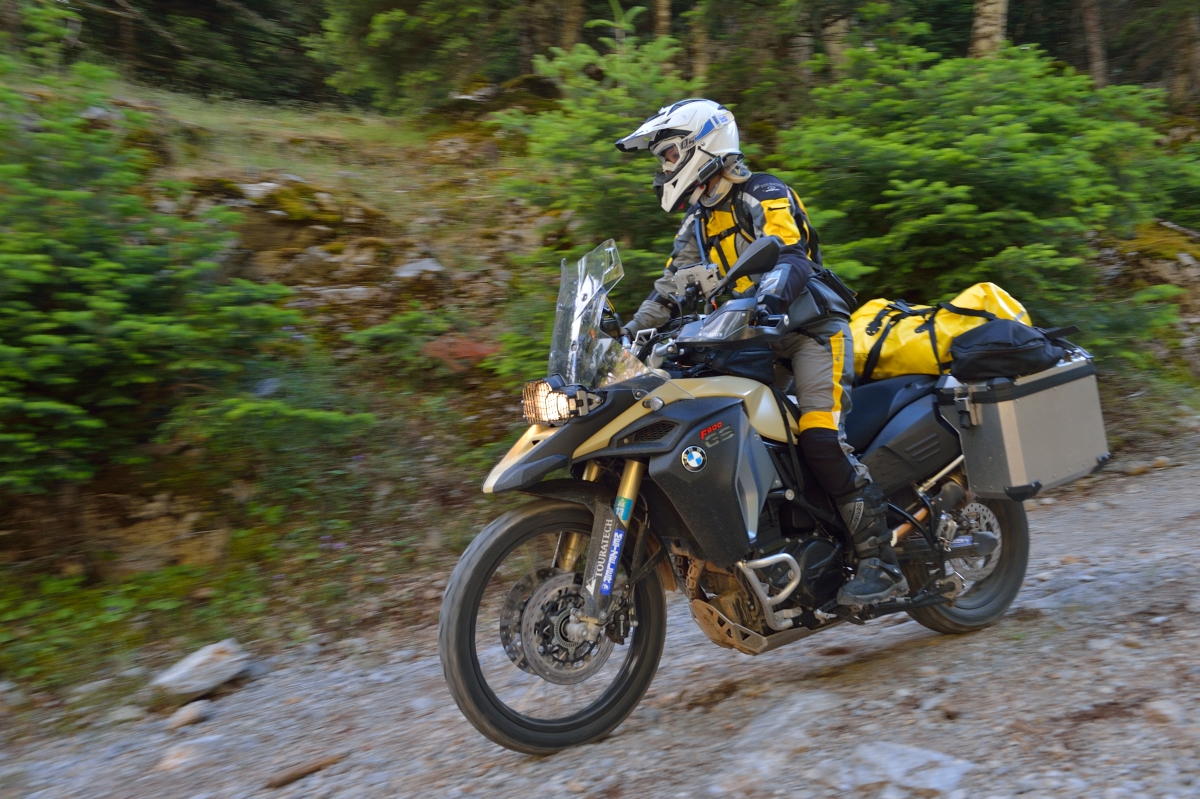 With a few additions, the already capable F800GS Adventure can truly be ready for a week-end escape or the journey of a lifetime. Click HERE to see the complete range of Touratech accessories available for BMW's F800GS Adventure.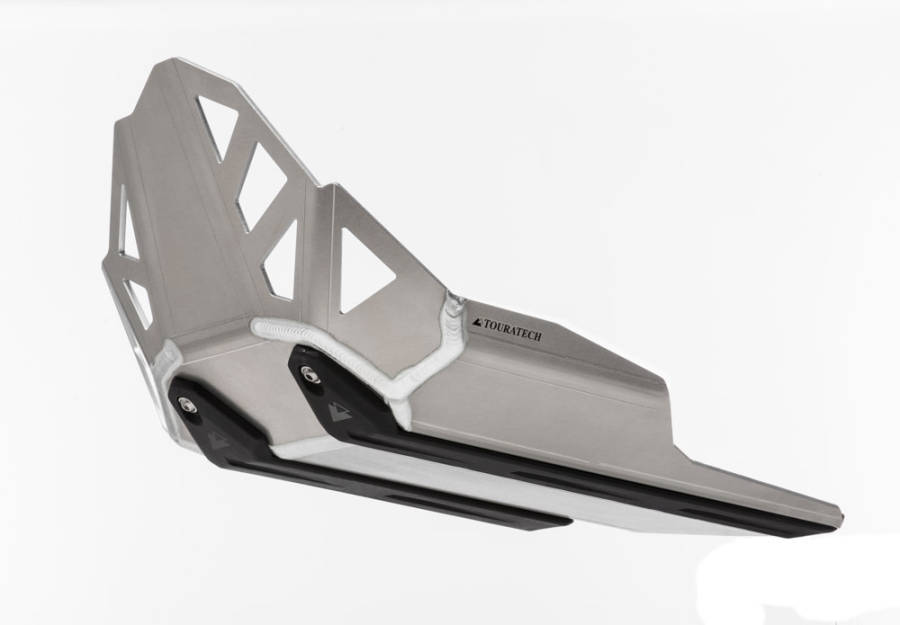 Expedition Skid Plate: $374.90
Touratech's Expedition Skid Plate offers unprecedented protection for your F800GS/Adventure engine. The heavy gauge stainless steel mounting plate absorbs impact while supporting the oversized 4mm contoured aluminum skid plate, which has integrated polyamid nylon rails that absorb impact, protect bolt heads and provide a smooth sliding surface for overcoming obstacles.
Zega Pro Top Case System: $735.00
With its Rapid Trap quick-release system, the Zega Pro top case can be attached or removed from the bike in seconds. Maintaining the motorcycle's narrow width, the top case makes it easier to travel and find parking spots in urban areas. It's also a great way to increase secure storage on the bike.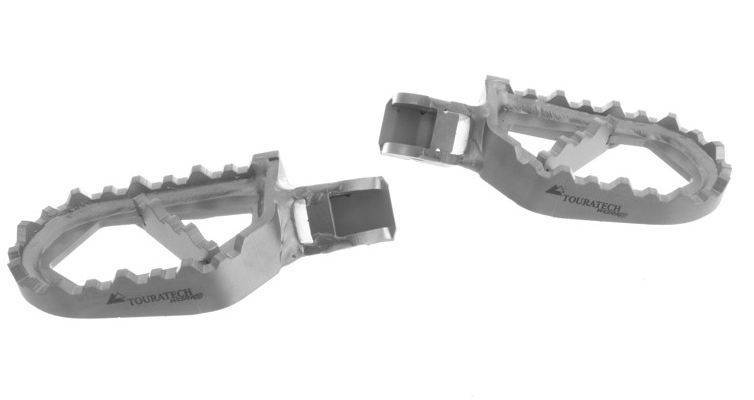 Touratech Works Footpegs: $196.30
Touratech's Works foot pegs are designed specifically for the needs of long-distance touring and off-road riding on your BMW GS. The serrated claw design of the peg has plenty of grip for off-road riding, but the teeth are rounded on top so they won't tear up your touring boots.
Quick-Release Stainless Steel Headlight Guard: $130.80
Don't let the lights go out on your next adventure! Touratech has developed a stainless steel guard with quick-release mount that allows you to easily keep the headlight on your BMW F800GS clean and free from damage.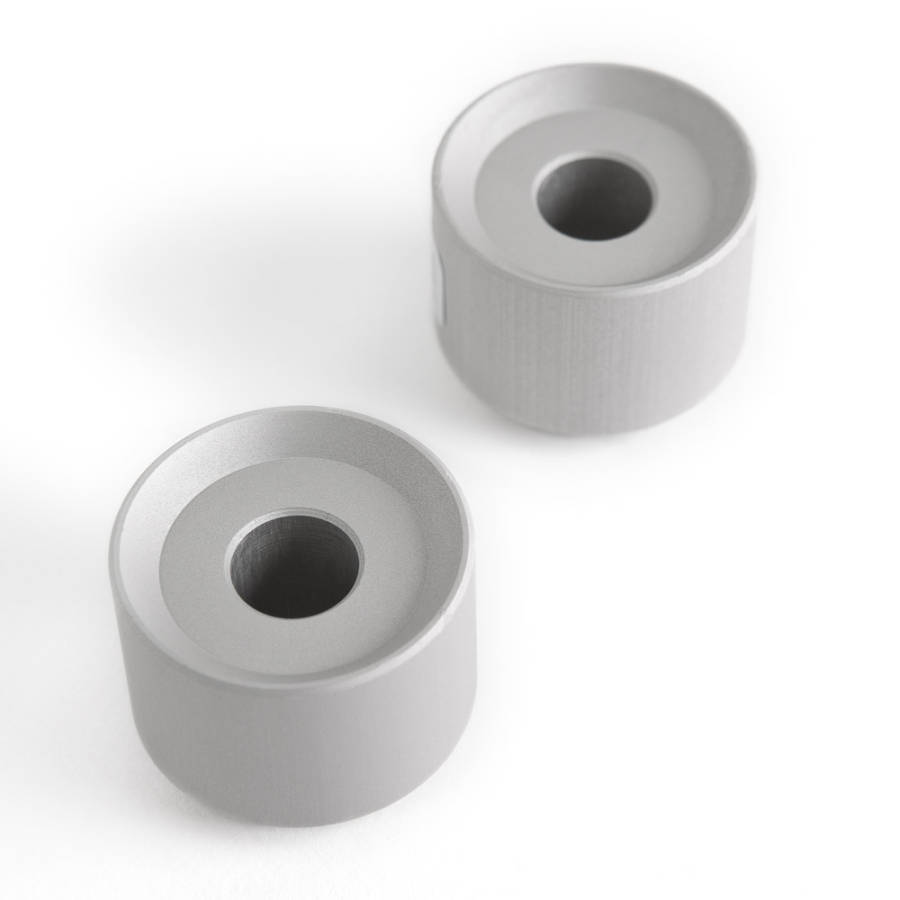 20mm Handlebar Risers: $35.90
The extra height provided by these 20mm bar risers makes it much easier to ride your BMW off-road while standing. It also relaxes your sitting position as your back will be more upright than before.
Expandable Touring Tankbag: $224.60
Don't settle for a universal fit tank bag on your BMW F800GS Adventure that will slide around, distracting you from your riding. The unique shape of the GS's body panels require a bag that fits properly. The Touratech Expandable Touring Tankbag is shaped specifically for the F800GS Adventure with a mounting kit designed for the bike.
Click HERE to see all of the Touratech accessories available for BMW's new F800GS Adventure.