Hank Arriazola is an independent motorcycle mechanic from Dilley, Texas, who specializes in outfitting adventure touring motorcycles. Hank has traveled extensively throughout Mexico, Central and South America, logging more than 480,000 miles on his 1995 BMW R1100GS. Known by many as MotoHank, Mr. Arriazola is also an exceptional photographer and tour guide. So with the release of Touratech Suspension, the world's first purpose-built suspension for adventure touring motorcycles, we were happy to hear that Hank was able to test a new set of shocks during his recent ride to Real de Catorce.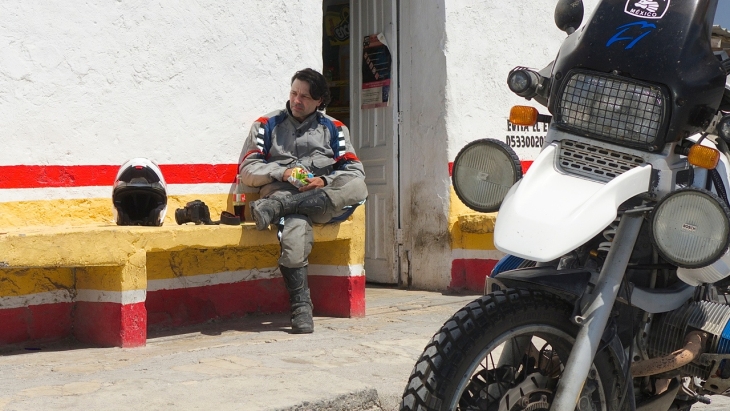 Having logged nearly half a million miles on my R1100GS while traveling throughout most of the Americas, I'm often asked about improvements to the motorcycle.
The biggest improvement and best spent money is in a good suspension. There are many aftermarket shocks to choose from, but what makes Touratech Suspension stand out is its' focus on the adventure traveler. I often consult in preparing travelers and their bikes with a warning; buy the best suspension you can afford and do not over pack. In other words, don't take too much stuff. It's very easy to over pack especially when traveling two up. Quite often you're going to find yourself in remote places with very difficult road conditions or terrain, and the last thing you need to worry about is a failed shock because you have over taxed your suspension. When I heard of Touratech's new shocks I had to try a set because adventure travel is exactly my riding style — pack the GS, grab my camera and let's find a country to explore.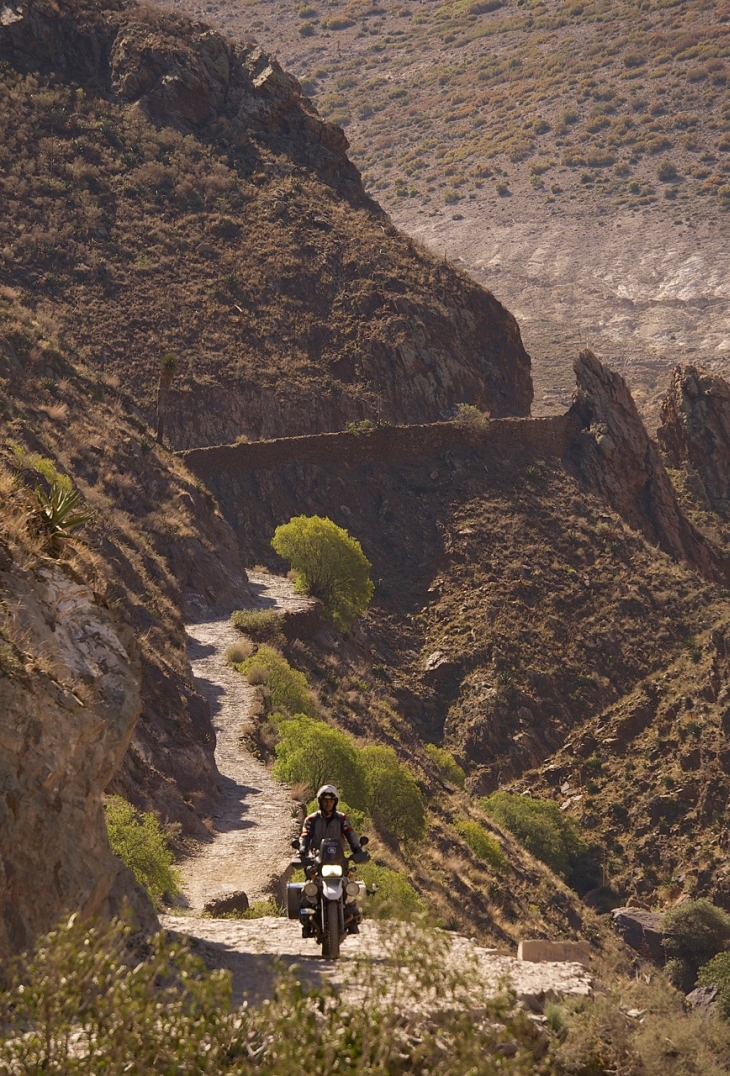 Technically, the new Touratech shocks are extra heavy duty in every way. Among some of the improvements is a heavy-duty aluminum body that is very strong yet designed to dissipate heat to control the overheating of the oil; a 16mm shaft that is 2mm thicker than other aftermarket shocks, and an oversize spring, all right out of the box. By the time the shocks arrived I knew exactly where I would put them to the test. In north central Mexico there is the village of Real de Catorce, located just under ten thousand feet above sea level. The terrain is very rough, hilly and with miles of cobblestones that will rattle the bike and cause many a shock to blow their seals. Beyond the rustic beauty and rugged terrain of Real de Catorce and the surrounding area, there's a special magic to this location. It is like stepping back in time. I invited my friend Joseph to join me, and I made sure to mention, bring a camera.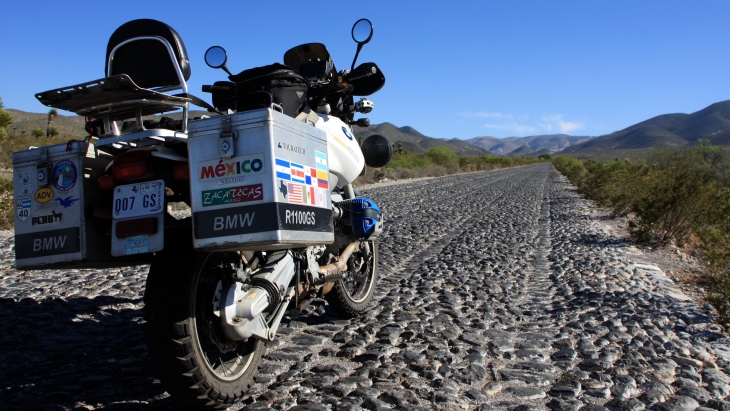 As soon as I embarked on the trip with all my gear, including camera equipment and computer, I noticed how much firmer the suspension was. It was a bit on the "causing my tooth fillings to rattle" firm, but in a way that's how I preferred the suspension. With the roughness of the highways, the GS just sailed over the bumps, "topes" (Mexican speed bumps) and potholes. Even with stiffer springs the GS was still very manageable. As we started into the mountains and twisty roads, I did start to have a little difficulty with the handling of the bike. Nothing dramatic, but I felt a bit uneasy with the GS around sweeping turns. After about 150 miles of this I had to back off the rebound by 3 clicks which greatly improved handling in the corners. One thing I do not like about the Touratech shocks is the location of the rebound screw. You do get a nice tool, a screw driver handle with an allen tip to adjust the rebound but the rear adjusting screw is located very close to the exhaust which makes it very difficult to adjust the rebound when the exhaust is hot.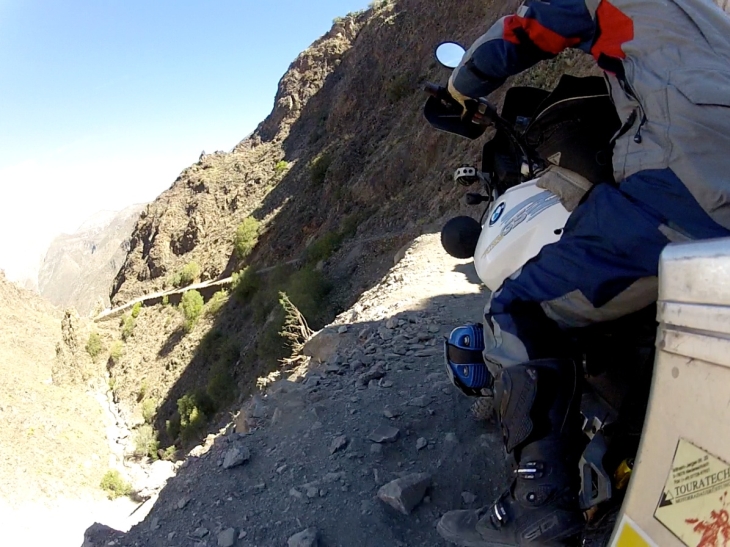 As you take the turn off to head towards Real de Catorce, you start the 14 miles of vibrations caused by the softball-sized cobblestones. It's a lot like riding on a washboard road but just like the potholes, the Touratech suspension eats up the rough surface while the GS rider stays fairly smooth. The road up to Real takes you from 2500-feet above sea level to 9500-feet above sea level. Our next day's ride would give the Touratech suspension an even more demanding test as we were to ride down into a steep canyon past an old mine and on to the village of Estacion de Catorce. As we start our day's ride I pack all my gear, trying to replicate the same conditions as if I were headed to Patagonia again. We start out on the same rough and uneven cobblestones streets as yesterday, which are also very narrow and very steep. Just as soon as we are on the edge of the village you can see the thin ribbon of road strewn with loose, jagged stones with a very steep, unprotected drop off on the left shoulder. With a heavily loaded GS and the severe downhill angle the bike stays very stable. I was pounding the suspension really hard but I still felt in full control of the bike. Opening the rebound a few more clicks helped soften the ride and also allowed for the oil to transfer within the shock to help keep it cooler.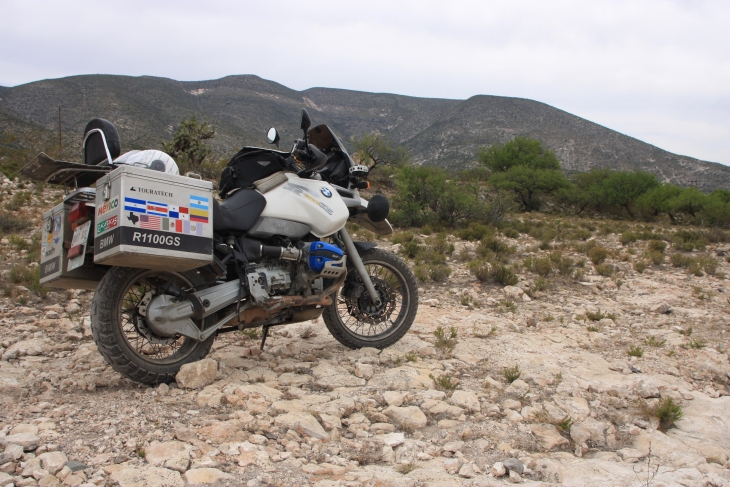 After making our way to the bottom of the canyon to Estacion Catorce, we made a big loop to the village of Potrero. Potrero is another small town that could easily be a movie set but this is the real deal. There is an old abandoned train station near Potrero that was on our photographic list and like most of the points of interest around this area, the roads are difficult to ride. This road was part dry riverbed at times, again with large stones the size of softballs, but looses this time. For someone like me, who does not have long legs, stopping for a "breather" is not an option. I have to choose my path well and hope to maintain control. If you're riding a naked GS, without bags, gear or even a passenger, these roads are not as demanding.
But as many long distance travelers often discover with stock suspension and even many aftermarket suspensions, you don't have the luxury to pick and chose your conditions. It's at these times when you realize you've packed too much crap. The bike is super heavy, the shocks are bottoming out and you have almost no control of the bike as it's slamming the ground. The shocks are bottoming out and you have almost no control of the bike as it's slamming the ground. To add to your problems you discover that the shocks have blown a seal leaking all of its' oil and gas or broken a perch that causes the spring to fail. It's these severe conditions that Touratech has focused on with their new line of suspension by planning for worst case scenarios and using the best components. All of which gives me not only confidence in the bike but also peace of mind that I'm not going to break down in the middle of the Atacama desert.
Click HERE to see the complete line of Touratech Suspension.