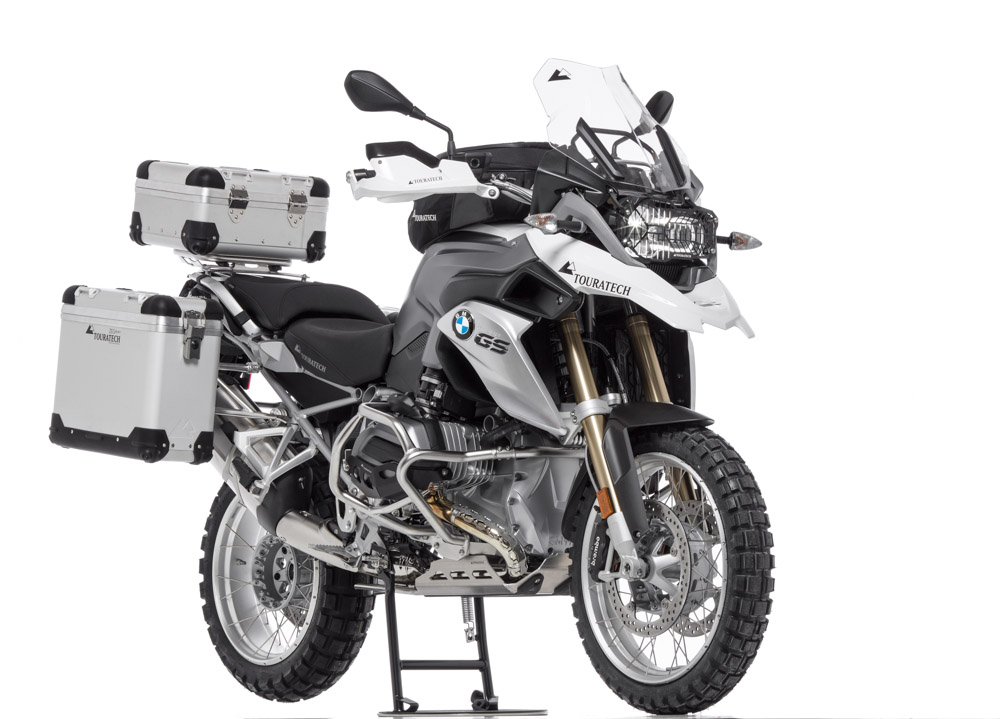 There's no doubt that BMW's new water-cooled R1200GS is a capable adventure touring motorcycle. With 125hp, spoke wheels, dynamic suspension, cruise control and an assortment of other options, the new GS is everything we expected it to be, and then some. But there's always some room for improvement. Luggage and protection items are an easy upgrade and will transform the R1200GS from adequate to extraordinary. Touratech's Zega Pro pannier systems provides safe and secure storage, both on and off the bike, while crash bars and an Expedition skid plate protect the most important part of any motorcycle, the power-plant. Additional accessories, such as a stainless steel headlight guard and radiator guards will keep road debris from damaging important parts, while a larger sidestand foot will keep the R1200GS upright in everything from soft sand to loose gravel.
Here's a list of the accessories we installed on our water-cooled 2013 BMW R1200GS: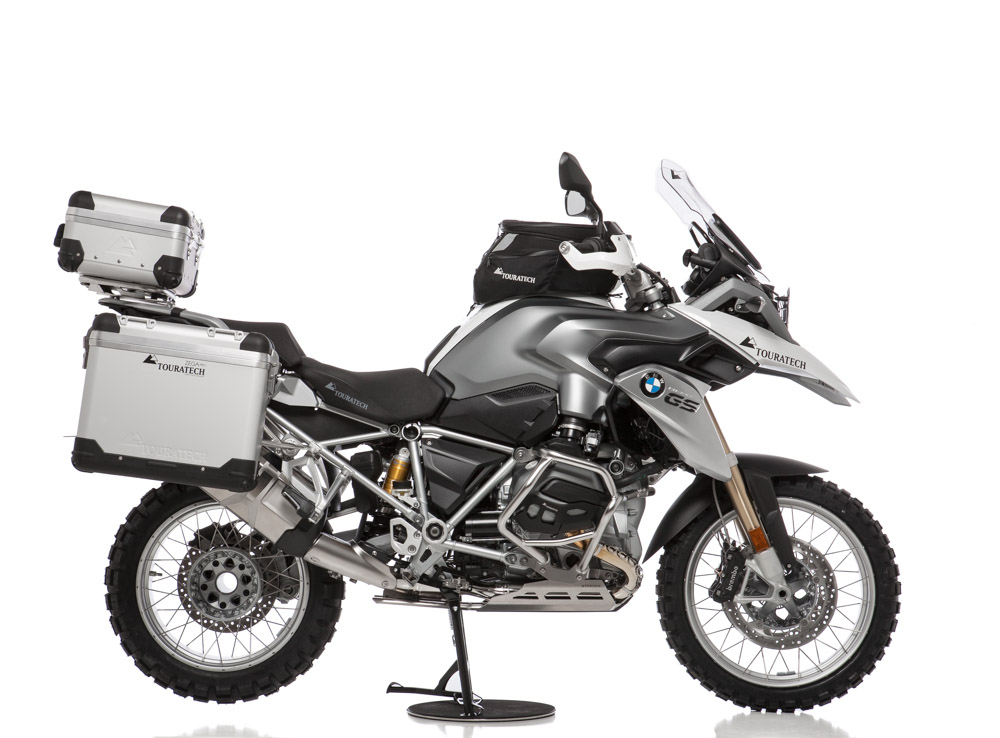 Touratech Crash Bars: $397 – $419
A parking lot tip over, gravel road drop, or even a low-side on the pavement with the R1200GS boxer engine can seriously jeopardize your trip. The valve cover and cylinder collide with the ground when the GS tips over, so crash bars are critical protection. Touratech Crash Bars protect your engine with a stainless steel cage structure that wraps around the valve cover and cylinder of the liquid cooled R1200GS for complete coverage. Made of 1-inch diameter stainless steel tubing, these crash bars are engineered to take a beating and never let you down. In addition to offering the ultimate in protection, the stainless steel tubing follows the natural lines of the GS, accenting the distinctive look of this stylish machine.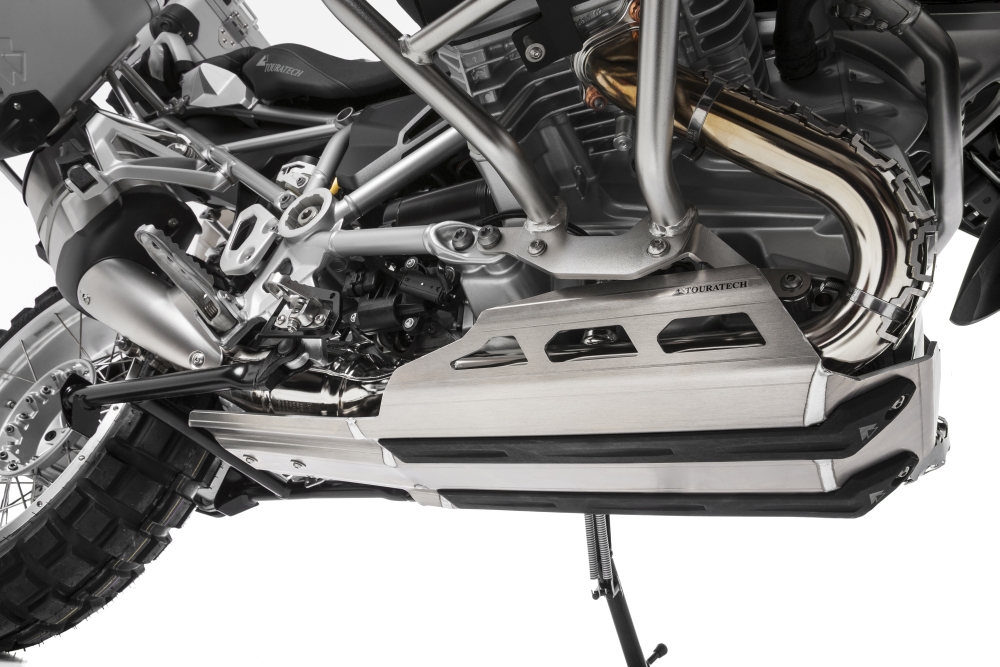 Expedition Skid Plates: $375 – $450
Finally, an R1200GS skid plate built to withstand the rigors of a serious adventure. Touratech's Expedition Skid Plate offers an ultra strong stainless steel sub-mount, 4mm thick aluminum construction with corrugated channels for extra strength, replaceable polyamide nylon sliders, low profile design, and complete uninterrupted coverage from the front of the engine to the rear wheel.
Touratech's Expedition Skid Plate offers complete and unprecedented protection for your R1200GS water boxer engine. The heavy gauge stainless steel mounting plate absorbs impact while supporting the oversized 4mm contoured skid plate which has integrated polyamid nylon rails that absorb impact, protect bolt heads and provide a sliding surface for overcoming obstacles.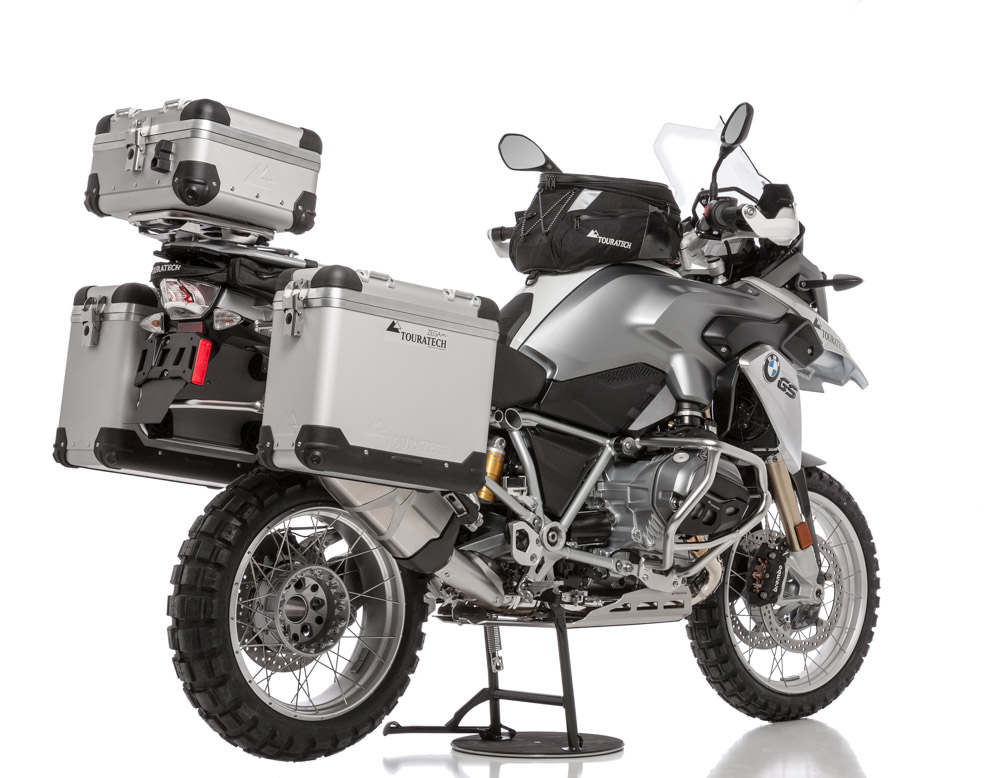 Zega Pro Pannier System: $1,342 – $1,538
The Touratech Zega Pro pannier system is the ultimate luggage solution for your BMW R1200GS. Zega Pro panniers have provided secure and dry storage for adventure riders the world over. The aluminum body and removable lid feature rugged corner protection, as well as low-profile loops that provide a flat surface to secure additional dry bags. Crafted with 1.5mm aluminum and stainless steel rivet construction, Touratech's Zega Pro panniers are available in 31, 38 and 45 liter sizes and three different finishes: bare aluminum, anodized silver and anodized black.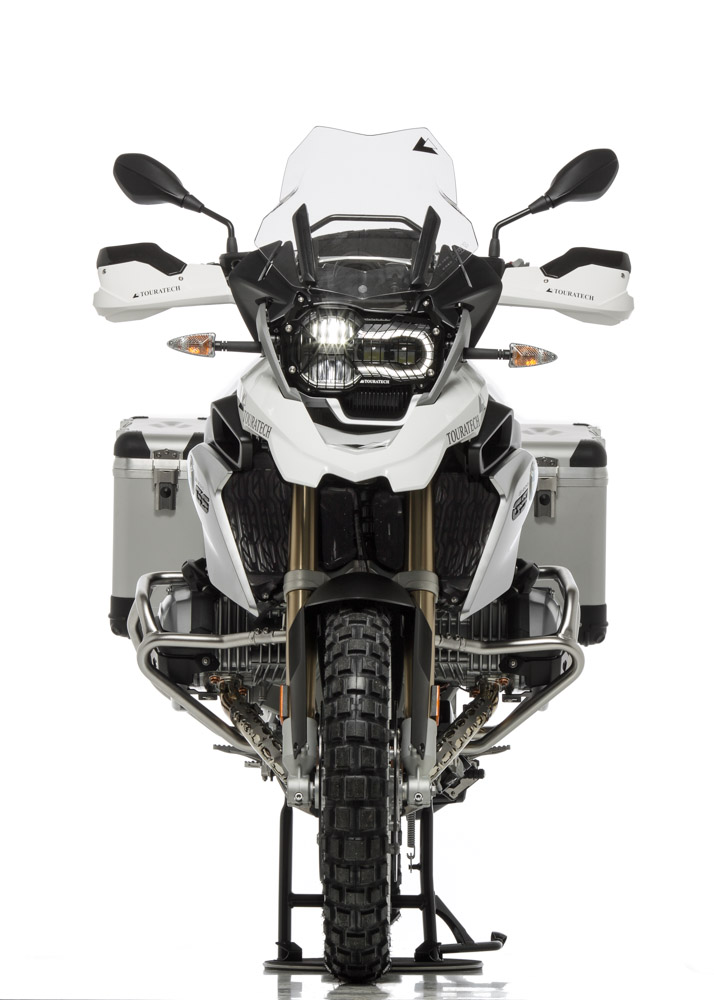 Quick-Release Stainless Steel Headlight Guard: $131
Don't let the lights go out on your next adventure! Touratech has developed a stainless steel guard with quick-release mount that allows you to easily keep the headlight on your BMW R1200GS clean and free from damage.
Stainless Steel Radiator Guard: $138
A rock thrown into your BMW's radiator from another vehicle or motorcycle can end a trip quickly. Touratech's stainless steel radiator guards for the new water-cooled BMW R1200GS will protect your vulnerable radiators from damage. These stainless guards are laser cut and feature louvered fins with air-flow ports that have been engineered to deliver the maximum volume of air to the cooling system on your water-cooled BMW R1200GS.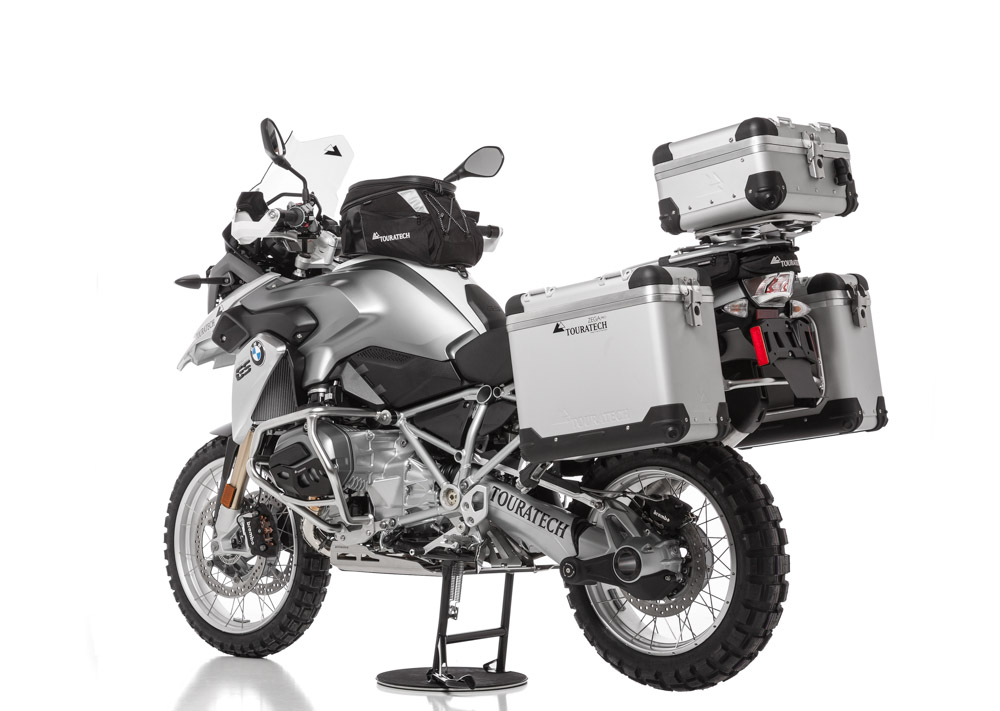 Touratech Large Sidestand Foot: $41
Touratech's Large Sidestand Foot stabilizes your BMW R1200GS when parked in grass, gravel, mud or forest soil. The increased surface area of the Touratech Sidestand Foot dramatically improves the stability of the R1200GS, making your off-the-beaten-path parking much easier.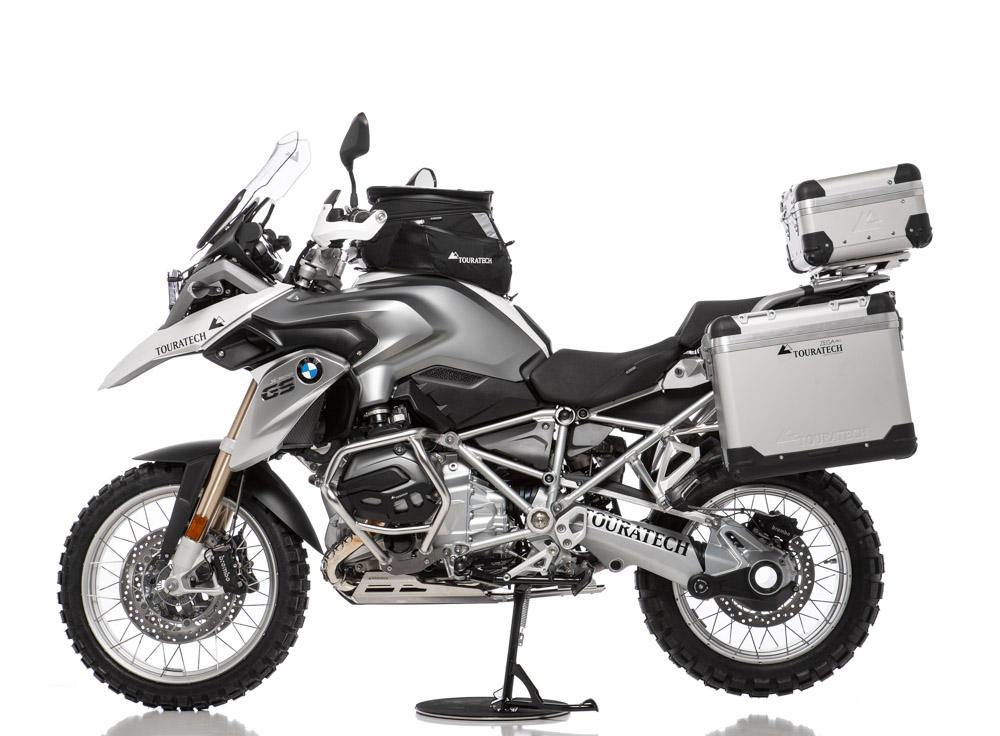 Touratech Hand Guards: $112
Protect your BMW's bars, levers, and controls with a set of Touratech handguards. Built out of extremely tough plastic, these hand guards give you the benefit of being flexible, absorbing impact instead of transferring it to your handlebars or bar mounts like a rigid aluminum or steel guard.
Available in several different colors, these guards come with all the necessary mounting hardware and are designed to be an exact fit for your BMW R1200GS's original handlebars.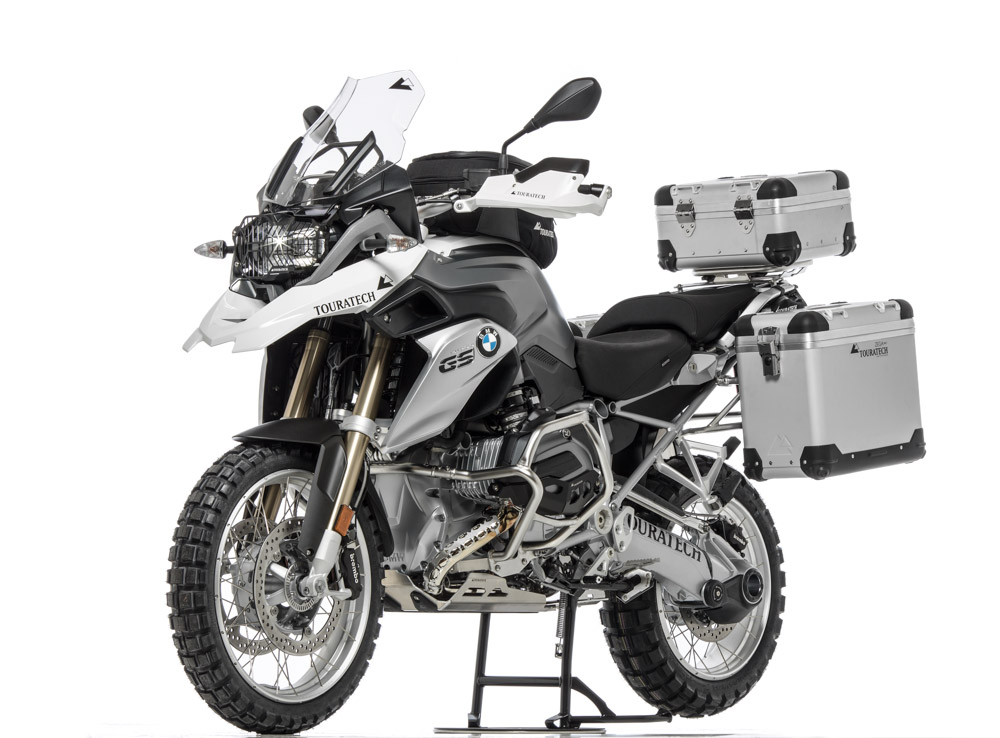 Expandable Touring Tankbag: $386
Don't settle for a universal fit tank bag on your BMW R1200GS that will slide around, distracting you from your riding. The unique shape of the GS's fuel tank requires a bag that fits properly. The Touratech Expandable Touring Tankbag is shaped specifically for the water-cooled BMW R1200GS with a mounting kit designed for the bike.
Click HERE to see Touratech's complete line of accessories for the 2013 R1200GS.