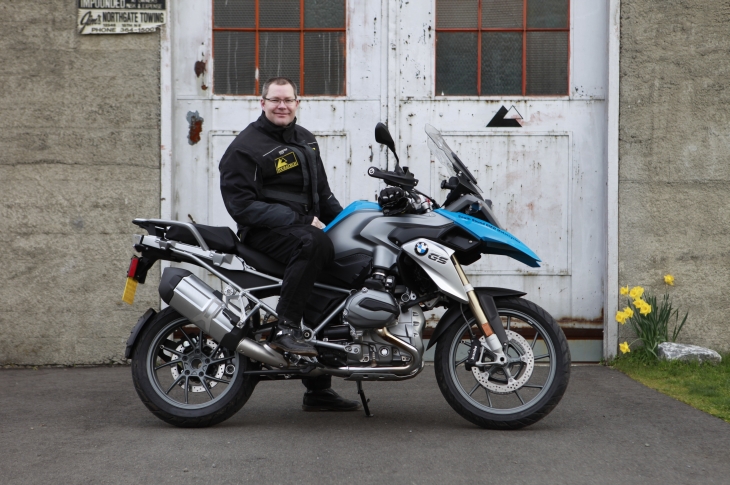 Kimmo Lasilla, Sales Manager
Current Bike: 2009 BMW F800GS
The new 2013 water-cooled R1200GS was exhilarating from the start! It still feels like the R1200GS – in a good way – but everything just works better! Power, suspension, clutch, gearbox, windscreen, and handling. It is just fun to ride but still very useable in every way. I definitely liked it more than 2011 Ducati Multistrada even on this pure freeway/street ride. I wish I could have it right now!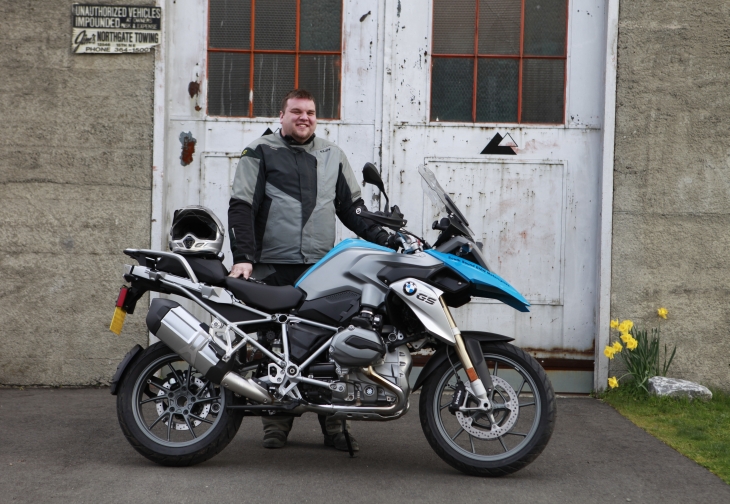 Matt Willson, Product Line Manager
Current Bikes: 2006 BMW R1200GS, 2001 KTM 640 Enduro
Rode my R1200GS to work this morning, then immediately hopped on a brand new, water-cooled 2013 model. All I can say is 'Wow.' The motor on this thing is a night and day difference over the previous generation. Maybe the numbers on paper aren't a huge difference, but it sure feels like it. The power delivery is so much smoother, and the gearbox has been getting progressively less clunky as each generation of the Boxer GS comes and goes. What I really like about this bike is that changing to a water cooled engine didn't kill off much of that boxer character that we've grown to love.
It still has a good feel with all the right sounds an opposed twin should have. The adjustable windscreen was one of the best stock windscreens I've ridden. Still not enough for a tall guy like me, but close. Putting a little taller windscreen on the bike's adjustable brackets would probably do wonders. The controls all make sense. I did find myself missing the funky BMW turn signal system that they have abandoned for a more conventional switch on their newer models. All in all, I'd say this new bike is better in just about every way. Now I have to fight back the evil thoughts of trade-ins, financing, and home-equity loans.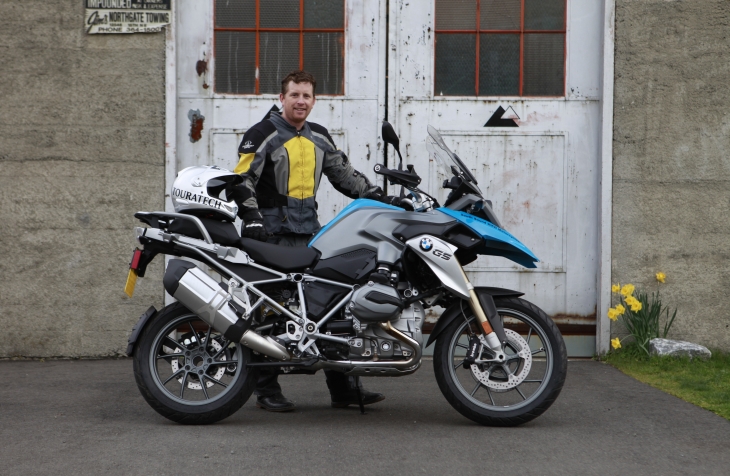 Paul Guillien, General Manager
Current Bikes: 2012 Yamaha Super Tenere, 2013 BMW F800GS
The increased power is immediately noticeable. In second gear I hit the throttle abruptly and the wheel came up quickly. Everything on the bike seems more refined that earlier models and it's just a ton of fun to ride. I like the quick shifting feel of the new bike.
The fly-by-wire throttle takes a few minutes to get used to because there is very little resistance when you twist it. You can easily grab too much throttle at first, but you adapt quickly as you get used to it.
I could feel the bike puts out a boat-load of torque down low making the water boxer feel very snappy around town. The handling is predictable and feels very comfortable right from the get go. My first impression is that BMW got it right with this bike and people that test ride it are going to want to buy it.
Iain Glynn, Chief Riding Officer
Current Bike: 2005 BMW R1200GS (on third motor due to abuse)
Two favorite features on the 2013 water-cooled R1200GS are the wet clutch and the cruise control. The clutch really bites like it should. I never realized how soft the clutch was on the oil cooled boxer until I rode the new water boxer. I am one of those guys that uses cruise control in cars all the time. This was the first bike I've ridden with cruise control and it is awesome. The engineers at BMW tuned the cruise control so it comes on slowly so as not to disrupt the rider. It's a perfect tool to keep you from speeding on long boring sections or even in the city.
The engine feels like it has much less rotating mass than the previous model. When you blip, the throttle the bike doesn't twist underneath you nearly as much. The engine winds up very fast and triple digits can be reached rather quickly for an adventure bike.
One of the first things I noticed was the adjustable levers which are easy to adjust with gloves on. The clutch pull is much lighter than on the previous model GS. All of the buttons are very similar to the 2013 F800GS, which has done away with the paddle style blinker controls. The grip heater and high-beam controls are no longer rocker toggles. They operate with your index finger and the high beam control is built into the flasher switch which creates more real estate for new function controls which this bike has.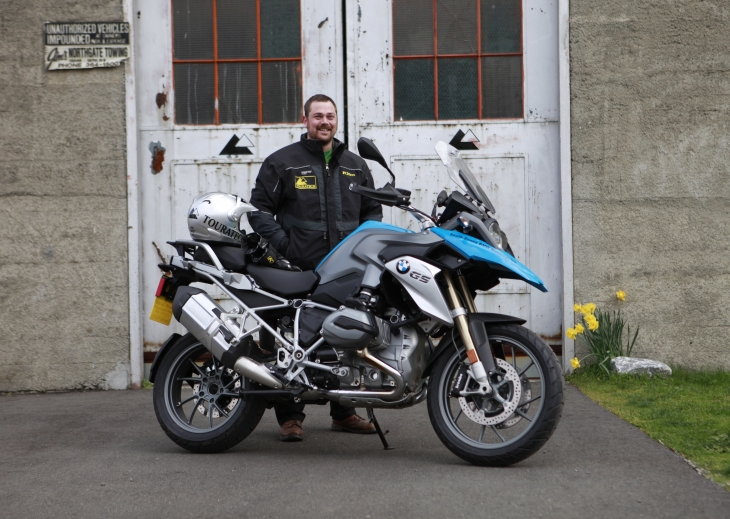 Eric Archambault, Customer Service
Current Bike: 2007 Triumph Tiger 1050i
The biggest thing that stands out in my mind after an initial ride on the water-cooled R1200GS, is the motor. It felt a lot sportier then the oil cooled R1200GS. The exhaust note has a bit of bark just off idle, then spins up quickly and smoothly with a nice little hit toward the top of the RPM range. The clutch and transmission felt crisp and smooth without any hint of chunkiness, something that was a big improvement over the previous gearbox.
The ABS was working in the background like I would expect, correcting, and removing any excitement, from my heavy handed braking. The chassis was still unmistakably R1200GS, which is to say that for a non-BMW rider, it feels long, with bars that are too wide, and telelever front suspension providing odd feedback. Altogether, though, the bike was exciting and the improvements that BMW have made to this model are both unmistakable and essential.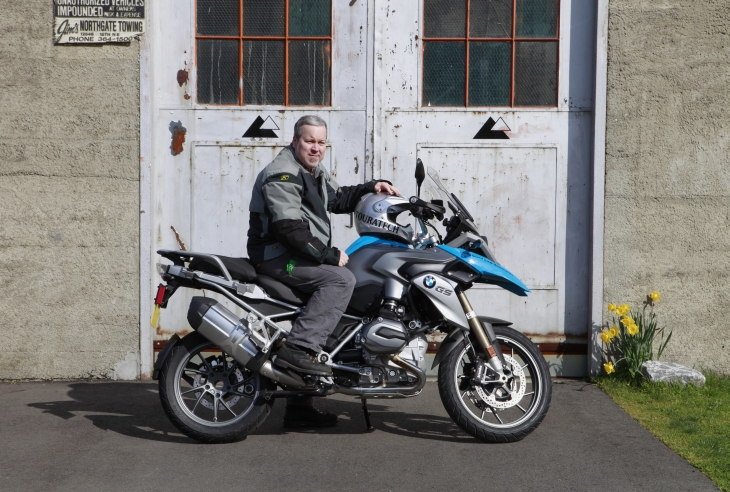 Andrew Sadler, Warehouse Manager
Current Bike: 2005 KTM 640 Adventure, 2012 KTM 690 SMC
This bike like other BMW GS boxer configurations has excellent balance with a confidence inspiring low center of gravity. When you push one of these big bike around on foot they feel tremendously heavy however, once you saddle up the weight just seems to disappear. The new R1200GS "water boxer" has a comfortable stand over height and over all good ergonomics for me at 5'11". It could be dialed in better with the addition of bar risers, wider foot pegs, and some adjustment to the lower controls.
The stock windscreen is very good, but in its highest position is still a little low, I would probably add a spoiler for any serious highway miles. The only real short fall of this bike for me was the seat. It has an angular design that was comfortable enough when seated, but a disappointment as I stood on the pegs. The bottom edge of the seat made an uncomfortable pressure point on the inside of my leg right at the middle of my knee while standing. Aside from the issue with the seat, I like the new "water boxer" and would consider it the top contender if I was in the market for larger displacement adventure bike.
Click HERE to see our complete line of ADV accessories for BMW's new water-cooled R1200GS.