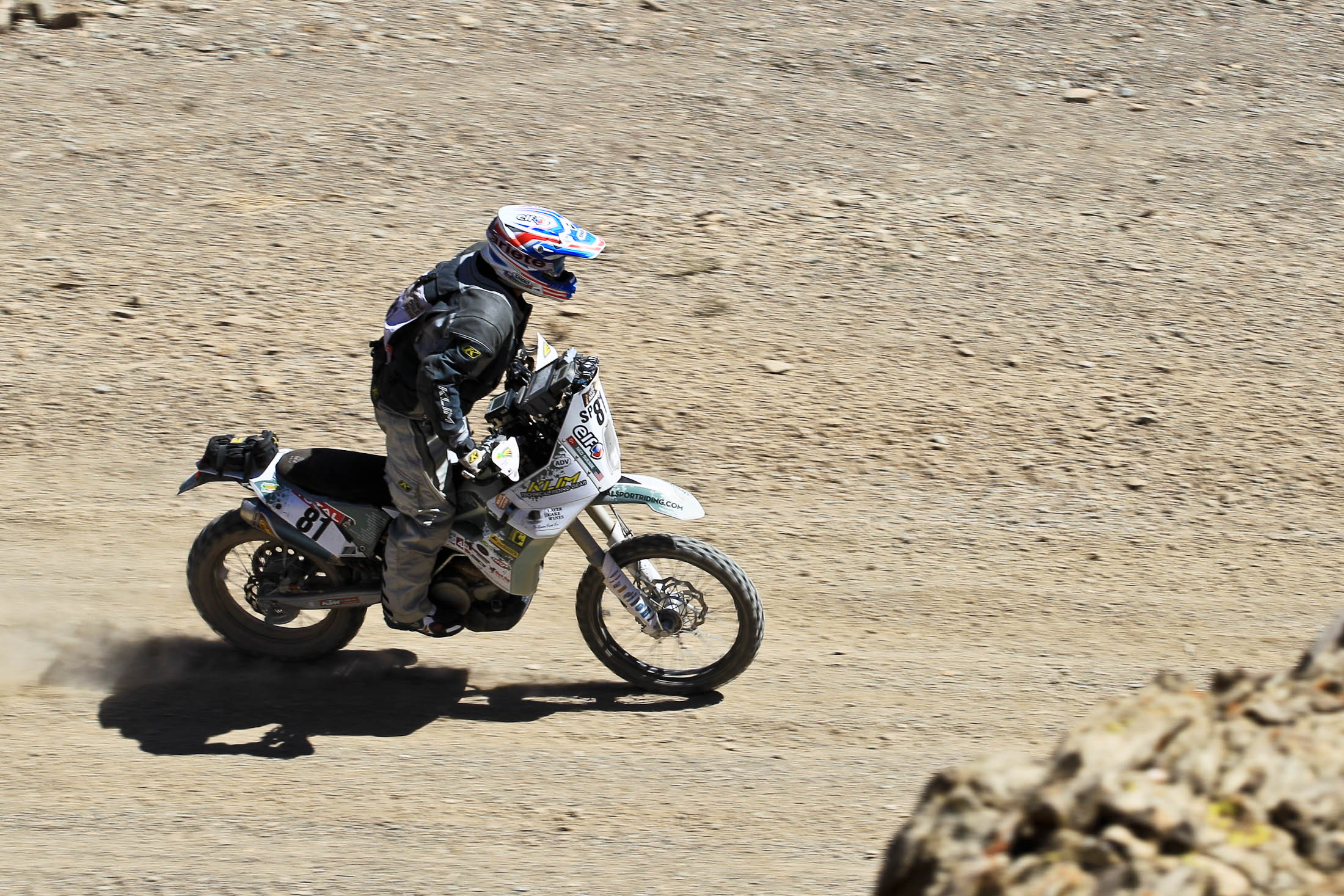 January 3rd, 2012: Dakar Stage 3
"Day three was, in some ways, very similar to the fourth stage in that we did a lot riverbeds and some canyons (although it was dry all day).
I ended up linking up with and riding/seeing a lot of riders I feel very comfortable riding with. We all seem to be capable pilots, solid navigators and guys that are riding in my comfort zone.
I've been seeing Stan Watt and Chris Birch a bunch at the checkpoints and fuel stops and other areas where they're not going faster than me. It's cool to see a couple familiar faces and chat with them.
Quinn Cody's crash is definitely in my mind after stage three and you know what, he is such a ridiculously nice guy. He's gone way out of his way to come way over at the start of the day to say, "Hey, how are you? Is there anything you need?" I mean, he was kind of taking care of me or at least checking in with me before a serious race day! Who does that? It was awesome and his crash was terrible and I'm so glad that he's not more seriously injured.
Something that really rang with me yesterday was that it was the third stage of this race that I've seen three people's boots going into a helicopter as I rode by. I don't really like that.
My goal, as it always has been, is to finish and every day I get to the pits safely without problems is a huge success.
I've said it before and I'll say it again but the pits or bivouac or whatever you want to call it is seriously insane here. In America, we have really cool bikes from the factories that we can drool over. The bikes we have are pretty trick at any major race in America, so there's not a lot of craziness there. But the support setups here are astronomical. The magnitude of support here is hoards of magnitude greater than any American or North American race has ever seen.
I can't substantiate this but I heard there is $1 Billion dollars' worth of machinery in the pits ever y day. Billion. With a "B".
Plus there are hot French girls roaming around which doesn't suck.
I'm going to eat dinner number two and go to bed now."
January 4th, 2012: Dakar Stage 4
"Things in Chilecito (where today's stage ended) are pretty damn good, I have to say! I don't really know how I finished today but I definitely think I rode to my goals of not taking any risks, keeping my wheels on the ground and finishing in a reasonable time. I can't really ask for more than that and I feel great about the day.
The course today was really neat. We went through a lot of river bed with some of it running really fast with water from the rains. So, there was a lot of water crossings and a lot of mud. We rode through some incredible canyons that were just awesome. It reminded me a lot of some of the areas we ride in Utah like Green River, Moab, San Rafael Swell and stuff like that. It was really, really neat.
The only problem with the course today, for me, was in the last three kilometers or so the first cars were catching me (bikes take off before the cars and often, their courses meet up-especially towards the end of the stage). The terrain was Fesh-Fesh (an ultra-soft unpredictable silt) grooved into a very narrow track that was extremely hard to get out of. So, as I'm in this silt channel with the fastest cars in the rally bearing down on me at the end of the stage my bike starts cutting out! Again, the gas was boiling in the tank and the bike just wouldn't run smoothly due to the whole machine getting extremely hot-Fesh-Fesh will do that to a machine. Essentially I wound up actually pushing my bike out of the way a couple times while my sentinel beacon is going off (a sentinel beacon is a warning system that tells you something big and scary is coming up behind you, essentially). It was not a lot of fun and pretty spooky, to be honest.
This experience is another perfect example and reminder of why I want to keep putting in good rides. I'm really not riding with any commitment to speed. I'm not going what I would call fast by any means and I'm not riding slowly either. I'm not sliding around corners and committing to the voids out there where I have no vision. If I can see where I'm going then I'll throttle on. If it's smooth, I'll throttle on. If it's not, I'm slowing down and maintaining a pace that is responsible, for lack of a better term. The end goal is to keep a safe, healthy pace that keeps me out of the drama of being in the cars or on the ground more than necessary.
I managed to pass about three guys on the course today via good navigation which was really fun. I'm enjoying the heck out of the race, for sure and hope to keep up these steady-pace results.
Talk to you tomorrow from Fiambala'!"
Originally posted on DirtRider