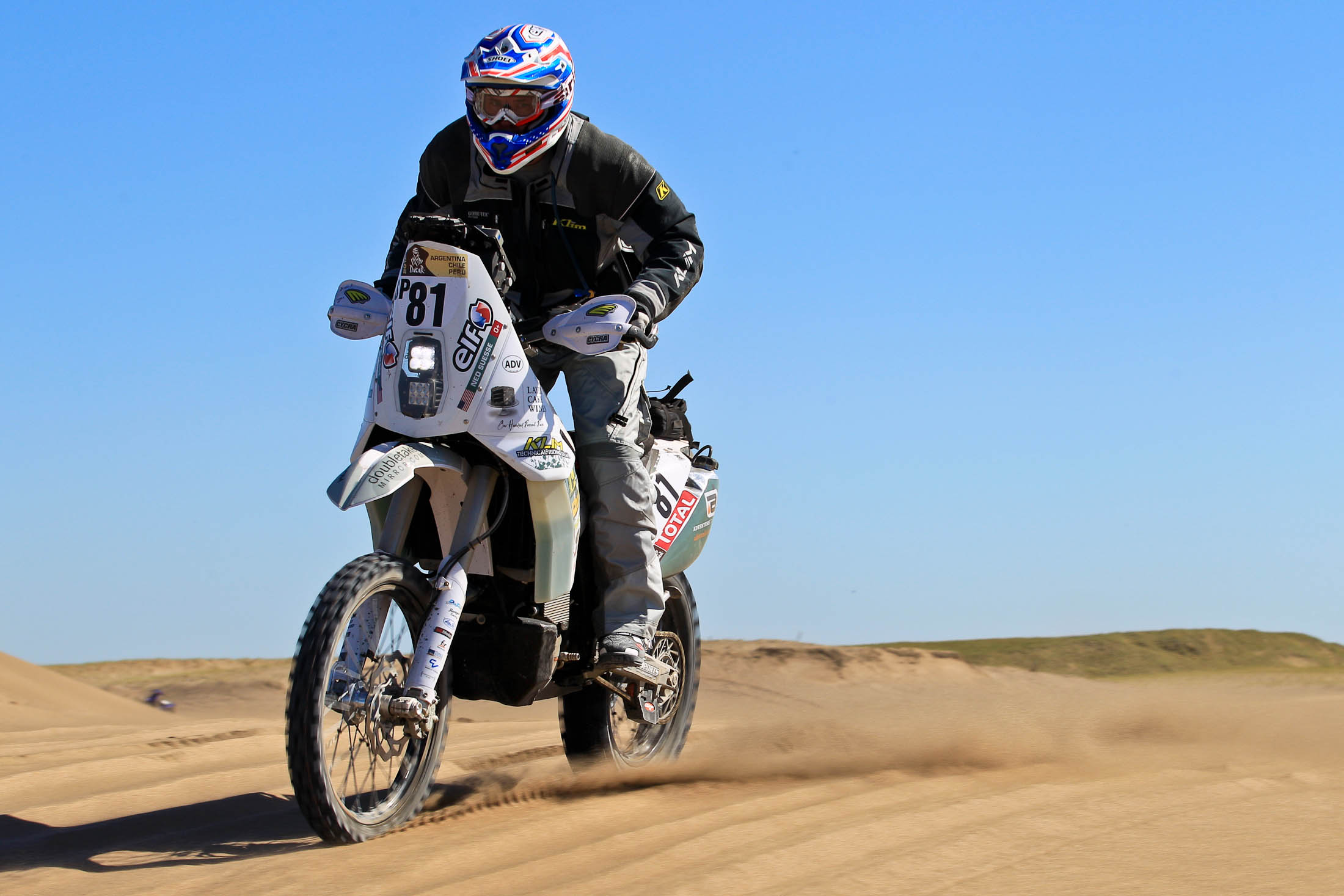 December 31st: Day Before Dakar
I'm a little bit amped up right now, as you can probably imagine. The bikes are all in parc ferme (impound for all intents and purposes) so they're gone. So today we got up and packed everything we'll need in the support truck. That involves organizing a lot of stuff, obviously. At about noon we had to head over to the briefing, photo for the race and then we took a whirlwind tour of cluster ness. Essentially we took a bus from the podium area back to parc ferme and our bikes. Then, we rode the bikes back to the podium, over the podium and back to the parc ferme area. Then we took a bus back to the podium. It was a very inefficient cluster-bomb that involved a lot of standing around in a hot field. There is, however, a very awesome part to all of this.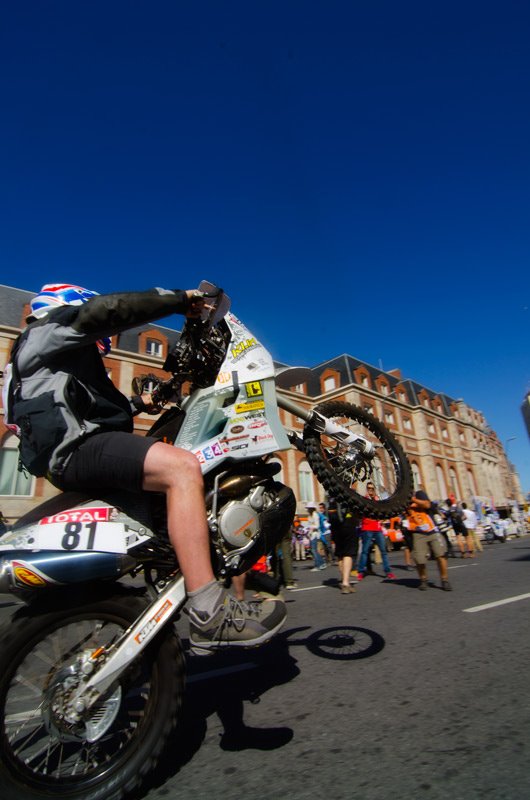 I don't know if it was millions of people who came out to watch the ceremonial start but it was certainly a lot of people lining the closed-off streets to see the vehicles, bikes and racers ride off the podium and through the city for a few kilometers. Being one of those riders was awesome. I have a few rules in my life and one of those rules is that whenever the opportunity presents itself for me to ride a wheelie past a cop and have said cop nod at me approvingly, I'm going to do it. I got to do that a lot today and it was tremendously fun.
After that we dropped the bikes back at parc ferme and by then we'd received our road books and took our time getting back to the house where Jonah Street, Bill Cogner and I went over those. Tomorrow we head over at about 5:15 a.m. to the start and get this thing going.
The first stage has something like a 150 km of liaison (transfer), a 60 km special (timed) and then 600 km or something of final transfer into the finish line. It's a lot of mileage but not a lot of special. It's going to be a long day on the road.
In general I feel really great going into the race. I'm still a little down on sleep but compared to other people's headaches I'm doing great. There are still people waiting for bikes to arrive and the race starts in the morning. Shipping was a crapshow this year, more than normal from what I'm hearing and I got off lucky even though our bikes and supplies were a little late.
The Bike is how I want it to be. My spares are how I want them to be. The crew down here is awesome. There's nothing I would change. Whatever happens now is going to happen. I can't do much but go along for the ride now.
A very good thing I have in my corner is a ton of awesome people. From Jonah Street sitting next to me doing road book work to the whole Pit Crew in the truck I feel like I have the best group in the world to lean on.
As an American here in the Dakar Rally pits I have to comment on the scale of the race. The sheer investment in support and logistics is completely off-the-hook compared to anything you'd ever see in Baja or Nevada or at any National race in America. There are more bitchin' cool six-wheel-drive support trucks here than you can possibly imagine. You'd never see this in North America.
As a first-time rider coming into this environment of over-the-top support there's a feeling of, "Holy Sh*#! This is a big deal. Do I belong here? Do I know what I'm doing enough to deserve to take part in this sort of race?" So questions really start coming up inside your head. The first question is, "Do I belong here?" The second question is, "Am I nearly tough enough to finish?"
The first answer to that is going to come tomorrow when I start with some pretty fast guys. I'm curious if the pace I'm committed to riding is relevant to the challenge ahead.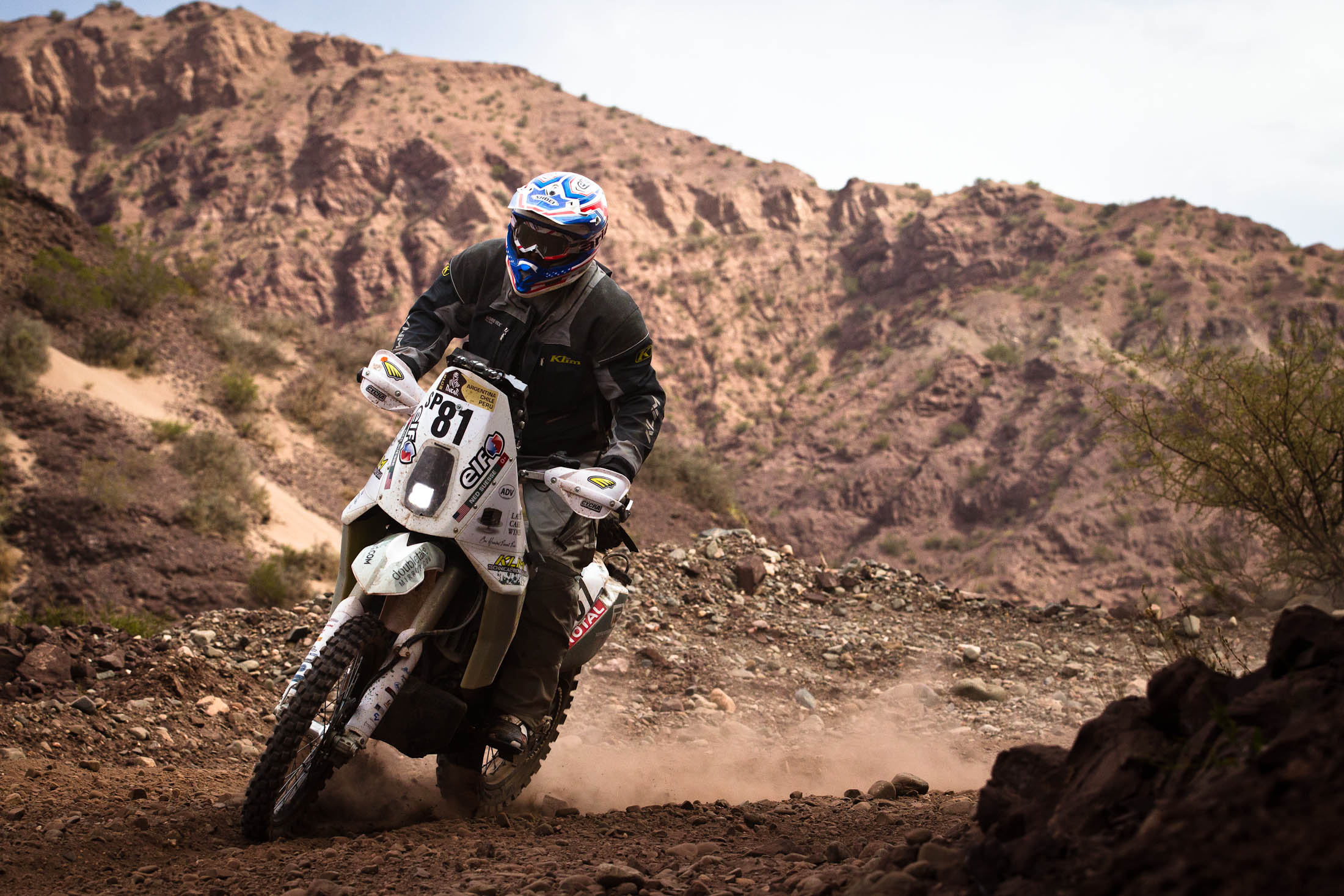 January 1st, 2012: Dakar Stage 1
Today was a pretty uneventful day to start the Rally, which is good I think. We rode something like 800 km's of pavement and I think there was a 400 km straight that we rode where there wasn't even a single dent or wiggle in the road, it was perfectly straight. So it was pretty boring for a while.
The special test itself was pretty cool with not a lot to it. It was short and I barely got myself warmed up before it was over. I'm not too worried about my result as I didn't feel like I had anything going super wrong and I don't feel like I was very heroic either so I'm sure it was good enough and that's what the hope was.
The Bivoauc is absolutely off-the-hook, again. The amount of support and money and crazy sh*# everywhere here is completely crazy and the scale of it is awesome.
The Rally Pan Am pit crew is dialed in, they got the best spot, in my opinion, in the entire camp. They're set up under a couple trees and we had nice shade in the afternoon when I got here.
I rolled into camp a little after 5 p.m. and man, time flies. I got here and got out of my riding gear, had a quick drink to get some electrolytes in, started working on the road book, got Tim Morton (Baja Bound owner and my mechanic for the race) lined up on the bike and before you know it I had a little bit of food and continued to work on my road book and its all-of-a-suddenly 9 o'clock.
I couldn't ask for more.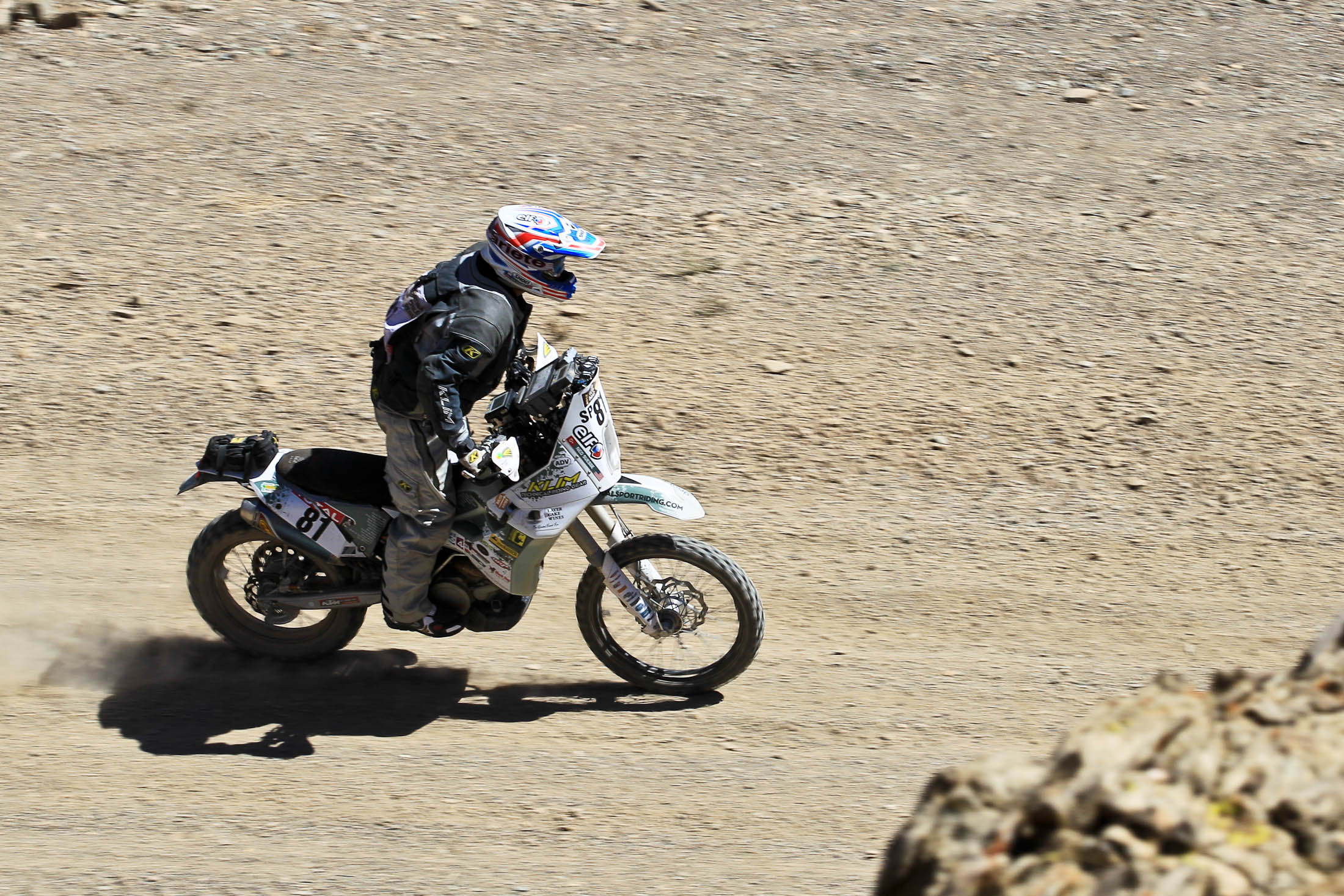 January 2nd, 2012: Dakar Stage 2
I'm totally bummed about Jonah Street's situation today. Jonah is legitimately such a nice person and that's an anomaly really. There are a lot of high-end athletes that, frankly, are crappy people in my mind. Jonah is clearly not one of them and I'm genuinely bummed for him right now. If you look at any of the other American's that lead the way to multiple stage wins in Dakar they were all on Factory-level race teams with arguably a lot more funding that what Jonah has ever worked with. They are incredibly awesome riders, all of them, and Jonah belongs up there as one of the best Americans to ever come here and race. He's awesome and I'm bummed about his situation today for sure.
To talk selfishly about my race day it was a really good day for me! We had about 400km of boring, uneventful liaison in the morning. The good thing about boring uneventful liaisons is that you get to cross off a lot of kilometers for "free" so to speak. There's not a lot of risk or pain in those sections.
The stage started out pretty fast and my bike, compared to a lot of the bikes in the race, is a little underpowered so I'm automatically going to get caught in some of the faster stuff. There are a lot of factory-like 450 KTMs out here that gotta' have about 10 horsepower on my 450 EXC. What happens is when there's a straight, flat section there's not a lot of skill involved and my bike tops out at about 130 km/h but mostly I can get a consistent 120 km/h out of it. Some guys are pulling 150 km/h easy through a lot of these zones and they're going to blow by me when I'm going as fast as I can. Then, I need to slow down to let the dust clear, pick up the pace again and then it happens all over again. So it's a bit frustrating for sure and isn't that fun.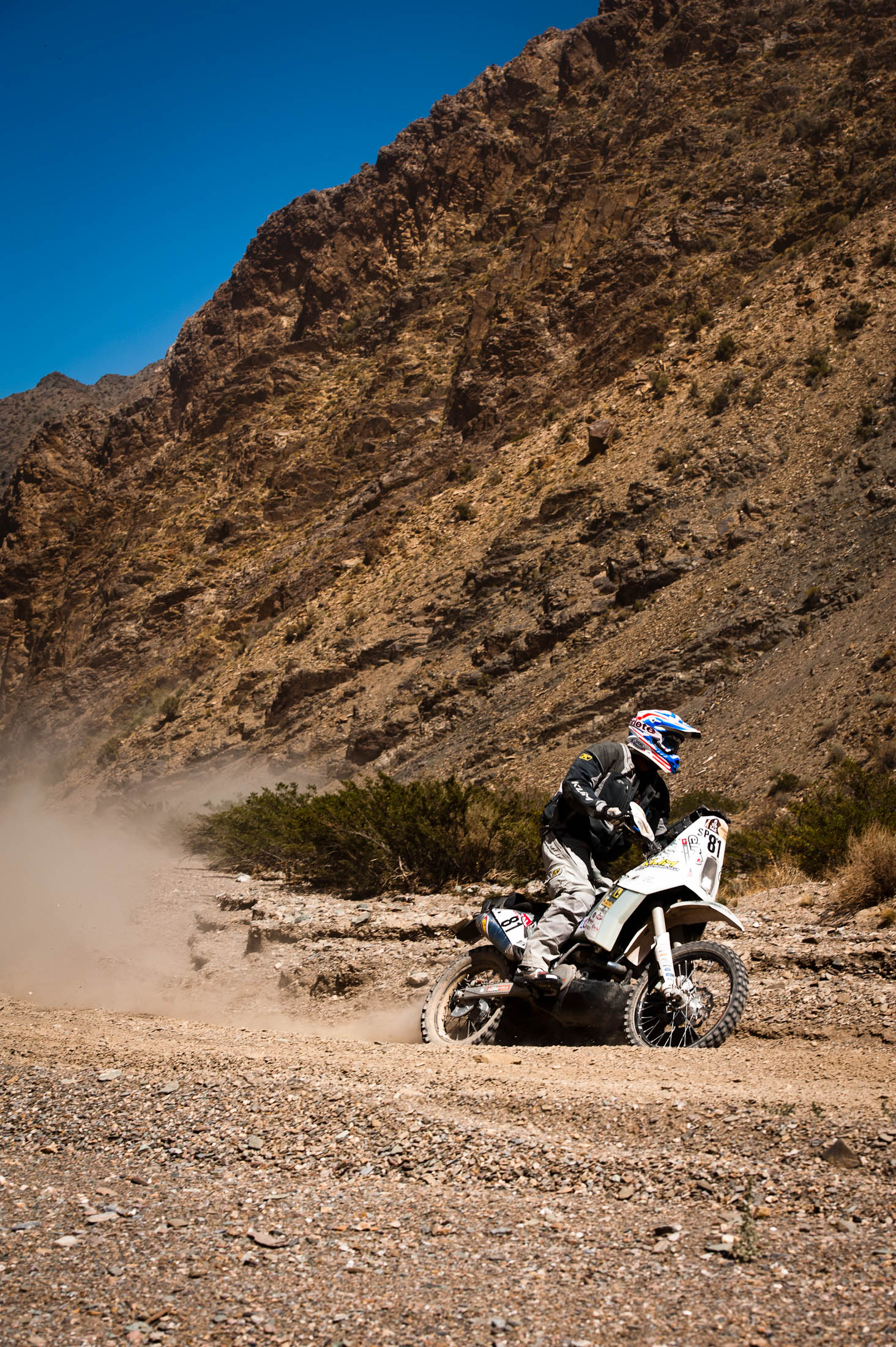 The worst part is it makes you think about pushing harder in the dust. You ask yourself if you should go harder to try and keep up. The internal debate starts up and I had to tell myself, "Ned, this is day two. You have a long way to go. You need to not let it get to you and just keep your pace and stay out of dust so you can see."
Right after I had this conversation with myself I came over a hill and there's this cow folded in half the wrong way and a factory 450 bike burning to a crisp next to it. I thought the rider must have died but heard just now in the pits that he's OK.
The dead cow and the 450 burnt to its frame was a real stark reminder to what the risks in this game are.
It was really a reminder I needed to keep it safe. After that we dropped into a riverbed that was like a Baja wash that was never pre-ran by trophy trucks. It was a lot of fun. There was some shallow running water and turns-a big improvement from the straight fast stuff.
It was in this area that I came up on Jonah. I was in the zone of navigating and riding pretty intensely, going maybe 50 or 60 mph when I came up on him and slowly realized it was him. I went by and slowed down and waved. I could see how disappointed, sad and down he was at his bike that wouldn't run and he waved me on with a clear, "don't stop." Signal. Big bummer, for sure.
After that we came into some sandy area heading into the dunes. It started getting tricky to ride because the bike weighs quite a bit with the fuel and nav gear and I have it set up soft for comfort anyway. There were some sand whoops that I had to back-off going through, I took it easy and kept it going and didn't fall over which I was genuinely surprised by since it was almost surprisingly tricky to ride through.
I came out onto the dunes which weren't too tricky other than my bike had gotten very hot in the whoops and flatter sand sections. So hot that the fuel in the front tank was boiling violently and it wasn't running that great. The bike actually quit on the face of a dune about halfway up. I decided to switch to the rear tank since it was away from the engine heat and once I did that the bike ran fine.
The end of the special went great without drama after that and I hit the finish and met Turkish Moto Rally legend Kemal Merkit. He actually came up and said, "Are you Neduro on Adventure Rider?" I said, "Holy Sh*#! Kemal Merkit knows my name! I've made it in the world." Ha-ha.
We had a fun chat for a while as I chowed a Kate's Real Food bar and a bottle of water. Kemal and I rode back on the liaison together, stopped and got gas and chatted some more and then we cruised into camp. I've taken a shower and eaten non-stop since I got here and it's just dark enough now for me to go to bed.
I just have to do this 12 more times and we're good to go!
Originally posted on DirtRider