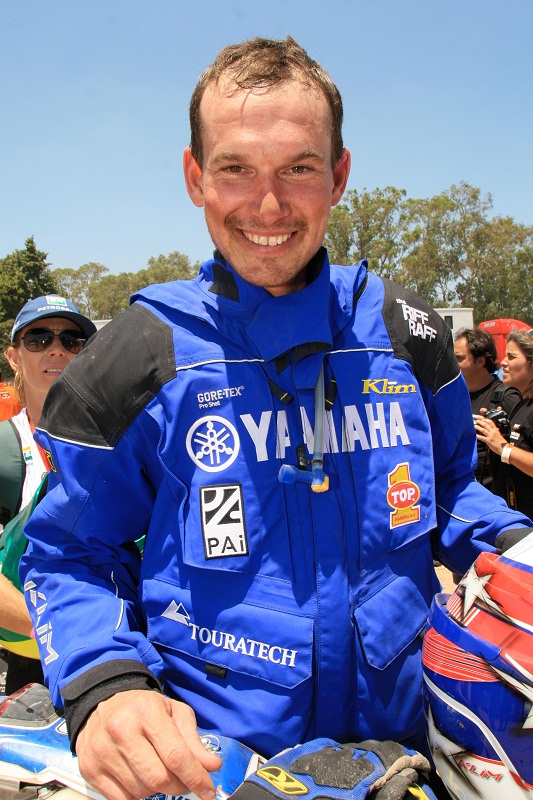 Privateer American rally motorcycle racer Jonah Street withdrew from the 2012 Dakar Rally held in South America due to mechanical problems after only two stages of the 14 day event. Street, a six-time competitor in the world's most grueling motorcycle race was one of America's best hopes for a top finish.
An emotional Street called in from the bivouac at the end of only two days of racing with this update to his tough day and end of racing.
"I don't really know what happened with the bike, yet," Street said. It's something electrical for sure. It started acting up at about 220 km into the special test today, and then at about 224 km the bike died. It took me about three hours to get from that point to the 256 km mark. From there, it just kept getting worse – going only a tenth of a kilometer at times and waiting sometimes for 15 minutes to get it fired again. At 256 km there was a turn where I could go into the village where the finish line was for the day or I could turn and go through the sand dunes to attempt to finish the stage. I knew the bike wouldn't make it through the dunes so, unfortunately, the Dakar rally ended for me right there."
While the Yamaha GYTR rider was clearly down about his race coming to a sudden stop, he remained positive and took the opportunity to deliver an important message to his fans, supporters and followers.
"I'm officially retiring from rally racing," Street said. "I believe now is an appropriate time to make this announcement in a positive light despite today's events. The most important reason to do this, for me, is that now is the time people are tuned into Dakar. For my supporters, sponsors, family and friends that work year-round to get the recognition they deserve, expressing my sincere gratitude now is the right thing to do.
"It's an endless venture to try to find the right race budget as a privateer to do Dakar right. The budget I really need to compete is never there – never has been – and so I am generally broke all year. If I told you that fact didn't have a lot to do with my decision, I would be lying. I have a great family of supporters behind me that have made my six Dakar starts possible. The RiffRaff members are my #1 monetary sponsor each year and my friends and family are the heart of my team. Yamaha stepped up in a big way the last two years and without their help my last stage win and the start of this rally definitely wouldn't have happened. These types of efforts are above and beyond. I will never be able to fully repay or thank everyone that has made my career so spectacular. But I'll keep trying.
"If you consider the fact that I'm not 20 years old anymore and the lingering effects of injuries keep me less-than 100% every day, the reality of me competing at the highest level starts to diminish. This is a sport where you need to be 100% in all aspects: Budget, machinery, and health – the whole deal. I can't be 100% right now and running a top-position pace without being 100% is drastically unsafe.
"I've raced in 26 countries, I think. I'm one of only three Americans to win multiple stages of Dakar. I'vee met thousands of amazing people. I've had a ton of fun and been tremendously lucky. Yes, I'm obviously bummed about today and the way this Dakar has gone but I can honestly say that I am extremely happy with everything I've done in rally racing and the great people I've worked with. I'm not leaving anything on the table, I've worked very hard at this and can walk away content, happy and confident that the last seven years of my life have been the best any motorcyclist could ask for. I wouldn't change a thing – it's been a dream-come-true.
"Thank you to all my sponsors, past and present, for their tremendous efforts along with everyone that has supported me. I'm truly thankful and hope to speak with you very soon."
Jonah Street Racing's 2012 sponsors: Yamaha, GYTR, KLIM Technical Riding Gear, Touratech-USA, Top1 Oils, PAi, Cyco Active, Fasst *** Flexx Handlebars, Baja Designs, Scott Goggles, Iridium, Hammer Nutrition, Baja Bound, Rally Pan Am, Motion Pro, Sidi Boots, and of course, The RiffRaff.
Find out more about the RiffRaff at www.jonahstreetracing.com)