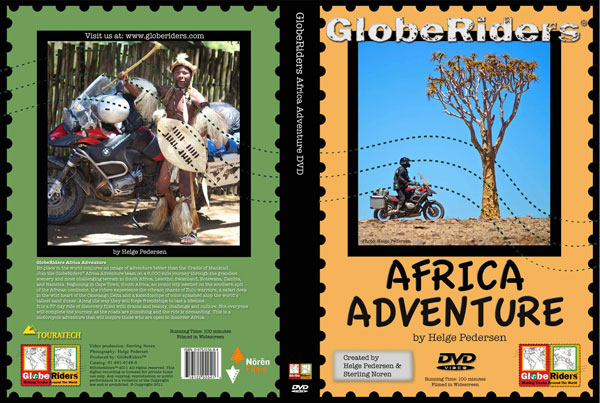 Touratech presents "Africa Adventure," the latest adventure motorcycle expedition DVD from GlobeRiders. The documentary chronicles the team's 6,000-mile journey through the grandest scenery and most demanding terrain in South Africa, Lesotho, Swaziland, Botswana, Zambia, and Namibia. Filled with drama, beauty, challenge and local culture, the 37-day ride of discovery is shared through expert filmmaking and a beautiful musical score. As with all GlobeRiders movies, the riders' personal experiences, motorcycle issues and travel tips are also covered.
Not everyone will complete the journey, as the roads are punishing and the ride is demanding. Beginning in Cape Town, South Africa, an iconic city nestled on the southern spit of the African continent, the riders experience the vibrant chants of Zulu warriors, a safari deep in the wild heart of the Okavango Delta and a kaleidoscope of color splashed atop the world's tallest sand dunes. Along the way they will forge friendships to last a lifetime.
"Having had the good fortune to ride around Africa several times on my motorcycle I have to say that there is no other continent that has such a magical draw. Where the magic comes from I do not know, perhaps from the people, the animals, nature or is it in the air we breathe? All I know is that soon I have to go back again."
-Helge Pedersen, GlobeRiders
DVD Trailer Video: