Frequently Asked Questions about the WABDR (Washington Backcountry Discovery Route)
What is the WABDR? The Washington Backcountry Discovery Route (WABDR) is a mostly off-road route from Oregon, USA to British Columbia, Canada. The South to North route winds through the Cascade Mountains and some arid landscapes in the foothills of Eastern Washington. The roads include dirt, gravel, and pavement surfaces and may include rocks, ruts, sand, mud and snow depending on time of year and conditions. The route can be completed in 4-6 days depending on pace, and is also accessible by four-wheel drive vehicles, as the entire route is at least double-track. The official website of the WABDR is www.WABDR.com.
How far between gas stops? The longest gap between gas stations is approximately 122 miles from Packwood to Ellensburg, unless you stop for gas in Nile Valley on Hwy 410. The next longest section is 120 miles between Stevenson and Packwood. Premium fuel is available in Stevenson, Packwood, Ellensburg, Cashmere, Leavenworth, Chelan, Twisp, Omak and Oroville. Low octane gas is available in Carlton, Nile, Ardenvoir and Conconully. The elevation chart on the WABDR Butler Map includes all the mileage details and fuel locations.
Where do I camp? There are many campgrounds and suitable dry camping locations along the route. The Butler Motorcycle Map for the WABDR has a tent icon showing campgrounds on the route and many near the route. The WABDR Butler Map is available at www.touratech-usa.com or www.butlermaps.com. In addition, the Wenatchee, Okanogan, and Gifford Pinchot National forest maps show a tent icon for all campgrounds. These maps are available at www.naturenw.org and local Ranger Stations. Make sure to leave all camp locations clean and safe for the next user.
Can I have a camp fire? Check with local Ranger Stations to determine if campfires are allowed before you build one. Forest fires are a threat during parts of the year and the rules that manage this risk must be followed. Be sure to fully extinguish fires so they are DEAD-OUT. Use water to ensure a fire is fully extinguished and the ground is left cool and wet.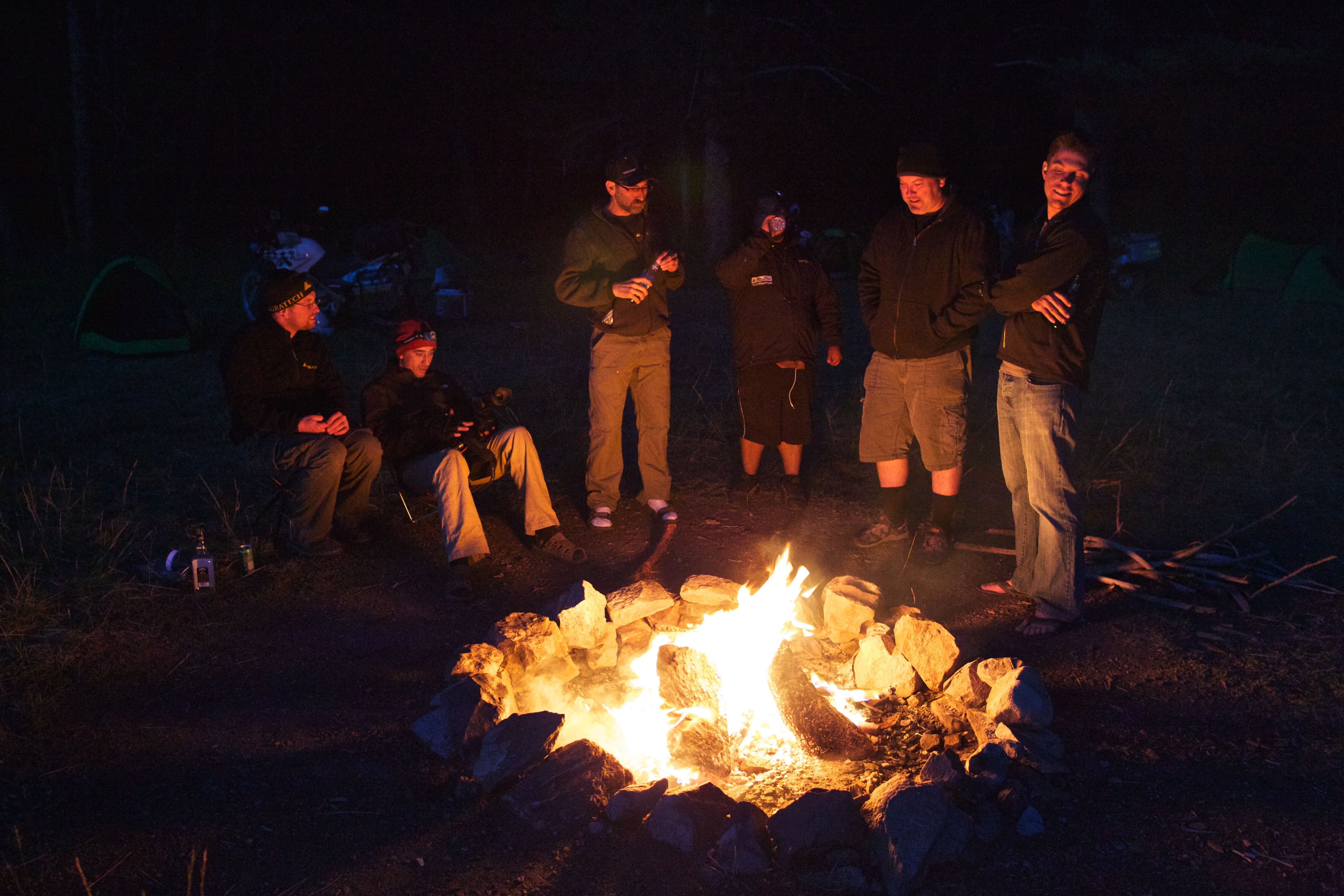 Do I have to Camp? No, you can complete the WABDR using hotels and restaurants fairly easily. Hotels, restaurants and grocery stores are available in Stevenson, Packwood, Ellensburg, Cashmere, Leavenworth, Chelan, Twisp, Omak and Oroville. Limited accommodations are also available in Conconully.
Is there water on the route? You can find potable water in the towns along the way, or use a filtration system and source the water from creeks and springs along the route. The National Forest maps are a good resource for finding suitable creeks and springs. Choosing a camp location close to a water source is a good idea. It is strongly recommended to have a water filtration solution with you at all times in the backcountry. A filtration solution will allow you to carry less weight on the bike since you don't have to haul your water. It's also more flexible if you run into delays or have a mechanical issue along the way. Here is a video on water filtration filmed in the Oregon Backcountry:
Why do I need paper maps when I have GPS tracks? Always bring a complete set of maps for the area you plan to ride. They have good information about roads, water sources, and are an indispensible resource when the GPS doesn't work, or is giving questionable advice. Unplanned events can occur and having paper/synthetic maps of the area can be a life saver. National Forest maps are available at www.naturenw.org and local Ranger Stations. WABDR Butler Motorcycle Maps are available at www.touratech-usa.com or www.butlermaps.com.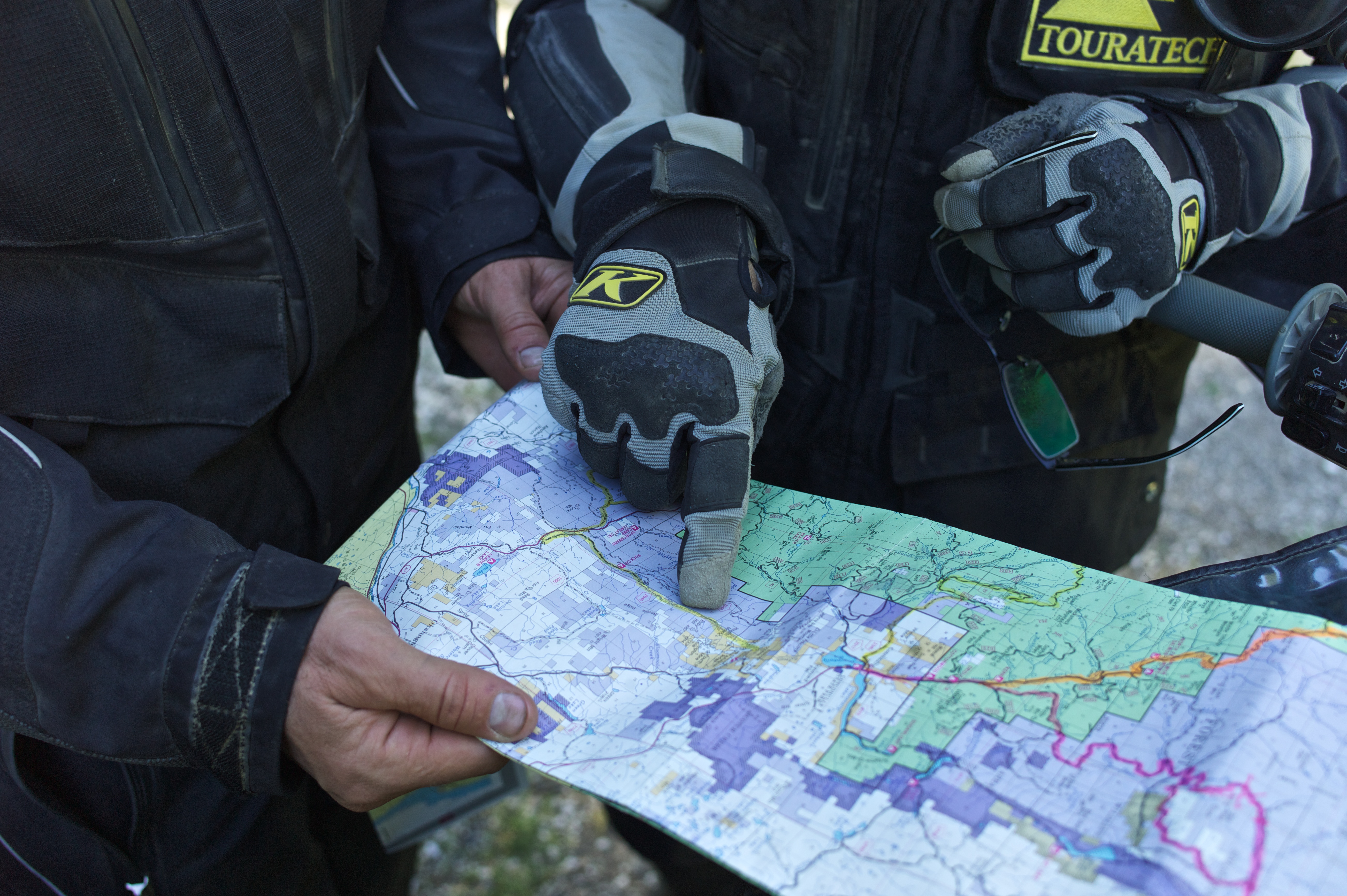 Where can I find the GPS tracks for the WABDR? The tracks for the route can be downloaded free of charge from the WABDR Website.
What GPS should I use? Any GPS unit capable of displaying 10 track logs with a minimum of 500 points each is suitable for use on the WABDR. Garmin models that work best for this application are: Zumo 665/660, GPSMap 60, 62, 76, 78 and 276. Other GPS manufacturers may have units that will work. Check the technical specs to determine suitability.
What is the ideal bike to use? Any bike that has a license plate, can run knobby tires and is set-up to carry the gear you plan to bring, and has the fuel range to make the distance between gas stops. Most adventure or dual sport motorcycles will be suitable for the trip.
Is there a packing list available for the WABDR? Yes, you can download a sample packing list to modify for your own personal use by clicking HERE.
What time of year can I do the WABDR? The WABDR is best from July-October depending on snowpack and weather.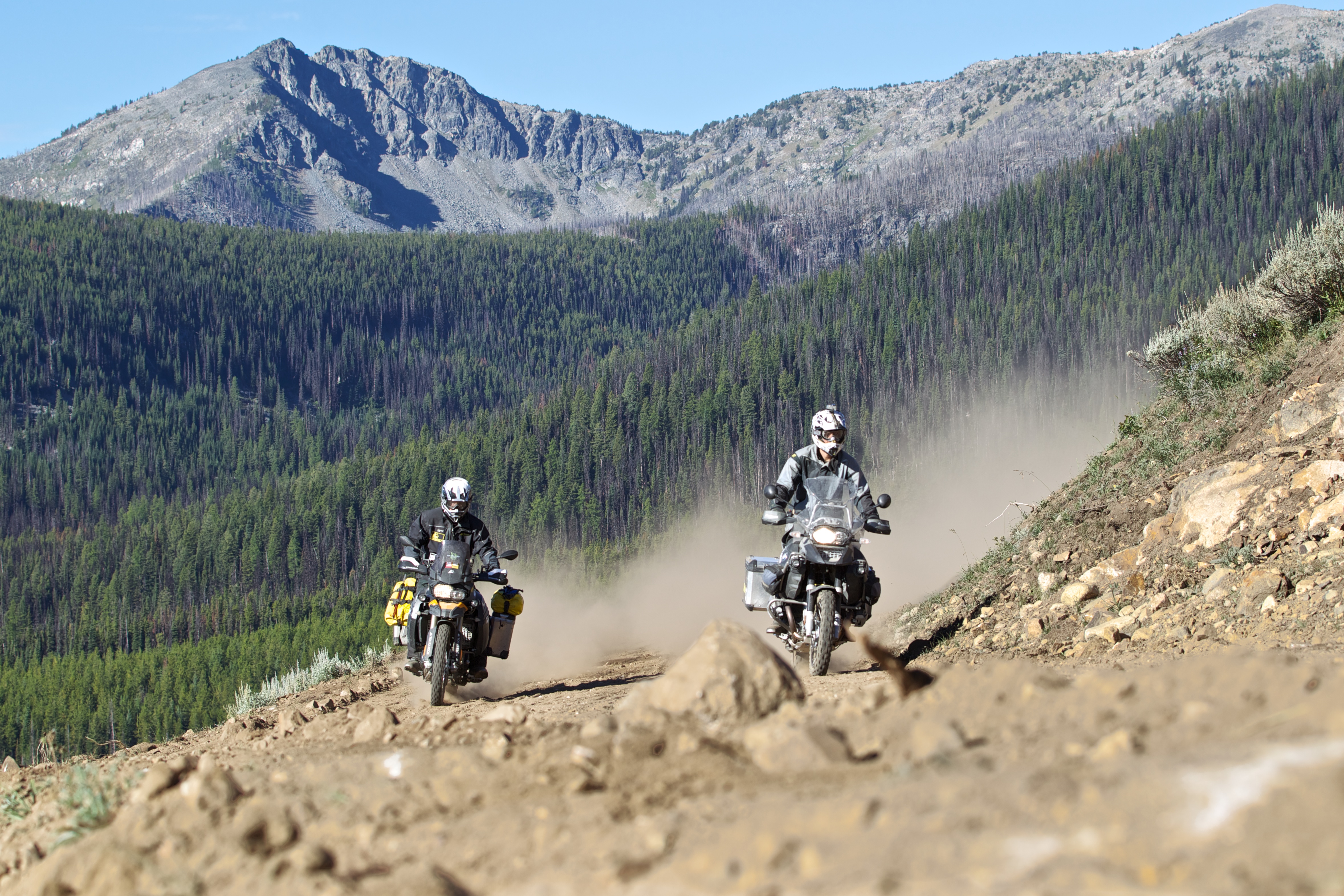 How difficult is the route? The WABDR route is designed to be ridden on adventure and dual-sport motorcycles, as well as driven in 4×4 vehicles. There are no single-track style trails on this route. Many of the roads are in remote areas and reach high elevation areas where road maintenance is minimal or non-existent. You can expect to cover sections of road with deep ruts, loose rocks, sand and other challenges. There are also sections that have steep grades combined with rough surfaces. You may also encounter sections that have trees or branches over the road. Some of the roads are overgrown with foliage, but are passable by both motorcycle and 4×4 vehicles. There are alternate "easier" routes around a few of the most challenging sections. Depending on time of year and weather, there may be a few small shallow water crossings, but none worth worrying about. Certainly nothing like the Malheur River on the OBDR.
What tires should I use for the WABDR? DOT approved knobby tires are strongly recommended. Our team members used either Continental TKC 80 or Dunlop 606 tires when we rode the route.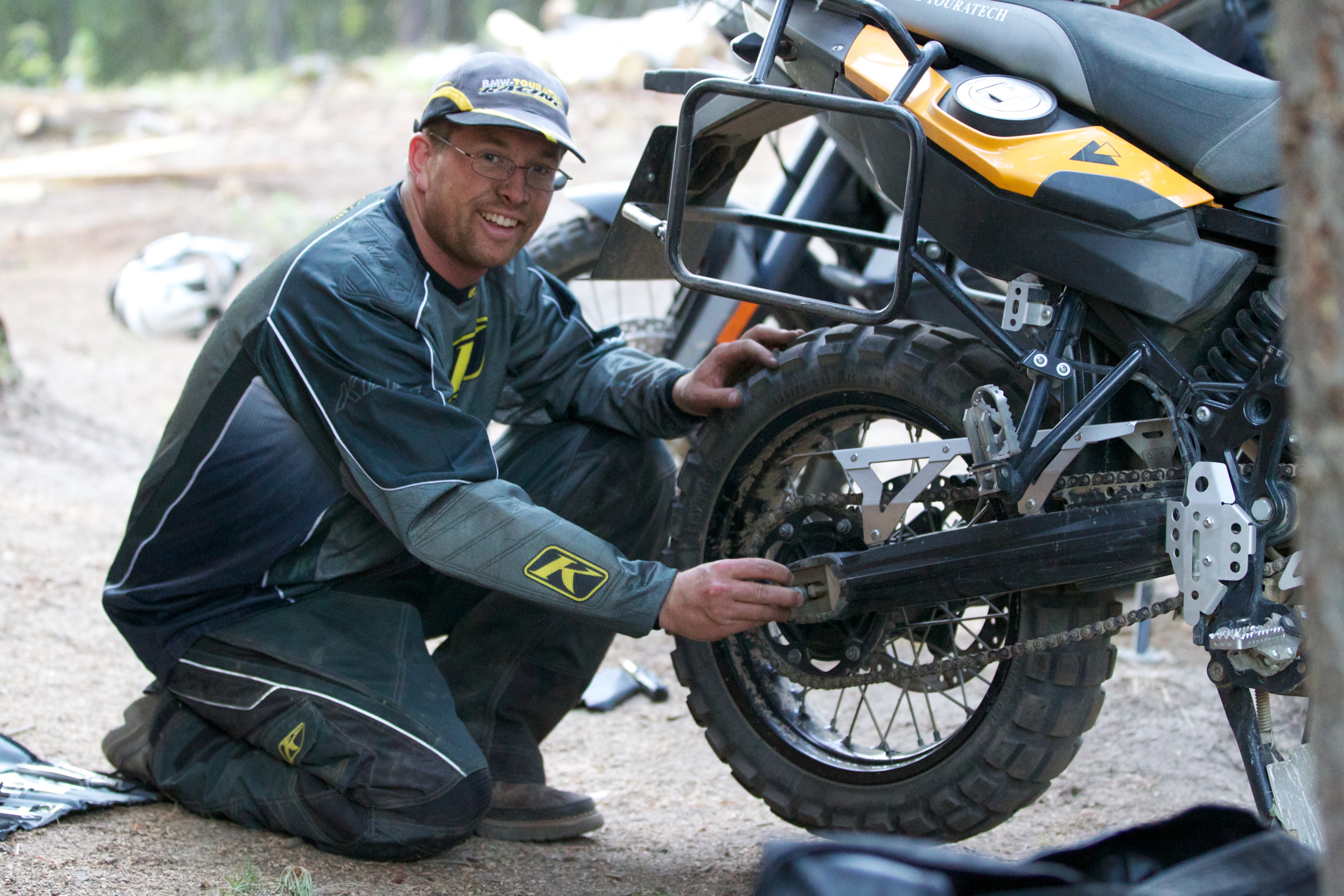 Are there any gates on the route? Yes, there are several gates on the route. Please make sure to close all gates that you pass through.
How long does it take to run the WABDR? Most people average 150 miles a day on a backcountry motorcycle trip. Plan on doing this route in 4-6 days depending on how fast you want to travel and how early you want to roll out of camp.
What is the highest elevation on the WABDR? The highest elevations are reached in section 6 where Lone Frank Pass reaches nearly 7,000 feet. The route starts at nearly sea level and brings riders up to 5,000 to 6,000 multiple times on each section.
How do I get information on current road conditions? Visit the Backcountry Discovery Routes Blog where you and other riders can post experiences, photos, and road condition reports.
Do I need to purchase a Washington Discover Pass to ride the WABDR? Effective July 1st 2011, everyone will be required to buy and display a discover pass on their street legal vehicle when using state recreation lands. The pass will be required for dual-sport and adventure motorcycles.
Passes are $30 per vehicle per year or $10 per vehicle for a day-use pass. Follow the link for additional information:
Is there cell phone coverage on the route? Much of this route is remote and out of reach for cell phone towers. There will be long sections with no coverage. Your best bet to talk or text is in the towns or on top of mountains. You will be surprised where you get coverage and where you don't. A satellite communication device is a good idea in the backcountry.
When is the border crossing at Nighthawk open? The Nighthawk border crossing is typically open 9am – 5pm seven days a week. The nearby border crossing at Osoyoos just north of Oroville is open 24 hours a day. The US Border Office phone number is (509) 476-2125. Remember to bring your passport if you plan to cross into Canada and check with your motorcycle insurance company to see if you will need to carry an additional proof of insurance card while riding in Canada.
Can I ship my bike up to the NW? South Sound BMW provides a safe and convenient location to have your bike shipped to the Seattle/Tacoma area. They will allow you to use their shipping dock and warehouse to facilitate the shipping of your motorcycle. In most cases there is no charge for the receiving service. Email service@southsoundbmw.com or call (800) 303-1838 for more information.
Photos by Helge Pedersen