By Ron Lieback
In this interview, we discuss some of the best places Jesse Szynal has been to and his advice for Tourtech customers and fellow riders.
We sat down with the president of Collected Threads, Jesse Szynal, a popular vlogger who's made a name for himself backpacking across Europe and South America with just a few supplies and his motorcycle.
He's toured on everything from a GSX-R750 to a Harley Streetglide, but for the past six years relied exclusively on a BMW R 1200 GS.
Collected Threads is a retail company that sells undershirts and also hosts Jesse's vlog, which can be found when you subscribe to the Collected Threads Youtube channel. Jesse's been to over 60 countries and has dozens of hours of videotape showcasing his journeys and some of the coolest places he's been to.In this interview, we discuss Jesse's transition from sales and chemical engineering into the amazing world of motorcycle backpacking.
As a proud Touratech-USA partner, Jesse also shares some of his favorite products with us and provides readers some insights into how they can get started backpacking internationally on their favorite bike.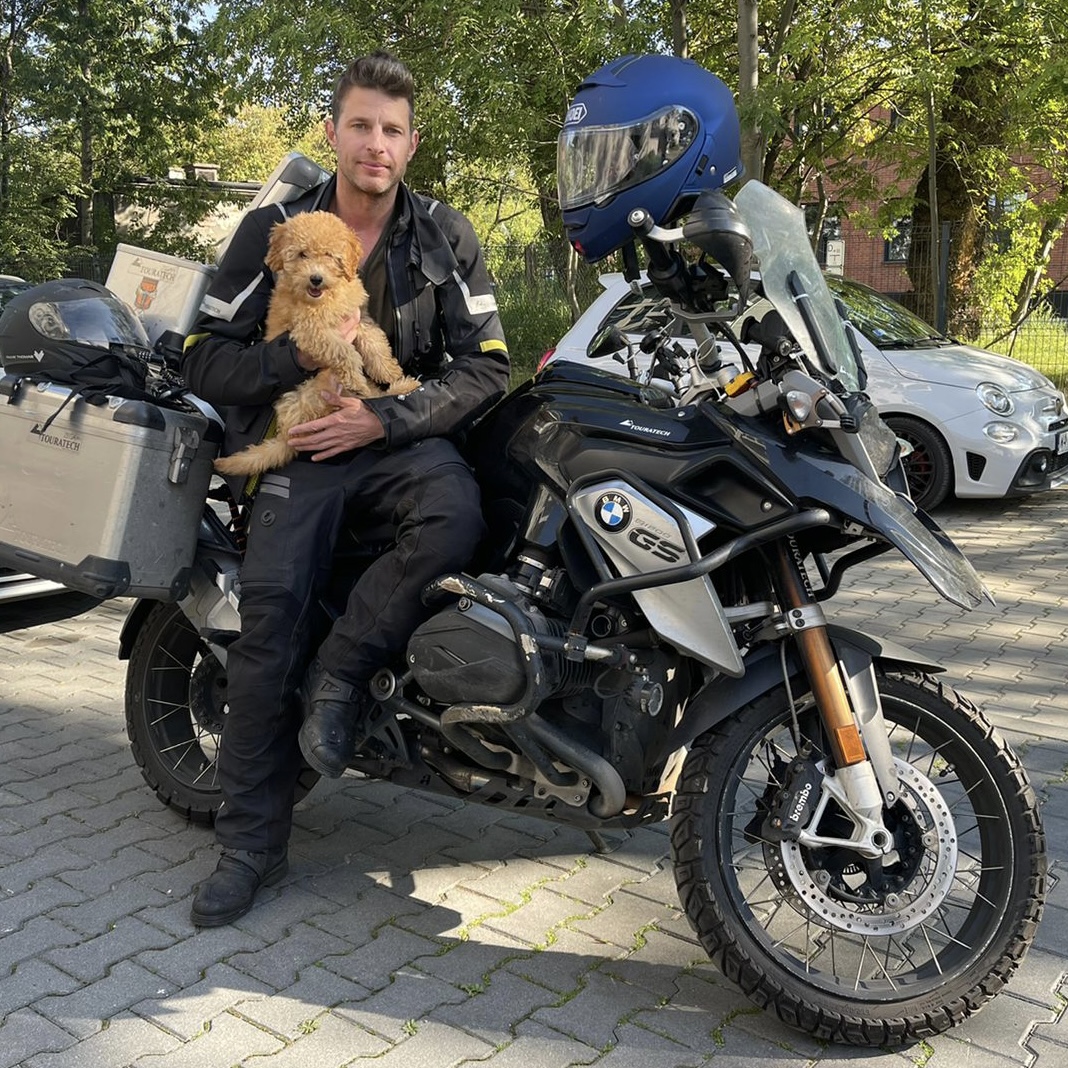 What caused you to switch from chemical engineering and sales jobs to riding around Europe and South America?
Answer: Wait, is this not a normal career progression?  Ha!  Great question–it was more of a gradual transition.  My obsession with travel started at an early age.I remember having free maps mailed to the house and studying them constantly, dreaming about what other places on earth might be like.  After college, I made the cliché solo European backpacking trip; from then on, I've been hooked. I came up with the concept for a completely unrelated product line in men's fashion and made the jump to entrepreneurship after 13 years of being an employee.  Somewhere along the way, I learned for me chasing time and not necessarily money is a more important goal.
What is your process for adventure? For example, how do you pick a country, what do you bring, what is planning like, etc.?
Answer: Twenty years ago, I would camp out in bookstores and pore over their travel section for fun–I swear I would eventually buy something after creasing a few bindings. I was convinced where to go by the number of books for a particular country. Noticing there would be seven titles on Italy for every one of somewhere else, that became the first destination.Now I take tips from fellow travelers, vlogs, travel documentaries, and Google images to stir my imagination.  Since I make travel videos for fun, big visuals are key.  Glorious landscapes, grandiose architecture, and anything unique that films well lands high on the bucket list.I've always brought a Lonely Planet travel guide – they speak my language and suggest great itineraries for the amount of time and mileage I want to do.  Add a drone, a Sony DSLR, lenses, two wheels, and clean clothes, and that's an adventure in the making.Planning?  I just chuckled a bit!  For this current trip the only plans made were getting my house rented and my motorcycle to London.  I was literally looking for a hostel when I landed. The fewer plans I make, the more intense the adventure.
Do you have any rules for these adventures, like completing trips at a certain time or trying to make friends everywhere you stop?
Answer: The first rule is to survive the adventure!  The second rule is to have fun, take lots of videos and meet as many locals and travelers as possible. People along the way can be the most memorable aspect, and it was actually a topic of my last travel films. Soaking up the local culture is another rule for adventure.  It's fascinating how different life and customs can be across the world.  I would say the two combined leave the most lasting impression. Lastly, try speaking the language; my Spanish is getting pretty good for a gringo!
What's your favorite story from your adventures, and what is one story that was a bit scary?
Answer: One of my favorites was staying at a hostel in Laguna de Apoyo, Nicaragua and seeing a gal I HAD to talk to.  I swore she was a local.  Turns out she thought I was German.  We chuckled after realizing we were both just boring Americans on solo trips.  Next thing you know, she's changing her itinerary and traveling with me for two months–then we dated for almost two years!  There's been a couple of scary moments, but one, in particular, was riding motorcycles with my brother in Colombia. We just picked up rentals in Bogota and were trying to find the downtown area where our hotel was. We asked some federal police where it was since our cell phones were dead. Pro Tip: make sure you have local SIM cards and a way to keep your phone charged from the bike. Google can be a lifesaver!  Next thing you know the police are telling us to go under this police Do Not Cross tape.  So we're riding through a completely blocked neighborhood, and instead of seeing locals mulling around, there are heavily armed police on almost every corner of this run-down area.  Each one is motioning for us to go further into the no-go zone–the whole thing gave us Mad Max vibes.
We pull over for a sidebar, and as we're agreeing we're spooked, a van pulls up and about 6 men in white lab coats and masks start filing out. The two of us looked at each other, started the bikes, and hightailed out of there!  Turns out the hotel was in the complete opposite direction.  To this day we're not sure what that was about, but we're glad we didn't find out.  Colombia turned out to be a phenomenal trip, though with no other dicey moments.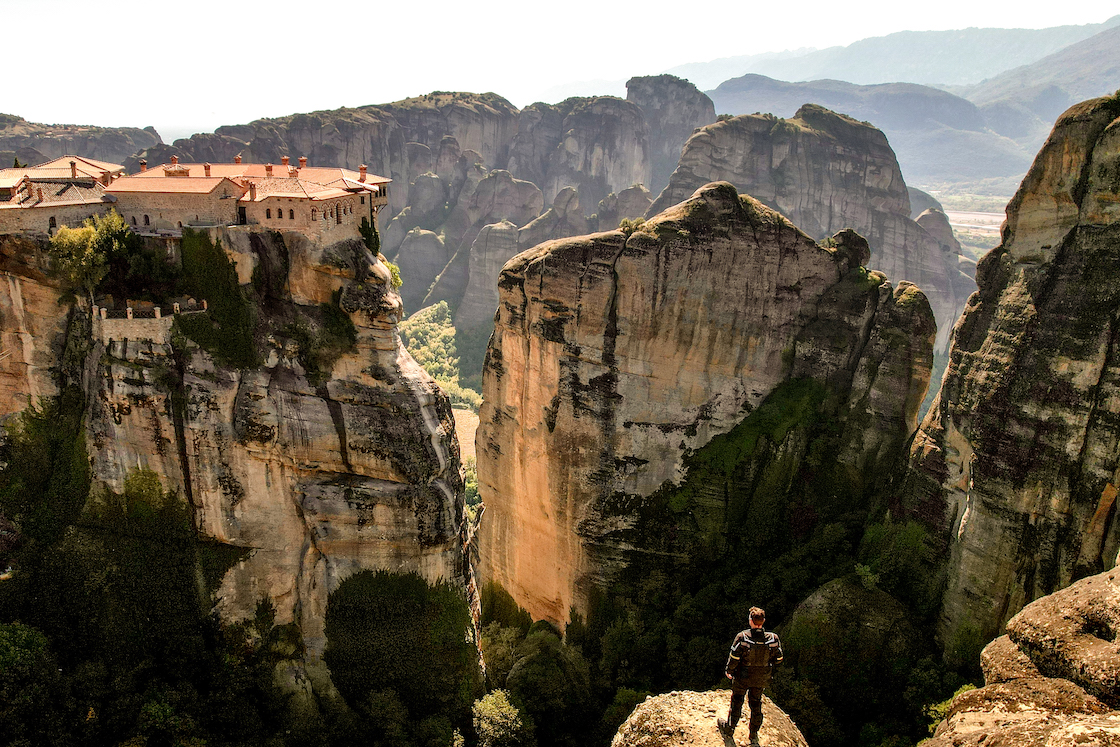 What's one country or area you'd recommend for beginners to motorcycle backpacking?
Answer: I would highly recommend Mexico to anyone thinking they might want to dip their toe in.  Baja California could be the beginner trip, then graduate to 'mainland' Mexico. Importing a motorcycle is pretty straightforward at the border and the breadth of scenery from California/Texas down to Tulum is unbelievable.  There are so many great cities, from Guanajuato, Zacatecas, Puerto Escondido and San Miguel de Allende to the more traditional tourist areas of Playa del Carmen and the cenotes (swimming caves) in the south. The Copper Canyon in the north has some great visuals, and the ride to Batopilas is not to be missed. The culture, people, and food make for a great adventure, and the costs of hostels and budget hotels are perfect for smaller budgets.
What is your favorite place or stretch in the world to ride down so far?
Answer: I've seen about 60 countries so it's tough to choose but two months ago I rode the fjords of western Norway and I don't think that much continuous, magical scenery has wowed me in my life.  The active volcanoes in Guatemala and the Amalfi Coast, Italy, from Sorrento to Salerno are notable runner-ups.
What's your favorite bike for overseas trips?
Answer: I've had GSX-R750s and Harleys from custom bikes to the Streetglide.  There's also a KTM 500 EXC in the garage for fun in the dirt. All are great for their own purpose. It was the week after we rented BMWs in Colombia I listed my Harley for sale and bought a GS. I was convinced that's the best for a foreign adventure–6 years later, I'm still a believer in the 1200.  Fellow riders might say it's heavy for offroad–which it is for single track–but you cannot beat the balance and power it has for hauling serious luggage.  When the roads get rough like many parts in the world–Guatemala, Costa Rica, or any cobblestone cities come to mind–the stock suspension is plenty. Granted I'm on the smaller side, so bigger guys might need to beef theirs up. However, the brakes and rider modes give me more confidence to stay safe, and the upright position allows for thousands of comfortable miles on the tarmac–not to mention the low maintenance of the shaft drive and 6000 miles between oil changes.  I'm never worriedabout shining chrome; I'm just laying down serious mileage with a bike that goes and goes.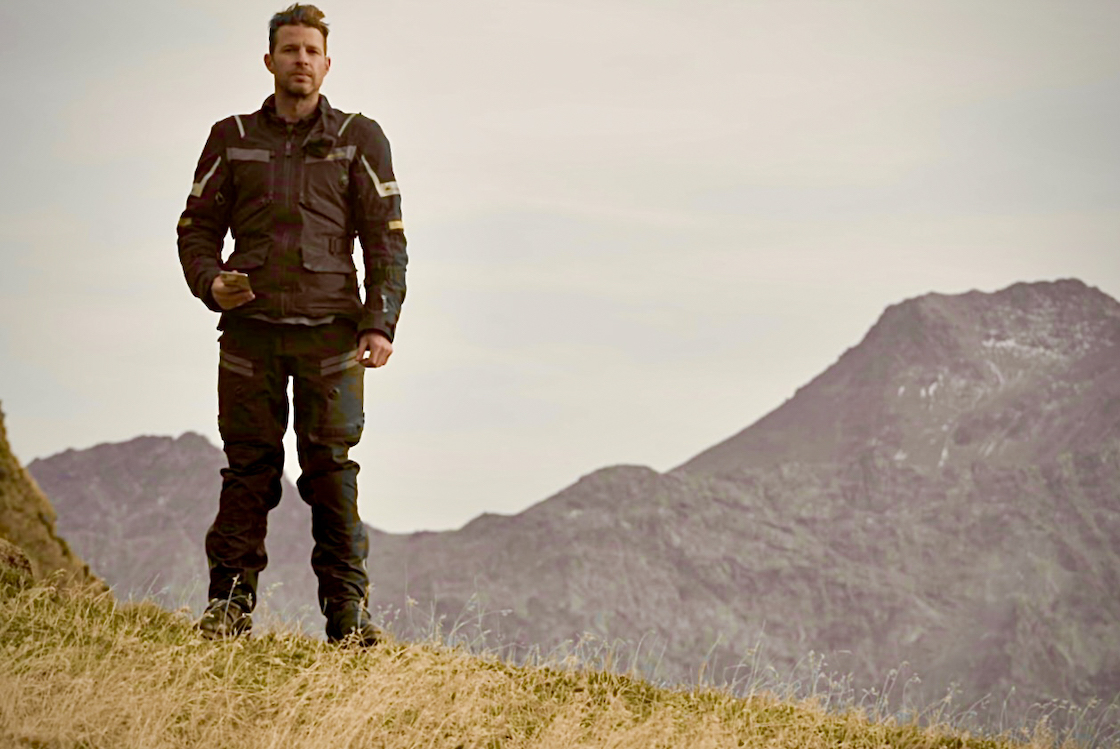 Why do you use Touratech products, and why would you recommend them to others?
Answer: Full disclosure, I'm now a Touratech-supported rider, so in exchange for video content, I ride with certain provided gear.  That said, I purchased ZegaPro panniers long before the arrangement was in place, in addition to many other parts over the years. For so long I would ogle the add-ons in their massive catalog and wonder what kind of adventures I could get into any time I saw their dressed-up bikes at the motorcycle tradeshows.  The quality is outstanding, and every part can take a beating.  From the wet bag I use for laundry that doubles as the perfect backrest to their inner bags that are great for custom foam inserts that protect the video gear.
The solid panniers have been crashed many times over, and they function no matter what.  They're also lockable,which is great for security when you can't keep your eyes on the bike.  Now I'm riding with the Companero Rambler suit, and the warmth for cold, rainy conditions of Scotland or Ireland is a must.  That weather would have ended my trip early had I not been riding with Companero Goretex, the removable inner liner, and their Rambler GTX gloves.  Proper, comfortable riding gear will make or break these trips.
As an aside, I've also met a handful of the Touratech team from Seattle to Germany.  These folks are riders and know their stuff from top to bottom. Innovation stems from their employees and customer input. They will also help out in a jam, as witnessed firsthand on this trip.
What are some essential supplies you need for an overseas adventure?
Answer: As mentioned, a working phone is key because most GPS' cannot compete with the wealth of information on Google. I'm not a fanboy, but data is crucial on the road.  Most days, I'm finding campsites, hotels or hostels in the evening once it's quitting time. I also bring my MacBook since I still need to work from the road.  For this trip, I packed a tent, air mattress, pillow, and a 15-degree sleeping bag in ONE of my panniers. I've never camped before, but budget hotels were almost non-existent this summer in Western Europe. I think I've done 80% of the last 5 months outside.  A headlamp, tools, extra batteries, backup cell phone charger, tire pump, tire pluggers, shakedown cash in certain countries, and of course,some way to record your adventures.  How else will you make your friends jealous?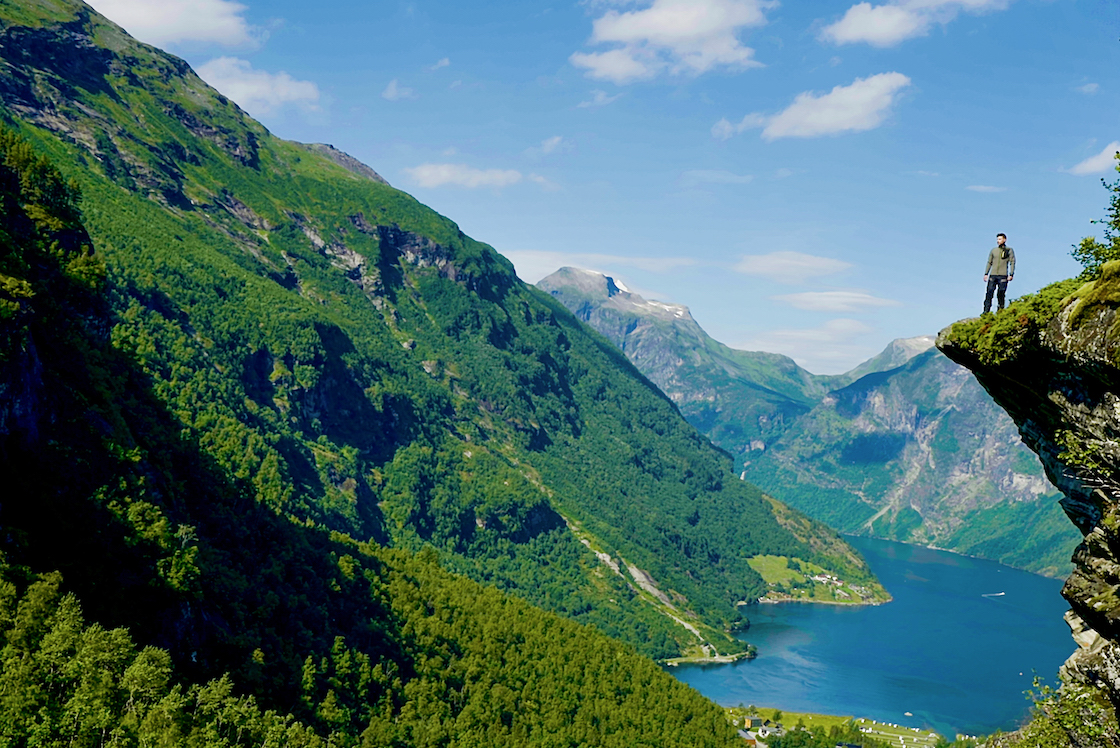 What's your budget look like for one of these trips? Are they more or less affordable than one would think?
Answer: Great question; let's get into specifics. It costs $3100 to fly my GS one way from Los Angeles to London using Delta Cargo.  That sounds expensive until you consider 6+ months of renting and the fact you might be limited by rental company rules on what countries the bike can enter. Shipping on water will be about $1000 less, although you'll be without your ride for ~3 weeks instead of one and the clearance paperwork is a little more involved. Western Europe is probably the most expensive place to do this type of trip, and with the high price of gas ($6-$10/gallon), I squeak by on $100-$150/day. I prefer to dine at local restaurants, so if I cut expenses with free-roam camping (Scotland, Scandinavia, etc.) or $10-$25 campsites, that leaves plenty of cash to eat and fill up the tank.  Other expenses like ferries must be considered depending on the route.  Heading to Mexico/Central America/Eastern Europe/Asia might slash the daily budget by half.
Where do you plan to go next?
 Answer: I'm already on the road and starting to get the itch to keep going east–maybe as far as Asia.  While the living expenses will be less, the Carnet de Passage required in some of the transition countries could add considerable expense.  That's a work in progress, but I'll keep you posted.
What's one tip you'd give to anyone trying to do what you do?
Answer: Find out how to go for however long you can.  Stop dreaming and make it happen!