By Ron Lieback
Touratech-USA has expanded to the east coast, providing riders east of the Mississippi an opportunity to interact with the products and expert staff personally.
Launched in 1990 by German world travelers Herbert Schwarz and Jochen Schanz, Touratech became the world's first adventure-motorcycle-focused aftermarket accessories brands.
The products, highlighted by Zega pannier systems and motorcycle protection for the top-selling ADV models, garnered the worldwide attention of serious long-distance tourers and weekend warriors alike.
Soon Touratech shops began spreading around the globe. To date, Touratech is now represented in 45 countries, including the USA, where stateside operations called Seattle home. Due to the brand's popularity among American riders, Touratech decided to spread its ADV love to the East Coast, opening another shop in Brookfield, Connecticut.
The store allows something many ADV riders crave before purchasing—hands-on time with higher-priced items such as the Zega Evo Pannier system or Garmin GPS units or trying on Touratech Adventuro modular helmets or Klim gear. The shop acts as a storefront with many of Touratech's latest products on display, including crash bars, skid plates, suspension, luggage, GPS, and of course, apparel.
But it's not only Touratech products; many other brands associated with Touratech are sold at the Touratech East shop, including Garmin, CruzTools, Backcountry Discovery Routes, Sidi, Ram, Butler Maps, and others.
The shop also doubles as a distribution center, which reduces shipping times and costs for customers east of the Mississippi; all customers west of the Mississippi receive their products from the Seattle shop.
The storefront also has a few adventure motorcycling experts on hand to answer any questions.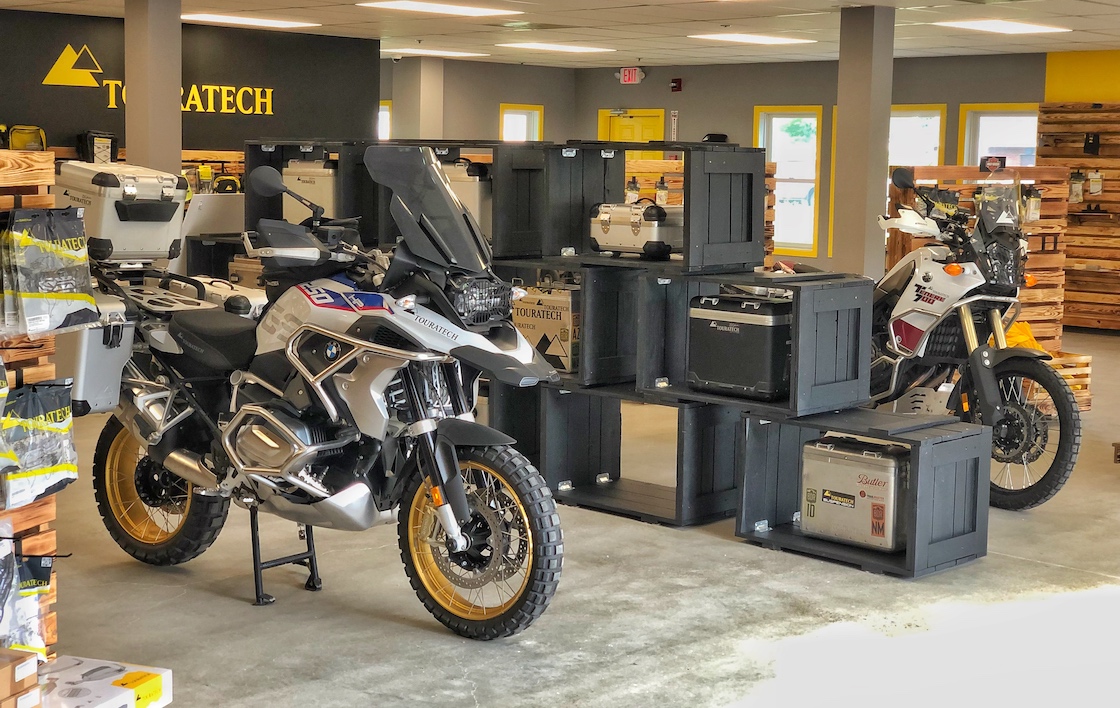 We talked with the man who helped get the shop on 67 Federal Road up and running and now manages it, Steve Pospolita.
The central Connecticut native has spent over 30 years in the automotive/powersports/motorcycle industries, including much time with products like Holley Performance Products. He also spent 16 years at a popular motorcycle magazine and has a huge passion for the Touratech brand and its products.
Speaking of the opening of the Touratech-USA East, Pospolita, General Manager of Touratech-USA East, says "The popularity of ADV bikes has exploded recently. The versatility and comfort of ADV bikes are finally being recognized. New England and east coast riders are realizing the potential of riding ADV bikes on and off-road. Riders love when a company caters to their passion, and Touratech does just that. The company is now represented on the east coast, becoming a destination for many riders up and down the east coast."
Although the store has only been open for two months, it has already become an ADV stopover for many travelers. Pospolita says part of Touratech's goal is to have the shop become a stop for long-distance travelers, and many have already made the store a stopover on their ADV treks. The store was recently visited by a group traveling from Florida to Canada and a solo rider traveling from Pittsburgh to Maine. "We also get regular customers from Albany, New Jersey, New York, and Pennsylvania. The word has spread quickly!"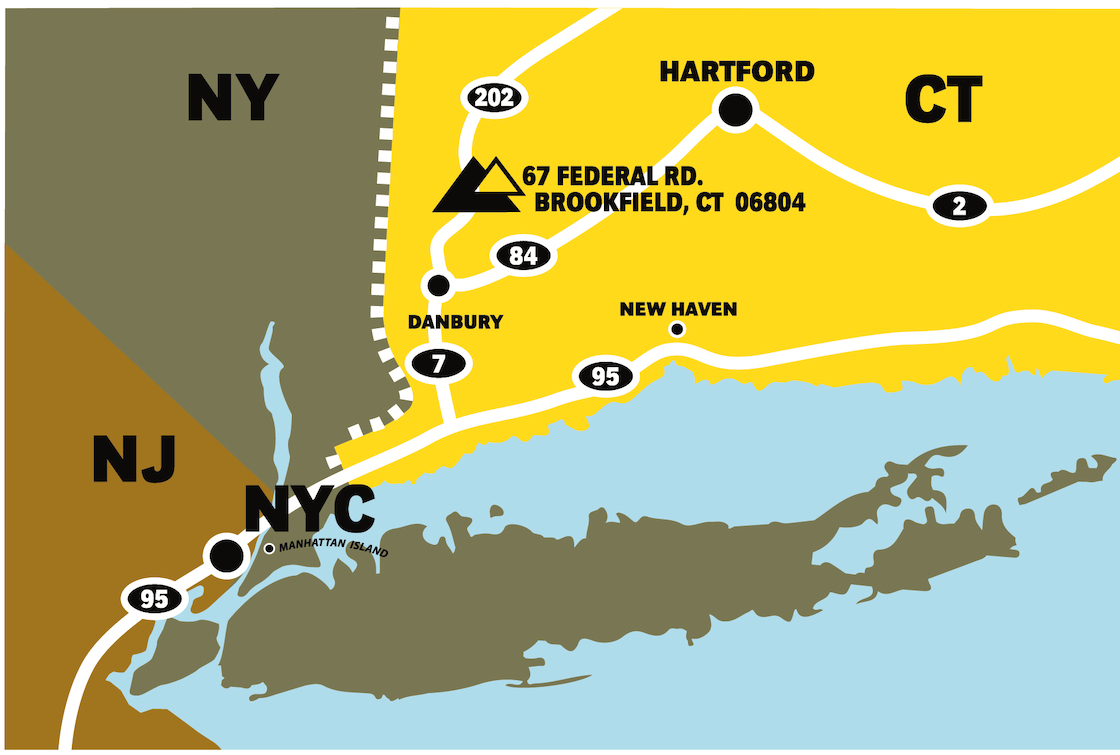 Although the shop doesn't provide parts installation, Pospolita has a toolbox in the back to help out. He has provided wrenches to customers who have installed parts on their motorcycles right outside the door's entrance.
Customers experience a wide display of products, including a fully kitted BMW R 1250 GS and Yamaha Ténéré 700. The store has sections dedicated to models like the KTM 1290 Super Adventure and Harley-Davidson Pan America. There's also a red display with basically every CruzTools available and a green stand dedicated to the Backcountry Discovery Routes, including Butler Maps, DVDs, and stickers that long-distance travelers crave, among other things.
The back of the store acts as a distribution center that gets a visit from delivery service trucks twice daily—products come in just as quickly as they are shipped or sold within the store.
Speaking of the success of the store so far, Pospolita says, "We've had a soft launch and only open a couple of weeks, but the positivity is flowing—something expected of adventure riders with happy attitudes. So far pannier cases and riding gear—especially gloves—have been the top sellers. And many are happy they can come touch a product before making a purchase. That's just the nature of this type of product-based market. We just heard a customer quote at the front counter "everything I need within 150 miles of my house. Oh yeah!"
Looking to visit? The store follows the same schedules popularized by automotive and motorcycle dealerships within the New England area, offering a Tuesday through Saturday.
Touratech-USA East, Brookfield
67 Federal Rd.
Brookfield, CT 06804
Phone: (800) 491-2926
Store Hours:
Tuesday–Friday:9:30 a.m. – 6 p.m. ET
Saturday: 8:30 a.m.– 5 p.m. ET