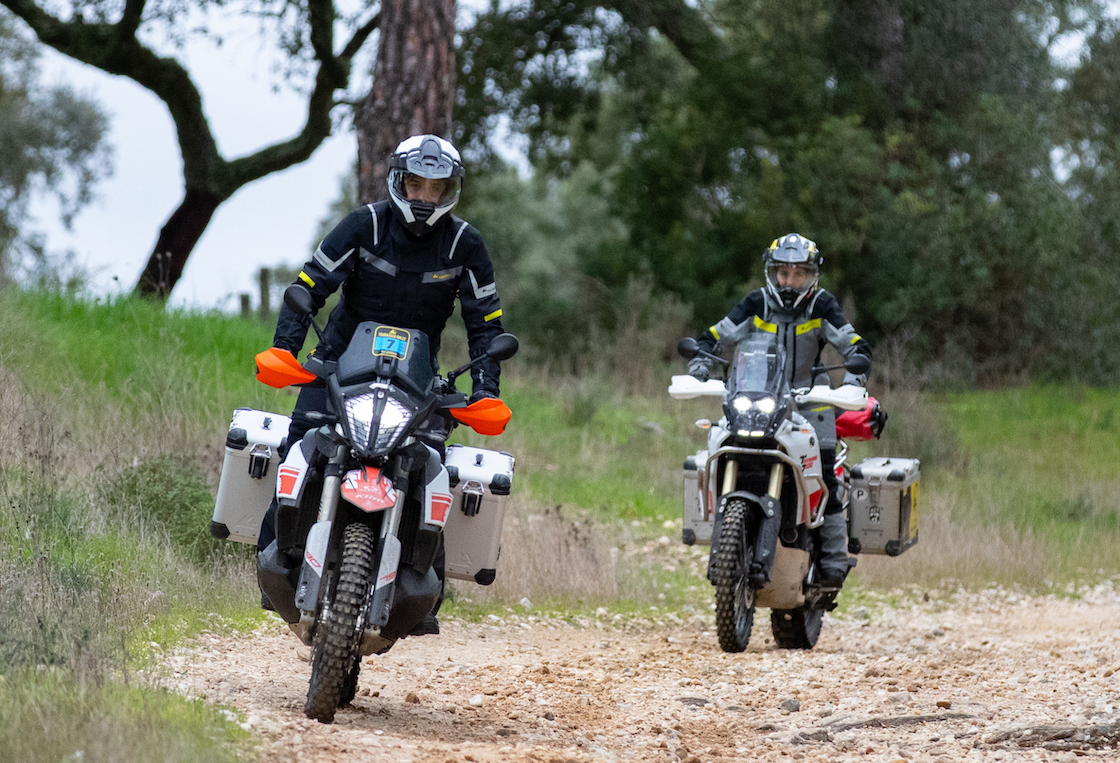 By Ron Lieback
ADV riding gear demands much besides protection, including comfort while standing or sitting. Here's your guide to ADV riding gear and tips from a seasoned rider.
When adventure touring becomes your lifestyle, so does the pursuit of the ultimate gear. Not just any type, but ADV riding gear that caters to this specialized genre of riding.
The primary functions of your riding gear are to protect your body in the event of a crash while keeping you comfortable during the ride. The comfortability has a main indirect function, also—to keep your energy focused on the riding, which helps prevent crashes and simply makes you happier.
The problem for adventure motorcyclists is that conditions change drastically throughout the day. Within an hour you can go from a rainstorm on a highway that keeps you cooler to a dusty, humid trail that has you standing and working up a sweat. Your gear must not only provide comfort from the elements, whether cool or hot but also remain comfortable whether standing or sitting.
Apparel OEs are challenged with designing the optimal gear for all conditions, and the offerings grow every season. And so much is available nowadays at drastically different prices, from $300 and $700 helmets and $30 to  $200 gloves, and everything in between.
So what should you look for in terms of quality design?
Here's your guide to what qualities to seek in ADV riding gear—from the perspective of a seasoned rider for a seasoned rider. Take note that the qualities listed here are pricey, but you definitely get what you pay for.
With that said, one of my favorite suits is still the original KLIM Badlands Pro that I've worn since it debuted in 2011. I have well over 100,000 miles on this suit, and at least 10 off-road crashes, and it's still my go-to suit for serious adventure riding.
If only helmets didn't have a five-year safety period from the manufacturer's date, I'd still be wearing my first-ever Arai XD4.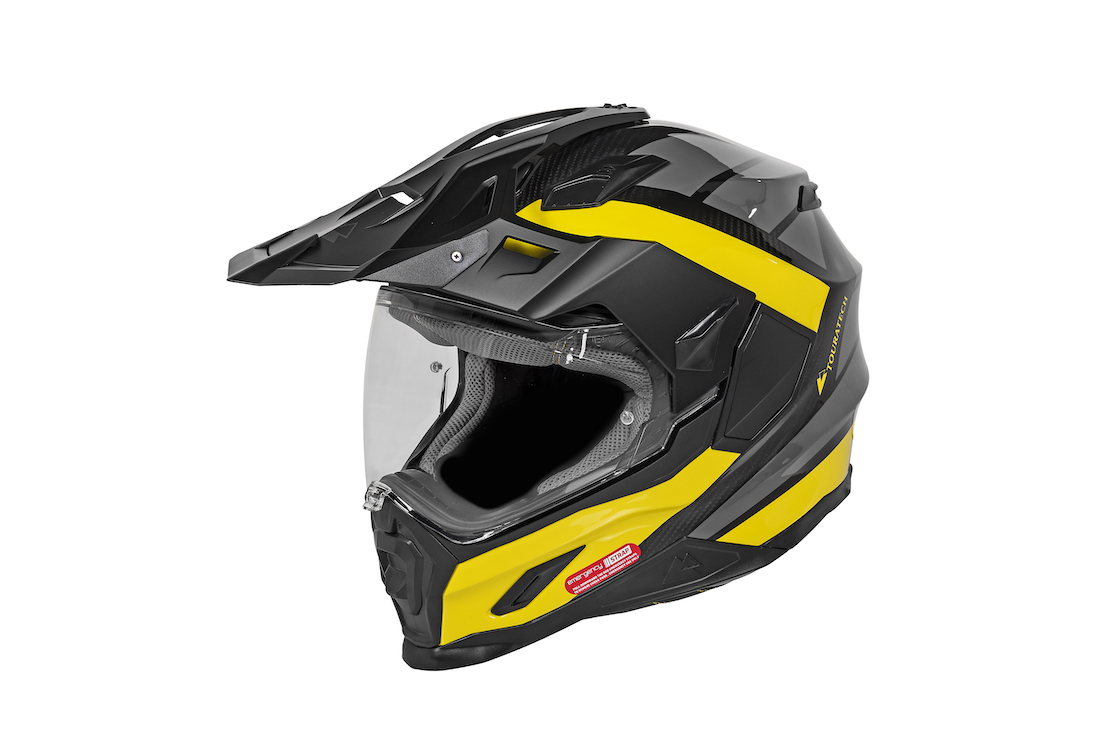 Adventure Riding Helmets
Ever seen a rider with a $25,000 adventure bike and a $100 lid? I see it often. One rider I knew did exactly this. He bought a totally specced-out R 1250 GS, but when it came to gear, his entire kit cost less than $400. After a few weekends, he became angry due to being uncomfortable, which led to frustration and the eventual sale of his bike.
Don't be that rider—especially when helmets are involved.
ADV helmets are the most essential part of your gear, and money spent here is well spent. Not only can it save your life during a crash, but a quality lid can also provide a more enjoyable ride due to higher comfort levels.
Here's where I put my brains into the most trusted lids available that comply with both DOT and the European ECE 22.05 safety standards.
Next is overall design: street style, dual-sport, or modular? Most adventure riders use a dual-sport style with a sun peak, and others modular. Some like to combine both designs, such as the Touratech Aventuro Traveller, one of my go-to ADV lids, especially when riding often off-road (the other is an Arai XD4).
If you are using a dual-sport style helmet with a peak, remember that wind buffeting can cause discomfort on faster or sustained highway rides. Look for a lid that has a peak that either cut through wind or are completely removable. I tend to remove my Aventuro or XD4's peak when slabbing it for anything longer than a half-hour or so. The little effort to remove them—although both helmets offer nice wind flow through the peak—keeps me more comfortable, and thus focused more on the ride.
Comfort is key, and the only way to truly know is to wear one for more than an hour—that's when the hot spots will be noticed, and whatever other comfort is there. Many online markets allow free exchanges of lids within 30 days.
If you're going to put a few hundred dollars into a helmet, make sure it's comfortable. Wear one at home for an hour or so, and make sure the comfort is there—look for hot spots that annoy a certain part of your head, and the actual feel of the helmet's inner liner/cheek pads.
Not happy? Ship it back and try something else. All other factors won't matter if the lid is uncomfortable, to begin with.
The next essential element is ventilation, which can vary drastically between lids. This is where reviews come into play. Study what the top publications are saying. Ventilation will always be a top mention.
Personally, the Arai XD4 and Touratech Aventuro Traveller (modular lid) both offer comfort for my head shape. I use the XD4 for longer travel due to the increased ventilation and comfort, and the Aventuro for shorter, weekend, or day rides.
Adventure Riding Jackets and Pants
Besides protection, adventure riding jackets and pants need waterproofing, ventilation, and comfort while sitting and standing. The latter is what increases the challenges for apparel manufacturers. But many have nailed the design, though, like helmets, you get what you pay for.
Nothing beats Gore-Tex when you're looking to stay dry and comfortable. The material is fully waterproof and breathable, and as long as you have your zippers closed, and toss the garment in the dryer annually to reactivate the waterproofing molecules, you'll remain dry.
Gore-Tex also provides added abrasion resistance, something your jacket and pants must have to keep protected. Other elements to seek are comfortable elbow, shoulder, back, or other armor.
Technology has grown tremendously in armor over the past decade, including a favorite of mine, D3O. This material remains flexible until impacting something. I blame it for saving cracked bones numerous times, especially one time when a branch knocked me down at like 80 mph. I was standing and had my chest D3O protector in my KLIM Badlands. I went flying but didn't break anything. I was impressed, and quickly became a loyal fan of this protection.
Also, check for comfort and movement while sitting and standing. If you can test apparel out at a local shop or dealership, do it. Or buy from someone with free exchanges. If you're going to spend serious money on apparel, make sure it's as perfect as possible—though we all know that quirks will surface eventually.
As for my picks, I go with anything from KLIM. My go-to for ADV riding is the Badlands Pro. It's top of the price range, but you get what you pay for—including armpit vents which make a drastic difference when riding. I also have a Baja 4 for extremely hot temperatures, but you must carry a rain suit with you, which is a PITA but is worth it for the hotter weather—especially when rain is not expected.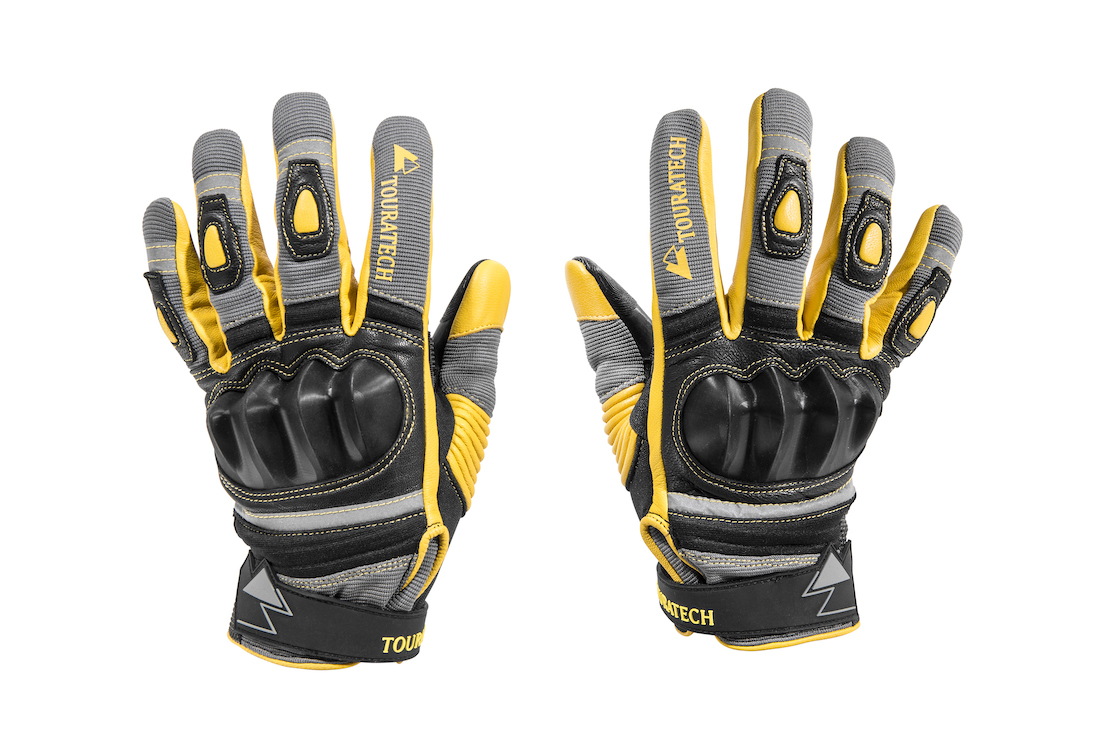 Adventure Riding Gloves
When it comes to adventure riding gloves, I'm super picky. So picky that I typically bring four pairs with me for one day of riding.
Comfort is key here. Nothing can destroy comfort, and subsequently a distracted mind that reduces safe riding, then gloves that are too tight or loose, and don't get me started on longer fingers.
And beware of some waterproof liners. If you're hands get sweaty, the inner liner can quickly become jumbled underneath the outer layer of the glove.
The solution here? Gore-Tex (you can see the trend here).
For hotter weather, I always have a pair or two of gloves that offer some mesh. Some favorites here include KLIM's Baja 4 and Dakar gloves, and the Racer Rallye Glove.
In regards to rain gloves, KLIM GTX short cuff and Badlands GTX long glove.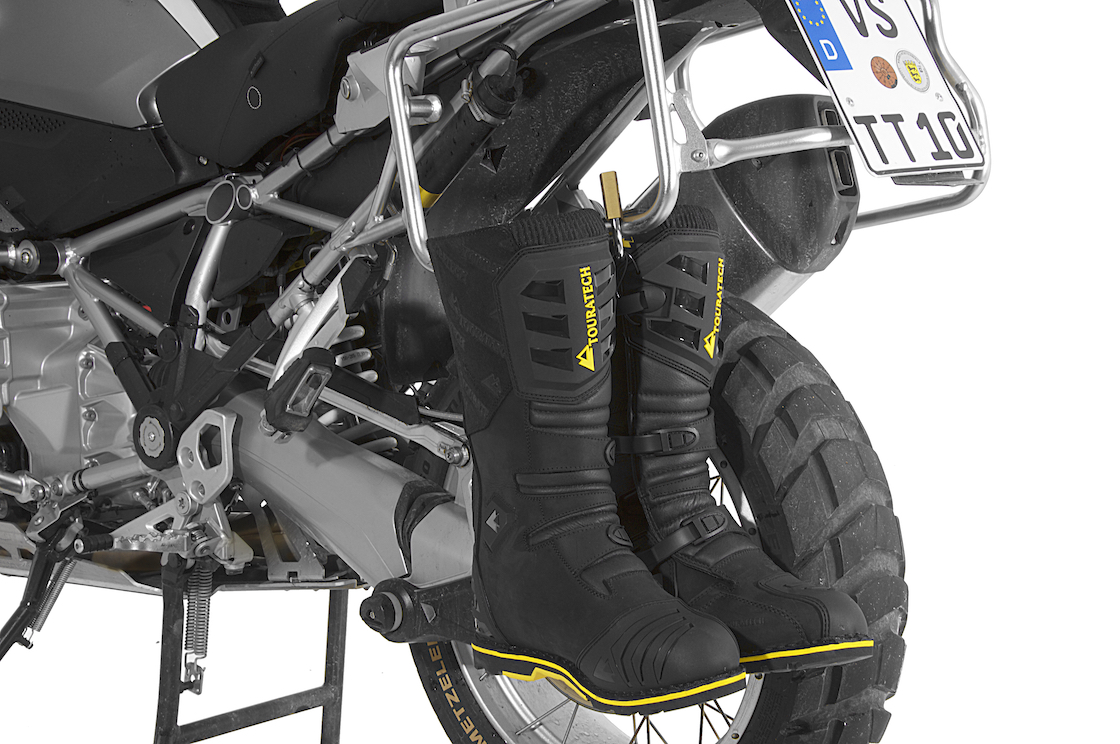 Adventure Riding Boots
For me, ADV boots all come down to waterproofing. I can deal with sweaty feet, but most of the boots I've ridden with over the past decade didn't provide any breathable issues.
I tend to wear more street-focused boots because I use super-sharp pegs on my adventure bikes, and like the comfort and quicker access to remove them.. I have yet to have any issues with slipping or breaking ankles, so I've been fine so far.
But a grippier sole does help when riding in mud or long stretches of rain off-road.
As for construction, Gore-Tex is once again the way to go here; it's breathable and guaranteed to keep you dry.
My picks for ADV boots are the SIDI Adventure 2 Gore-Tex Boots, Alpinestars WEB Gore-Tex, and Spidi X-Trail Outdry. The latter are more of a sport-touring boot, but they offer super amazing comfort across all styles of riding, though you do need grippier pegs if you're doing any standing off-road in muddy or wet conditions.
In 2022 Touratech will be releasing the much anticipated Destino GTX boot!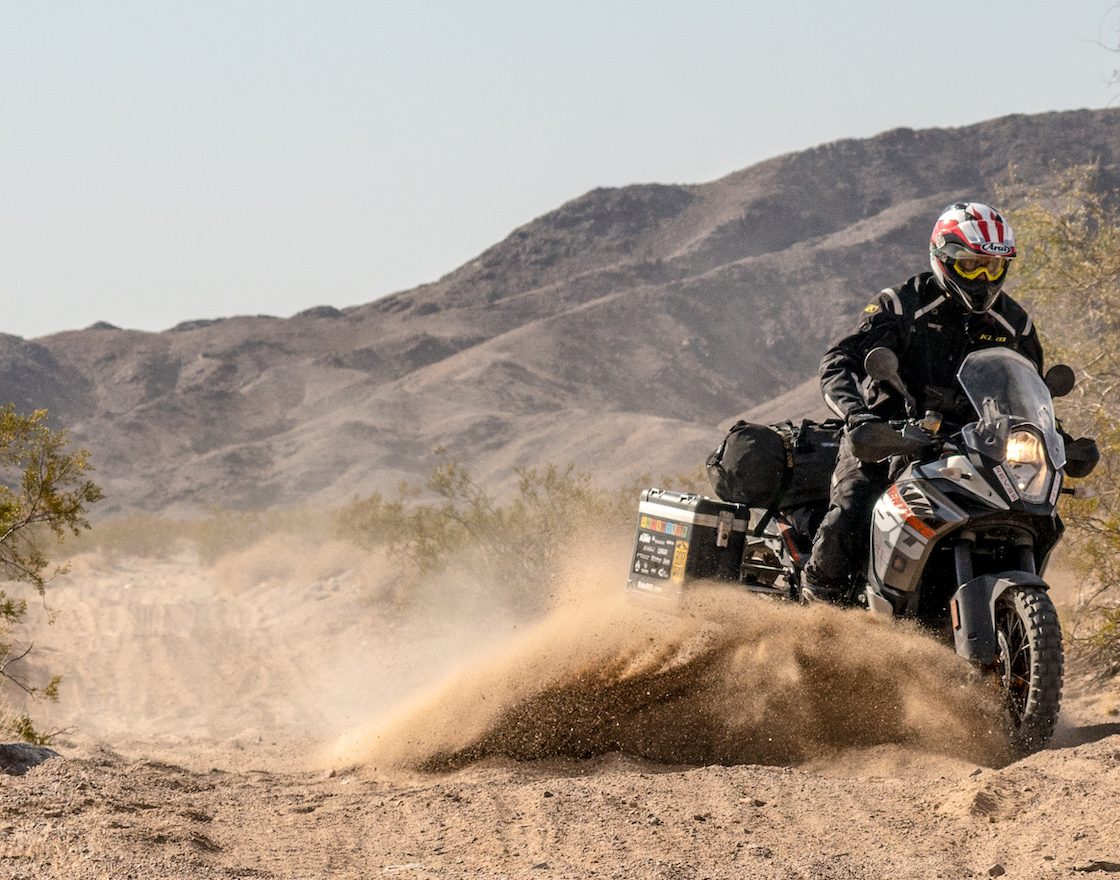 Adventure Riding Base Layers & Socks
I never ride without base layers. They provide comfort in the hottest or coldest of temperatures and everything in between. Plus I despise the feel of a jacket/pants liners on my skin.
Find good breathable base layers for each season. I use Touratech's Primero Allroad base layers for anything above 50 degrees Fahrenheit, and the Primero Alpine for anything below 50 degrees. These use a unique blend of polyamide and polyester that keep you comfortable.
Also, add in a neck gaiter for added comfort. They keep you cool in the summer—especially when you soak them with water when stopped—and warm in the cooler months.
Now that I covered my thoughts on what qualities to seek in ADV riding gear, here are some tips to get the best out of your gear and comfort.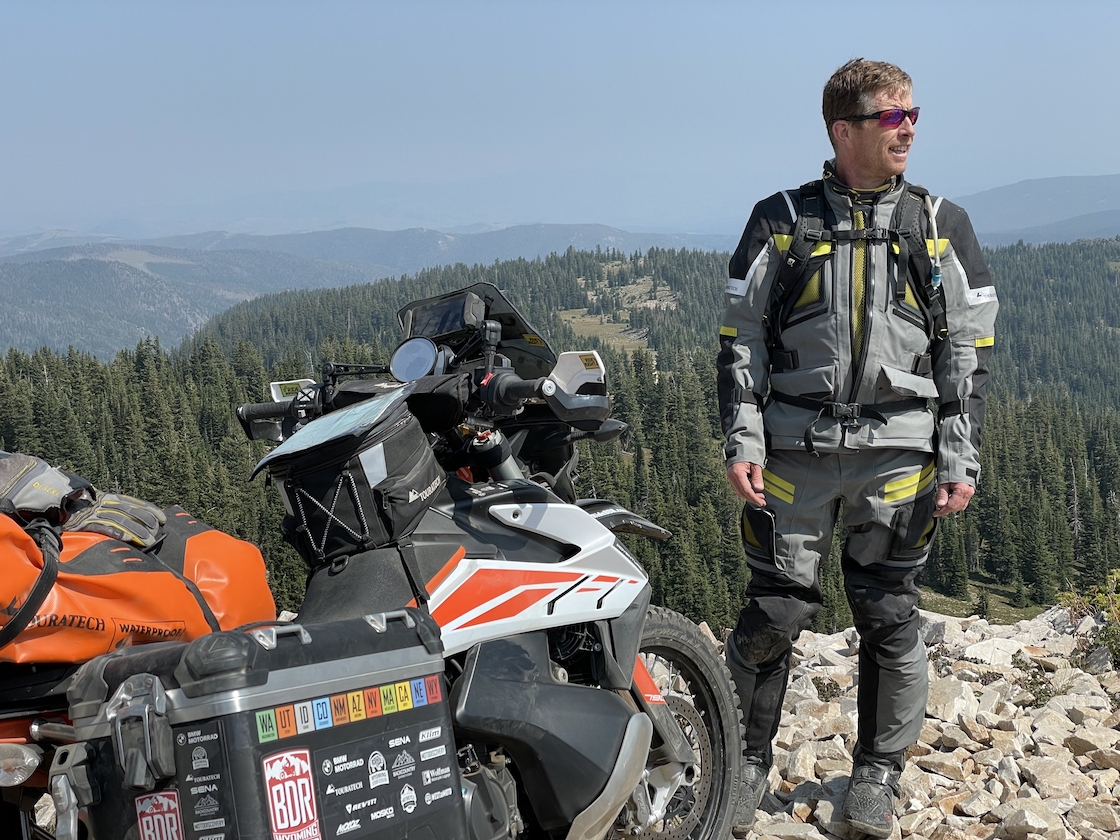 ADV Riding Gear Tips for Comfort and Safety
Layer Up: If you want to ride for a long time under the constantly changing conditions adventure riders face, layer up. You can remove layers or add them as needed. I wear base layers religiously, ones for colder temps, and others for hotter temps. I always have a zip-up mid-layer in the bags, and, depending on the brand, a jacket liner when it's colder. Also, keep extra neck gaiters handy—use one for dipping in cold water throughout the warmer days, and replace it with a nice dry one for when the temps drop. And I'm a fan of different gloves throughout a day's ride. I sometimes bring four pairs with me for a single day of riding. Comfort is key for my safety (although I may be slightly neurotic when it comes to comfortable hands).
Air Out and Store Gear in the Tent: If you're camping, allow your apparel, including your boots, helmet, and gloves, to air out (of course if it's not raining or foggy). I typically dress my bike in my gear, hanging the jacket over the windscreen, gloves on mirrors, pants, and boots across the seat, and helmet wherever there's room high on the bike with the visor open. Once it had time to breathe, I store it inside the tent—down by my feet because stuff gets stinky. Also, make sure to shake out well before storing due to bugs.
Clean Upon Return: When returning from an ADV ride, give your gear a good scrub. I sometimes go for months without cleaning my bike (except that chain!), but my gear is cleaned religiously after most rides—especially the dusty ones without any rain. I hose it off and use a light brush, and hang the gear to dry either outside or in the garage. This helps keeps the gear fresh and lasts longer.
Wax Zippers: A must-read for adventure motorcyclists is Helge Pedersen's 10 Years on 2 Wheels. Pedersen also has loads of tips for riding across the world, including one of my favorites—waxing your zippers. This keeps the zippers lubed and working while blocking dirt and other particles. It helps prevent many breaks, also, something I have experienced way too often while testing cheaper gear, which brings me to the final point.
Always Pack Safety Pins/Duct Tape: For me, zippers break at the worst time. This happened on my last trip while riding 750 miles to my home in Northeast Pennsylvania from Georgia. As soon as the sun began descending, the temps dropped about 10 degrees. I went to zip up a leg vent on my SPIDI suit, and the zipper jammed into the perforated layer and split open. I had forgotten safety pins and tape, so my right leg was cold during the trek back. Thankfully it didn't rain, or I would have surely wrapped a neck gaiter around my leg.
If you're looking to ride safer and longer, the above ADV riding gear qualities will help you achieve this mission (as will the tips!). Armed with this knowledge, happy shopping. There's plenty of amazing gear available, and everyone will have a perfect style or fit for their unique comfort needs. And remember, the upper brands may be more expensive, but in the long term every penny is worth it. The gear will likely outlast the least expensive models, and the safety factors will surely be higher.
For more, check out our other blog that focuses on choosing gear for beginner riders.