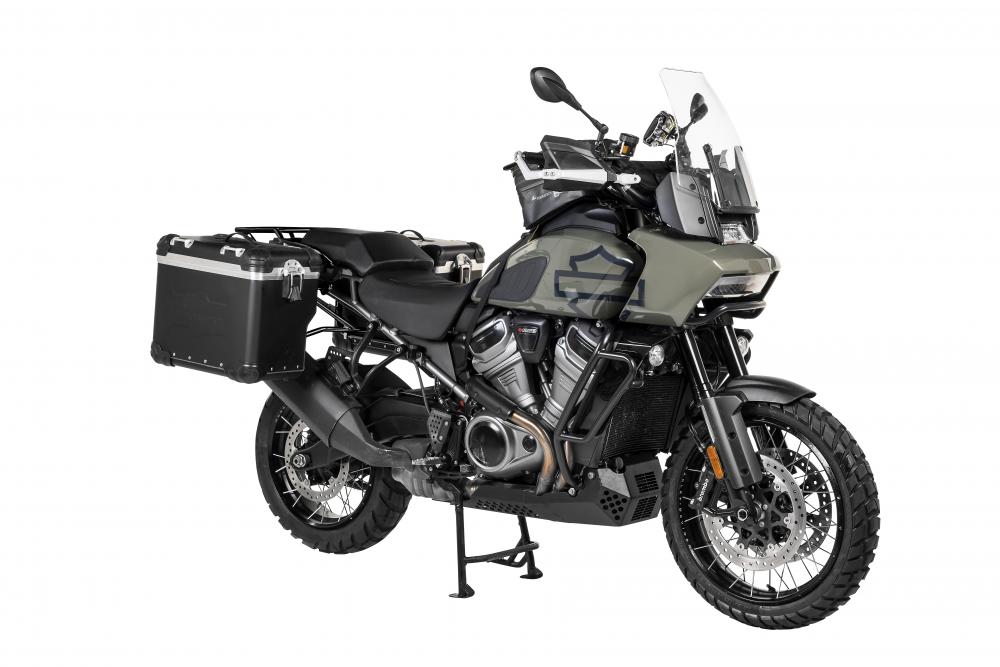 The Touratech EVO X 'Premium' Pannier System is the toughest, highest quality, and complete luggage system on the market for the Harley-Davidson Pan America.  Not only are these cases built to go the distance in any condition, they are well thought out and provide plenty of storage space while not impeding the rider or passenger's comfort.  This premium edition system comes complete with locks and liner bags to keep your gear organized.
EVO 'X' is a special version of the quick-release Zega EVO system that features a cut-out for the exhaust on the right side. This allows you to run the same size boxes on both sides while achieving a narrower overall width.  This gives you more capacity than off-set boxes and a symmetrical look, in addition to the other features that make Zega EVO the market leader in hard motorcycle luggage.
The most rugged and advanced luggage system on the planet for the H-D Pan America, the Zega EVO X pannier system from Touratech is purpose-built for long-distance adventure touring along with convenient features for everyday use.
Zega Evo X Panniers offer the ultimate in dry and secure storage for your Pan America while giving you the convenience of a quick-mount mechanism. Enjoy quick-release convenience without giving up reliability, even in the most demanding applications. The box can be further secured from theft or tampering by using the included keyed locks.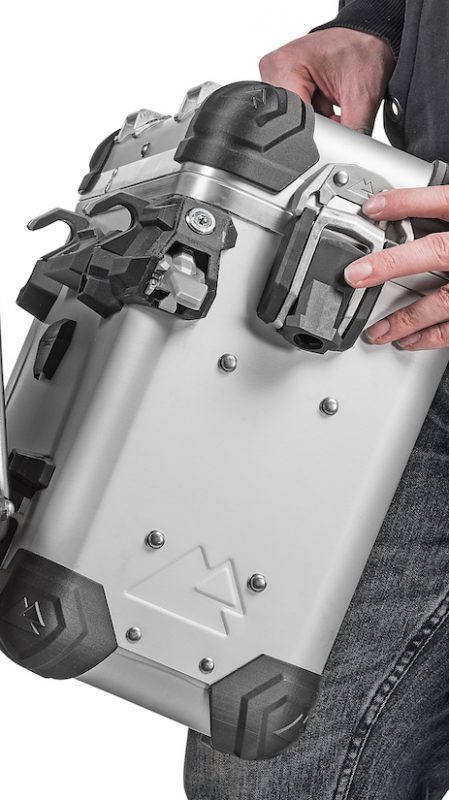 Quick-mount for easy-on, easy-off convenience
We've improved the ergonomics and feel of the panniers by developing a new die-forging technique that creates rounded 'finger-friendly' contours making the release mechanism effortless to operate for easy-on, easy-off convenience. Simply slip the hooks onto the rack of your Harley Pan America, push the case completely in and close the lever to secure the box.
Rugged racks
The Zega Evo X comes with heavy-duty stainless steel racks that have earned a reputation for durability by world travelers the world over. With 18mm tubing and robotically welded construction, these Zega Evo racks are built on a long tradition of strength and durability. The system comes with all hardware and everything you need to install in one package.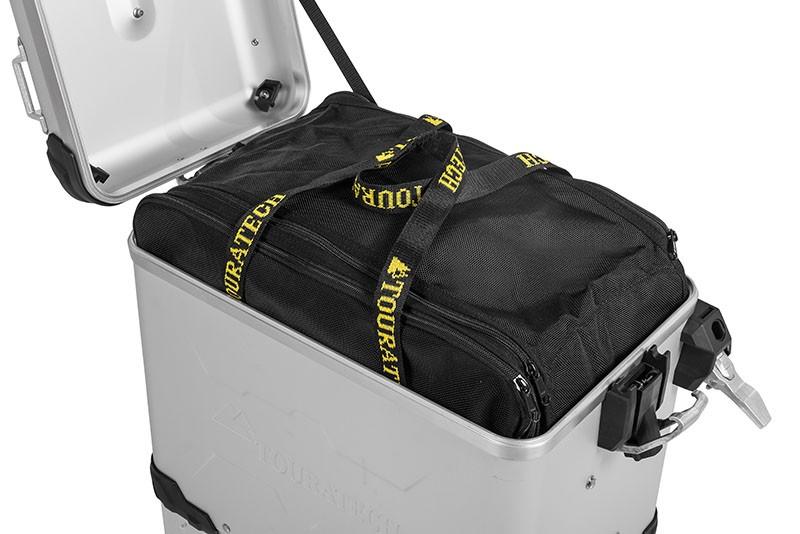 Included Locks
The Zega EVO X Pannier system includes all locks necessary to lock the cases and secure them to the rack.  If you need a specific key code to match your existing Touratech GPS mount, topcase, or other locking Touratech items, please note the number in the comments field during the checkout process.
Included Liner Bags
Included in the EVO X Premium pannier system for the Pan America are two convenient liner bags.  Sized to fit inside the panniers,  the liner bags make it easy to pack and unpack your motorcycle when traveling.