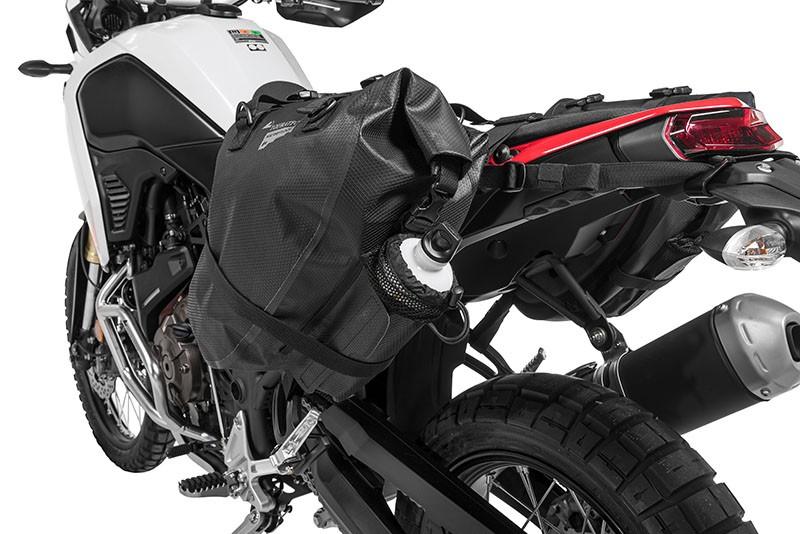 Looking for a lightweight and configurable pannier system alternative? Touratech Extreme Waterproof Saddle Bags are perfect for medium-sized enduro and adventure motorcycles. These bags are lightweight and optimized to have a low center of gravity. The versatile mounting straps let you put these on almost any adventure motorcycle. Packed with great features, and built from the best materials available, Touratech's Extreme Waterproof Saddle Bags are made to go the distance.
3-Layer Construction for Absolute Waterproof Toughness
This 3-layer laminate is engineered to withstand the rigors of adventure riding and will perform reliably for the long haul. Here's how it works:

Wear Protection – The outer layer of the 3-layer fabric is a rubberized polymer that creates a UV-resistant waterproof barrier that also provides grip to keep the Saddle Bags from moving on the bike. This heavy-duty polymer with welded seams also provides abrasion resistance for long-term wear protection.
Tear Protection – The middle layer consists of densely woven 1000-denier nylon mesh that is bonded to the outer layer for strength and resistance to tearing.
Water Protection – Bright yellow vinyl interior with heat-welded seams make an additional waterproof layer that is easy to rinse out or wipe clean. The bright color interior makes it easy to see your items inside the Saddle Bags.

Adjustable Capacity – These expandable saddle bags can be adjusted all the way up to 20 liters each. That is plenty for all the clothes, food and other necessities needed on a weekend trip.
External Pockets and Storage Options – Two expansion pockets gives you a quick and convenient place for two fuel or water bottles.
Versatile Mounting System – Our Extreme Saddle Bags attach to the bike via straps in multiple directions and one that goes around your bikes mudguard for a secure no-slip fit.
Interior Design – Touratech Extreme Waterproof bags have uniquely Touratech colors with bright yellow interiors that let you find your items quick and easy.
Bright Reflective Logos – Integrated reflective panels on the bags keep you visible day and night.
Off The Bike – You can easily carry these saddle bags with their convenient carry handles.
If your motorcycle has a high exhaust we recommend using this muffler heat shield (080-5055).
These waterproof bags from Touratech combine everything you could wish for in waterproof soft luggage. These bags don't just look the part, they are made from the most robust material we could find. Sporting either roll-top designs or fully waterproof zippers, no dust, water, snow, mud or other material will get inside of them keeping your contents clean, no matter what you've been riding through.