Yamaha has been teasing US customers with the Tenere 700 for a half-decade. Well it's finally become a reality and is priced to sell at around $11,000 which is rare in the ADV segment. Touratech has been riding the bike and developing products for over a year now and is happy to announce a product range for this lightweight and versatile parallel-twin adventure machine.
"We have fallen in love with the long-travel suspension and 21" front wheel for off-road riding. The simplicity of not having a menu of electronic settings to manage is a refreshingly raw motorcycle experience. This bike seems at home off-road and is ready for adventure"  
–  Kimmo Lassila, Vice President, Touratech-USA
Touratech is all-in on this mid-sized Yamaha and expect that many riders will be choosing  it for epic adventures. For this reason, the company offers  four different  pannier systems for this bike and one soft luggage solution. The tried and true Zega Pro is waterproof, lightweight and has been proven reliable the world over for the last 10 years. The racks include all the mounting hardware and the boxes are available in three different finishes. For the budget-minded who want waterproof luggage without all the bells and whistles, the Zega Mundo is a great choice. In the premium category, the Zega Evo offers quick-release convenience and die forged finger-friendly latches, an ergonomic carry handle, and integrated pins for a range of snap on accessories to extend your storage. These same features are also available in the Zega Evo X, which has one box that is cut out to fit tightly around the exhaust keeping the bike narrow and providing symmetry. All of these pannier systems provide riders with waterproof storage that can be secured against tampering or theft with keyed locks. Touratech panniers provide security and peace of mind that riders just can't get with soft bags.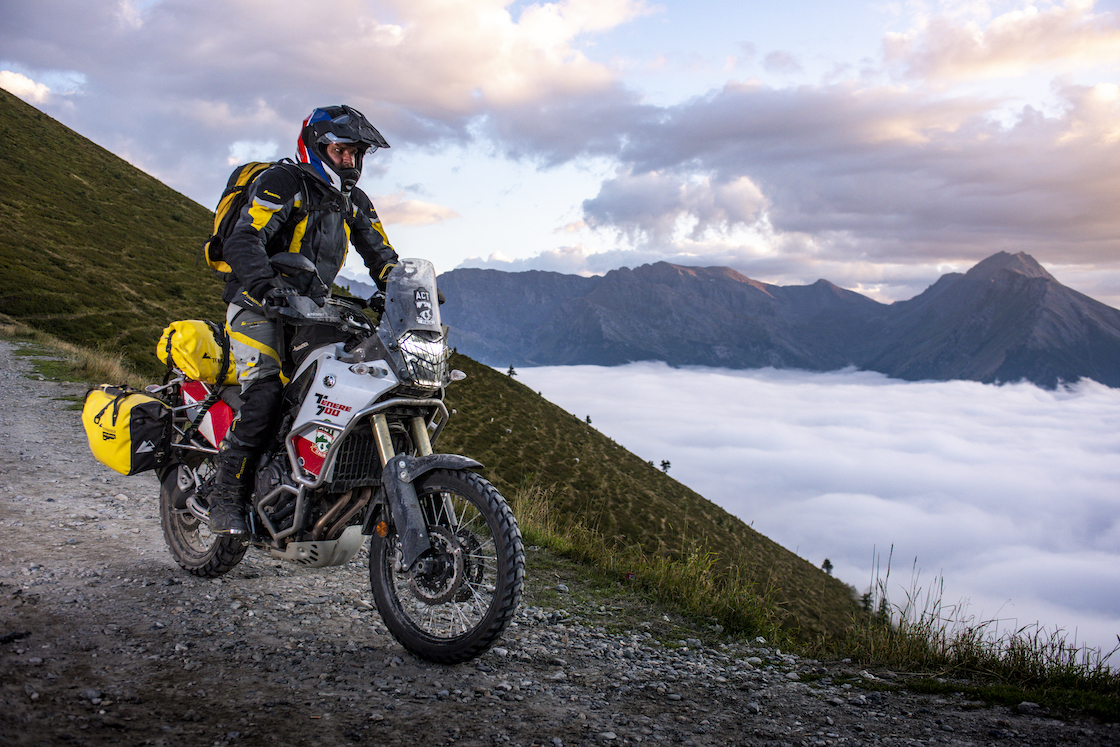 Soft Luggage for Hardcore Adventures
If security is less important and you want to push your limits off-road or just want a waterproof luggage solution for $400, check out the new Extreme Waterproof Saddle Bags which are constructed using a 3-layer laminate for trail-toughness in harsh environments. The outer layer of rubberized polymer provides abrasion resistance and is backed with a 1000 denier nylon webbing structure for resistance to tearing. The interior is wrapped in a waterproof layer of bright-yellow vinyl for visibility and easy cleaning after the trip. A simple but robust mounting system ensures a good fit on the Yamaha Tenere 700 or just about any other bike.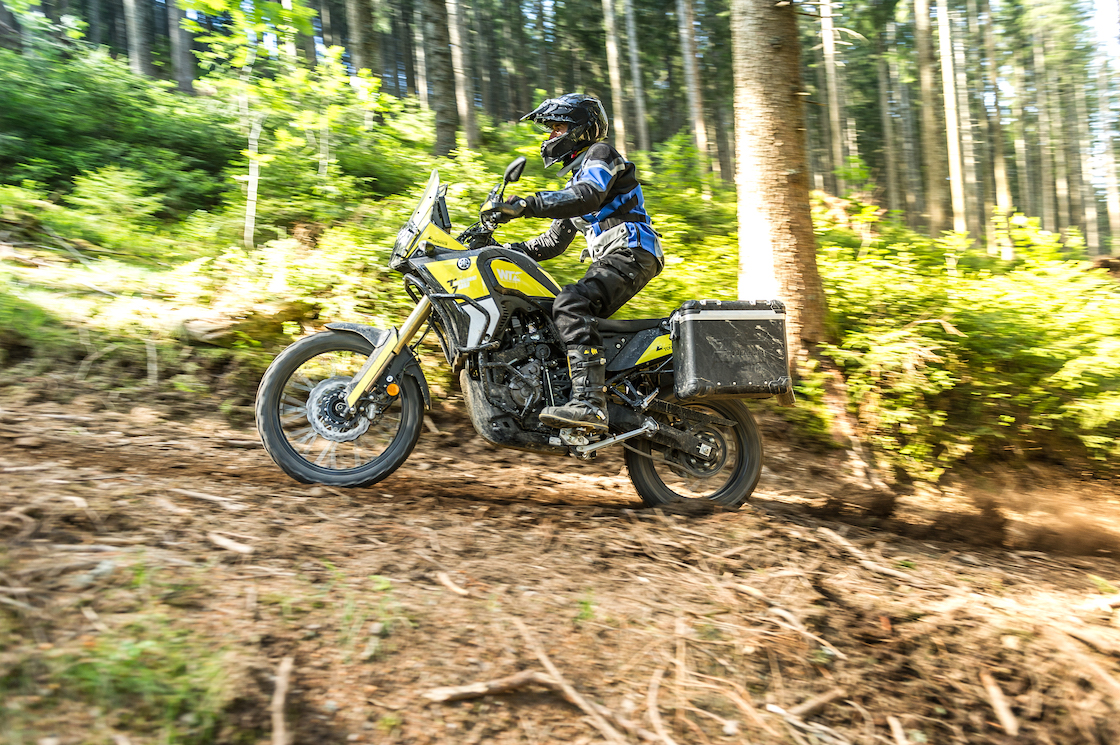 The 270-degree firing order of this parallel twin produces a satisfying sound when riders get on it. Protecting this motor with a RallyeForm skidplate is a great way to keep the power-plant out of harm's way. The RallyeForm provides complete wrap-around protection while hugging the contours of the T700 to maximize ground clearance. If you prefer the understated look, the Expedition Skid Plate is a great option with classic lines. Retail $349.95 – $399.95
Protect your engine with stout lower crash bars which are precision crafted from 1" diameter stainless steel tubing and engineered to keep your engine cases safe from hazards. Touratech has created an upper crash bar to protect the body work and fairing which also serve to protect the radiators from side impacts. Built to exacting standards in-house at Touratech, the crash bars are high-quality protection that accentuate the look of the bike while also providing a location to mount accessory lights.  Both are available in silver or black finish. Retail $329.95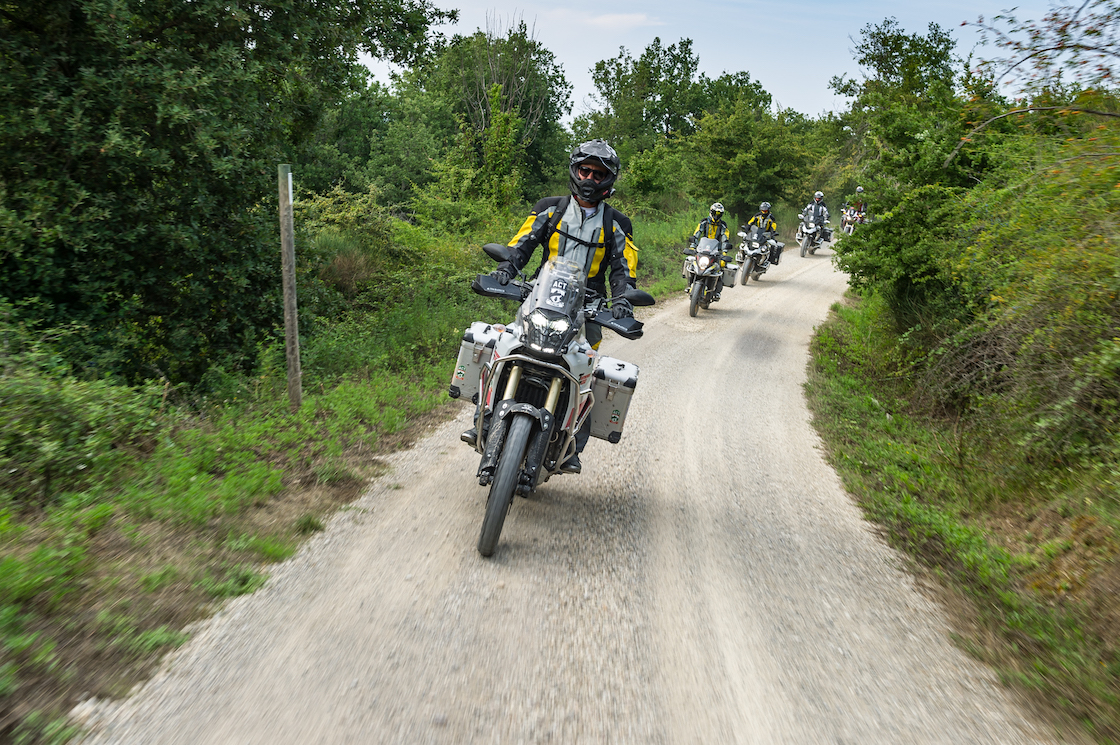 Chasing your riding buddies is a lot of fun until the lights go out. Don't let a rock to the headlight ruin your ride. Add a Touratech headlight guard that is designed to protect the lens but also accent the rally styling of the headlight. Riders can quickly remove the black anodized aluminum guard to wipe the dust of the lens and snap it back into place without even taking off their riding gloves. Retail $139.95
The Tenere 700 encourages riders to explore dirt roads and brushy trails. The road less traveled often has branches or foliage that can grab OEM mirrors. The Touratech mirrors can be folded inward on-the-fly to eliminate this problem. Once back to the highway, the rider can quickly fold them back out and they are still adjusted properly. They also hold position at highway speeds making them the perfect mirror for adventure riding. You'll need the M10 x 1.25 version and also the reverse thread adapters to fit the Tenere 700. Retail $99.90 (set of 2) plus $16.95 for the reverse thread adapter set.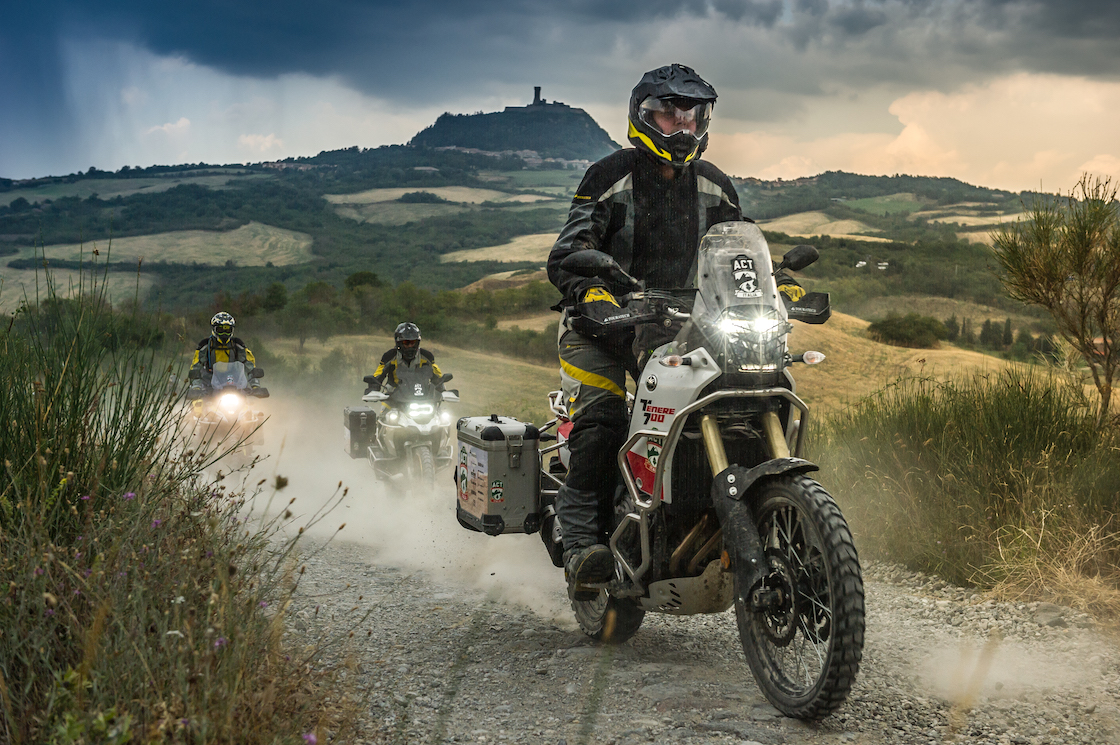 It's hard to beat the convenience of a tank bag for quick access to your essential items like phone chargers, sunglasses, pocket knife, or headlamp. The Enduro Tank bag is just the right size to hold what you need, but small enough not to interfere with your body when standing. It also has a robust mounting system designed to keep it secure even during the rigors of off-road riding, and the removable map case on top has a clear window allowing visibility of a map or to see who is calling your phone. Retail $229
A robust upgrade to the flimsy OEM plastic guard on the Tenere 700, this laser-cut stainless steel chain guard with black anodized aluminum accents will shield riders from oil fling and chain malfunctions. Retail $114.95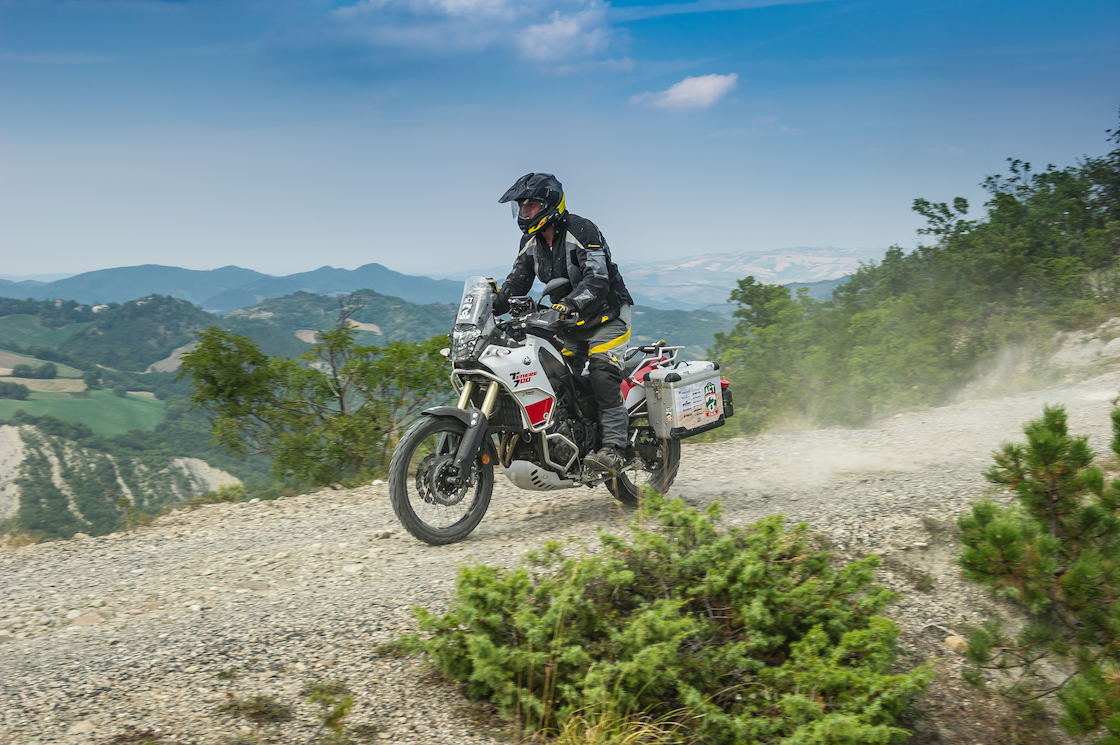 Touratech makes multiple GPS bracket adapters to secure GPS devices on the Yamaha Tenere 700. There is an option that locates the GPS above the gauges and two versions that locate it on your handlebar mounts. Retail $79.95
A sidestand foot helps keep the bike from tipping over when parking in soft terrain. For riders venturing off-road, this wide side-stand is a required upgrade to prevent the bike from taking a dirt nap.  Retail $69.95
Many riders find that increasing the bar height makes a noticeable improvement to their comfort. Raising the bars results in a more upright position which can relieve neck and back strain. Touratech bar risers for the Tenere 700 increase the bar height 20mm or ¾" which can be done without having to re-route cables, making the installation easy.
Retail $89.95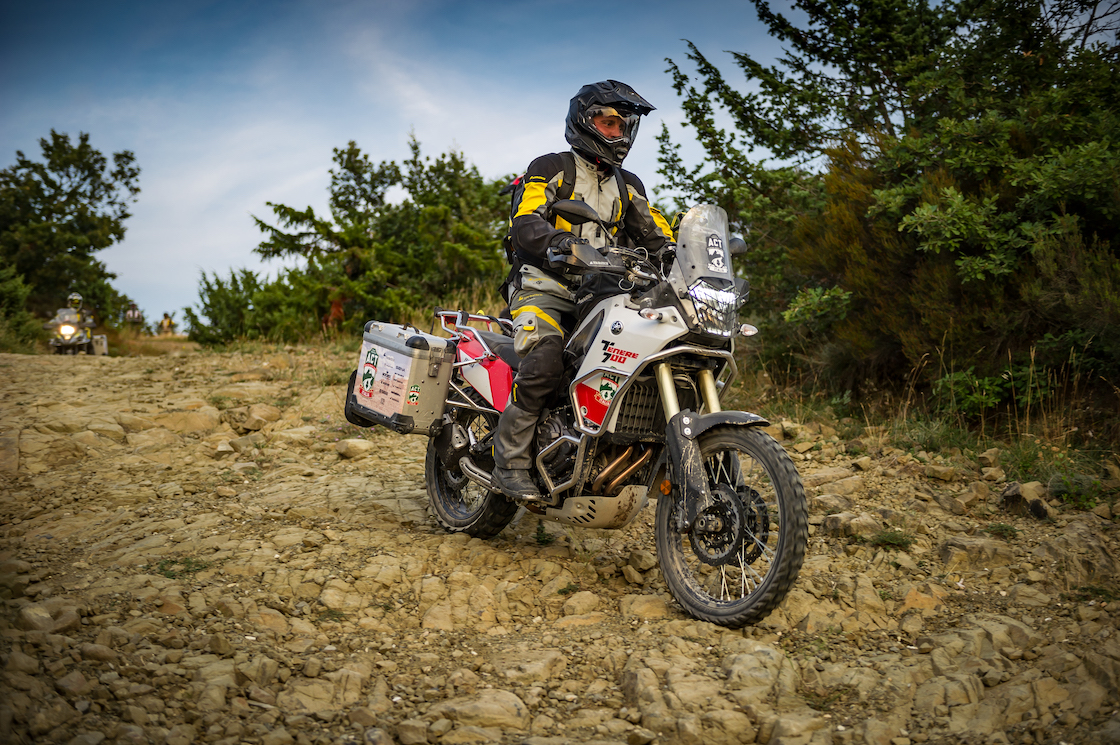 Touratech Suspension Rear Shocks
When riders load up their Tenere 700 with gear for a trip, many will run out of pre-load adjustment while trying to set the sag properly. This is why Touratech shocks come with 15mm of preload adjustment, so riders can get the bike level and handling properly with a load. Touratech shocks are set up with a custom spring to match the rider and have low friction seals and PDS to ensure great performance in demanding conditions. The shocks are designed with heavy-duty components to ensure the Tenere 700 will go the distance. The Explore HP is a great upgrade to the stock shock on the Tenere. For those who want a remote reservoir with floating piston and high and low speed damping adjustment, the Extreme is the choice. Both are available in standard height and a 35mm lowering version. Retail $1,195 – $1,795.
Touratech Suspension Cartridge System
A complete replacement of the OEM fork leg internals with a high-performance closed cartridge system. The closed cartridge separates the air and oil to prevent foaming which ensures that your fork will have smooth and consistent performance even in punishing environments. Increased reliability from having the damping oil completely separated from the fork leg lubrication means that a leaking seal will not affect damping performance.  Fully adjustable compression, rebound and pre-load allows riders to dial in the performance to meet their preferences. Available in standard height and a 35mm lowering version. Retail $1,795
Progressive Spring Kits & Lowering Kits
Progressive fork and shock springs offer a big improvement to the ride for a relatively modest investment.  They allow the ride to be more plush at low speeds then get progressively firmer as the rider pushes the bike in corners or off-road. In addition to improving the handling of the Tenere 700 you can also get your feet closer to the ground with lowering spring kits from Touratech Suspension.  Spring upgrades are available for the front, rear, or both ends of the Tenere's suspension. Fork spring kits include application specific fork oil designed to optimize performance. Retail $149 – $389
Touratech has been riding Yamaha Tenere models since the very beginning and has a strong passion for the bikes. The company has developed products that help the bike fit the rider, improve comfort and control, protect the critical systems on the motorcycle and provide storage solutions for travel. Touratech looks forward to helping the next generation of riders upgrade the Tenere 700 to meet the demands of a weekend get-away or a trip around the world.