As Touratech enters its 30th year of outfitting motorcyclists for adventure riding, it is launching a new line of soft luggage that is built to be super tough and withstand the rigors of extreme environments and serious off-road. The new product range is aptly named Touratech Waterproof Extreme and it includes a saddle bag set, tank bag, tail bag, pannier top bag, dry bag, and a small accessory dry bag.
All of the products are crafted from the same ultra-tough 3-layer laminate which is engineered to withstand the rigors of adventure riding and perform reliably for the long haul. Here's how it works:
1: Wear Protection – The outer layer is made from rubberized polymer that creates a UV-resistant waterproof barrier that also provides grip to keep the bag from moving on the bike. This heavy-duty polymer with welded seams also provides abrasion resistance for long-term wear protection.
2: Tear Protection – The middle layer consists of densely woven 1000-denier nylon that is bonded to the outer layer for strength and resistance to tearing.
3: Water Protection – The bright yellow vinyl interior with heat-welded seams makes an additional waterproof layer that is easy to rinse out or wipe clean. The bright interior makes it easy to see the items inside the bag.
Waterproof Extreme luggage has been developed to fit a wide range of adventure motorcycles and feature a universal mounting system for a secure fit. Here is an overview of the Touratech WaterpProof Extreme Edition products: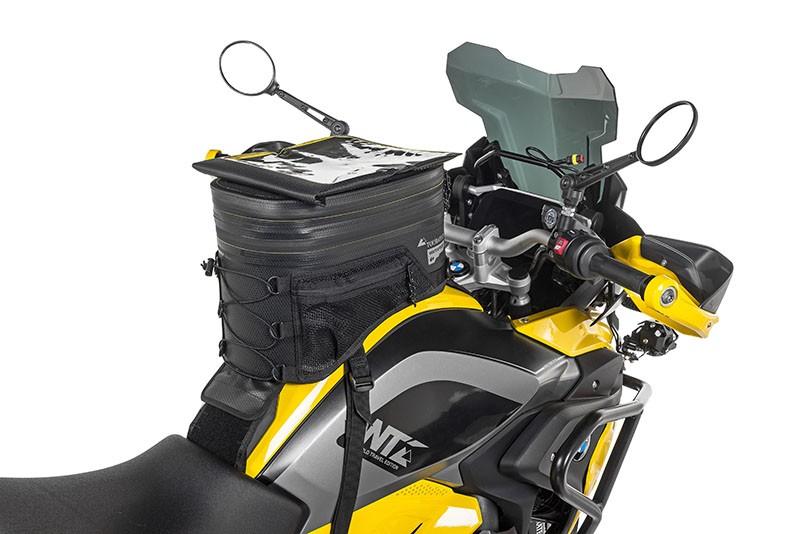 A removable map case, internal organization, cable pass-through port, sturdy universal mounting, and expansion zipper that increases the volume from 14 to 22 liters are just a few of the attributes that have made this a popular tank bag for a wide range of motorcycles.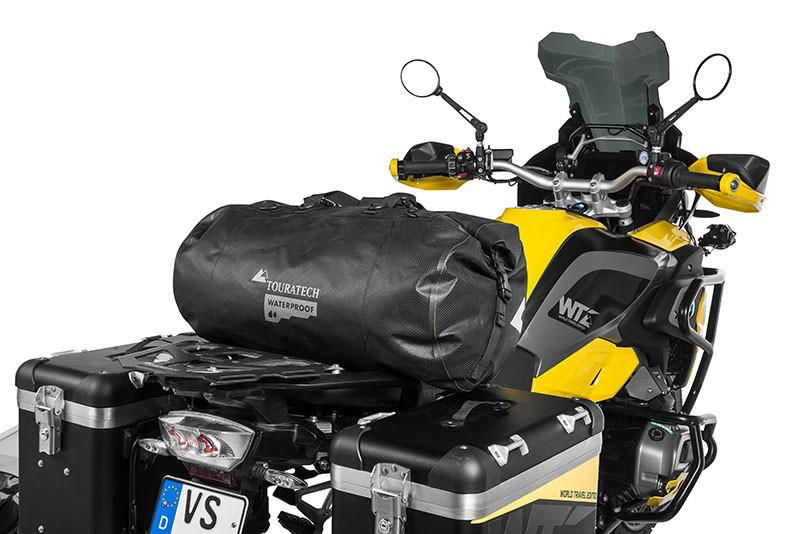 The 50-liter capacity is the perfect size for the back of the bike to haul camping gear, or the essentials for your daily commute to the office. An external mesh pocket provides quick access to small items and the internal zipper pocket provides a waterproof place to keep track of small items on the inside. D-ring lashing loops and a high-grip rubberized polymer make fitment to the bike secure and easy. A bright yellow interior makes it easy to see items in the cavernous bag and is easy to rinse out or wipe clean after a trip.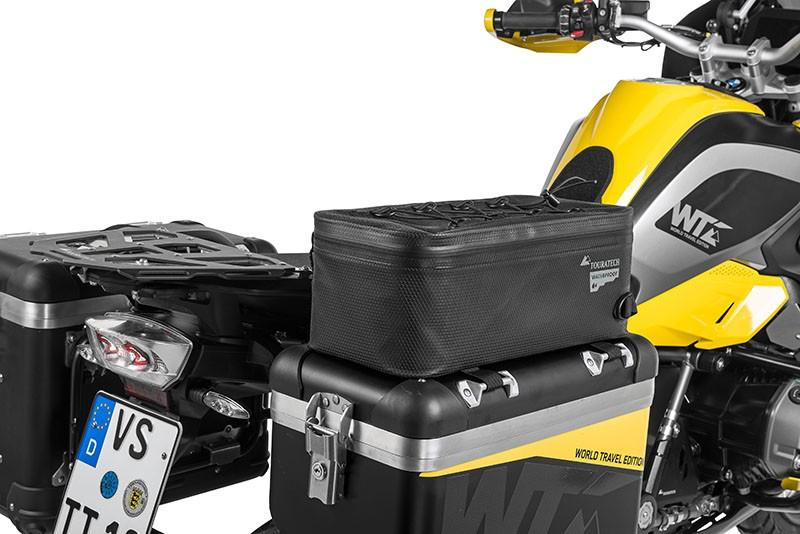 Extreme Waterproof Pannier Lid Bag
This pannier top bag provides 10 liters of waterproof storage and features internal and external mesh pockets for organizing smaller items and a bungee system on top to quickly stash your gloves. The universal mounting works with a wide variety of panniers and an ergonomic handle makes it easy to carry off of the bike.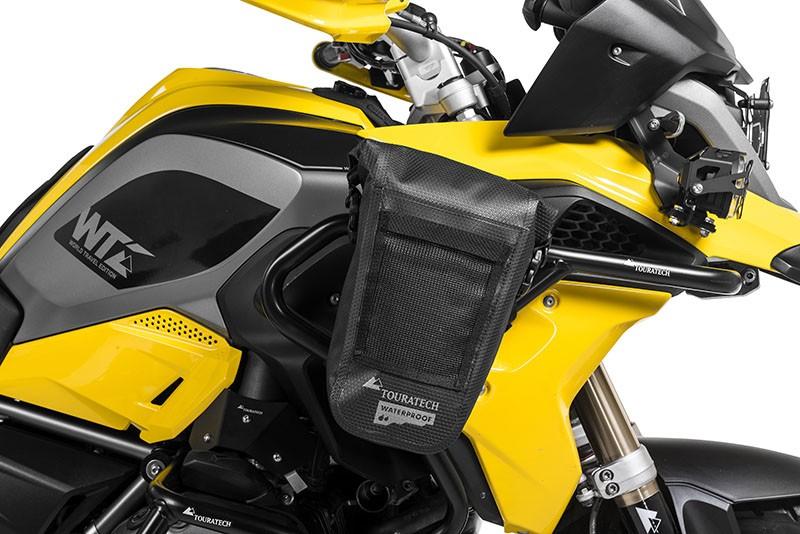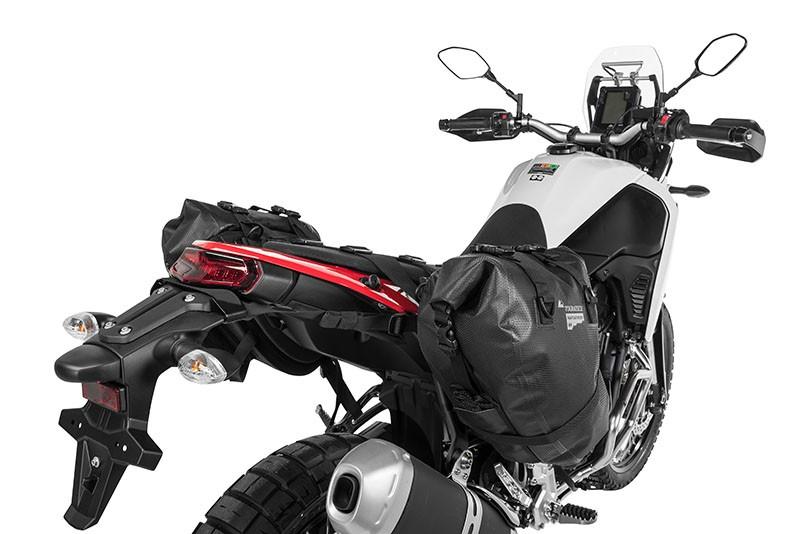 Extreme Waterproof Saddle Bags
A rugged and completely waterproof soft luggage solution with universal mounting to fit a wide range of bikes. Boasting 40 liters of capacity, these saddle bags are designed to keep the center of gravity low on the bike while providing easy access with a top loading roll down closure. These saddle bags are designed to work with a pannier rack or on a bike without a pannier rack. A storage pocket on the back holds fuel or water bottles for longer adventures.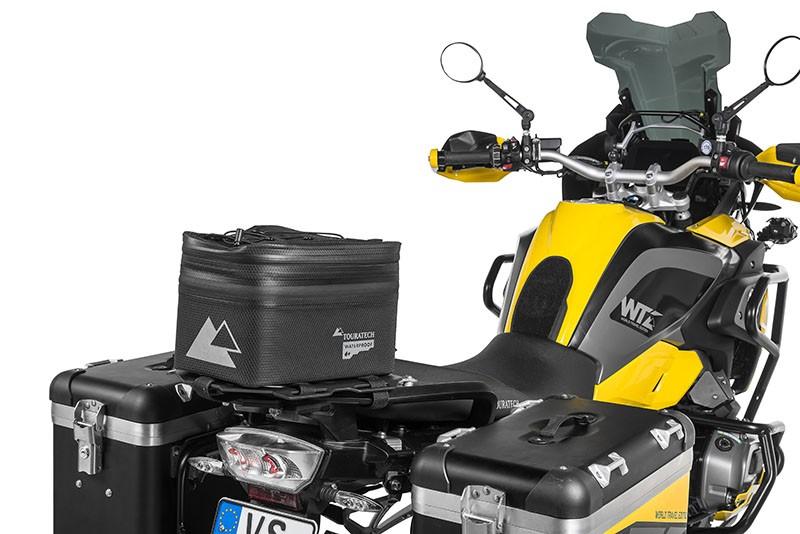 A rugged and waterproof tail bag that will go the distance on any adventure. An expansion zipper increases your storage from 8 to 12 liters and has a strong ergonomic handle for carrying off the bike.
The tail bag features external and internal mesh pockets to organize smaller items and a bungee system on top for stashing your gloves at the gas pump or short stops. Universal mounting makes it easy to strap onto virtually any bike.