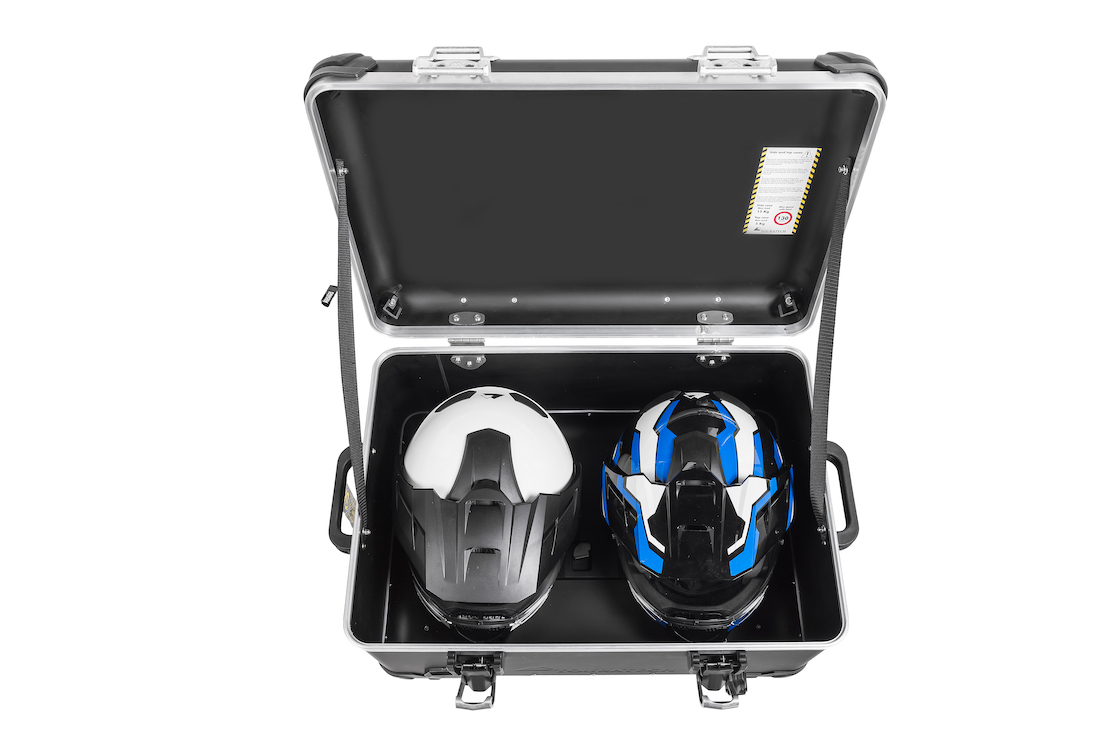 The adventure motorcycle luggage producer from the Black Forest region of Germany has been making aluminum panniers and top cases for decades. Following the 2019 introduction of its quick-release Zega Evo pannier system, the company is announcing a matching top case product range also under the Evo name with new features and the addition of a third size which it aptly calls XXL.
"The 72 liter size is pretty massive and strikes some folks as a bit of overkill… until they realize that you can securely store two helmets in it. Suddenly it makes a lot more sense and becomes a great solution for date-night, lane splitting or for hauling bulky items to the office."                                                                 
                                                                                                –Kimmo Lassila, Vice President of Sales & Customer Service
Riders will come to enjoy the easy-on, easy-off convenience of the quick-release system which snaps into place atop a bike-specific rack that is precision crafted from 25mm stainless-steel tubing.
Dry and secure storage is provided with the aluminum construction and silicone seals recessed in the extruded aluminum edge for a positive closure that will keep dust and water out. The top case and its contents can be secured with keyed locks giving riders peace of mind while they are away from the bike.
The urban utility provided by Zega Evo top cases is hard to beat. Whether lane splitting, zipping around city streets or finding creative parking spots, riders will appreciate the extra storage without the bike width of side luggage.
The latch mechanism is redesigned utilizing a forging technique that provides a precision closing action, while featuring smooth finger-friendly contours making it easy to operate.
Zega Evo Top Case Systems Retail for $600 – $675
PRODUCT FEATURES
Upgraded corner protection
Forged latches with finger friendly contours
Corner anchors in lid for securing nets and internal organizers to expand storage
Available in bare aluminum, anodized black, or anodized silver
Available in 25, 38 and 72 liter capacity
38 Liter size fits full-face helmet, and 72 liter version fits two full-face helmets
Complete kits comes with topcase, stainless rack, and all mounting hardware
Made out of aluminum alloy with stainless steel hardware