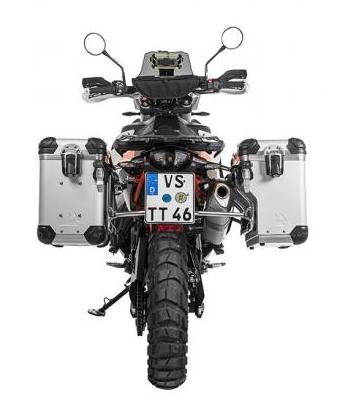 EVO 'X' is a special version of the quick-release Zega EVO system that features a cut-out for the exhaust on the right side. This allows you to run the same size boxes on both sides while achieving a narrower overall width.  This gives you more capacity than off-set boxes and a symmetrical look, in addition to the other features that make Zega EVO the market leader in hard motorcycle luggage.
The most rugged and advanced luggage system on the planet for your ADV Motorcycle, the Zega EVO X Pannier system from Touratech is purpose-built for long-distance adventure touring along with convenient features for everyday use.
Zega Evo X Panniers offer the ultimate in dry and secure storage for your Adventure while giving you the convenience of a quick-mount mechanism. Enjoy quick-release convenience without giving up reliability, even in the most demanding applications. The box can be further secured from theft or tampering by using the included keyed locks.