Motorcycle Apparel Care Guide
If you've ever ridden with us at a Touratech-USA Rally, you've likely arrived back at camp with gear that suddenly changed to gray and brown due to dust and mud.
 Throughout these rallies, the gear typically remains dirty. Then, when riders arrive home, we've heard of the hoses coming out for a full rinse down, or even a high-pressure rinse at a car wash. This works for the interim, but when riding season dwindles down, and the bikes are prepped for winter storage, it's time to seriously give your gear a clean down.
Why? It's not just the surface dirt on the outside that can cause some issues, but also the inside where salts and oils from your sweat absorb into the garment material. This not only prepares you for a stinky gear closet, but also can deteriorate the material if left untreated, which is a safety hazard.
 Of course the more riding you do, the more frequent you should provide a full-out cleaning of your apparel, including your jacket, pants, helmet, gloves and boots. Regardless of how often you plan to do this, we recommend at least once a year at the end of the riding season.
 Here are a few tips on how to properly clean your motorcycle gear ahead of the off-season.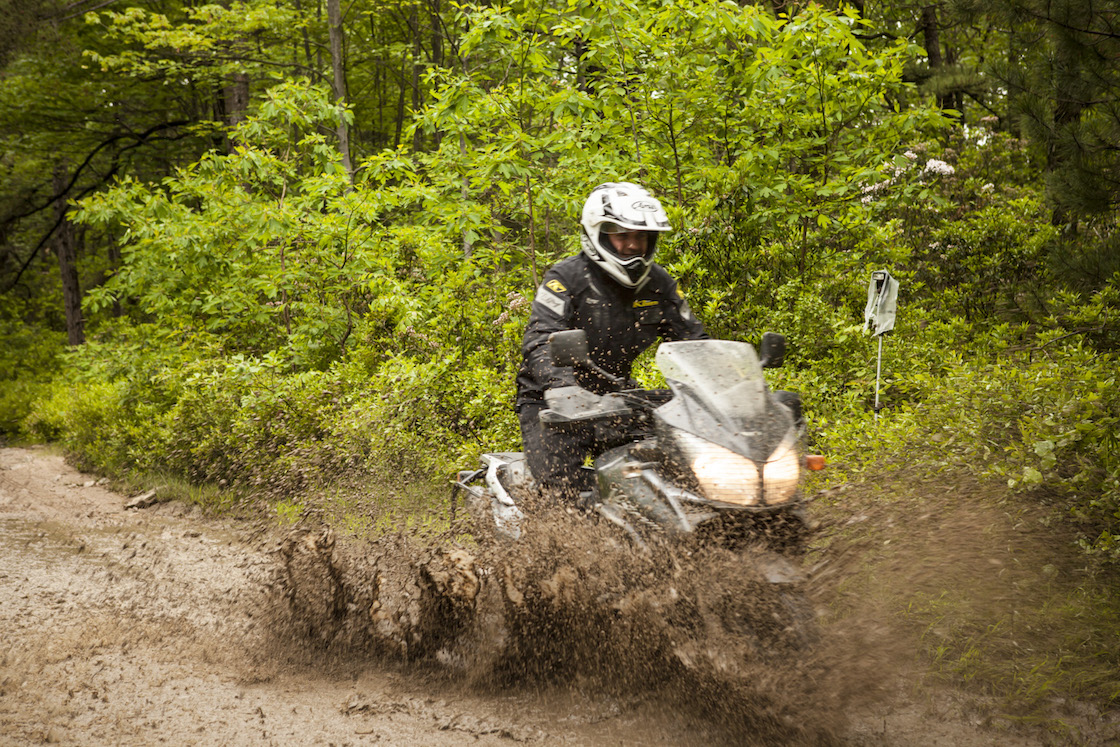 ADV Jackets/Pants
Since most ADV gear is made from textile and waterproof material like Gore-Tex, these tips will focus on textile-based material and not leather.
Starting with your jacket and pants, remove any armor or removable inner liners. Regarding the latter, for those who do a tremendous amount of sweating, inner liners are easy to remove and wash; we recommend at least once a month or more – just think of an inner liner as an extension of your base layers, which we hope you wash often.
Next, make sure all pockets are empty, and zip them up. Have a spray bottle handy with a diluted detergent; vinegar diluted with water can also do the trick. Spray areas that have heavy dirt or bug buildup, and use a brush to clean the surface.
You can either hand wash the entire jacket or pant, or find a laundromat with a front-loading washer. This will be the safest option on the more delicate materials used throughout construction, especially those on the inside of your adventure motorcycle apparel. Use the gentlest cycle available, a small amount of detergent or apparel-forward detergent, and allow the gear to air dry.
For those with Gore-Tex, the fabric maker itself recommended to tumble dry the apparel in a dryer, which helps reactivate the DWR (Durable Water Repellent) treatment on the outer fabric. This is crucial for Gore-Tex to function correctly. We also do a quick tumble dry in the middle of the riding season to keep the riding dry. You can also iron it if a dryer is not available (explained in Gore-Tex link above).
Once all is dry, replace the armor and hang it in the closet; you're now set for another season of riding without the stink.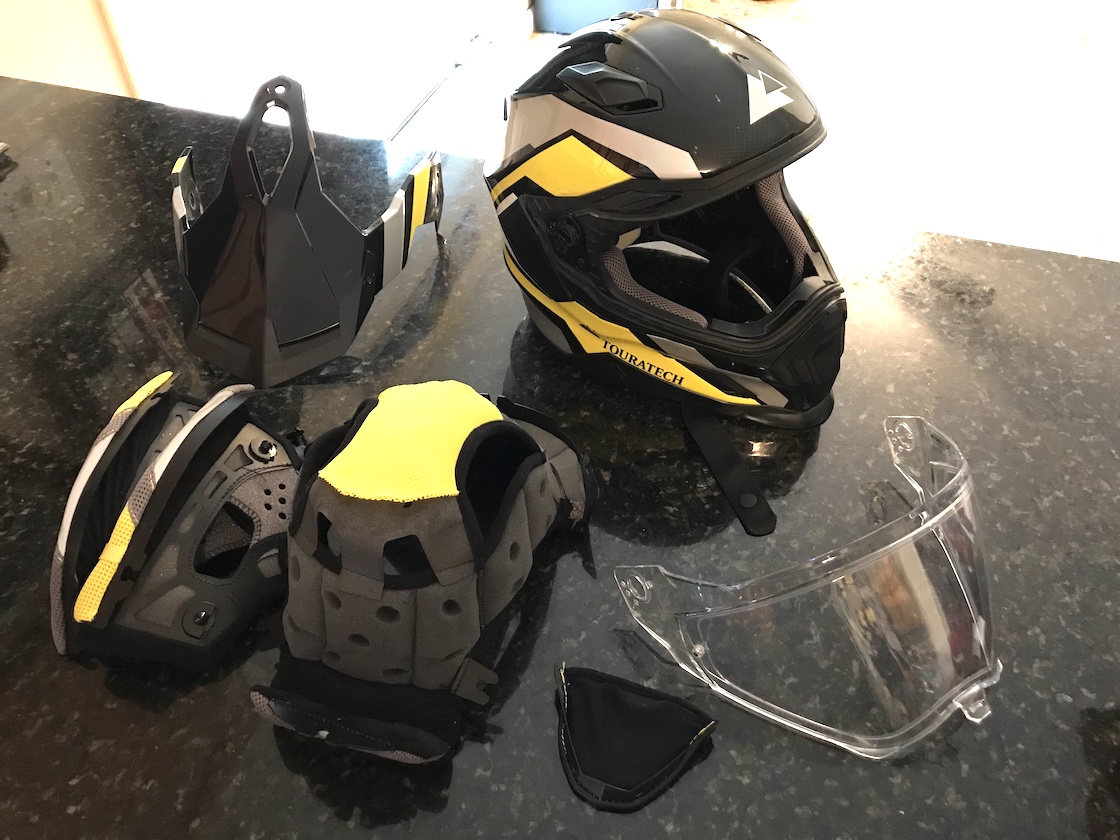 ADV Helmets
Next is your helmet. This is simple considering most new ADV helmets arrive with a fully-removable liner. Gut the helmet, and hand wash the interior pieces. Most are safe for a light-cycle wash in the washing machine, but we still recommend hand washing due to the delicate stitching used throughout. We also recommend air drying.
Make sure there are no bugs/dirt caught in the interior shell or vents, and give the outside a good cleaning. As for the visor, clean it with a visor-specific cleaner, making sure to use a microfiber cloth free of dust or anything that can scratch your visor. And of course, make sure all interior pieces are completely dry before replacing them in your lid.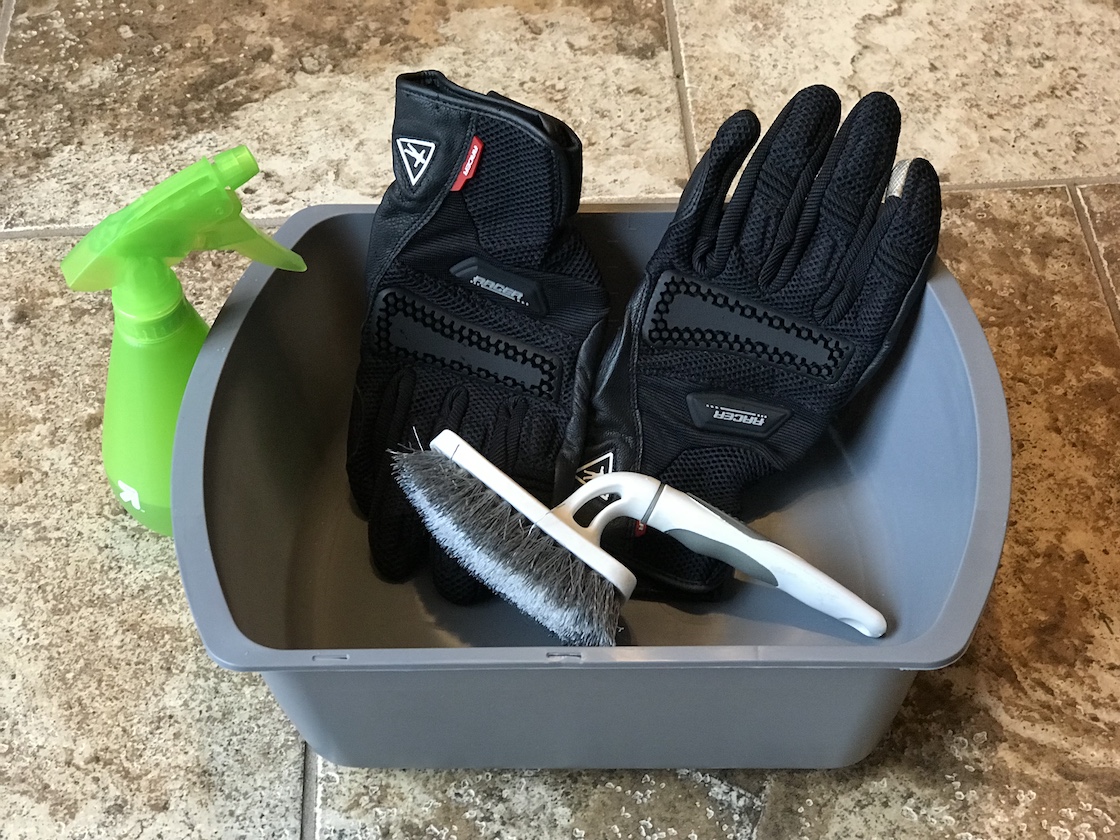 ADV Gloves
Gloves actually take the most abuse of riding apparel in regards to retaining sweat and oils. There are many simple preventive measures throughout the year that can keep your motorcycle gloves fresh. Basically, let them air out after any ride by not storing them in a closed container, helmet, tank bag or panniers. Letting them dry allows less interior grime to build up, but they still need a washing once a year.
Motorcycle gloves require a hand washing, also. This goes for any type of glove, from leather to Gore-Tex. First, soak them in water to get particles loose. On the outside, use a brush on areas with heavy dirt or bug buildup. Soak them in a mild soap and water mix to clean the inside, and use your hands to rub things together and rid all the oil/sweat build up. Once you're satisfied, thoroughly rinse them out under cold water, and get rid of excess water by squeezing at the fingertips and working your way to the cuff. Do not wring or twist; this can cause the interior of the glove to become loose from the shell, or stitches/protection elements to detach.
Next, make sure your hands are clean and put the gloves on while they are still damp. This will allow them to dry to the shape of your hand, helping with any shape problems when you get back on the bike. Allow them to fully air dry before storing. Leather gloves can be treated with a leather protectant, and Gore-Tex gloves should be lightly tumble dried to reactivate the DWR.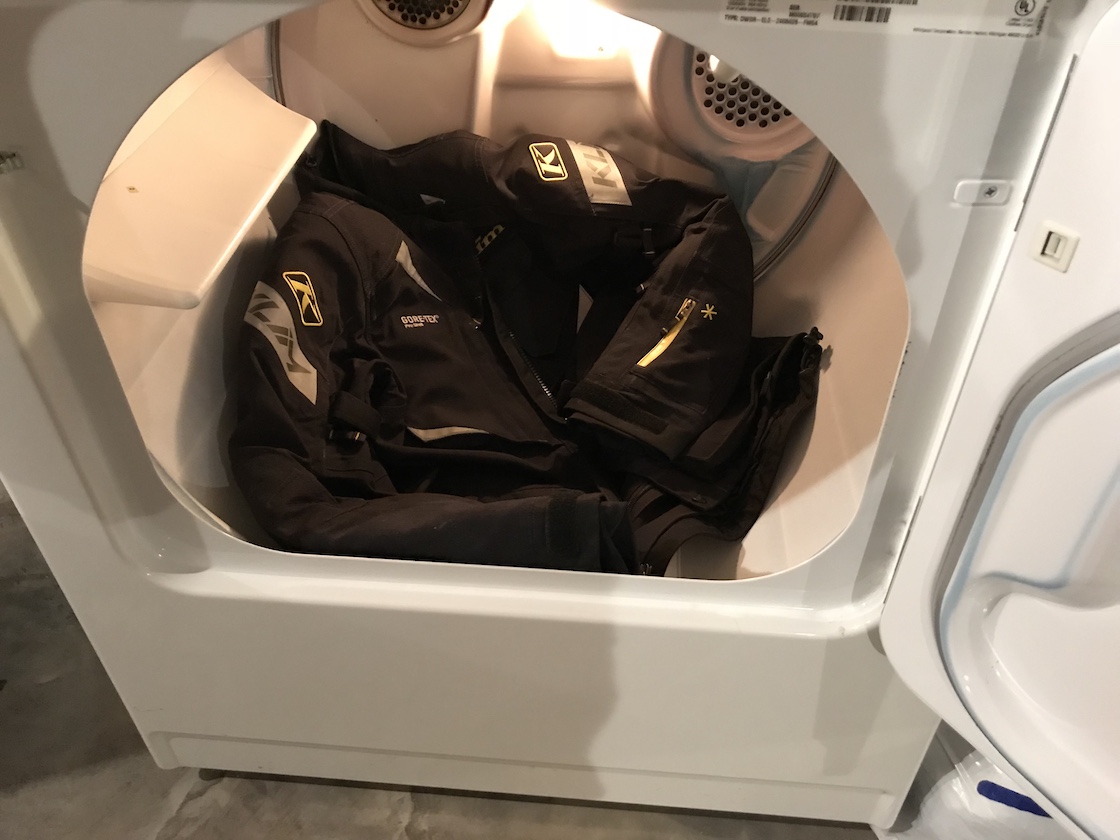 ADV Motorcycle Boots
For boots, start with a hose and wash off the outside dirt and grime. Let water soak and naturally help break down some of the tougher dirt buildup. Use a brush on the outside for the heaviest of deposits – and don't forget the soles.
Next, get a tub or large-enough container (Zega Pro pannier works!) and submerge them into a light, warm mixture of soap and water. If the boots have removable inner booties, take those out and hand wash them. Use your hands to massage the inside of the boots while they are in the cleaning mixture, breaking up any tough materials. Next, use a hose with low pressure and totally rinse the boots out. Allow to air dry outside. If you have Gore-Tex boots, and want to reactivate the DWR, an iron is your best bet.
That's it. Now that your gear is clean and completely dry, the best way to store your jacket and pants is hanging them in a closet. We keep helmets (covered in typical supplied bag), gloves and boots in open air such as a shelf in the closet or the floor. Also, a trick to keeping it all fresh throughout the down period is as simple as putting dryer sheets inside each garment.