Gone Fishing Via Motorcycle: The Essentials
One of my all-time favorite quotes is by Elon Musk: "People should pursue what they're most passionate about." This is the core philosophy of anything I do in life, and the more passions you can do simultaneously, the better.
I made a career out of writing about motorcycles because I love both the written word and motorcycles equally. I also have a passion for nature, which includes camping, hiking and fishing.
What better way to combine two loves than to go fishing via motorcycle? When it's not snowing here in Northeast Pennsylvania, this is exactly what I do every Wednesday evening–religiously.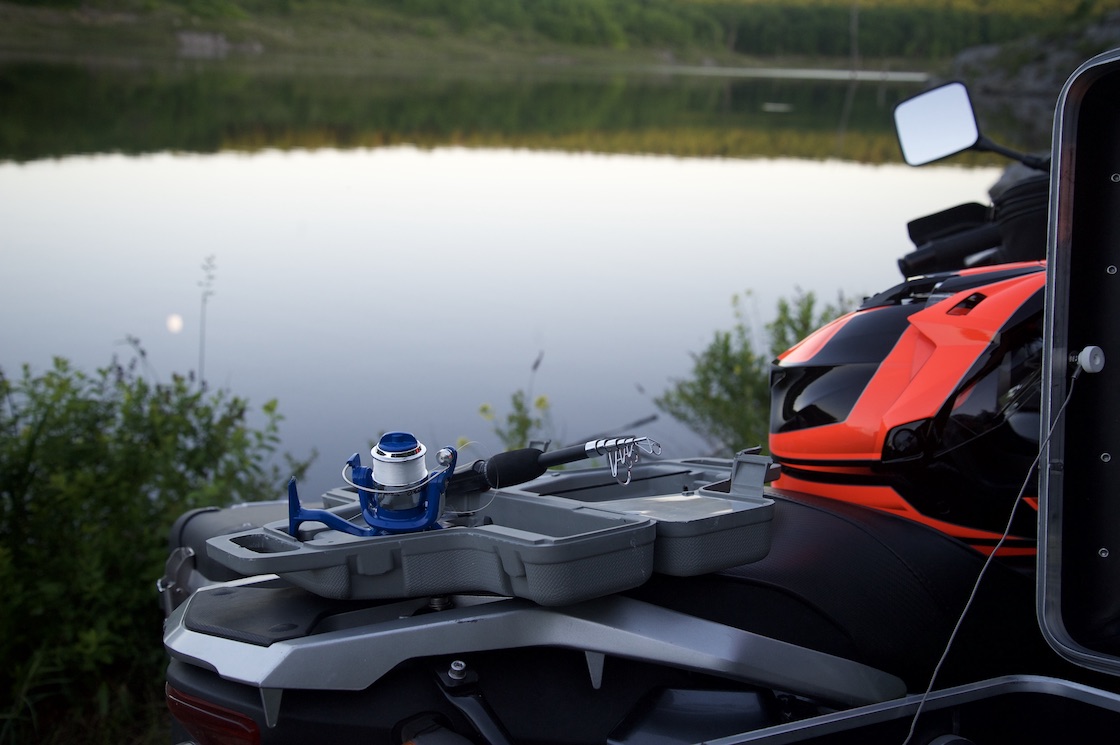 My bike of choice is my dependable and crash-proof V-Strom DL1000. I call it "El Mule," a fully-prepped monstrosity of an ADV machine with around 70k on the clock. From TKC80s to Zega panniers to an Explorer Shock, El Mule is ready for anything.
Fishing via adventure motorcycle once a week is my way of relaxing amid my schedule as Online Editor at Ultimate Motorcycling and founder of ContentMender.
I have a few fishing spots that are only reachable via dual sport motorcycles, from super challenging rides that involve six or seven creek crossings to street-tire friendly fire roads along some rivers.
Throughout the years I've learned a thing or two about motorcycles and fishing. Following are a few essentials to get you started.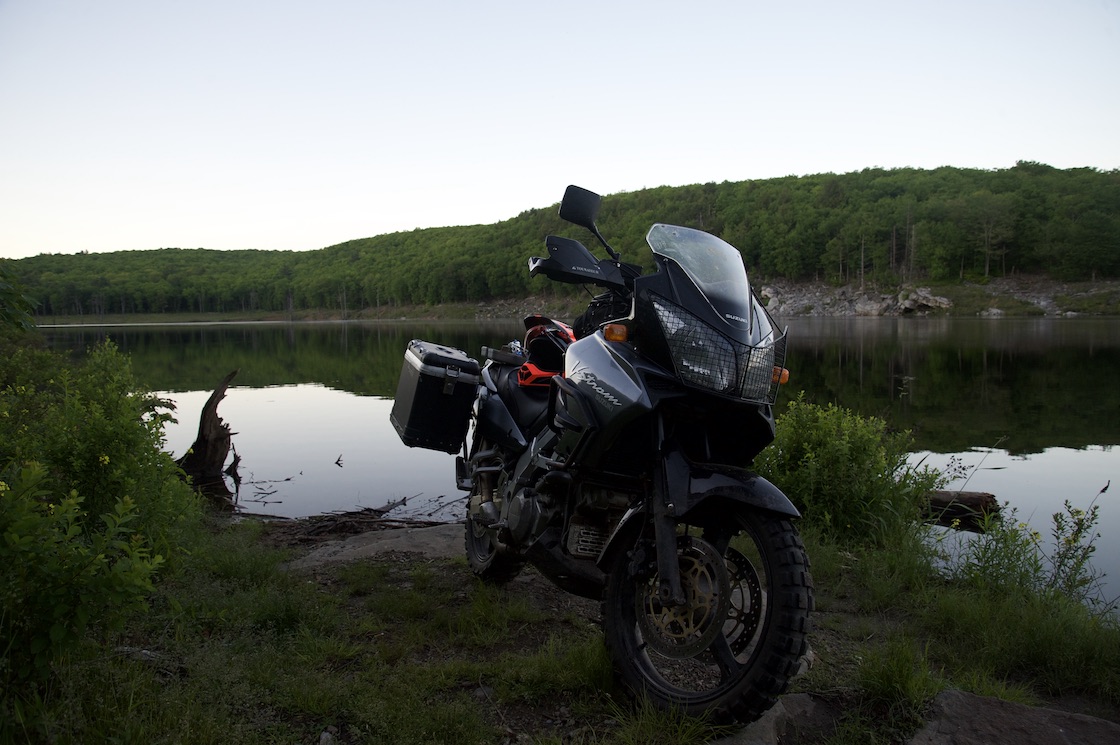 Fishing Gear Setup:
I used to use two-piece poles, and strap them perpendicular across my rear seat and panniers. But after breaking one when I dropped my bike off a three-foot cliff, I decided to purchase a collapsible pole.
I found a Shakespeare setup on Amazon for a few bucks, and it's been my go-to ever since. It's a light-action pole with 6-lbs. line, light enough for trout and ok for panfish. I mostly trout fish so this is the my usual setup; the reel and pole both fit in little plastic case that has room for some lures.
If I feel like bass fishing, though, I always bring the two-piece pole and strap it down across the back seat and panniers. Most of the lakes have easy access on gravel roads, so there's little risk of crashing and snapping a pole.
As for bait, I use all artificial (Powerbait and lures) because it's simple and effective. And it doesn't go bad; I once left a container of grubs in my panniers for two weeks. You can imagine what that smelled like when I opened the bags!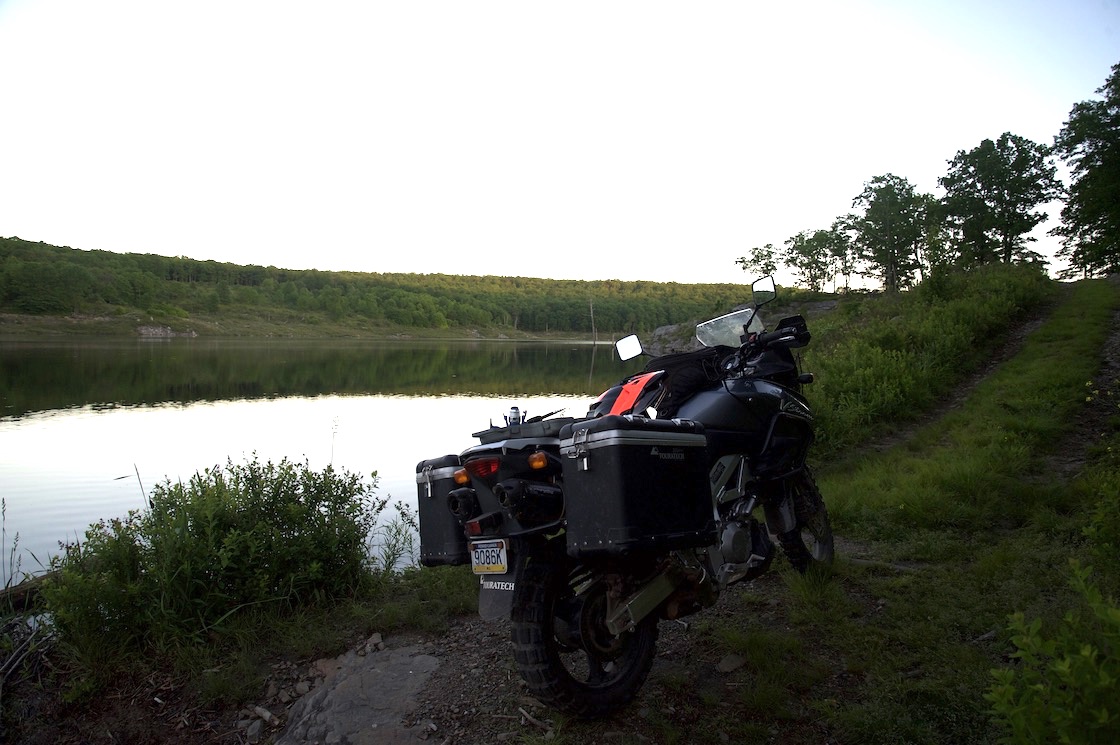 Proper Bike Setup:
Next is storage for fishing gear. While trout fishing on smaller dual sports, the collapsible pole slips easily in a backpack.
On a bigger ADV bike, I recommend metal panniers due to the usefulness of not only carrying and protecting your fishing gear, but also the other duties. A pannier makes a great seat and the other a rod holder. When fishing for lake trout off the bottom, or panheads with a bobber/Powerbait setup, I use one as a seat, and the other opened to put my fishing rod in and hold it up. No more looking for sticks to make a cross out of.
Crash bars and a skidplate are a must. This will allow you to go further off the proverbial beaten path, and allow you to return if you drop your bike or blast a rock in a creek, as I have NUMEROUS times. And if you're fishing at night, some accessory lighting helps tremendously.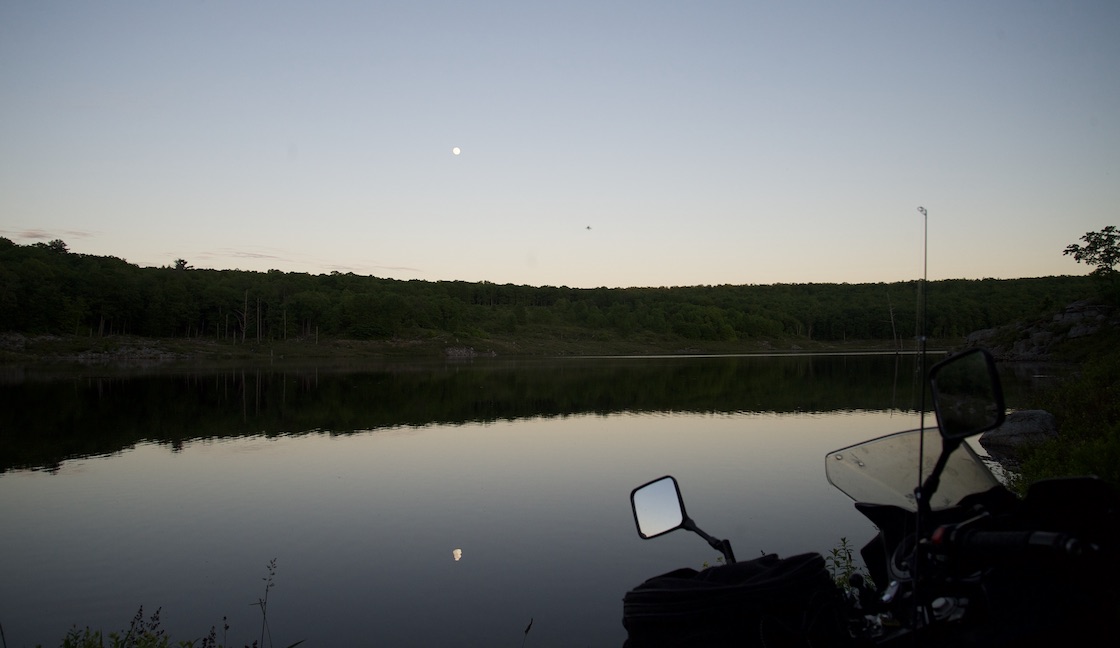 Other Necessities:
Here's the checklist:
Toilet paper (duh, right?)
Hand sanitizer
Bug Spray
MacGyver knife
Koozie (I keep my iPhone in one while it's in the tankbag, and of course it keeps your beer cold if camping and not riding)
Dark Fleece (it's always colder by water. It needs to be dark because fish can see you; I like zip-up fleeces due to the pocket space)
Grocery Bags (trash)
Water
Waterproof Matches
Favorite Fishing Hat w/license
Bluetooth Speaker for "hillbilly" music (you need that mood!)
Pen and Paper (for us writers)
Emergency Phone Charger/Jump Starter (My favorite is Micro-Start XP-10)
MotoPump
Tire plugs
If you have a love for fishing and motorcycling, unite them and get out there. Use these tips to get you going, and make it a weekly ritual–even if it's only two hours out of your week. Fishing via motorcycle is the ultimate stress deterrent, allowing you to pause the static of everyday business and life itself.
 And if you're camping, don't forget the wine, beer or "brown" water, and maybe some cigars. You can forget the ice, though; lake and stream water keeps things cold and refreshing.